22 Aug

Bumbershoot 2012: Festival Previews & Picks

Seattle's discipline-defying

Bumbershoot Festival

is annually packed with everything an art-minded individual could want, from comedy and dance to art installations and music. Our festival preview for 2012 pulls from all areas, but has a minor focus on dance, as we will presenting our

Motion & Movement in Music Video

discussion panel this year. Read on for details and our top picks!
---
The Miracles Club
Friday, September 1 – 11:00pm @ Exhibition Hall
The Exhibition Hall will be the perfect place for The Miracles Club to churn out their indie house beats and get the crowd pumping with the moves of resident dancer Ryan Boyle. And, did we mention? They'll be premiering their new music video, "The Wheel", at our Motion & Movement in Music Video panel at Bumbershoot, on Monday, September 3rd. – VIVIAN HUA
See all Previews & Picks For FRIDAY, SEPTEMBER 1
---
Mudhoney
Saturday, September 2 – 6:45pm @ Fountain Lawn
Mudhoney is a Seattle institution. Blam. You can't really talk about Seattle music accurately without giving Mudhoney its own chapter. If you're the kind of person who loudly expresses their desire to "support local music" and you've never gone to see Mudhoney, then you're a hypocrite, plain and simple. – RYAN PANGILINAN
[… and another recommendation.]
Mudhoney are often coined one of the godfather's of grunge, and its fair to say that after still kicking for close to 25 years, the band is just as good and dirty live as it was in its heyday. – PETER WOODBURN
See all Previews & Picks For SATURDAY, SEPTEMBER 2
---
REDEFINE magazine presents Motion & Movement in Music Videos
Monday, September 3 – 3:30pm @ Leo K Theatre
This panel will explore how dance and movement intersect with modern music videos. Select music videos will be screened, followed by an open community dialogue with associated dancers, directors, and musicians. Topics covered may include differences in dance styles among different musical genres, trends of modern dance in contemporary music video, and spontaneity versus choreography in the creative process. A related brochure, featuring Q&A with directors and musicians, will be distributed with further information about the participants and videos screened.
SEE ALSO: MOTION & MOVEMENT IN MUSIC VIDEOS EVENT ANNOUNCEMENT
See all Previews & Picks For MONDAY, SEPTEMBER 3
Director ELY (Eugene Lee Yang) and producer Cathleen Cher of Polica's "Wandering Star" (below) will be present and visiting Seattle from Los Angeles.
SATURDAY, SEPTEMBER 1 (cont'd)
Don't Talk to the Cops!
1:00pm @ Fischer Green
Seattle's Don't Talk to the Cops pull from pretty much every genre possible to create a pop=hooked-fueled, embarrassingly catchy, dance-driven mob scene. – PETER WOODBURN
Read It And Weep (A Celebration Of Nicholas Cage)
1:15pm @ The Vera Project
Tongue-in-cheek as all hell, this is a "celebration" of Nicholas Cage's "best" films, like The Wicker Man, Ghostrider, and City of Angels. If you haven't been able to figure it out, "best" here actually means "worst". But you need to watch this amazing compilation of Cage-isms in this montage below to understand, because it's one of the funniest things I have ever seen. – VIVIAN HUA
Modernist Cuisine: Food From a New Perspective
1:45pm @ Leo K Theatre
If you cook or watch Top Chef, you know that this is the book that everyone says has changed the game of the food landscape. And this will be the only time to see most of what it talks about in action (unless you own a centrifuge in your garage). – PETER WOODBURN
Urvasi Indian Dance Ensemble
2:30pm @ Next 50 Plaza
A dance ensemble that purposely aims to separate the upper body from the lower. Sounds fascinating, hypnotic, and physically tricky. – VIVIAN HUA
Elvis Parade
5:00pm @ Various locations
A tribute to Elvis with a parade of Elvis impersonators and cover songs. Uh, hell yes… – VIVIAN HUA
THEEsatisfaction
5:15pm @ Fountain Lawn Stage
Sub Pop's female rap and soul duo will groove and dance thier way into the heart of any crowd, no matter how quaint and Seattle-like. – VIVIAN HUA
EYEHATEGOD
7:30pm @ Exhibition Hall
New Orleans is known for music from all over the place. But it isn't known for its sludge metal scene, for there isn't really one — other than EYEHATE GOD, one of the original sludge metal geniuses. – PETER WOODBURN
B∃D SN▲KE
6:45pm @ Center Theatre
A dance group that promises to melt your face with hip-hop beats, high-octane choreography, and swagged-out music videos. Sounds good. – VIVIAN HUA
John Waters – This Filthy World: Filthier & Dirtier
8:30pm @ Bagley Wright Theatre
John Waters is a dirty man and a dirty genius, who uses real sex in films, directs musicals about crossdressers, and has a pencil-thin creepy mustache. Hearing him speak on deviance is guaranteed to be subversively excellent. – VIVIAN HUA
The Helio Sequence
8:45pm @ Fountain Lawn
The Helio Sequence are Pacific Northwest indie staples; and though they haven't reached the heights of bands like Death Cab For Cutie, The Decemberists, and Modest Mouse, they aren't considered played out like the others are, either. – VIVIAN HUA

Damien Jurado
9:00pm @ The Promenade
Damien Jurado's recent performance at Sasquatch Festival involved a psychedelic heaviness that you wouldn't expect from his folk and alt-country singer-songwriter stylings. But Jurado knows how to get down — literally — and it wouldn't be too much to expect him to be twirling around on his knees and shredding, because it's been seen before. – VIVIAN HUA
---
SUNDAY, SEPTEMBER 2 (cont'd)
WHY?
1:00pm @ Exhibition Hall
WHY?'s last album was bizarre indie somewhat-pop greatness. Their latest singles have them campaigning once again for their old-school anticon days of white boy smarty pants hip-hop. Always a good live show when it comes to WHY?. – VIVIAN HUA
Sharon Jones and the Dap-Kings
1:45pm @ Bumbershoot Mainstage
Before Mark Ronson used the Dap-Kings as the backing band for the likes of Amy Winehouse and Lily Allen, the group supported Sharon Jones, a middle-aged erstwhile soul singer who got a second wind in her career at an age when most people are thinking about what to do with their 401ks. Lucky for us, her chops are as strong as ever, so if you want to see a solid performance while cutting rug, this is the place to be. – RYAN PANGILINAN
Elridge Gravy And The Court Supreme
2:15pm @ Fischer Green
Thirteen members forming a soul-funk outfit that probably barely fits on stage and single-handedly dominates the Seattle music scene by association alone. Bus-traveling groovy times and Seattle festie favorites. – VIVIAN HUA
Pacific Science Center's Radical Reactions Show
2:30pm @ Next 50 Stage
This might be for little kids, but it's all about science and chemical reactions, explosions, bursts of colors, etc. What's not to like? – VIVIAN HUA
Tony Bennett
3:45pm @ Bumbershoot Mainstage
It is either sad or awesome that the person I was most excited for on the Bumbershoot lineup is Tony Bennett. I'm so thrilled for just about everyone that this is happening. Last year was Hall & Oates; this is just as amusingly attractive but arguably way better o worse. – VIVIAN HUA
Harmonica House Party with Lee Oskar & Magic Dick
3:45pm @ Mural Ampitheatre
"All-star harmonica jam with Magic Dick"… yes! The harmonica is just underrated. I'm glad Bumbershoot has the foresight to give it its due. – VIVIAN HUA
Fruit Bats
5:00pm @ Fountain Lawn
The Fruit Bats pull all the best parts of '70s rock and combine it with the new-days carefree hipness to it. Gleefully fun rock and roll at its finest. – PETER WOODBURN
Why Hipsters? Why Slacktivism? Why Now?
5:15pm @ Leo K Theatre
A panel that explores apathy and social activism in relation to technology. If you care and aren't too busy Tweeting your gripes about Bumbershoot, this could be a great conversation to sit in on. The speakers include actor/comedian Solomon Georgio, Geo from the Blue Scholars, Janae Jones, and AJ Rasgasa. – RYAN PANGILINAN
The Promise Ring
6:15pm @ Exhibition Hall
Wisconsin's the Promise Ring hasn't played in Seattle since 2003, so this is a welcoming return. The band has recently hit the reunion circuit and if their recent shows have any bearing on what they'll play at Bumbershoot, then expect a little bit of everything (even some b-side cuts) from their catalog. – RYAN PANGILINAN
Blitzen Trapper
8:30pm @ Fountain Lawn
Portland's Blitzen Trapper's song speak like Bob Dylan went on a Cormac McCarthy binge. They are the champions of the Pacific Northwest's alt-folk scene. – PETER WOODBURN
---
MONDAY, SEPTEMBER 3 (cont'd)
Maximum VELOCITY
12:15pm @ Bagley Wright Theatre
Highly energetic, powerful dance moves from a Seattle dance troupe. – VIVIAN HUA
Pacific Science Center's Super Cool Science Show
1:00pm @ Next 50 Plaza
Experiments with liquid nitrogen to awaken your inner experimental child! – VIVIAN HUA
Foxy Shazam
2:45pm @ Exhibition Hall Stage
The last time I saw Foxy Shazam was probably about half a decade ago, but at the time, they put on a live show full of swagger and theatrics that was like that of few others. I can't speak for the music, especially these days, but if things haven't changed in the live setting, they're guaranteed to be entertaining (perhaps annoyingly so, to some). – VIVIAN HUA
Black Breath
2:34pm @ Exibition Hall
There is only one metal album that came out this year that matters and that it is from Seattle's own Satanic brood. Sentenced to Life finds Black Breath frighteningly tight and destructive. – PETER WOODBURN
SEE ALSO: BLACK BREATH – SENTENCED TO LIFE ALBUM REVIEW
M83
3:15pm @ Bumbershot Mainstage
It seemed like M83 rose to overnight mega success with their hit single, "Midnight City," which has sparked covers from fans and an influx of attention. The band, which originally formulated back in 2001, has supported some incredible acts on the road such as Kings of Leon, The Killers, and Depeche Mode, but this year, M83 will take on Bumbershoot's main stage in the Key Arena providing a performance sure to surprise the masses. – KATIE NGUYEN
Omar Souleyman
4:00pm @ Fischer Green
Syrian folk-pop musician Omar Souleyman is an energetic representative of modern dance music in the region, and he is guaranteed to bring a portion of the world to Bumbershoot that is often overlooked, musically-speaking. – VIVIAN HUA
The Pharmacy
4:30pm @ The Promenade
Seattle's garage rockers The Pharmacy bring a type of slightly off-kilter bizarrity to the genre that gives their live shows an added oomph, even when they're playing only the occasional live show. They are well-dressed, well-rehearsed, and notably present in the performing moment. – VIVIAN HUA
Low
6:45pm @ Fountain Lawn
Low's lethargic brand of slowcore is suicidally romantic and depressingly appealing. Definitely the day's sleepiest highlight, as contradictory as that may seem. – VIVIAN HUA
SEE ALSO: LOW – "TRY TO SLEEP" MUSIC VIDEO
Ω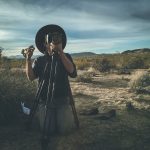 Vivian Hua 華婷婷 is a writer, filmmaker, and organizer. As the Executive Director of Northwest Film Forum in Seattle and Editor-in-Chief of the interdisciplinary arts publication, REDEFINE, much of her work unifies her metaphysical interests with her belief that art can positively transform the self and society. She regularly shares human-centered stories through her storytelling newsletter, RAMBLIN' WITH VEE! In 2020, she will [hopefully] begin production on a comedic Asian-American series entitled Reckless Spirits.
Ask Vivian about MARSHMALLOWS, cuz she's gross... and being tips for being frugal while nomading!