08 Jun

CocoRosie – "We Are On Fire" Music Video, "Tearz For Animals" Featuring Antony Hegarty MP3

CocoRosie's latest release, a 7″ featuring "We Are On Fire" and "Tearz For Animals", is the duo's first release in two years, taking their hip-hop-influenced vibes into an epic realm of movement, smoke, and costume in this slow-motion music video for "We Are On Fire", directed by Emma Freeman. More cutesy is their collaboration with Antony Hegarty, of Antony And The Johnsons, with its lyrical hopefulness for humankind, its bizarre vocal melodies, and its drums like dove wings' flapping.

Hear both tracks and read more details about the release below.

Also notable is the fact that the We Are On Fire album artwork is a collaboration between artist Jesse Hazelip and Bianca (aka Twin Rivers). The "Tearz For Animals" art work came from a prison exchange project; drawings from the inside, between friends, as a means to hope.

In the past couple of years since the release of their last full-length record, Grey Oceans:
Sierra produced the skeleton for an industrial opera 2011-2012;
Bianca developed the script for her ballet during 2011-2012;
Bianca Casady appeared in the Moscow Biennale 2011;
CocoRosie appeared in the Marrakech Biennale 2012;
CocoRosie toured Asia 2011;
Bianca lived in Japan for a period of time while she worked on an exhibition near the end of 2010.

Ω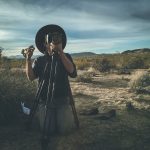 Vivian Hua 華婷婷 is a writer, filmmaker, and organizer. As the Executive Director of Northwest Film Forum in Seattle and Editor-in-Chief of the interdisciplinary arts publication, REDEFINE, much of her work unifies her metaphysical interests with her belief that art can positively transform the self and society. She regularly shares human-centered stories through her storytelling newsletter, RAMBLIN' WITH VEE! In 2020, she will [hopefully] begin production on a comedic Asian-American series entitled Reckless Spirits.
Ask Vivian about MARSHMALLOWS, cuz she's gross... and being tips for being frugal while nomading!