19 Apr

Sleep Party People – We Were Drifting On A Sad Song Album Review (w/ Full Album Stream) + "Chin" / "A Dark God Heart" Music Videos {NSFW}

In this compound post for Danish band Sleep Party People, we review the music videos for "Chin and "A Dark God Heart," and continue with an album review and full album stream for their latest, We Were Drifting On A Sad Song.

Sleep Party People are really trying their best to present their music as the kind for the moments between wake and sleep, and journalists lifting straight off the press release are certainly spreading this message along for no particular reason — until now. This sleek and spacey video for "Chin" is certainly the best indicator of Sleep Party People's intentions yet, reaching true ballerina-meets-outerspace take-off about halfway through, when a succession of (irregular) hexagonal shapes remind you that you should watch Carl Sagan's Cosmos. (I've taken the liberty of posting a clip of that at the bottom of this post, because… why not?) This video, directed by Obscura and featuring dancer Caroline Baldwin, is just an all-around a delicious view, with its rainbow projections of space.


Download MP3 for Sleep Party People's "Chin"
"A Dark God Heart" Music Video
Continuing with Scandinavian tendencies towards the human extremes is the epic video for Sleep Party People's "A Dark God Heart" — one rather fucked up yet starkly beautiful video. Don't let the classical piano and sunshine fool you; those disembodied vocals and strings ramp up dramatically and somewhat comically, into a crescendo of sound and nudity! Full film credits at the bottom of this post.
We Were Drifting On A Sad Song Album Review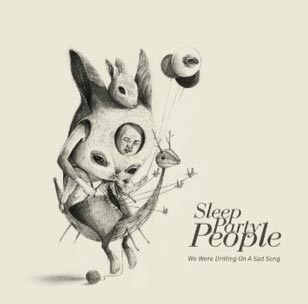 As though they are taking cues from Donnie Darko (but really taking cues from Boards of Canada, David Lynch, Erik Satie, and classic movie soundtracks), Danish dream pop and shoegaze band Sleep Party People don bunny ears and maintain an air of mystery around their latest album, We Were Drifting On A Sad Song.
The brainchild of multi-instrumentalist Brian Batz, the album makes great use of organic and digital instrumentation to capture life's glimmering and treacherous moments with equal delicacy. Batz's vocals are generally unintelligible given their eerie and effected nature, but song titles like "Things Will Disappear Like Tears In The Rain" and "Melancholic Fog" make one understand implicitly the emotions of subdued happiness present. This you might expect from any well-to-do Scandinavian release, but Batz's leaning towards unconventional decision-making — such as incorporating lethargic vocals into the dancey "Chin," diving deeply into classical with "Heaven Is Above Us," or making "We Were Drifting On A Sad Song" an unexpectedly banging track — makes the record a tad more dynamic than most that are exploring these genres.
We Were Drifting On A Sad Song tracklisting and full album stream at the bottom of this post.
Purchase We Were Drifting On A Sad Song
WE WERE DRIFTING ON A SAD SONG TRACKLISTING
01. A Dark God Heart
02. Chin
03. We Were Drifting On A Sad Song
04. Melancholic Fog
05. Heavy Burden
06. Gazing At The Moon
07. Heaven Is Above Us
08. Things Will Disappear Like Tears In The Rain
09. The City Light Died
"A DARK GOD HEART" FILM CREDITS
DIRECTOR Marie Limkilde
PRODUCER Josefine Gervang Heimburger
PRODUCTION MANAGER Andreas Sommer
CINEMATOGRAPHY Sturla Brandt Grøvlen
ASSISTANT CAMERA Brian Curt Petersen
DIT Sille Martens
GAFFER Kim Bech
PRODUCTION DESIGNER Kristine Køster
EDITOR Linda Man
COLORGRADER Joseph Barrett
VFX GHOST VFX
STORYBOARD Carmen Hannibal
GRAPHIC Robi Dwi Antono
Carl Sagan's Cosmos
Ω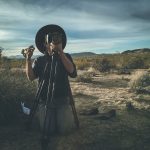 Vivian Hua 華婷婷 is a writer, filmmaker, and organizer. As the Executive Director of Northwest Film Forum in Seattle and Editor-in-Chief of the interdisciplinary arts publication, REDEFINE, much of her work unifies her metaphysical interests with her belief that art can positively transform the self and society. She regularly shares human-centered stories through her storytelling newsletter, RAMBLIN' WITH VEE! In 2020, she will [hopefully] begin production on a comedic Asian-American series entitled Reckless Spirits.
Ask Vivian about MARSHMALLOWS, cuz she's gross... and being tips for being frugal while nomading!