15 Aug

Yeasayer – Fragrant World Album Review
After their controversially poppy second album,
Odd Blood
, Yeasayer returns in 2012 with
Fragrant World
, which has potential to be equally controversial.
Beginning at its highest point with a nostalgic coupling of "Fingers Never Bleed" and the album's second single, "Longevity", Fragrant World flaunts its best early on. These two tracks, along with the subsequent' Blue Paper" and album single "Henrietta", may please early adopters of the band's music. The ethereality and restraint that were present on the band's first release, All Hour Cymbals — but intentionally shed on their rambunctious second, Odd Blood — are present here. These tracks feel nostalgic and stand apart from most of the remainder of the record, in that they maintain a thread of stylistic consistency among them. They even seem to share a bit of lyrical cohesion, centered around a preoccupation with time — be that of the past, present, or future.
SEE FULL REVIEW FOR YEASAYER'S FRAGRANT WORLD
SUMMARY:
"Fragrant World may be just as controversial as Yeasayer's last, as it is a shape-shifting record that redefines its quality with every listen."
Yeasayer – "The Devil And The Deed" (Live On Conan)

Yeasayer – "Love Me Girl" (From Odd Blood)

Indeed, the first four tracks seem to bode well for Fragrant World, and even when Yeasayer decide to go club-thumping by the fifth track, with "The Devil And The Deed", things look promising. Though somewhat reminiscent in form to Odd Blood's adorably kinky "Love Me Girl", the sound and feel are less explosive than where the band has been before. Yeasayer's willingness to allow for more space on Fragrant World gives the record its primary saving grace; selections of creeping weird and electronic sounds subtly edge what would otherwise be extremely straight-forward pop songs into a steeper learning curve.
The remaining five tracks on Fragrant World cover quite a bit of ground, and much of it takes numerous and repeated listens, as each time warps the record's level of attraction. What is enjoyable and what is completely unlistenable seems to shift just as often as the band itself schizophrenically decides to shift. "No Bones" may be downright obnoxious initially but also has moments one can appreciate, found primarily in its nearly dubstep-like groove and droning echoey vocals. "Reagan's Skeleton" is confusingly, and maybe a bit generically, reminiscent of a Scissor Sisters track. "Damaged Goods" maturely splits the difference between ambient and break beat with effective results, while "Folk Hero Shtick" may be one of the band's least attractive songs to date — a neverending parade of monotonous melodies set atop a fairly cheesy electronic dance beat.
In short, the first half of Fragrant World is easy; a quick love it or hate it affair. The second half requires revisits under different headspaces for one to come to any conclusions at all. Each track contains so many elements that one unattractive element does not discount a whole song and one fascinating element can make a whole song worthwhile. Fragrant World may be more or less the result of Yeasayer pulling in from the boisterous impulses of their last album back towards their roots, but it is just as confounding as Odd Blood was. Whether that is acceptable or not is a test of time and personal taste.
Moving Image Appeal

Just as Odd Blood's mainstream Top 40s appeal certainly propelled Yeasayer to new heights of fame, Fragrant World will most likely continue that expansion, this time with a focus on multimedia elements. Pairing up with video artist Yoshi Sodeoka, Yeasayer began spinning the gears of the hype machine with two videos — no downloads — for their first two album singles, "Henrietta" and "Longevity". This followed with PSCYVOTV (PREEMPTIVE SELF-COMMISSIONED YEASAYER VORSTELLUNG or TRACK VISUALIZER" — a series of moving images paired with each track of the record, which were scattered throughout the internet for fans to locate like children participating in an Easter egg hunt between August 1st and 3rd. And after two days, those videos were privatized, leaving only the original two for viewing. Such is no doubt a brilliant — and again, self-commissioned — marketing ploy, but solidifies Yeasayer into the realm of artists who are not only paying attention to music, but to the relationship of moving images and philosophical ideas to music and the music industry.

Yoshi Sodeoka is a multidisciplinary artist and musician from Yokohama, Japan, who's lived and worked in New York for more than two decades. "Sodeoka's psychedelic video art—informed by his background as a painter, punk rocker, and electronic musician—is a dystopian clash of noise and beatitude."
Ω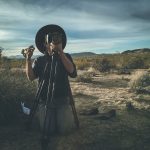 Vivian Hua 華婷婷 is a writer, filmmaker, and organizer. As the Executive Director of Northwest Film Forum in Seattle and Editor-in-Chief of the interdisciplinary arts publication, REDEFINE, much of her work unifies her metaphysical interests with her belief that art can positively transform the self and society. She regularly shares human-centered stories through her storytelling newsletter, RAMBLIN' WITH VEE! In 2020, she will [hopefully] begin production on a comedic Asian-American series entitled Reckless Spirits.
Ask Vivian about MARSHMALLOWS, cuz she's gross... and being tips for being frugal while nomading!