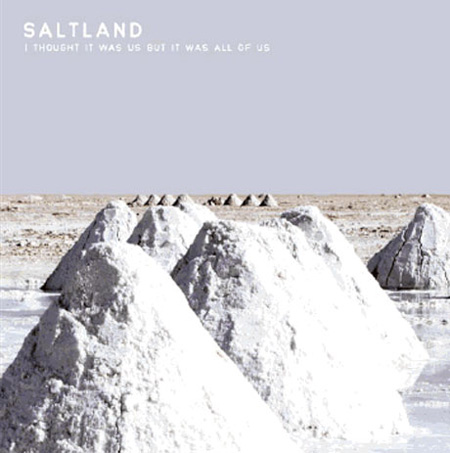 SALTLAND
I Thought It Was Us But It Was All Of Us
Constellation Records (2013)
On her debut album, cellist, vocalist, and composer Rebecca Foon — otherwise known as SALTLAND — creates a cosmic wasteland of sound and feeling. Through freeform string parts, spiritually reminiscent vocals, raw, distorted backdrops, and tribal percussion, the desolate and beautiful world of I Thought It Was Us But It Was All Of Us emerges, entrances, and encourages contemplation.
Perhaps one of the most interesting aspects of SALTLAND's debut, undoubtedly due in part to Foon's background in contemporary string music, is the way it manages to be simultaneously relaxed, ethereal, and stripped down, as well as anxious, distorted, and layered in its instrumentation and emotion. Carefully composed, I Thought It Was Us But It Was All Of Us, ultimately relies on instruments to convey emotion — whether through the chaotic horns added to "I Thought It Was Us" or the high-pitched, distorted note that nervously comes in and out like wind in "Colour the Night Sky". Foon's string parts and cello playing do the most work to evoke the album's natural wasteland, rising and falling among the vocals and other parts. Moreover, in the midst of Foon's slow, deliberate layering of strings and sustained sounds, tribal percussion and active bass lines — such as those on "Golden Alley" and "Treehouse Schemes" — add momentum to the album and make Foon's music deep and weighty at the same time that it is atmospheric and somewhat otherworldly.
SALTLAND – I THOUGHT IT WAS US BUT WAS ALL OF US ALBUM REVIEW CONTINUES BELOW

The successful combination of ghostly vocals, elaborate strings, and raw percussion on I Thought It Was Us But It Was All Of Us evokes a vastly unique natural world, for which the album art is a perfect match. Undeveloped, sparse, and somehow beautifully desolate, the album's environment is nature uninhabited, mysteriously captivating in an unnerving and exciting way. With the repetition of parts and lyrics, along with Foon's ritualistic vocals vaguely reminiscent of spiritual melodies, SALTLAND's debut tracks are entrancing and meditative. To a degree formless and free-flowing — yet always subtly changing, introducing, for example, a rhythmic alteration or a new and distinctly hopeful chord progression — I Thought It Was Us But It Was All Of Us creates beautiful, open space for contemplation.
In its minutiae, SALTLAND's debut is most certainly an achievement, with expert fadeouts, a masterful transition from the standout "But It Was All Of Us" into "Colour The Night Sky," and the constant blanket of sound that supports each track and keeps silence at bay. It is the intangible quality of the album, however, that is most intriguing — that certain inexpressible something that makes Foon's music at once familiar and foreign, comforting and strange. This quality signifies that I Thought It Was Us But It Was All Of Us has tapped into something special, an essence that may require multiple listens to fully appreciate.
SALTLAND is the solo project of Rebecca Foon, who also plays in Esmerine, A Silver Mt. Zion, and Set Fire to Flames. This is her debut record.
Ω