The origins of Craig Leon's
Nommos/Visiting
lie in the ancient art of the Dogon tribe from Mali, who worshipped a race of amphibious extraterrestrials, known as the "Nommos", who were said to come from the distant star supposedly known as Sirius B. The strange thing about Sirius B is that it is invisible to the naked eye, and science only verified its existence in the 20th century, long after the Dogon tribe had already established a deep mythology around it.
This intersection of science and spirituality, of the ancient and the modern, lies at the heart of this stunning collection from RVNG Intl., packaged with the usual lavish care and attention to detail, in which Craig Leon simulates a soundtrack for interstellar travel for the Nommos, using a battalion of cutting-edge-at-the-time synthesizers and drum machines.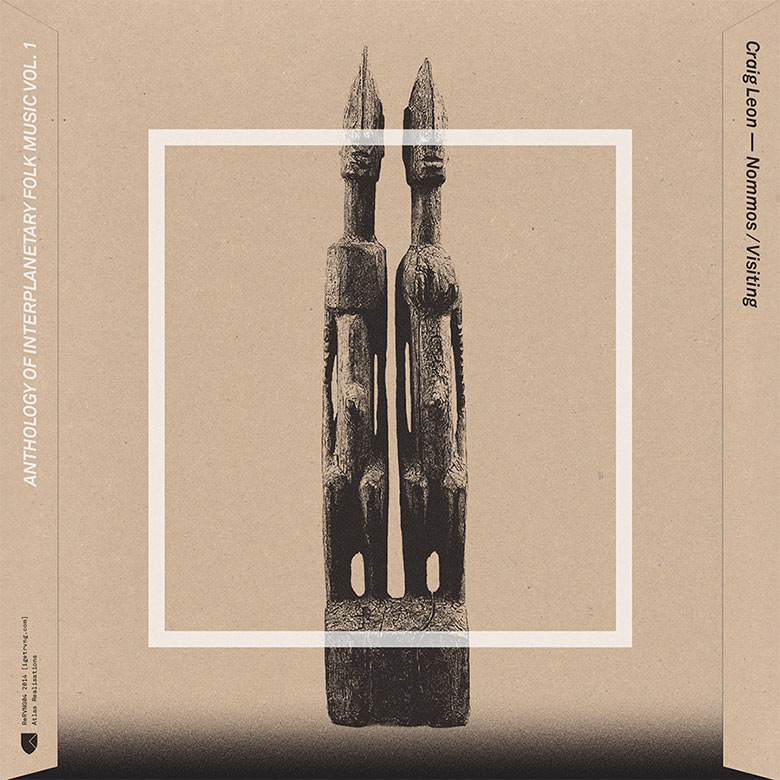 Craig Leon is not some undiscovered private press new age genius. Rather, he is best known for production duties on some of the '70s most adventurous records, from some of New York's arthouse elite, including Suicide, Television, The Ramones, and Blondie, which places "Nommos/Visiting" at the intersection of punk rock and new wave, industrial music, early hip-hop, and world music. This is no slice of musical soma; this is a transmission from the crossroads.
This liminal state does wonders to correct many of the missteps of the last 30 years. Rather than being a piece of appropriative worldbeat, clumsily stapling some polyrythyms on top of what is otherwise European music, or dumping some Pygmy samples that aren't really Pygmies on a track to give "that tribal flavor", a la Deep Forest, Leon uses the African art and mythology as a starting point for his imagination. Leon uses his drum machines and the total tonal control of his synthesizers to approximate the twists and curves of the African sculpture, and to simulate the sound of music being heard underwater, as the Nommos were amphibious. Imagination, creativity, and execution are the hallmarks of truly excellent music, and art of all kinds, and can't be replicated with cheap gimmicks.
Electronic musicians could learn a lot from Nommos/Visiting. While the most humble bedroom studio is probably 10 times more powerful than what Leon was working with, Leon had the advantage of a long production and engineering career, and it shows. Arrangements never stay still for long, as ghostly echoes and layered harmonic synthesizers creep in and gradually fade, and Leon gracefully filters the audio by hand, adding more motion and interest. Album opener, "Ring With 7 Concentric Circles", is a glorious example of this. On one hand, Leon reminds us that careful attention to detail, aka the little things, are what separates great music from the good, while on the other hand, "Visiting" gives validity and validation to the legions of drone artists and sonic architects crafting unique hallucinations on their laptops. "Four Eyes To See The Afterlife" is an epic, eye-rolling-up-in-back-of-head mantra of repetitious, static drum machines and synth burbles, over which Leon's wife Cassell Webb provides some ethereal birdlike vocals, somewhere between Kate Bush and Yma Sumac, to create a soundtrack for an alien rain forest. "Four Eyes…" reminds us that, while it is good to keep things moving and changing, to capture and hold interest, you shouldn't be afraid to keep things simple, to embrace limitations and repetition. I'd say it would be a bold move for an artist to release a track of fifteen-and-a-half minutes of sparse, unchanging, simplistic drum machines, maybe 2 or 3 notes, a sustained tone, and a little bit of vocals, in 2014. The temptation is great to constantly fidget and fudge with a recording, and you mostly find this level of raw minimalism in underground, experimental circles.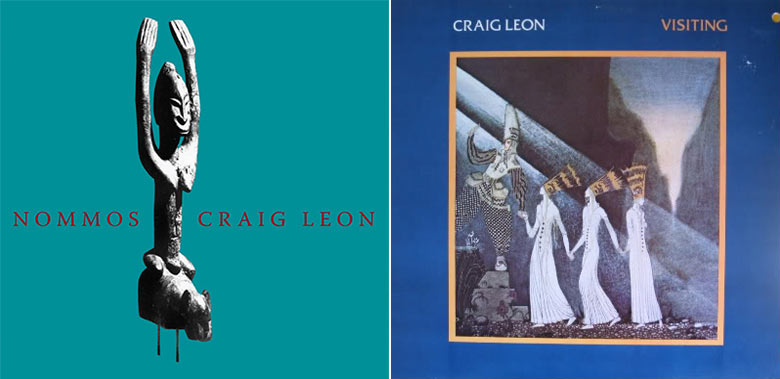 RVNG Intl.'s version of Nommos/Visiting corrects the mistakes of this records' own past, as well, as it is being presented for the first time the way the artist intended. Nommos and Visiting were released as two separate LPs, one for John Fahey's Takoma label, and one for Arbitor. As Fahey lost control of Takoma, Leon lost the rights to Visiting, which went on to a second life of unauthorized remasters and re-pressings. A new unauthorized version on the California Viaduct label in 2013 inspired Leon to take matters into his hands, and the definitive version you see here was born. The reissue also brought about some live performances with the ACME string quartet, rectifying yet one more aspect of the record's past, as it was originally intended as an orchestral work, but had to be synthesized, due to lack of budget. In the scheme of things, I'm glad it worked out the way it did, as the synthetic quality of the record adds to its alien, futuristic charm. It also offers us a new way to interact with the past, beyond and through the rash of unnecessary sequels and remakes, allowing artists the chance to present material as it was originally intended, and providing an audience that is hungry for it.
That's not to suggest that Nommos/Visiting is the perfect 10, lost Holy Grail record everybody's looking for. "Visiting", the title track of Side B, is mostly traditional New Age music of the Wyndham Hill variety, with sparse acoustic guitar and some synthetic Latin percussion. It's pretty, but it's unnecessary; mostly an interlude. A lot of Visiting sounds like more traditional, known music, not that different from radio synthpop of the day. It's still good, but is not as ambitious as Nommos.
There are also some moments that feature some experimental mixing moves that will alienate the casual listener, most notably, the transition from "Four Eyes To See The Stars" to "One Hundred Steps". "Four Eyes…" places you deep in a trance, with its monumental length, which "One Hundred Steps" detonates with a fizz of stovetop popcorn percussion. The contrast makes a drastic impression and seems intentional and driving for a particular sensation, but it will prevent Side A from being the head-lulling, drool-inducing narcolepsy that the ambient somnambulist is looking for.
Ultimately, Nommos/Visiting is imaginative, visionary music that is capable of moments of true sublime beauty, as on the final track, "The Customs Of The Age Disturbed", where woodwinds are sculpted into weightless sound sculptures, mid-air, and helixes of chiming bells spiral to heaven. It's a breathless moment, one of many, that deserves to be heard by many. And in that hearing, hopefully a new generation will be inspired — inspired to imagination, creativity, nuanced detail, and to be curious and appreciative of other cultures, rather than focusing on surface-level stereotypes.
See other releases and reviews from
RVNG Intl.
, or check out
our interview with Lumerians
' regarding their fascination with the Dogon tribe and how it inspired their record,
The High Frontier
.
Ω