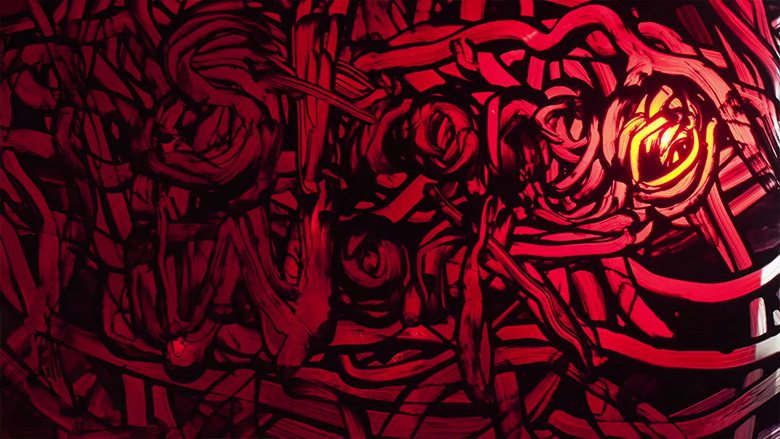 Like leaves in the wind, a repetitive keyboard line flutters about on "Strange(r) Work", as if to usher in the fall season. Though plenty beautiful in aural form, the evocative nature of
Mind Over Mirrors
— a project by Chicago musician Jaime Fennelly, who is now joined by Haley Fohr of Circuit des Yeux — also lends itself finely to visual meanderings. Translating such musical ambiance into visuals has long been understood by Timothy Breen, the stop-motion animator and director behind the music video for "Strange(r) Work". Over the course of eight months, Breen drew upon spontaneous creative processes and, referencing the title of the track, pays homage to the mysterious forces which first united him with Fennelly. Collage and mixed media ground Mind Over Mirrors' ethereal sound loosely in a naturalistic narrative, complete with beasts that roam within multi-dimensional textured landscapes. In this comparative Q&A interview, Fennelly and Breen speak about working together over the course of years, their creative entanglement, and spontaneity.
Stop-Motion Animation and Video by Timothy Breen
This article is a part of our Compare & Contrast Series, where we analyze a creative project from its many varied viewpoints. You can also view all of our other articles on Mind Over Mirrors, dating back to 2012.
---
You have been working together for some time. What were your first projects together, and how the relationship has changed since?
Timothy Breen (Director):
Jaime and I were working together at the time when he just put out his first record as Mind Over Mirrors, and I was doing a bunch of DIY printing. He asked me to make a poster for a Mind Over Mirrors / Zelienople / Scott Tuma show. I showed him an image I drew of a trilobite, and he suggested we put a pattern from a Buckminster Fuller book beneath. Some people are just immediately easy to work with. We got into a whole lot of other stuff after that. My work was evolving to include more and more dense layers, I always use the word "Inchoate", but I was looking for a kind of image that felt like it was still in motion, in a way where all elements are treated equally — all planes have come alive and can become a focus at any moment. I was basically collaging negative space, and you had to look hard to find the subject. Since then, we have collaborated a lot.
Jaime Fennelly (Mind Over Mirrors):
I was working a warehouse job to make ends meet right after I moved from the Pacific Northwest to Chicago in 2010, and Tim was putting together this monthly art zine. I had watched Tim on numerous occasions descend into this little screenprinting room he had built out, and he usually would not emerge before my shift was over. I was curious what he had going on in there, and I'd see some evidence the next day with vividly colored posters lying around drying. It was around that time that my first Mind Over Mirrors album, The Voice Rolling, was released on Digitalis Recordings, and I had this upcoming show in town. I asked Tim if he would be interested in designing and printing a few posters. I introduced him to my music, and I quickly became familiar with his visual work and we immediately connected on a personal level. It's easy to collaborate with someone you really get along with. In 2014, I was invited to play at the Austin Psych Fest and I asked Tim to make the pilgrimage down to with us and that kinda sealed the deal. When I completed work on The Voice Calling, I had mentioned to him how great it would be to see his cut-ups and patterned paper that is characteristic of his artwork put in motion for a music video. It was almost a dare as I knew what an ordeal it would be to create something like that.
How was this music video conceptualized, and how closely did you two work together on the exchange of ideas? Was there a concrete "concept"?
Timothy Breen (Director):
The video started with the simple idea of moving some of these images, which seems totally natural now. Jaime proposed the idea for a video without any preconceived notions. We listened to his record, a few ideas immediately came to my mind for "Strange(r) Work". The archer, the symbol of a cracked egg — all sorts of ideas flowed from there about what it means to create, what it means to be prolific, where that all comes from. The title, "Strange(r) Work", really fueled the whole process; it was the perfect metaphor for what we are up to.
Jaime Fennelly (Mind Over Mirrors):
I played the completed album for Tim at the tail end of last year and after we talked a bit about the idea of him making a stop-motion video, he chose "Strange(r) Work" as the piece he wanted to make a video for. I really trust Tim as an artist, and I think he really understands what some of my intentions are in creating this music, so he pretty much had carte blanche.
There is an obvious meditative quality to this song, which carries over into the hypnotic nature of the music video. Yet this seems almost counter-intuitive in some ways, considering how painstaking the process of stop-motion is. How does spontaneity play a role in the music-making and the video-making processes?
Timothy Breen (Director):
I'm a big believer in the idea that repeated work or physical work can be meditative. I really enjoy the process of being physical in art-making. I was moving paper fragments over and over again, waiting till something emerged — then I helped that form do what I thought it wanted to do. A lot of bending over a table, kneeling on the floor cutting paper, looking through the lens, hitting the button. That happened a couple of thousand times. I tried not to interfere with what came naturally. Until the end, the editing was a lot about what's happening here and how can I intellectually make sense of this mess.
Jaime Fennelly (Mind Over Mirrors):
I think there are lots of examples of how the actual process of making a work can be completely different than how the finished piece looks, sounds, or makes you feel. Take, for example, Tibetan Buddhist colored sand mandalas, which sometimes take up to several weeks to make by a team of monks, only to be swept away or cast off into a body of water. I completely appreciate complex processes like what it takes to make a sand mandala or a stop-motion video, but if the process becomes the work and the work itself doesn't lend itself to any greater experience, then I lose interest. For my own work, the first impulse of a piece is often generated from playing improvisational music and capturing a unique performance that is not overly rehearsed. I try to capture that sheer essence and build off of that. That's certainly the case in "Strange(r) Work", where after I recorded the harmonium track, I knew I had something worthwhile to work with and proceeded to build the synthesizer tracks, followed by Haley Fohr's vocal contributions.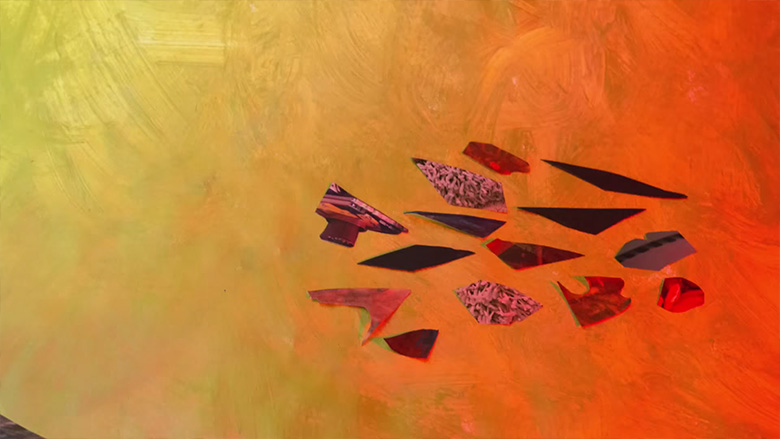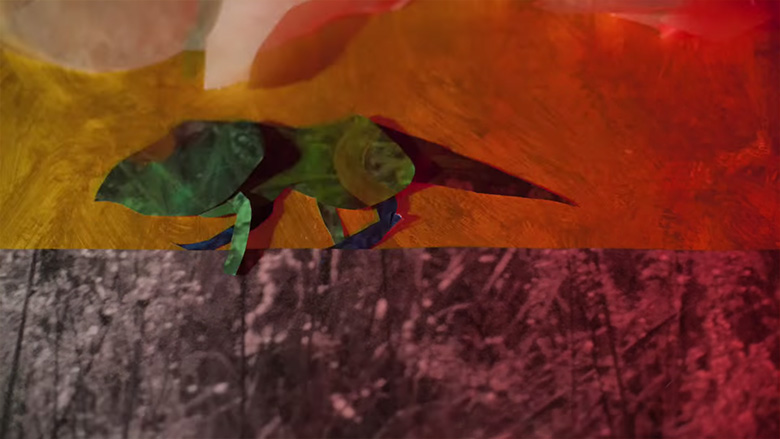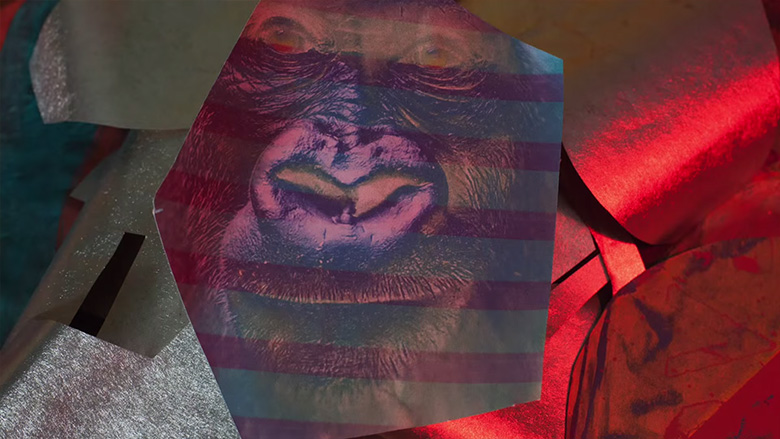 This video could very easily have been a simply abstract work without recognizable creatures, but animal and naturalistic forms are present throughout it. Why the decision to include them, and how does that connect to the work of Mind Over Mirrors?
Timothy Breen (Director):
I have a lot of questions about what human beings are up to, and I look to other living things as a way to understand myself. Nature feels to me like a constant balancing act of biological impulse and organization. Everything creates pathways, prioritizing information to economize their existence. I won't speak for Jaime, but I hear that in his music.
Jaime Fennelly (Mind Over Mirrors):
I was really happy to see that Tim had created these characters for the video as it relates the music to an actual being (or at least an identifiable being made out of paper) and in doing so, grounds an certain abstraction existent in the music to the natural world. I aim to create music that might bring the listener to imagine such an idea and make these connections themselves auditorally, but giving these visual cues in the video (and in my album artwork) I find gives the work another sensory reference point.
How would you describe the similarities between your work?
Timothy Breen (Director):
I try to make dense images that take time to know.
Jaime Fennelly (Mind Over Mirrors):
I think the performative nature of how Timothy and I both begin generating material is quite linked, so there certainly is a process-oriented connection, but I think similarities extend further than that. I think Tim's color palette really resonates with me, as well as his choice to create his own printed patterns, only to be cut up and reconstituted as these raw shapes that are mystical and carnal at the same time. Sometimes I feel like I'm literally digging in some rich earth when I see Tim's work, and you have all of these dancing earth tones that are really transportive. I aim to make sonically rich music through the use of the vivid sounds of Oberheim synthesizers, magnetic tape delays and vibrating brass reeds, and put them together in some kind of fashion that to me, transcends the individual components.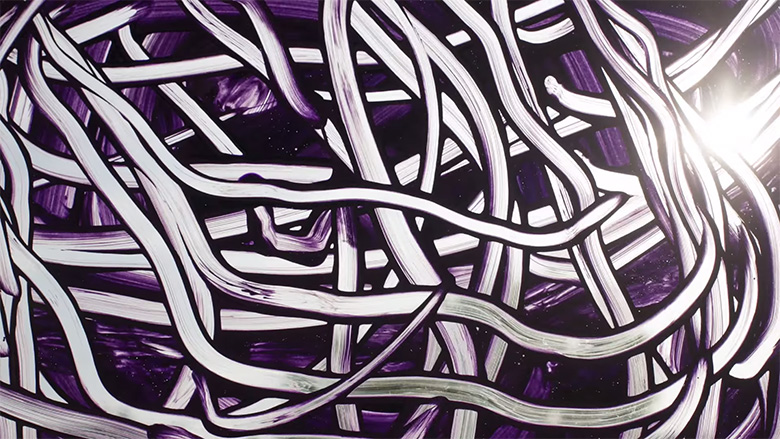 Ω