"Music is a very finicky kind of media, and as Native musicians, we are working within predetermined genres. When someone references 'Native music,' most people automatically assume it's flute music, so the music that gets on these soundtracks for film do a great deal of service to opening the eyes of the public to what Indigenous music can be." – Adrian Wall (Jemez Pueblo)
Using Film as a Medium to Elevate
Growing up around a "pretty closed-minded town," Yung Trybez of Snotty Nose Rez Kids recalls a traumatic incident from his childhood, which forever transformed the way he looked at Indigenous representation in the media. When it happened, his team had just beaten a rival school in a game of "netball" — and the losing team was displeased.
"They started chanting 'Savages,' by Pocahontas, and that stuck with me for a long time," Yung Trybez remembers. "I was like, 'Where did that come from?' and I told my pops about it, and he said, 'You can't be mad at the kids; you can't be mad at the parents. You can't be mad at any of them. That's just what they were taught; that's all they know.'"
Though he was only 8 or 9, Yung Trybez began to consume media differently from that point on. He rewatched films like Pocahontas and Peter Pan, plus shows with Mickey Mouse and Bugs Bunny — and began noticing the racial stereotypes throughout them.
"We're taught to hate ourselves at a really young age," Yung Trybez comments. "It just makes you look at yourself in a weird way. You're almost less than human." Snotty Nose Rez Kids' second album, 2017's The Average Savage, would eventually be based on these problematic shows, which had been ingrained in their minds since childhood.
"That's what those shows were designed for. And the society that we grew up in, that's what it was designed for: to 'kill the Indian, and save the man,'" says Yung Trybez, referencing the famous saying from Captain Richard Henry Pratt. Such ideologies would eventually push for Native assimilation and contribute to the formation of boarding schools.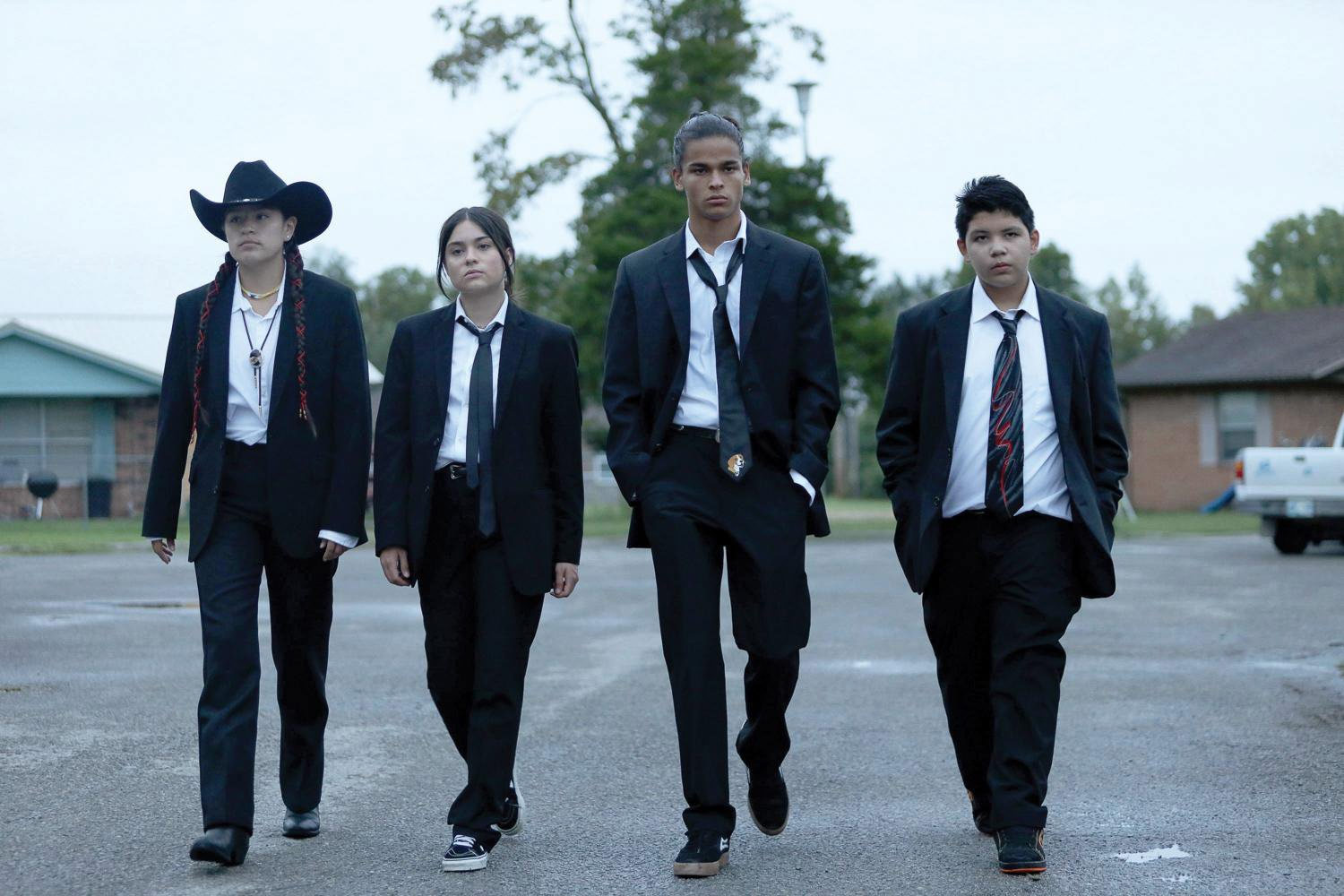 Film still from the FX/Hulu TV show, Reservation Dogs
Yet Indigenous representation in the media has certainly improved since Yung Trybez's Pocahontas experience. In recent years, film has become a powerful medium to share Indigenous worldviews and perspectives, as well as uplift Indigenous musicians. The film The Body Remembers When the World Broke Open (2019) featured music by Fawn Wood; the TV show Rutherford Falls (2021-2022) featured indie rock musician Black Belt Eagle Scout; and the Sterlin Harjo's documentary Love and Fury (2020) showcased a veritable who's who of Indigenous artists, including Warren Realrider, Nicholas Galanin, and Cannupa Hanska Luger, among many others.
Reservation Dogs, soon to enter its third season, has been especially groundbreaking, with widespread popularity even among non-Indigenous people. Created by Co-Executive Producers Taika Waititi and Sterlin Harjo — who is also its showrunner — Reservation Dogs puts power into the hands of Indigenous creators at all levels of the creative process. It features a Native cast and screenwriters, a soundtrack crafted by Mato Wayuhi, and syndicated music from diverse Indigenous musicians, including Black Belt Eagle Scout, Ya Tseen, Buffy Sainte-Marie, Travis Thompson, and The Halluci Nation.
"When I first started doing Black Belt Eagle Scout, there wasn't Reservation Dogs, and there wasn't Rutherford Falls," shares Katherine Paul of Black Belt Eagle Scout. "There weren't really any other Native people that I could [reference] like, 'Hey, that's cool!' And now there are."
Paul, who is Swinomish and Iñupiaq, has recently moved from Portland, Oregon back to her ancestral lands in Swinomish, just north of Seattle. Her latest album, The Land, The Water, The Sky, was released in early 2023 on Saddle Creek, and Paul shares that it is the album she has been most proud of to date. Black Belt Eagle Scout has come a long way since releasing their first EP in 2014, and exposure from Reservation Dogs has helped propel Paul further on her existing trajectory. Paul frequently plays sold-out shows, her latest album has received rave reviews, and she has garnered cover stories in large, mainstream publications, like Rolling Stone, W Magazine, and Pitchfork.
"[These TV shows are] really meaningful to me," Paul continues. "It's awesome to say there's community within pop culture."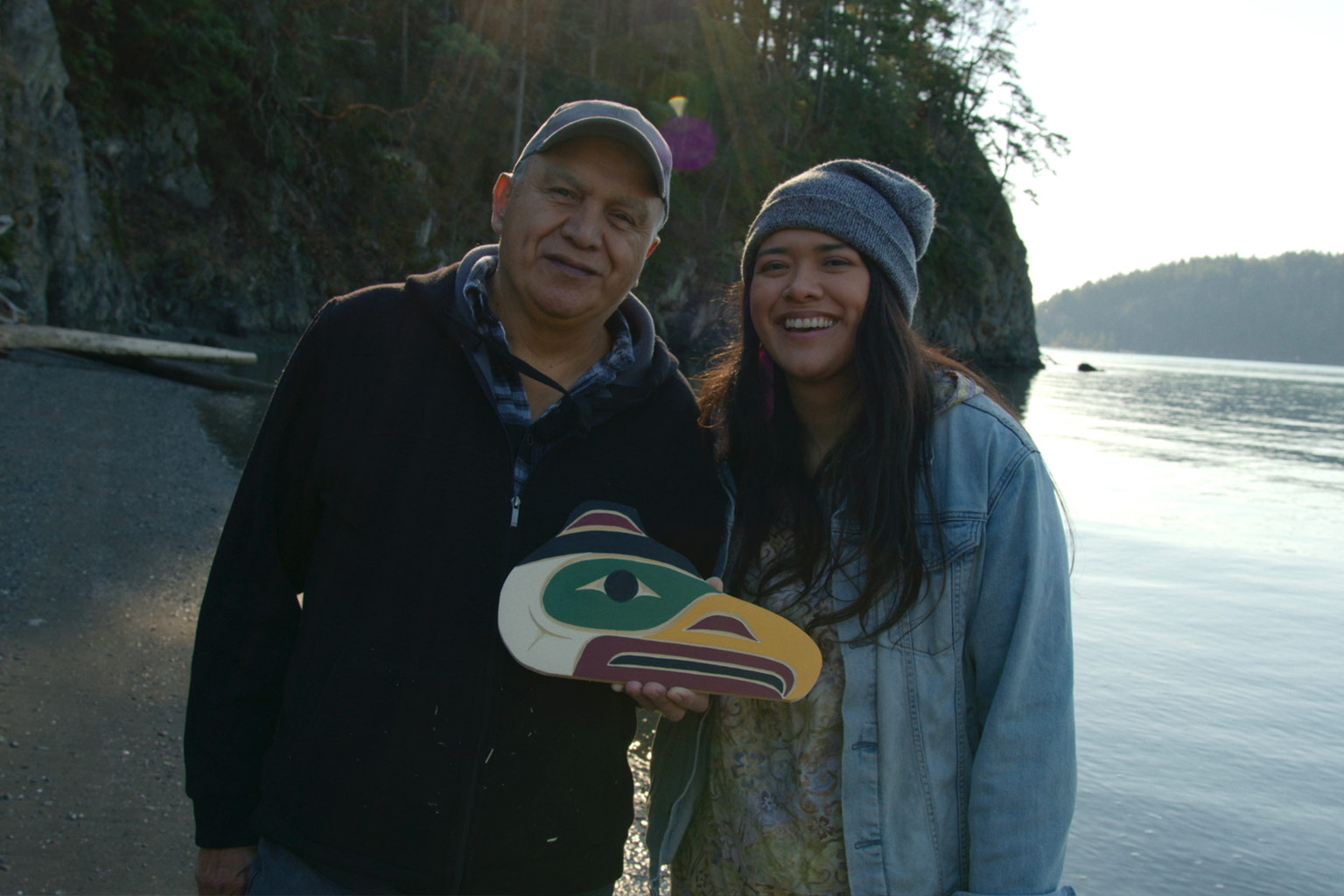 "My dad has been
carving Coast Salish style art
for over 50 years. I grew up around it and learned how to carve and paint when I was a teenager. This video shows a creation process and the kind of intimacy we give to our art. In the video [for 'Spaces,' we carve an eagle out of yellow cedar. The eagle is representative of strength and guidance." – Katherine Paul of Black Belt Eagle Scout, in the press release for her latest album,
The Land, The Water, The Sky
(Credit: Morningstar Angeline)
This concept of "community within pop culture" highlights how interconnected Indigenous creatives are — and how collaborations can naturally arise as a result. After unexpectedly running into one another at Indian Market in Santa Fe — which Wayuhi jokes is "Paris Fashion Week for Natives" — Paul and Wayuhi have begun to collaborate on some yet-to-be-released musical projects that will merge their two creative styles.
Community within pop culture is also what led Wayuhi to become the lead composer for Reservation Dogs. Following his score for the feature film War Pony (2022), the film's directors, Gina Gammell and Riley Keough, put Wayuhi in contact with Harjo, who was already familiar with his music and believed he was a fitting sonic representative for the show. After all, like the show's young Native lead cast — who were walking the line between contemporary and traditional, leaving rez life in search of big city dreams — Wayuhi, too, moved from South Dakota to Los Angeles.
"I'm really grateful to have those folks ahead of me, the preceding generation," says Wayuhi, who acknowledges the risk and investment Harjo and Waititi made to give him the opportunity to work on such a large show. "I'm really, really driven to recreate that for folks and keep that energy going, because I think believing in someone is the best thing that you can ever do."
Wayuhi is soon to soundtrack the third season of Reservation Dogs, and will soon compose for the upcoming Marvel film Echo, which is its first about the Native American superhero. Alongside his own projects, Wayuhi hopes to use his powers of organization to produce film projects for others from underrepresented and underserved communities, using skills he's gained from working with numerous nonprofits, such as Outlast Arts and Education, which runs annual film camps on Pine Ridge Reservation. Wayuhi began working with the nonprofit as a mentor in 2017, grew into the role of assistant director, and is now the vice president.
"You don't want to burden the next generation with the same issues that you face," he shares. "Part of that would imply giving Native kids infrastructure to kind of explore that type of stuff and to see — give them exposure to different people and collaborative opportunities."
JUMP TO: ARTICLE CONTENTS
Using Film as a Medium to Elevate the Collective