When a visitor walks into the office of Seattle's
Moving Image Preservation of Puget Sound
(MIPoPS), their eyes immediately take in racks of blocky recording equipment and bundles of multicolored wires.
Many of these tape players are considered obsolete — yet here, they are treated with reverence, lovingly deconstructed to reveal their inner workings. Unlike film reels that last much longer, tape formats like VHS and U-matic have a shelf life of twenty to thirty years. MIPoPS, which began as a non-profit in 2016, is devoted to fighting this "magnetic media crisis" by turning one-of-a-kind tapes into a digital format.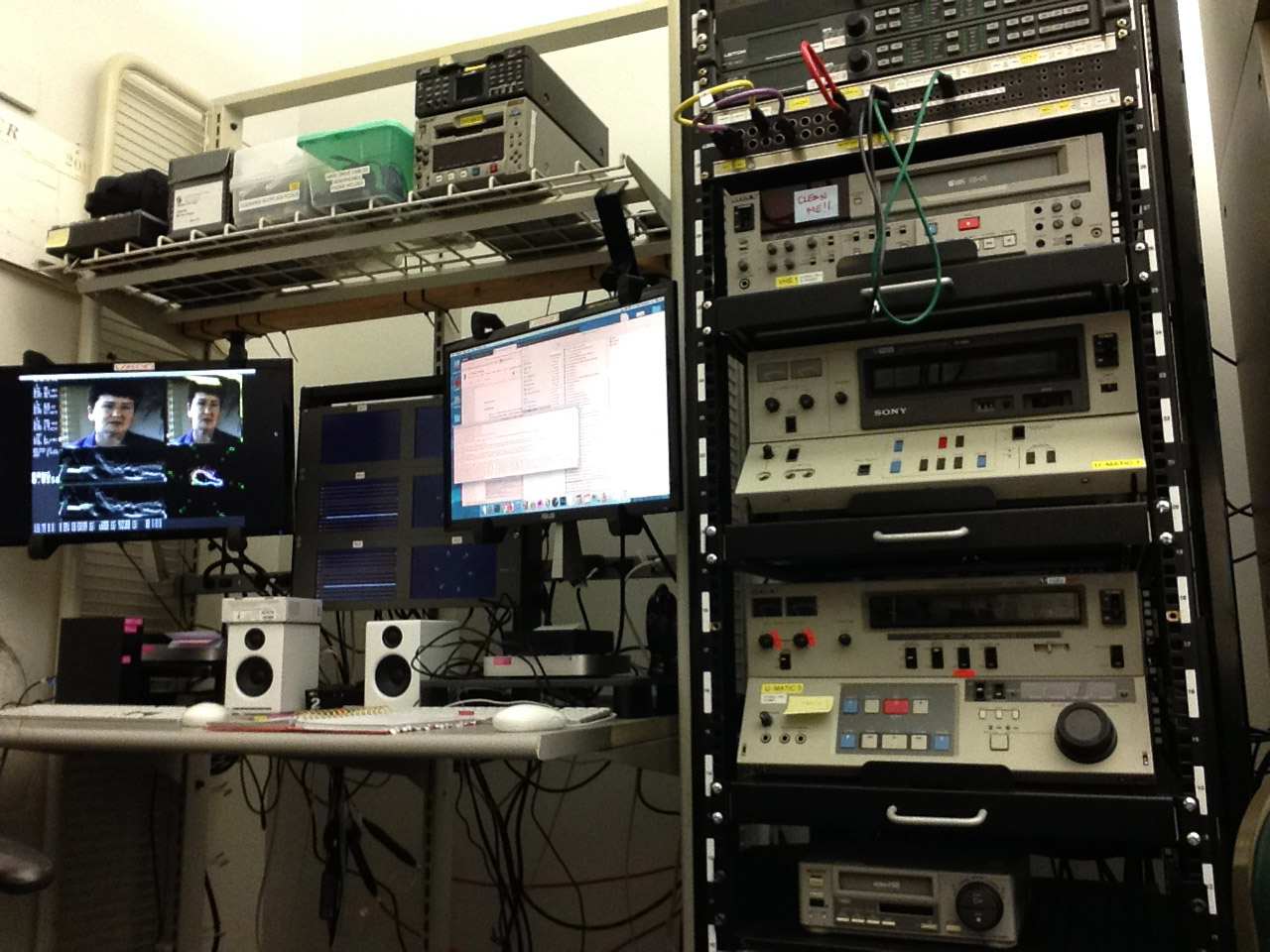 Digitizing equipment of the Moving Image Preservation of Puget Sound, located in Seattle's City Hall building. (Credit: MIPoPS)
MIPoPS' page on the Internet Archive boasts over 2,000 freely accessible videos. Falling down internet rabbit holes, one can easily spend hours exploring hidden gems, from Sir-Mix-a-Lot's environmental PSA to Scarecrow Video's Gay Camp Classics. Partnering with Northwest Film Forum, MIPoPS also hosts an in-person "Moving History" screening series which features curated selections of such archival treasures.
This extensive feature article highlights a number of notable collections MIPoPS has digitized, including those of: the late Vi Hilbert, an Upper Skagit Indian Tribe elder and Lushootseed speaker; the Wing Luke Museum, which features a number of oral histories preserving the culture of Seattle's Chinatown-International District; and footage of the 1999 anti-World Trade Organization protests by documentarian Jill Freidberg.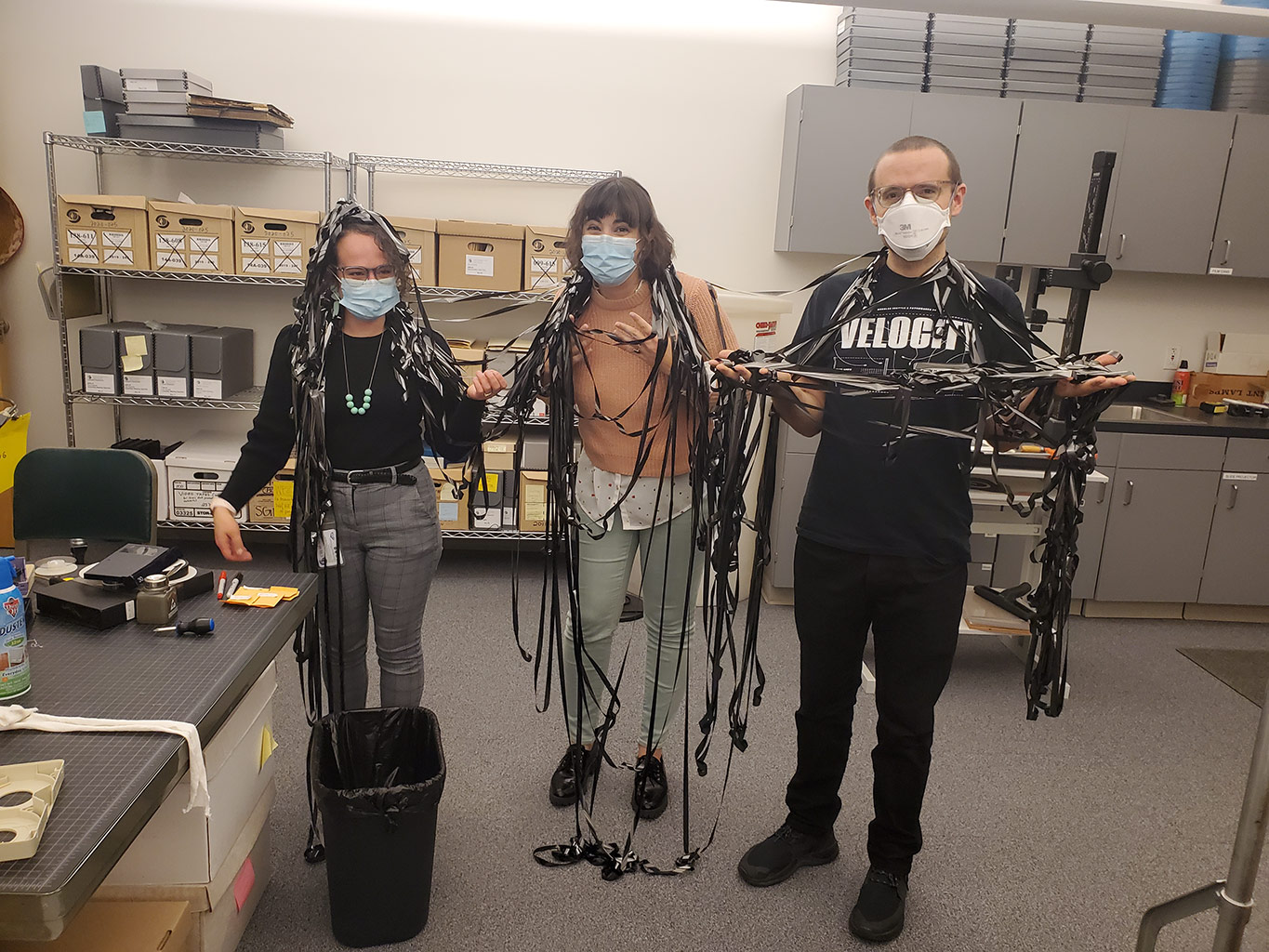 MIPoPS' Audiovisual Archivist Annalise Nicholson, Audiovisual Technician and Communications Manager Paul Siple, and Co-Executive Director and Audiovisual Archivist Libby Hopfauf, messing around with techno trash tapes. (Credit: MIPoPS)
---
Saving Magnetic Media from a Race Against Time
Unfortunately, MIPoPS is in a race against time, since many tape formats — and their players — aren't being manufactured anymore. But Libby Hopfauf, a co-Executive Director of MIPoPS, has accumulated plenty of tricks of the trade and obtained "good secret sources." MIPoPS has bought discounted equipment from eBay, the now-defunct Seattle Art Institute, and a digitizing business that worked with KIRO and King. The Seattle Channel, a public-access channel housed in the same building as MIPoPS, has donated equipment, too. Sometimes, archivists even resort to 3D-printing components of tape players.
Even so, tapes can suffer from a variety of ailments, including mold, damage from non-acid-free stickers, and, most vexingly of all, the dreaded "sticky shed syndrome." Sticky shed syndrome occurs when the binders holding magnetic tape together degrade, leaching out a white, powdery substance. Hopfauf compares the smell of sticky shed to melting crayons. Broadcast formats like 3/4-inch U-matic and 1-inch are more susceptible to sticky shed, while cheap consumer formats like VHS and Hi8 are more prone to general breakdown. MIPoPS often "bakes" these sticky tapes in food dehydrators, sometimes repeatedly.
MIPoPS is also at the forefront of identifying "new" problems, such as the breakdown of the adhesive on the "end of tape" sticker that holds the tape on the plastic reel. As MIPoPS audiovisual archivist Jen Zook puts it, "We're trying to be more scientific about it, because it seems more helpful for humanity if we figure out what the heck is going on."
JUMP TO: ARTICLE CONTENTS
Introduction / Saving Magnetic Media from a Race Against Time