"There's this kind of an unspoken language between some Native artists … in terms of setting our own definitions of Indigeneity and not having it be the defining throughline in all of our art … we kind of have our own little internal networks of outcry, and also, collaboration and beauty." – Mato Wayuhi (Oglála Lakȟóta)
Indigenous Musicians Rising: Introduction
Article by Vee Hua, interview support by Dane Valerio (Carrizo-Comecrudo), guest editing by Amanda Sorell
Moving into the mid-2020s, Indigenous creators across North America are experiencing a heightened period of recognition and visibility in the mainstream media. With it has come the freedom for them to define and expand their own creative parameters, while paying homage and respect to their individual and cultural identities in ways that are often delightfully unapologetic.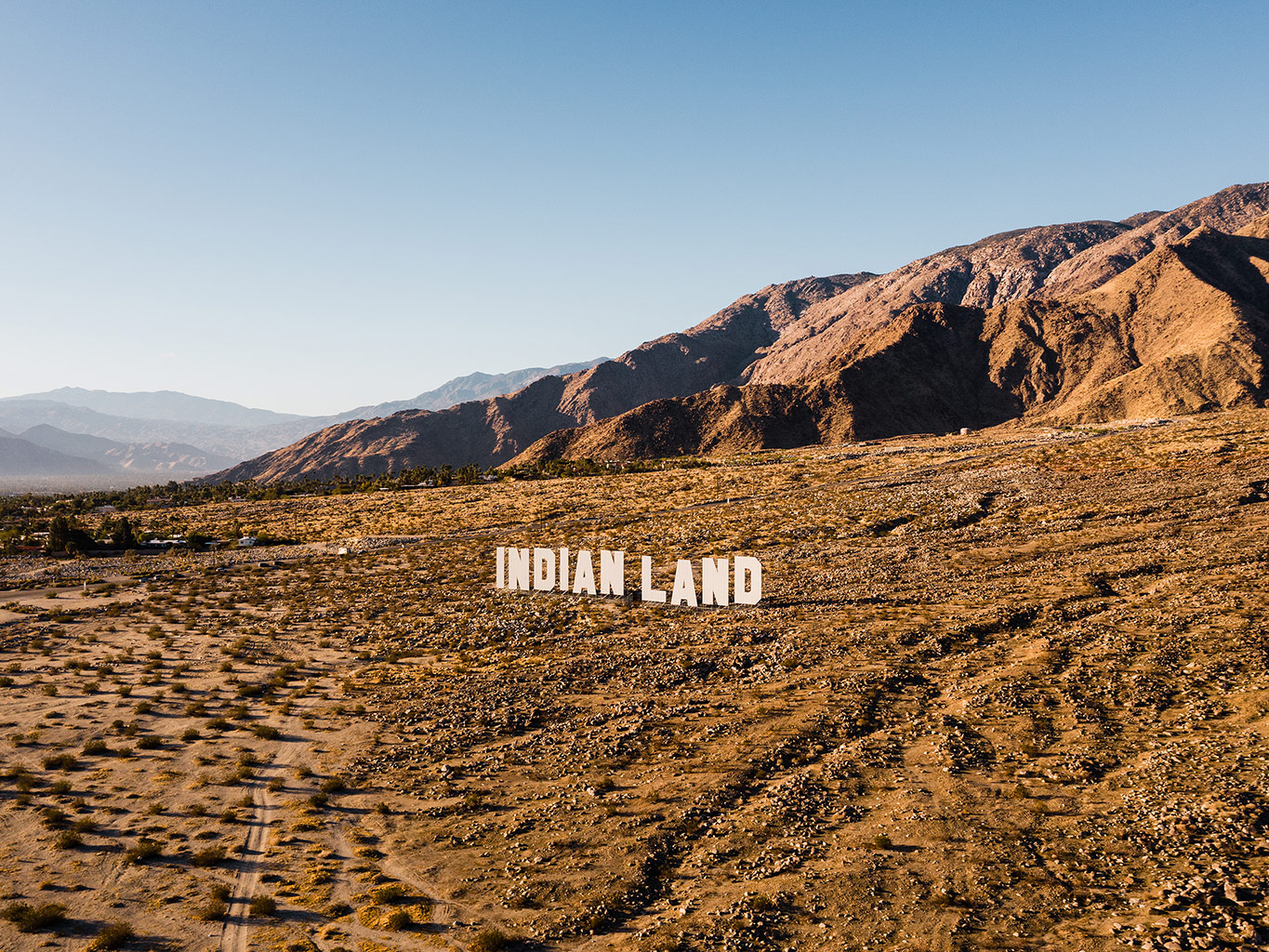 Never Forget, aka INDIAN LAND (2021) by Nicholas Galanin, at Desert X 2021, calls for "land back" to the area's original stewards, the Cahuilla People. (Credit: Lance Gerber)
"We've got some serious intellectual and artistic traditions that challenge everything Americans think they know about anything; everything Americans want to believe," says Mali Obomsawin, a bassist, composer, singer-songwriter, and community organizer from Odanak First Nation. "I think the fact that we're having a 'moment' says more about Americans than it does about Indians."
Other occasions of acclaim have indeed come and gone. Following a particularly high-profile period of the American Indian Movement (AIM) — a grassroots effort founded in 1968 to address systemic issues like poverty, discrimination, and police brutality — Native creators received an influx of attention. Yet it was relatively short-lived and often conformed to external standards of what was palatable for Western audiences.
"It only ever lasts so long," says Obomsawin. "We'll see in time if it's all just New Age tokenizing or not. Regardless, I'm sure Native folks will continue putting out brilliant work."
Odanak First Nation bassist, composer, singer-songwriter, and community organizer Mali Obomsawin. Her latest album, Sweet Tooth is "centered around compositions and archival pieces from Odanak, a Wabanaki/Abenaki community that was pushed across what's now the US-Canada border into Quebec between 1660-1790." (Credit: Jared and Abby Lenk)
---
This extensive, multi-part article features interviews with over two dozen musicians from across what is now known as the United States and Canada. With the acknowledgement that there are 574 federally recognized tribes in the U.S. alone and many more that are unrecognized by colonized systems of government, this article does not proclaim to be inclusive of all Indigenous people or identities. It does, however, synthesize a broad range of viewpoints representing diversity in tribal affiliations, musical styles, gender identities, sexualities, geographic locations, and cultural backgrounds to provide a snapshot of Indigenous musicians creating contemporary work.
Included are the following musicians:
9a – Oglála Lakȟóta
Adrian Wall – Jemez Pueblo
Air Jazz & Captain Raab of Khu.éex' – Tlingit & Afro-Indigenous, Siksiká
Andrew Joseph Stevens III aka Drives the Common Man – Mi'kmaq
Chloe Alexandra Thompson – Nêhiyaw (Cree)
Delbert Anderson – Diné (Navajo)
Fawn Wood – Nêhiyaw (Cree), Salish
Jessa Calderon – Gabrielino Tongva, Chumash, Yoeme
Katherine Paul of Black Belt Eagle Scout – Swinomish
Mali Obomsawin – Odanak
Mato Wayuhi – Oglála Lakȟóta
Nicholas Galanin of Ya Tseen – Tlingit, Unangax̂
Raven Chacon – Diné (Navajo), Chicano
Renata Yazzie – Diné (Navajo)
Clayton Benally & Jeneda Benally of Sihasin – Diné (Navajo)
Snotty Nose Rez Kids – Haisla
Suzanne Kite – Oglála Lakȟóta
Tall Paul – Leech Lake Band of Ojibwe, White Earth Ojibwe, Red Lake Ojibwe, Oneida
Tanaya Winder – Duckwater Shoshone, Pyramid Lake Paiute, Southern Ute
Warren Realrider aka TickSuck – Pawnee, Apsáalooke (Crow)
Becki Jones & Greg Yazzie of Weedrat – Diné (Navajo)
Additional thanks to those who were consulted but whose responses were not used extensively, including Daryl Black Eagle Jamieson of The Medicine Singers (Pocasset Wampanoag), HATAAŁII (Diné), Preston Singletary of Khu.éex', Robert Doyle of Canyon Records, and Quinn Christopherson (Ahtna Athabascan).
EDITOR'S NOTE: We have removed responses from Liam McDonald, or the artist OPLIAM, from our article. While his responses were thoughtful, we have since been alerted to controversies surrounding his cliams to Indigeneity which raise cause for concerns. Upon researching this, exchanges with Native American Calling and thorough research done by Raceshifters give us enough reasoning to remove previous inclusion.
JUMP TO: ARTICLE CONTENTS