When you have dark skin, dark hair, and knowledge of what has occurred in your ancestral homelands, Indigeneity is not something you can flip a switch to turn off. I take pride in who I am, and the fact that my life's experiences and culture are all a part of the shaping of my personality/persona as I appear to the world around me. – Jessa Calderon (Gabrielino Tongva, Chumash, and Yoeme)
Defining "Indigeneity" on One's Own Terms
Multidisciplinary artist and musician Mato Wayuhi — best known for his work as composer for the FX/Hulu TV series Reservation Dogs and his 2018 debut record, Part-Time Indian — is Oglála Lakȟóta. For much of his early life growing up near the Pine Ridge Reservation in South Dakota, Wayuhi was unaware other tribes even existed. His view of Indigeneity expanded greatly when he moved to Los Angeles in 2016 to study Cinema and Media Studies at the University of Southern California (USC). There, he came to better understand the experiences of Urban Natives and the complexities of the many Indigenous people whose ties to their tribes or cultures have been severed or damaged due to colonization and oppression.
Mato Wayuhi, Oglála Lakȟóta rapper and composer. (Credit: CASTRO)
In his three years as President of USC's Native American Student Union (NASU), Wayuhi accidentally learned firsthand what it felt like to be cast as a representative for all Natives. He recalls one incident when the NASU banded with other student groups to protest a speaking engagement from a conservative media personality.
"We led this huge march through campus … and it was really intense," Wayuhi recalls. At that moment, he asked himself what he wanted to do with his life — and concluded it was music, not politics. Still, he had obligations for the day, and it was too late to back out.
"I agreed to do this speaking thing at the Unitarian church in Koreatown with a bunch of leftist radical organizers, and they weren't even involved in USC," says Wayuhi. "I ended up speaking on behalf of all Indigenous people in the world. I was like, 'Okay, I feel like I might have gone to a place that I don't feel comfortable in anymore.'"
The expectation of representing your entire demographic is a challenge faced often by public figures from underrepresented groups. Each learns to navigate that expectation differently; some are unaffected, and some find comfort in the responsibility. For many Indigenous creators, finding the hyperspecificity of one's own experience offers a solution.
"There's this kind of an unspoken language between some Native artists … in terms of setting our own definitions of Indigeneity and not having it be the defining throughline in all of our art, because I think that can be very dehumanizing," Wayuhi shares. "It can also be sort of 'settling' for an expectation of what it is to be a Native artist."
"We kind of have our own little internal networks of outcry, and also, collaboration and beauty," he continues. "There's a lot of conversations being had about that type of expression."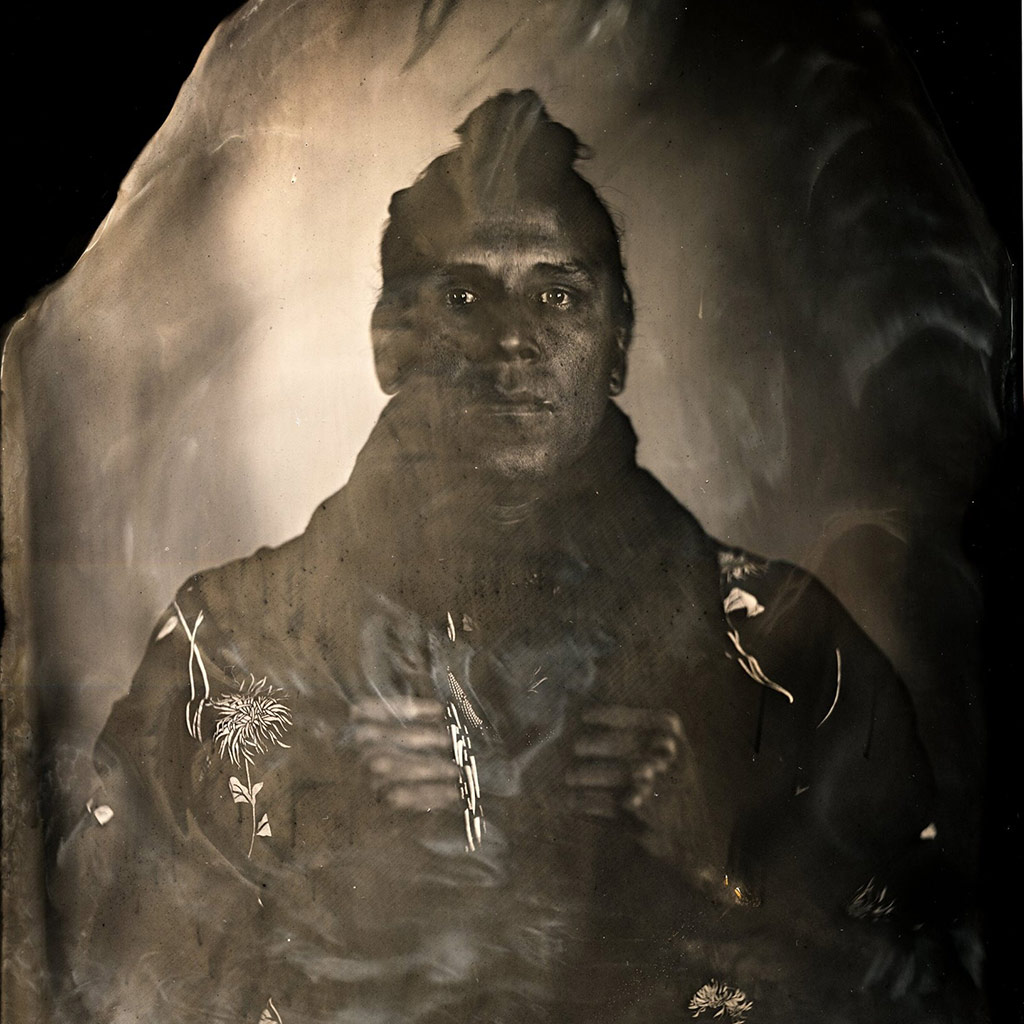 Nicholas Galanin, Tlingit and Unangax̂, a multidisciplinary artist and musician who is a part of the musical project Ya Tseen.
Based in Sitka, Alaska, Tlingit and Unangax̂ multidisciplinary artist and musician Nicholas Galanin also challenges expectations. Galanin is known for his prolific artistic output, including his genre-bending musical project Ya Tseen, signed to Sub Pop Records, as well as his visual artworks, which span many mediums and sometimes incorporate his training with master carvers and jewelers.
One of Galanin's most visible projects is his Desert X 2021 project, Never Forget, also known as INDIAN LAND. In the installation, giant letters mimic the HOLLYWOOD sign in the Los Angeles Hills, while calling for "land back" to the area's original stewards, the Cahuilla People. Neither Ya Tseen nor the Never Forget installation conform to outdated ideas of what defines Indigenous art, but Galanin understands the factors that might push one to conform.
"There's an economy of culture that's been established that caters towards … certain aesthetics, certain materials," says Galanin, of expectations Western society often puts on Indigenous creators. "Navigating that is interesting, but I've always considered the importance of not being reactive."
Not being reactive allows Galanin to flow among mediums with ease and allows the artwork to dictate what it wants to be. He explains, "[Creation] comes from remaining open-minded to work with concepts that represent the message or the voice or the work in a certain way, and from there, [the work] can be anything. It's being in that space, as opposed to a space where people expect it to be a certain way based on … 'authenticity' or whatever."
For many creators, what it means to be "authentic" or "Indigenous" is so fundamental to their work that it does not need to be explicitly defined.
"I don't really put much thought into whether my music is perceived as 'Indigenous music,' because no matter what music I make, it is Indigenous music … because I'm Indigenous," says Andrew Joseph Stevens III, an Ontario, Canada-based Mi'kmaq pop-punk musician who goes by the stage name Drives the Common Man.
Similarly, when asked how his Indigeneity shows up in his work, Pawnee and Apsáalooke (Crow) sound artist Warren Realrider, known as TickSuck, responds quite simply, "My Indigeneity shows up."
Realrider, who originally hails from the Pawnee Tribal Reserve, is part of a vibrant scene of experimental Indigenous noise musicians in Oklahoma. Other influential figures from the area have included but are not limited to Nathan Young, a Lenape (Delaware), Pawnee, and Kiowa artist and composer who launched the Tulsa Noise Fest and Oklahoma Intertribal Noise Symposium, and Suzanne Kite, an Oglála Lakȟóta interdisciplinary artist and composer who makes work under the name Kite.
"Oklahoma is a place of land contention fed by dispossession, exploitation, and allotment policy. As a tribe that was forced to relocate to Indian Territory, we are still affected by our disconnection from our homelands and our current existence in this complex new homeland that our roots inevitably set into," says Realrider of what makes the scene thrive with experimental work.
Everything I Say is True, performance, Kite, 2017, 30 minutes. Carbon fiber, dress, video, sound, commissioned by Walter Phillips Gallery, Banff Centre. (Credit: Rita Hayworth)
Kite, who recently moved from Oklahoma to Hudson Valley, New York, is a complex thinker who experiments with many mediums, including artificial intelligence and other emerging technologies. Although themes of her work may read as heavily Indigenous, Kite stresses that she does not consider Indigeneity a focal point of her work.
"I think of Indigeneity as a political affiliation, in order to have cross-cultural, inter-tribal, multinational connections to other peoples oppressed by imperialism and colonialism," shares Kite, whose definition recognizes independent tribal nations. Accordingly, she focuses her work on "very specific Oglála ways of making new knowledge," centering on her own perspectives or collaborating with family members to include their experiences.
"Even if it is from an Indigenous perspective, my work is not broad enough to cover all of all Indigeneity, and it's not even broad enough to cover all Lakȟóta [or] Oglála. It's not [even] broad enough to cover the reservation my folks live on," Kite explains. "I consider my work to be very interested in contextualized ethics and hyper-locality, so each artwork emanates from one place and collaborates with the seen and unseen world from that specific place."
JUMP TO: ARTICLE CONTENTS
Defining "Indigeneity" on One's Own Terms