In Even Hell Has Its Heroes, Clyde Petersen's feature documentary, the Washington animator and filmmaker opens a mesmerizing, 108-minute portal into the many layers of Earth — the Olympia-to-Seattle band, led by Dylan Carlson, which formed in the late '80s to breathe life into the core of drone metal.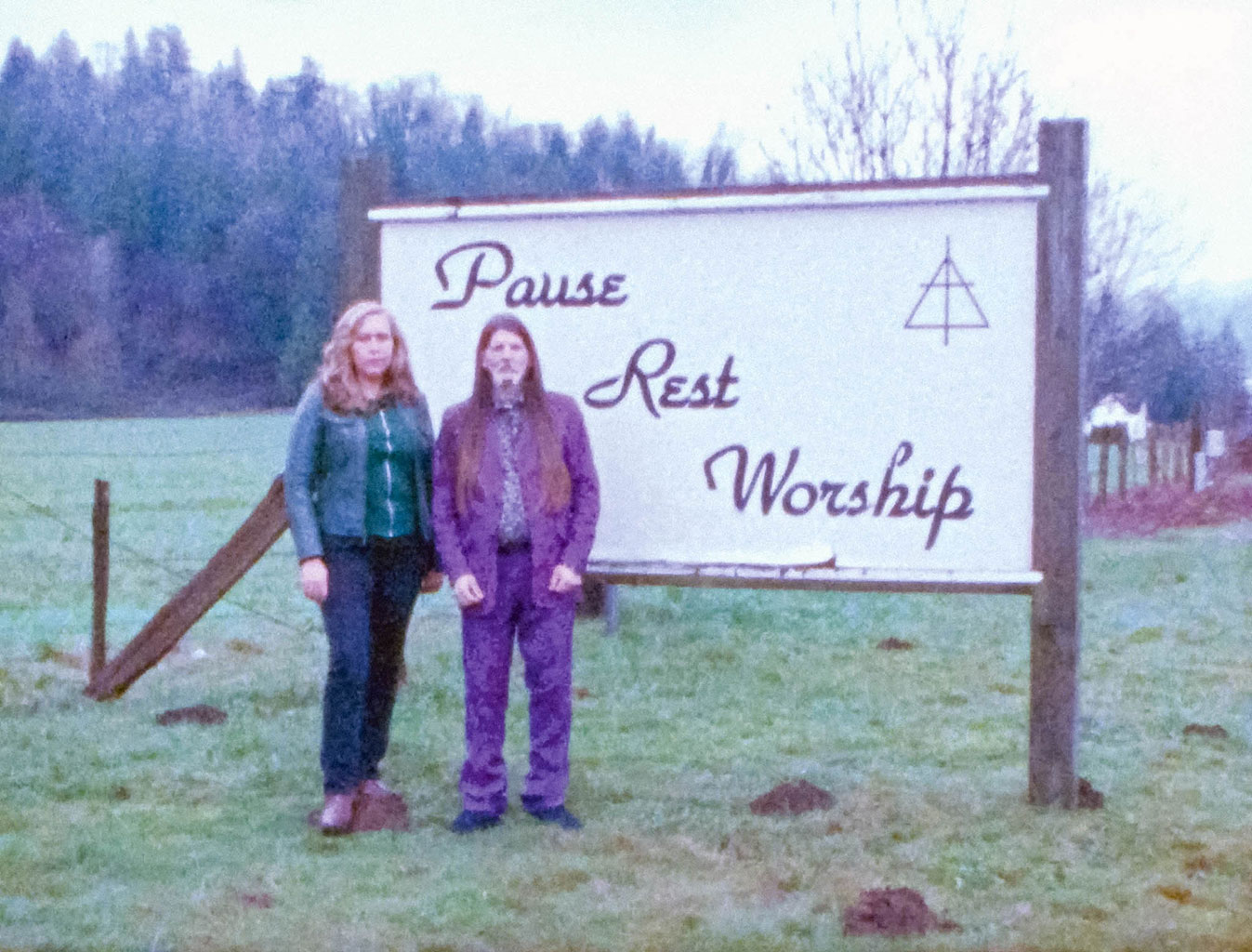 Still from Even Hell Has Its Heroes, showing Adrienne Davis and Dylan Carlson at Wayside Chapel
Without Earth, the Big Bang of '90s-created parallels like Sunn O))), Boris, or even Godspeed You! Black Emperor may have taken longer to find their own way. As the "slowest metal band on the planet," according to Petersen, Earth has released nine studio albums to date and collaborated with dozens of Pacific Northwest grassroots legends, such as Lori Golston, Mark Lanegan, Don McGreevy, Mell Dettmer, Karl Blau, Steve Moore, and Randall Dunn. All but Lanegan (R.I.P.) provide illuminating insights throughout the film, which is a mixture of: venerable souls speaking their empirical truths; on-the-road travelogue punctuated by the glistening waters of the Puget Sound; eidetic stems and stories of a rock 'n' roll haven that once bloomed a certain hue.
Petersen, who was Earth' tour manager between 2007-2013, is able to vividly teleport viewers into an era when innovators and iconoclasts helped shape Seattle's post-grunge underground scene, based on how they showed up as a community and cultivated an iconic chapter in Pacific Northwest history.
Even Hell Has its Heroes Film Trailer
While the rest of the world was worshiping grunge, Dylan Carlson, founder and guitarist of Earth, was worshiping '80s metal riffs and channeling them into a newfound form of higher-calling songwriting by building gradually off of one lick to create hypnotic bliss. In many of Earth's sonic sagas, vibrations turn into billowing clouds of vapor that sink into the corners of a room and the mind, and then get lifted up again by a burst of percussive energy.
Earth 2 — the band's groundbreaking 1993 three-track debut album released on Sub Pop — is a 73-minute grand entrance into distortion-dirty guitar hounding that first expressed Carlson's minimal-yet-meticulous vision. Building off of this metallic core, Carlson's magmatic vision would gradually molt over the course of thirty-four years, moving in and out of guttural riffs towards more airy, angelic tones, to eventually become grounded by percussion and mellifluously-arranged instruments like a Wurlitzer electric piano, trombone, cello, and occasional vocals.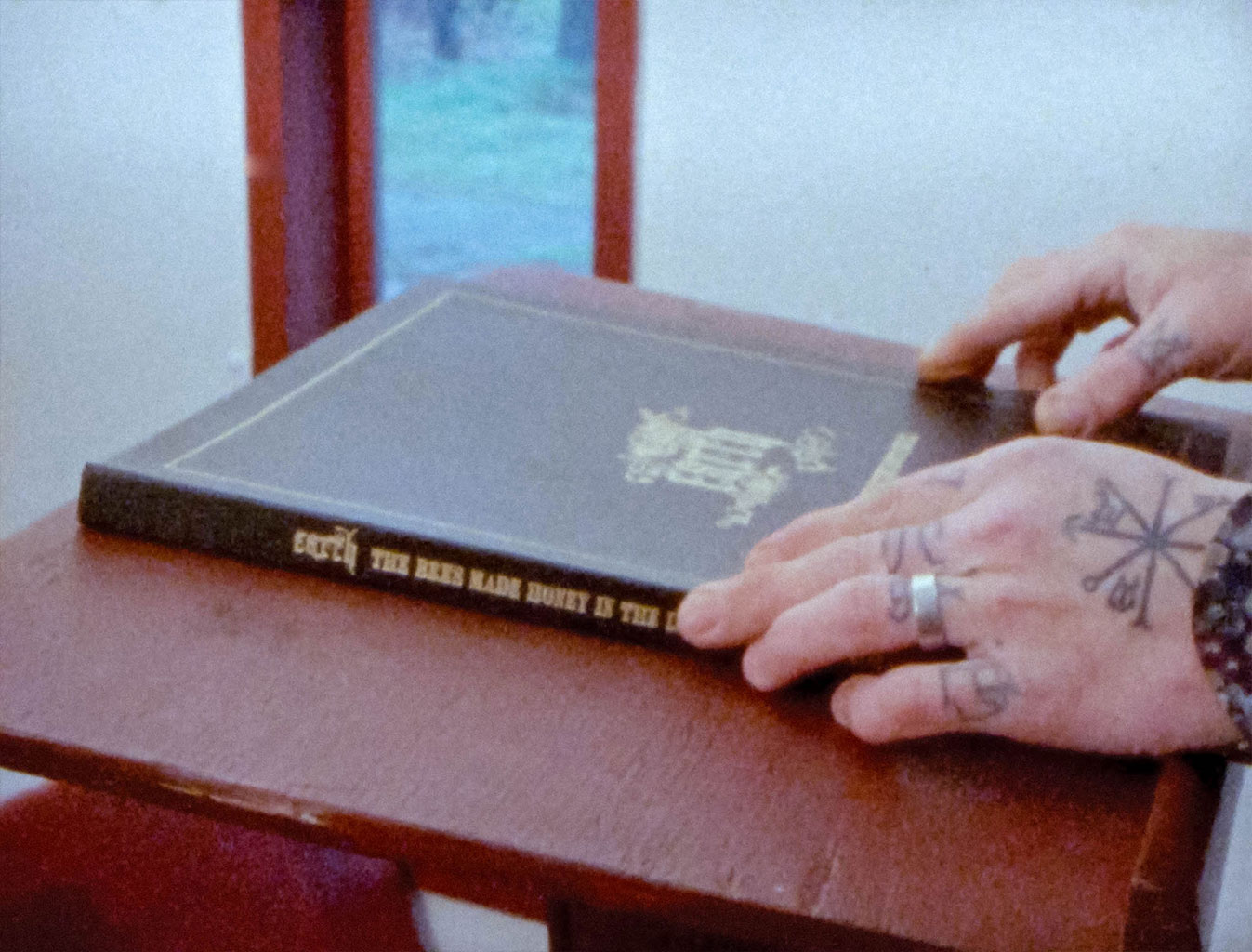 Still from Even Hell Has Its Heroes, with Dylan Carlson reading The Bees Made Honey In The Lion's Skull.
In the opening scene of Even Hell Has Its Heroes, the temperament and tone of Earth is set by a weathered "Pause. Rest. Worship" sign of the Wayside Chapel off Highway 2, roughly forty-five minutes outside of Seattle. A sustained guitar drone complements a suspended PNW fog behind the chapel and above a forest backdrop. The chapel snuggly seats eight wandering worshippers at a time between the pews. Dylan Carson and drummer icon Adrienne Davies (2000-present) walk in and ceremoniously christen the space with their sermon, stating, "From strength, Sweetness, from darkness, Light, the bees made honey in the lion's skull." The lines come from their 2008 opus, The Bees Made Honey In The Lion's Skull. They then proceed with their apostasy by setting up their gear and slaying. Through Carlson's '80s metal riff worship and Davies' delicately sweetened drumming, the genre-defining band makes honey inside the skulls of whatever space they adorn.
"Pause. Rest. Worship" acts almost as a symbolic statement for Earth in manifesting their on-their-own-terms approach to songwriting, life, and divinity. Earth's output lends itself to a meditational, long-form format that invites the devoted listener to empirically sit with the music and let it seep into each layer until it resonates in their core and psyche.
In the following Q&A interview, Clyde goes in-depth to reveal the inner and outer cores of Earth, in the making of this documentary film.
---
What were the biggest challenges and rewards you faced while making this film?
Clyde Petersen (Director): Well, I'll begin by saying, choosing to shoot a feature-length movie on film is a bold choice. It's a fool's choice and here I am, a fool. But from the very beginning, I knew the project called for film. The analog nature of the band and the music and the history would be repulsed by digital cameras. So, I set my credit card on fire over and over for five years to make Even Hell Has Its Heroes. It's been a whirlwind, creating the film in my "spare-time," between working jobs to pay the rent and bills. I worked countless additional jobs to finance the film. I animated dancing bananas for an educational film. I made music videos for bands and live stage performances. I worked a wonderful job for a few months at the Henry Art Gallery, guarding artwork in exhibitions. I got horribly sick from undiagnosed Type 1 Diabetes and almost died.
And then there was a pandemic a month later, and I still had some interviews to complete and footage to shoot. I ended up mailing Super 8 film cameras to different people to shoot some subjects in their hometowns or tracking down locals with Super 8 experience and cameras. While I can neither recommend making a film this way, nor can I recommend being working-class and stressed to the capacity, I can say that I deeply understand the "value" of my labor on this film. I'll never regret my choice to shoot with film. It looks amazing.
My mind has forgotten most of the jobs I worked, though occasionally it shouts out, "I animated dancing bananas to pay for this film. Dancing Bananas, people!"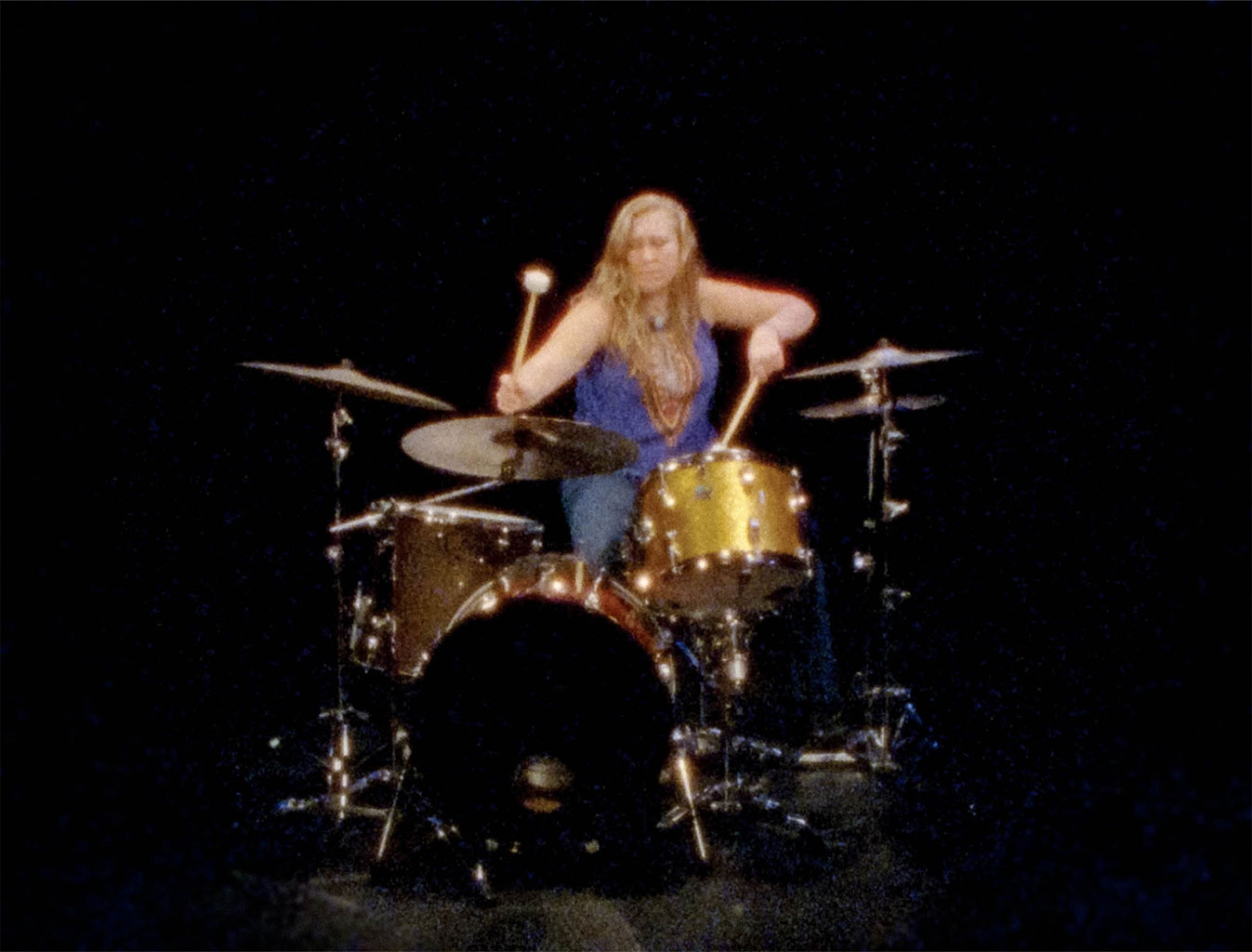 Still from Even Hell Has Its Heroes, with Adrienne Davis playing drums
When I first heard the title of the documentary, I only thought of Dylan and Adrienne as the heroes, but after watching it, my takeaway was that all the bodies (producers, showgoers, etc.) that show up in Earth's orbit are the heroes. How did you arrive at the title of the documentary, and how have the lives and lifestyles in it shaped your ideology of heroes in one way or another?
Clyde Petersen (Director): The film title, Even Hell Has Its Heroes, is taken from an Earth song [from the 2015 album Primitive and Deadly]. When I first started working on the project, I went through and pulled a list of 5 potential titles from their discography. Though the band is generally instrumental and rarely uses lyrics, both Dylan and Adrienne are prolific readers. They both have a strong knowledge of language, and I think that comes through in their song titles, so I had plenty of great text to work through to arrive at a final title.
I think the title acknowledges a core theme of the film: the underlying darkness that accompanied grunge as it spread from Seattle to the world. That's not something I was searching for when I started filming, but it quickly became apparent that the tidal wave of capitalism that accompanied grunge was very harsh to the actual humans wrapped up in its wake. Those who survived were changed people in many ways. So many incredible musicians were lost to that power and money. The musicians who died were put on pedestals, while the survivors were left to process the grief and be criticized for choices and actions they can never undo.
"Hero" is a complicated concept, and I remain torn by it. Culturally, I was raised to have heroes, but the longer I am alive, the more I am inclined to drift away from this concept. I find it very hard to divorce myself from hero worship though. I want to believe that people are as amazing as their work. That's the hope that is hard to let go of. For example, I consider John Lurie a hero of mine. I love his work and his wild creativity, but would it be a good idea to meet him, I'm not sure. Also, I accidentally created an awkward and uncomfortable situation for a bandmate when we met Pee-Wee Herman at a show in LA, and so I am always wary of meeting heroes now. In 2007, I visited the Corn Palace in Mitchell, South Dakota and the theme for the corn mural on the outside of the building that year was "Everyday Heroes." It was corn firefighters shooting corn water through a corn hose. That seemed to me, a fairly reasonable way to celebrate the idea of a hero.
REDEFINE is dedicated to "conscious growth through long-form arts journalism." A major theme that unfolds in Even Hell Has Its Heroes comes from Earth and its entourage, responding to decades of change throughout the band's 34-year existence. What does conscious growth mean to you as a multidisciplinary artist and documentary filmmaker sharing subcultural stories?
Clyde Petersen (Director): Within the creation of this film, I experienced so much growth in myself as an artist. If I made this film again, starting from where I am now, the film would be completely different.
My main goal in this project, as a filmmaker, was to become proficient on a Beaulieu 4008 Super 8 film camera. I wanted to become confident with shooting film on a manual camera and using a light meter and grow as a live-action cinematographer. I was lucky to have Northwest cinematographers Benjamin Kasulke and Britta Johnson mentor me on the first shoots as we began the project. The rest of the project was just pure exploration and listening and joy.
Documentary can be a bit like a film detective. You interview one person; you're given clues. You follow the clues to the next person, and so on. I could make this film for 20 more years. There is so much to learn. I am a curious person who always wants to keep learning — pulling back the layers and asking questions. I love interviewing people and collecting oral histories — specifically focused on the Northwest, an area I grew up in — but am still so ignorant of its layers of complex history. My next film involves collecting many oral histories about the very gay area of downtown Seattle in the late 1970s.
Having moved to Seattle in 1993 (the year Earth 2 was released), you have a deep and personal collection of stories to share about this city and the PNW. This film feels like your time-capsule-of-a-love-letter to not only Earth, but a time and place in this region's history that is survived by a generation of storytellers and culture-keepers. For 108 minutes, you've trapped lightning in a bottle for viewers to feel the electricity from a band that turned a sound into a subculture. While making this documentary, would you say you discovered anything about your own story with the PNW and/or approach to preserving subcultural histories?
Clyde Petersen (Director): What I find over and over is that we gloss past the details. For me, the minutia is where the story starts to get good. In many ways, we let a ten-year period of Northwest history be defined by one word: "Nirvana." But what a discredit it is to all of the others who were here and creating.
I am playing catch-up on Northwest history, and I'll never be able to learn it all. The survivors of earlier versions of Seattle tell truly wild tales. Until very recently, downtown Seattle was a full-on "den of sin." It was a port for sailors and a hub of sex work. There was a gay adult movie theater called Lavender's Sultan Cinema. The biker bars crossed over into punk clubs and goth bars and discos. The history of The Monastery is a novel in itself. There were serial killers scattered throughout the I-5 corridor and teens without cars were taking their chances hitchhiking to Seattle to search for a peer group of gays or punks or rockers. There was a truck rental company near I-5 and Denny next to a bathhouse and a gay bar, and they would leave the trucks unlocked so people wouldn't break into them, but then people would just have sex in the trucks at night. Like I said: I love the details, the rumors and lore, the memories and ghosts of my Northwest home.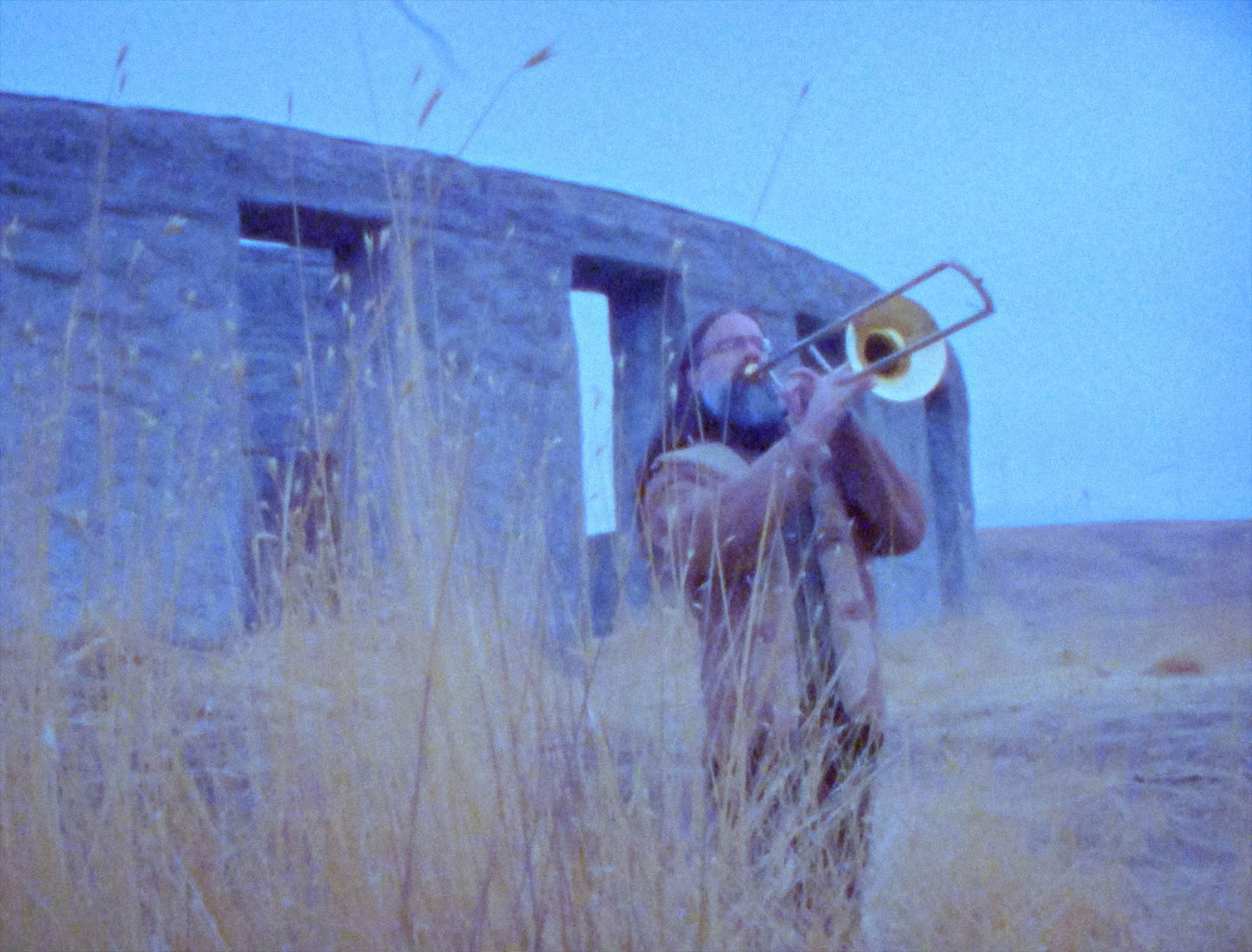 Still from Even Hell Has Its Heroes, with Steve Moore at Fake Stonehenge at the Columbia River
The range of idyllic scenery and visual textures throughout the documentary's footage are compellingly as dimensional as Earth's music and story. What was your (and your team's) approach to curating the visual expressions to complement the sonic scenes of the documentary?
Clyde Petersen (Director): I wanted to center the landscape of the Northwest as a character in the film, to ground their story in the physical realm that surrounded them throughout the years. Each musician had a personality or characteristic that led me towards a film location.
For example, keyboard player and trombonist Steve Moore is extremely knowledgeable when it comes to math and music, so the Stonehenge Memorial on the Columbia River was our shooting location. Both Steve's research in music and the construction of Stonehenge are tied to Pythagoras. It seemed like a natural link. We picked Steve up at 3:00am in Portland, Oregon. It was the last show on a long tour he was on. We drove him to the monument to film at sunrise. At the time, it was exhausting, but I love that scene in the film. A sweeping view of the Columbia River valley and Steve Moore playing trombone at sunrise.
Other musicians lent themselves to different surroundings. Cellist Lori Goldston is often found roaming the Seattle streets, regardless of the weather. We were neighbors for many years and during a particularly beautiful snowstorm, I asked Lori to join me in a walk up the road to a closed schoolyard playfield where the snow would be hopefully undisturbed. We journeyed through the deep snow, and she performed in a field of pristine snow.
I love Rattlesnake Lake out on I-90 and invited guitarist Jonas Haskins to row a dinghy across the lake with electric guitars for oars. It was an arduous film shoot because in the winter, the water recedes quite a bit, and you have to drag yourself and a boat through some thick mud for quite aways. The guitar oars were heavy and got heavier as they absorbed water. But I know Jonas to be a person who is up for anything, so he dragged that boat through the mud with me and managed to row that boat deep into the lake, all for the sake of cinema.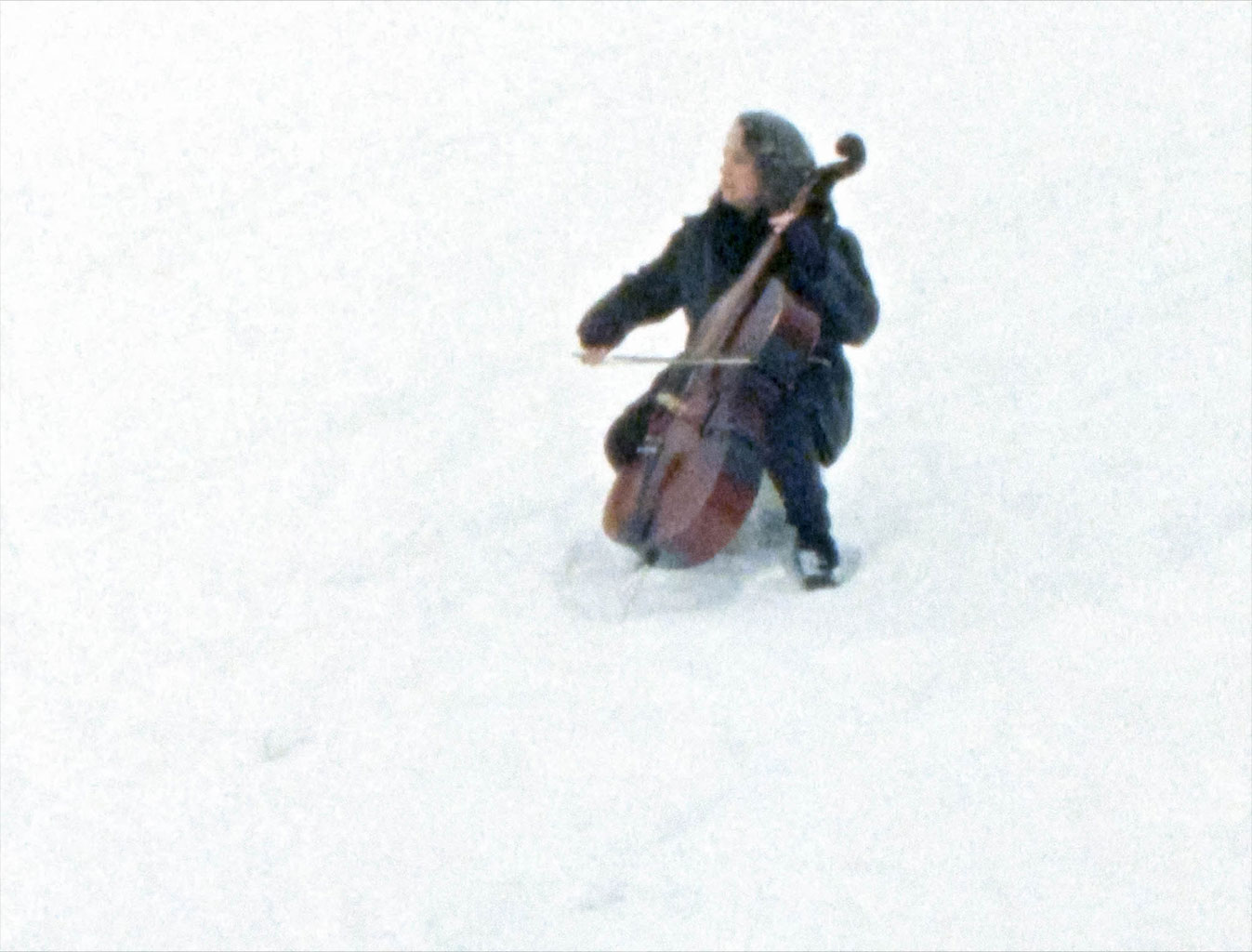 Still from Even Hell Has Its Heroes, with Jonas Hacksin at Rattlesnake Lake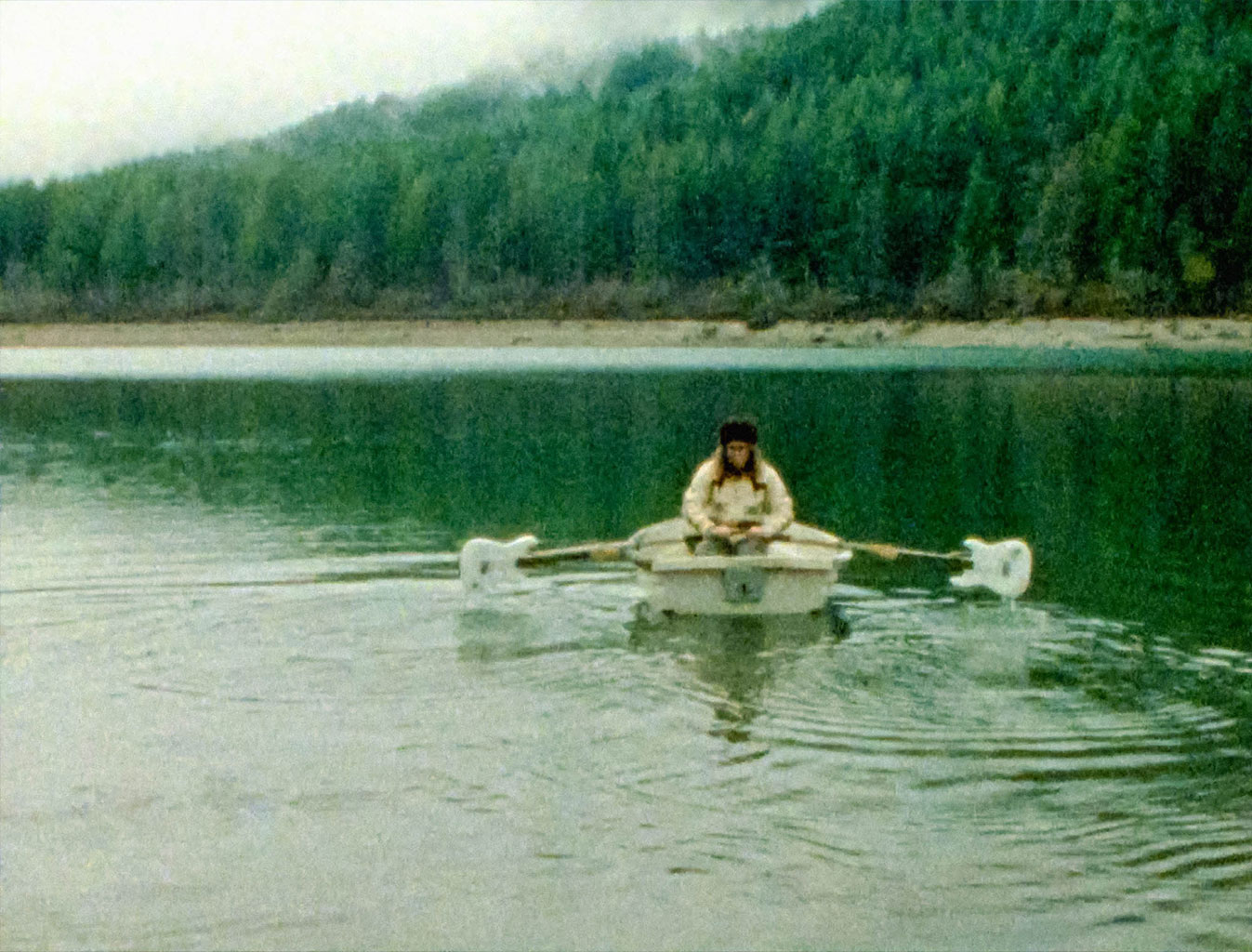 Still from Even Hell Has Its Heroes, with Lori Goldston in a snowstorm; Jonas Haskins at Rattlesnake Lake
With a band history spanning almost 35 years, how did you prioritize which chapters of the band to showcase?
Clyde Petersen (Director): I tried to reach out to every band member of Earth that I could get in contact with. I followed rumors and dug deep into the internet to locate folks who never use social media. It was important for me to try and track down folks from the early days if they were willing to be interviewed. I heard a rumor that Pentastar drummer Michael McDaniel was teaching yogic drumming in Montana, so I just started googling yogic drumming in Montana, and I was able to find him. It was such a joy to talk to him and get his perspective on his time recording with Dylan.
There have been approximately 30 members of Earth throughout the years. Everyone holds different pockets of memories throughout their time in the band. Like most artists' lives, some years are better than others. I knew that some folks only had more challenging memories, centered around harder times. Some people are not willing to return to those memories, and I tried to respect that within the boundaries of filmmaking. I tried to avoid the more predatory style of documentary, opting for a collaborative process, exploring what stood out to each member of Earth. That is one advantage to working on a project with a band that has such a lengthy lifespan. You get the benefit of perspective; the small things slip away and you're able to see through a distilled lens, to get to what really felt important to each person.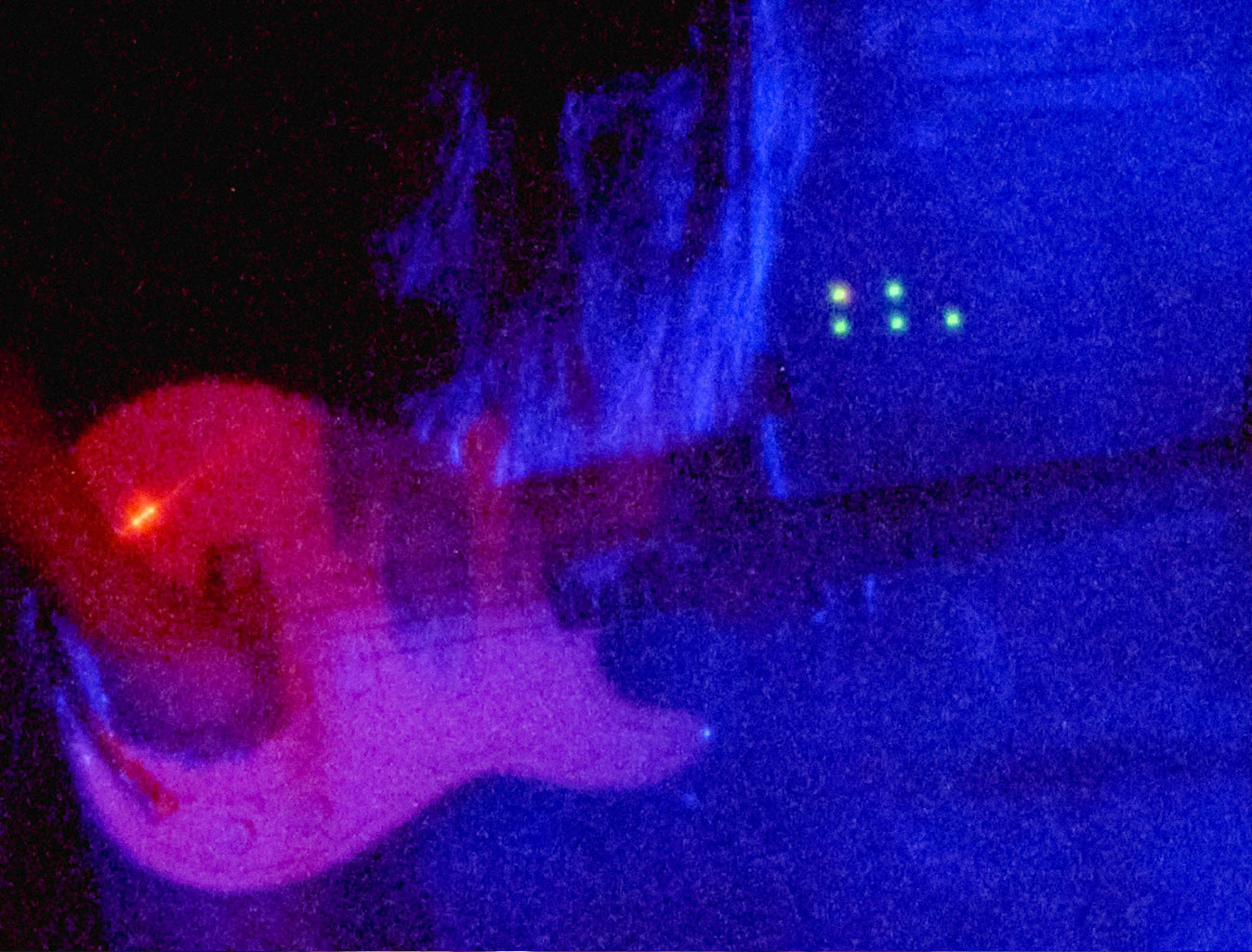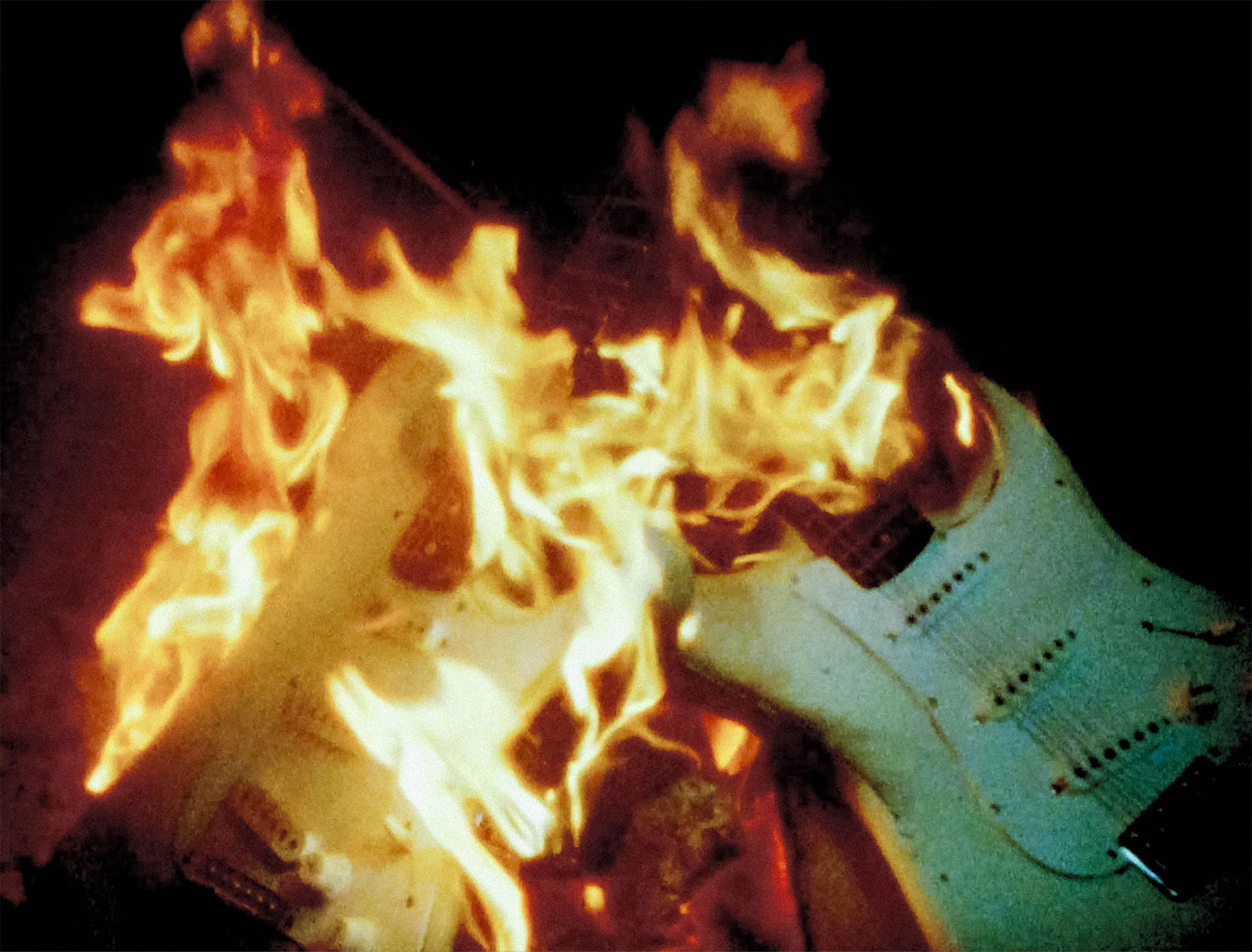 Still from Even Hell Has Its Heroes, with Don McGreevy on Tour; Dylan Carlson on Tour; a guitar on fire in Golden Gardens.
Even Hell Has its Heroes
experiences its North American festival premiere during Seattle International Film Festival (SIFF) on May 16th at the SIFF Cinema Egyptian and May 18th at Ark Lodge Cinemas. Buy tickets on the
SIFF website
, or see all screenings and learn more about Clyde Petersen on their
website
.