Here's a peek into what's coming up at the 2011 Seattle International Film Festival. You can buy all tickets at www.siff.net.
Pinoy Sunday (2010)
Taiwan, Directed by Wi Ding Ho
It's The Puffy Chair but in Taiwan. Which makes it better than The Puffy Chair. But not by much. Does mumblecore work in more tonal, conversational languages? If it does, it hasn't happened yet. A hard movie to pay attention to if there are other distracting things in the room, like a beautiful potted plant or a happy dog. Nonetheless, Taiwan is pretty, and Pinoy Sunday makes me miss a bag of betel nut and a beef noodle soup.
AMC Pacific Place 11 – May 24th 7:00 PM
AMC Pacific Place 11 – May 26th 4:30 PM
The Most Important Thing In Life Is Not Being Dead (2010)
Switzerland, Directed by Olivier Pictel, Mark Recuenco, Pablo Martin Torrado
I don't get it. I don't think it was good. Who hides in a washing machine? Spanish anti-Franco rebels, that's who. Man tunes pianos, dreams of sheep, gets cuckolded, color is added via post-processing. Tedious.
Egyptian Theater – June 9th 9:30 PM
AMC Pacific Place 11 – June 11th 1:30 PM
Fuck My Life (2010)
Chile, Directed by Nicolás López
Slick, funny and endearing, but it's like eating 1* Pad Thai. The noodles are good, the meat is good, the sprouts are good but there's no kick to it. Mainstream romantic comedy that hits all the right notes. Unlike shitfests like Love Actually, 500 Days of Summer and Valentine's Day, the film actually takes time to develop all the characters (not just the male leads)! By golly, Chilean women are beautiful.
Harvard Exit – June 2nd 7:00 PM
Admiral Theater – June 4th 1:00 PM
Neptune Theater – June 7th 9:30 PM
The Whisperer in the Darkness (2011)
USA, Directed by Sean Branney
The guys behind The Call of Cthulu make another HP Lovecraft adaptation. Man, these guys are koo-koo for Cthulu. Fan-service film that is, indeed serviceable to fans, with little actual filmmaking to get in the way of Lovecraft's literary goodness.
Egyptian Theater – June 3rd Midnight
Neptune Theater – June 5th 9:00 PM
Marathon Boy (2010)
India, Directed by Gemma Atwal
People ruin everything for a young running phenom and his dreamer coach. Micropolitics might be the worst invention ever. The worst part is, after everyone's lives are ruined, the local reporter has the gall to say "everyone felt bad for what they had done." No shit. Film will make you miserable and hate people.
Admiral Theater – May 30th 1:00 PM
SIFF Cinema – June 5th 7:00 PM
Egyptian Theater – June 8th 4:30 PM
12 Paces Without A Head (2010)
Germany, Directed by Sven Taddicken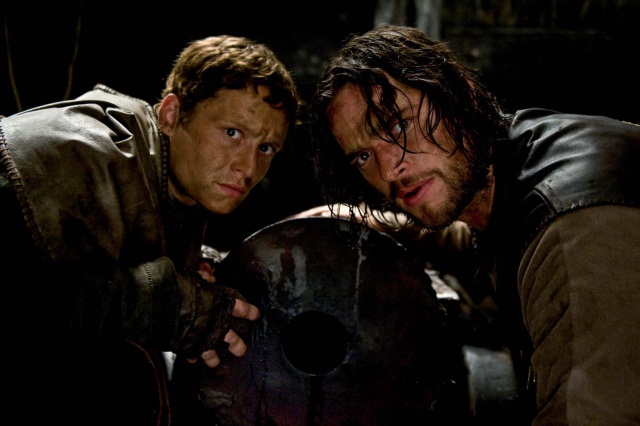 Kinetic German action film with the right amount of pathos. Starts off a bit Guy Ritchie, but hits emotional notes that aren't in the English director's visual vocabulary. It's more talky than it seems, which is a good thing! Also, is about pirates.
Renton IKEA Performing Arts Center – May 23rd 8:30 PM
The Life of Fish (2010)
Chile, Directed by Matias Bize
This movie is 83 minutes long. There is a scene near the end where a person talks for about 45 minutes straight without interruption. 10 minutes total are spent staring silently at a fish tank. Not much else happens. If that sounds good to you, go to this movie.
AMC Pacific Place 11 – June 5th 6:45 PM
AMC Pacific Place 11 – June 7th 4:00 PM
Admiral Theater – June 12th 6:00 PM