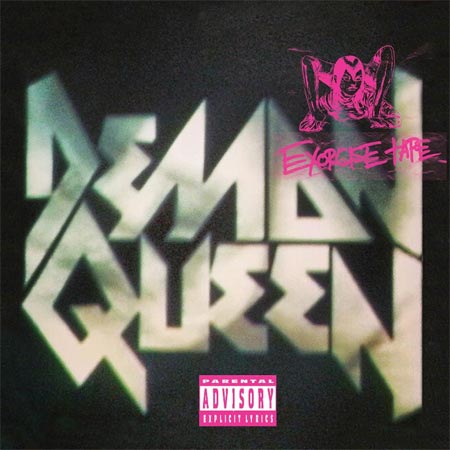 Demon Queen
Exorcise Tape
Rad Cult (2013)
Exorcise Tape is a soundtrack to an ectoplasmic burlesque in the 6th rung, born of a bad break-up, graffiti, and a strip club on 29th street in Tucson. Zackey Force Funk, of the hip-hop collective Machina Muerte, delivers smooth falsetto-sleaze over Tobacco's neon synths and old school beats. Demon Queen have mastered the inverted cross aesthetic and the voice of a billion Tumblrs, layering Satanic imagery over plastic '80s funk.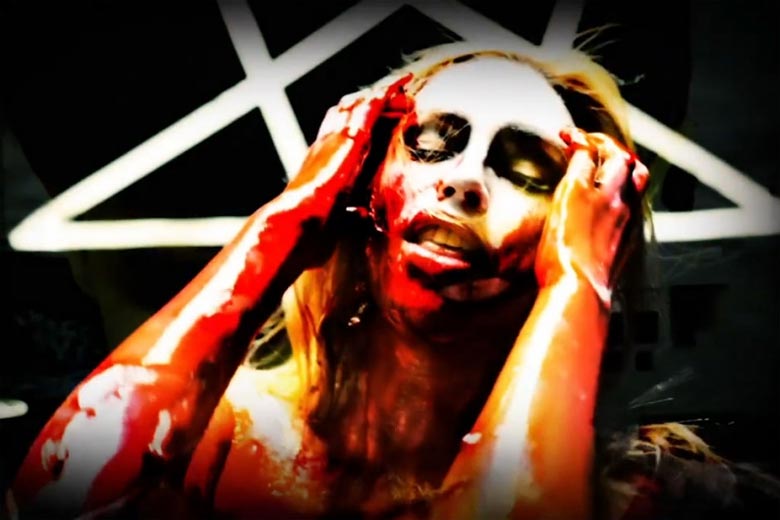 Zackey Force Funk
Rocking falsetto hard is this Tuscon-based member of the Machina Muerte hip-hop collective.
Demon Queen – Exorcise Tape Album Review
It's not as evil as it sounds, though (although they're plenty evil). Tobacco and Zackey started collaborating at a strip club in Tuscon, where Zackey had taken up shop, hanging with a bunch of bad types to fill the vacuum of a relationship. We've all been there. These are just a couple of horrorcore kids enjoying themselves; horror movie fanatics and party people, drinking cough syrup and watching Gandahar. They're Boards Of Canada's eldritch Shadow, partying all night, while the Sandison Brothers dream of electric eels.
The joy of this is that Demon Queen are totally metal, but not succumbing to death metal tropes that preach only to the corpse-painted. Exorcise Tape is a straight up party record, the beats rock steady and Tobacco with the sickest synths, it's just a party for lunatics. That's the thing with anything Tobacco has a hand in: it's pretty sunshiny and damn catchy; it's just also swathed in grit and dressed in pentagrams. It speaks for a certain type of person — let's call them Perky Goths — people that legitimately enjoy gore, rough rap, and demonic imagery, but are otherwise perfectly nice people. The imagery IS dark, twisted; it's an interesting contradiction. But there are wonders to be had in the darkness, and Tobacco and ZFF have everything in place to stage an infernal invasion.
In a year that has already had a number of high-profile releases, it is interesting that this slab of malevolence has been one of this summer's most anticipated releases. For months, Facebook and Tumblr have been bristling with Demon Queen's hair metal logo, and the video for Demon Practice, which shows the Demon Queen being passed from body to body, has been a viral plague all summer long. One always wonders if an album will live up to its reputation, or if it will be just another flash-in-the-pan one-hit wonder — but Exorcise Tape is not a one-hit wonder. Tobacco steps into the role of producer, taking the backseat and letting things flow. The result sounds like a classic hip-hop mixtape, complete with guest vocalists N8NOFACE, Isaiah Toothtaker, and others from the Machina Muerte crew. It's got the raw, straight-to-tape energy of a bunch of 16-years-olds cranking all night on Mountain Dew and rhymes. It's inspired. It's passionate. It may initiate the masses in the art of listening to the underground. This is some of Tobacco's greatest work to date, coming a scant six months after BMSR's Cobra Juicy. Brother's clearly on fire, and Exorcise Tape could be the breakout album for him and Zackey Force Funk.
So don't be frightened. Take the plunge, and be baptized in neon goo. Get weird, get evil, and get the party started.
Exorcise Tape
is now available on hot pink vinyl and CD from Rad Cult, and digitally from iTunes and
Amazon
.
DEMON QUEEN & TOBACCO TOUR DATES
August 14 – Philadelphia, PA @ Morgan's Pier*
September 5 – Portland, OR @ Holocene*
September 6 – Tucson, AZ @ Club Congress
September 7 – Phoenix, AZ @ Crescent Ballroom
September 8 – San Diego, CA @ Casbah
September 9 – Los Angeles, CA @ Echo
September 10 – San Francisco, CA @ The Independent
* Tobacco only
Ω