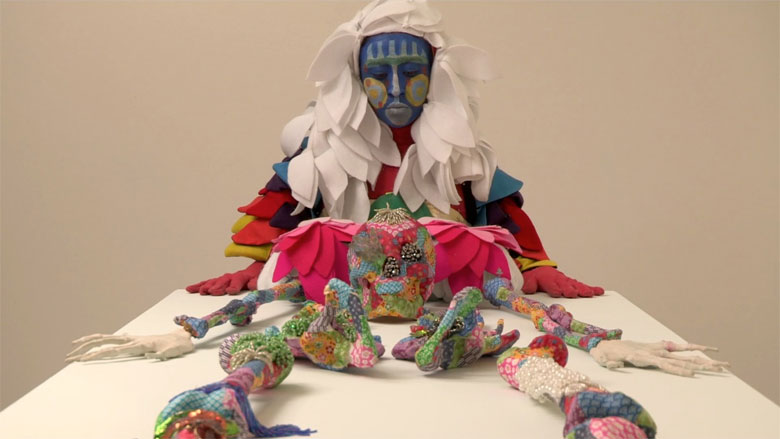 To experience Saya Woolfalk's work is to become immersed in a scientific folklore where biology and anthropology inform fables of utopia. In Greek, "utopia" translates literally as "no" (ou) and "place" (topos), and in a collaborative series with anthropologist Rachel Lears, entitled
No Place
, Woolfalk posits ways in which "no placeians" can more readily become a part of a utopian society.
In her most recent development upon this theme, Woolfalk has incorporated a new element — that of dual consciousness and foreign beings, via the narrative of a fictional species called Empathics. Through the use of psychedelically-colored exhibits, scientific slide shows, dance performances, and a very multi-disciplinary artistic practice, Woolfalk is learning how to use art shows to create utopian worlds in and of themselves.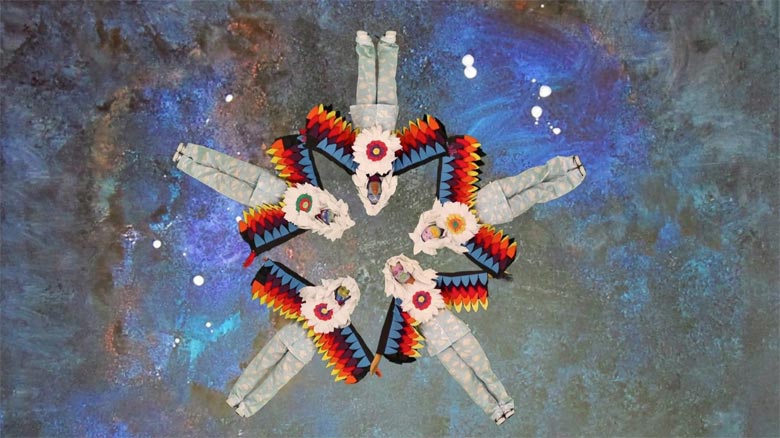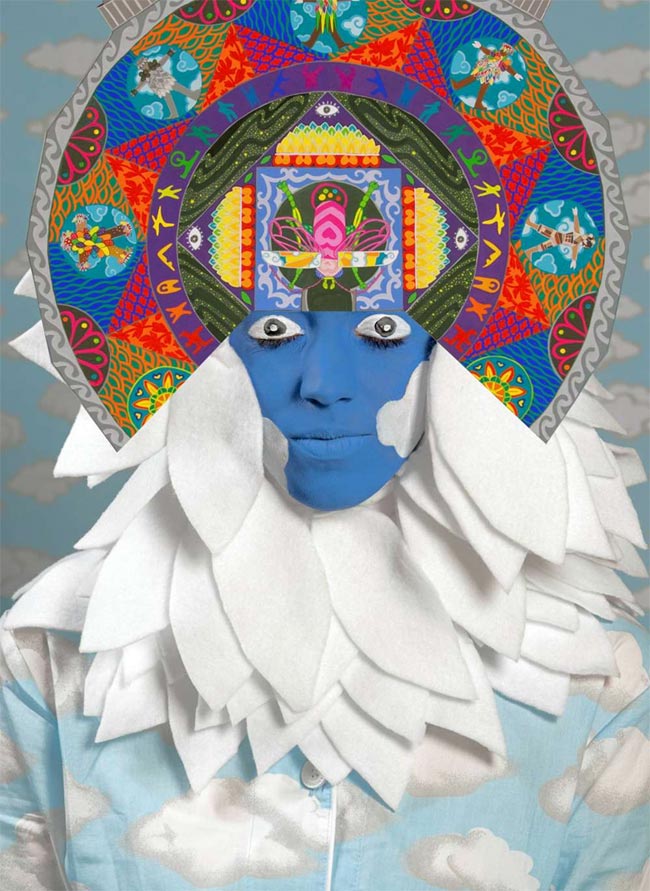 When one enters Third Streaming in New York City to witness Woolfalk's current show, Chimera, one is immediately drawn to mannequins wearing felted costumes and floating on brightly-painted, patterned murals. These are Empathics, a new and fictional species in Woolfalk's work, who contain genetic elements of both plants and humans. Their existence is a sci-fi-inspired commentary that speaks to many things — including the transformation of identities through biological hybridization — but the more important underlying vision is that of increased unity across all forms of existence. To express this singular vision through craft, Woolfalk utilizes an impressive array of mediums; murals and installations are supplemented by huge, full-color lithographs of Empathics in their costumes, as well as paintings created "by them" and displays of objects used in their fictional rituals.
Folkloric and scientific, fable-driven and meticulously chronicled, Woolfalk's exhibits also show her as both participant and narrator. In her videos, Woolfalk narrates as a scientist, with the resolute calm found in any biology film. But her work deviates from the usual script in that the scientists describe a transformation they themselves undergo. Woolfalk and "other scientists" find evidence of Empathics in the wilderness of Upstate New York, and through exposure to their bones and spores, decide to undergo a series of changes that will lead them towards becoming chimeras themselves. Over the twinkle of atmospheric music, animations break down the ways in which spores enter the human body — but one soon finds that this is not only a biological transformation; it is also mystical. The scientists enter a ritual of guided dream therapy to learn how to embody their new state of plant-human consciousness, and through the introduction of a performance art element, the transformed beings emerge from behind the wall where the video is being projected, donning costumes that are on display.
The merging of a complete physical and digital reality is what Woolfalk says makes her utopian-driven work "real". "When you come in[to the gallery], I want you to be in a world — but it's our world," she explains.
The world within the exhibit also reacts to the world outside the exhibit. Mythology dictates that Empathics create beautiful headdresses to disguise a second head which sprouts as part of their shift to dual consciousness, and such guises helps keep things from getting awkward in public or at their jobs. They also literally sell their skins; magical costumes they shed during the process help bring in extra income for their research. Regarding this very intentional detail, Woolfalk laughs and describes living in Brazil and studying folkloric performance, where "people are engaging in fantastic stories about struggle… and simultaneously selling trinkets because they need them… they actually help pay the bills."
SAYA WOOLFALK ARTIST INTERVIEW CONTINUES BELOW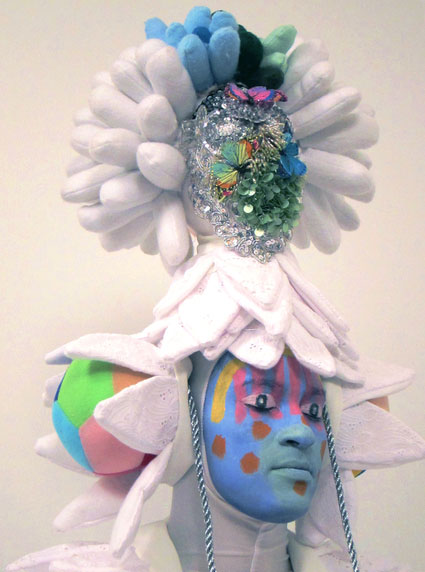 Woolfalk's work is "becoming more of a fable" as it progresses, acting as a fantastical other reality that reflects the artist's real-life external influences. The creation of Empathics, for example, was first inspired by the works of feminist science fiction author Octavia Butler, who discussed the idea of plant-human utopia.
"Originally, it was about physical action and ritual that would make [a] new place," explains Woolfalk. But when conceptualizing what this transformation process would look like, Woolfalk began speaking to biologists at Tufts. Through discussions of the natural world, she began to "rethink physical adaptation and metamorphosis".
"It's not just that humans can just act on their environment and become whatever they chose to; the places that they are, the things that they encounter cause micro-transformations," Woolfalk continues.
Such a statement is more than just environmental or a comment on slow changes through intuitive guidance. Woolfalk seeks to "break down categorization — not just human, animal, or interracial, but also intercultural or interbiological." She welcomes "the possibility of all kinds of mixing", and notes that her next iteration upon this theme "is the idea of consciousness between humans and technology."
As Woolfalk continues to develop as an artist, she is not only incorporating the influence of anthropologists and science fiction writers, or folklore and biology. She is also growing to incorporate her audience as part of the exhibits. For her, "Audience has become part of the structure and circuit. I consider how their experiencing what I'm doing in order to feed it back more clearly."
Woolfalk's multi-faceted works all shrink down to a very natural process of evolution — one that welcomes the inclusive mixture of many ideas and techniques. Though each of Woolfalk's works is fully-conceptualized prior to its creation, its final product is ultimately unpredictable, subject to flux as her ideas morph through what she consumes and how her mind processes. Each piece is "changing and emerging as it's restructured by the logics I've been thinking about," she explains. "[It is natural] to work in two dimensions — then three dimensions, then four dimensions… There's a porous relationship between the pieces. It's an organic process between logic and intuition."
Come catch the last days of Woolfalk's exhibits and your chance to feedback into collective consciousnesses.
Chimera at 3rd Streaming in NYC
Chimera runs through April 25th, 2013. A talk entitled "Brave New Land: Science Fiction in Contemporary Art" will take place on Wednesday, April 24th, 2013, featuring Saya Woolfalk, Chitra Ganesh, and Simone Leigh. Doors at 6:00; Discussion promptly at 6:30.
Space Is The Place @ Disjecta in Portland, Oregon
The group show, featuring works by Saya Woolfalk, Wendy Red Star, Guillermo Gómez-Peña, and David Huffman, will end on April 27th, 2013. Admission is free, and Disjecta is open Fridays, Saturdays, and Sundays.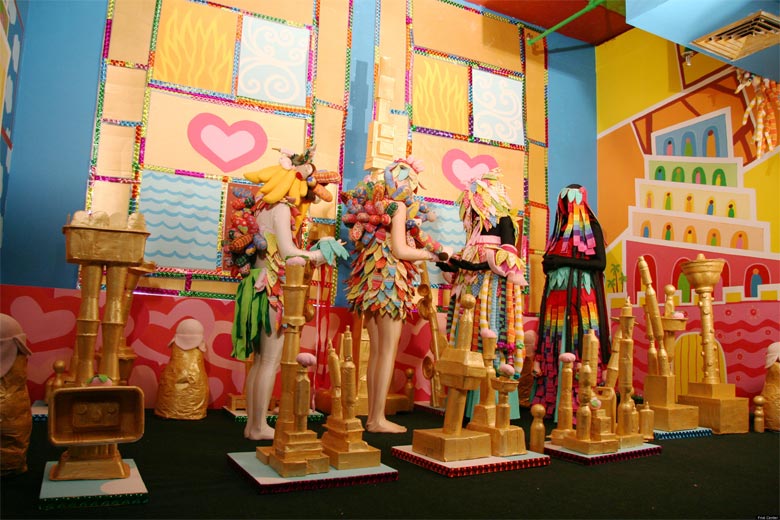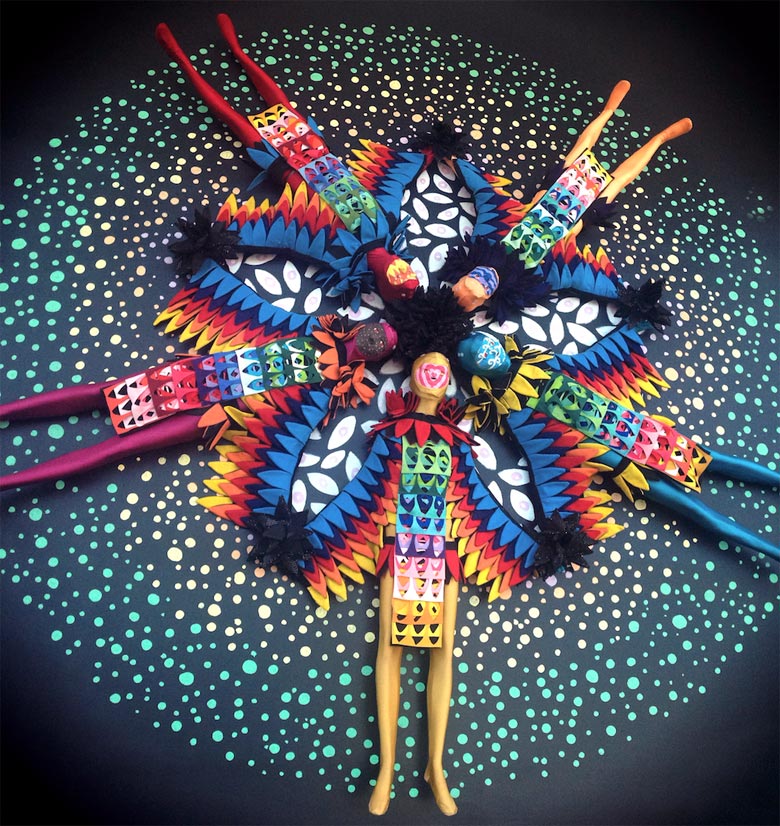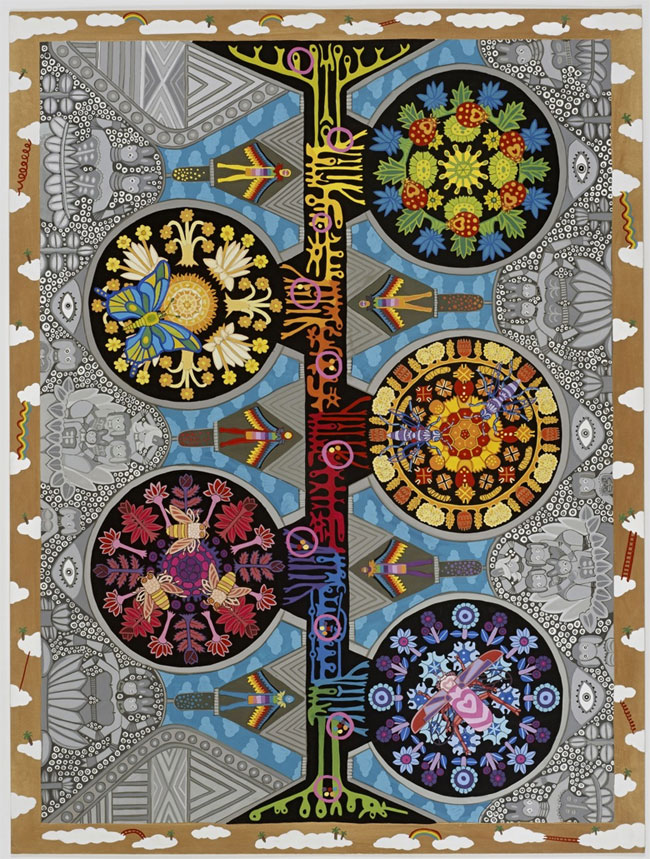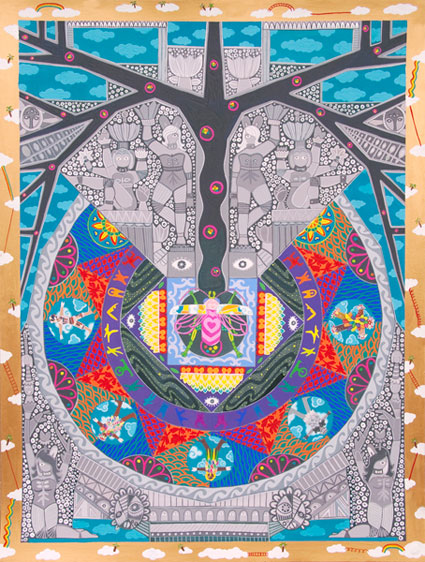 Ω