16 Apr

Spectral Hypnosis, April 2014: Factory Floor, The Notwist, Throwing Snow, David Douglas

Spectral Hypnosis

is a recurring series, featuring mesmerizing songs for one to lose sense of time and space, mind and body.

SEE ALSO: FULL POST + ALL SPECTRAL HYPNOSIS POSTS + ALL COLUMNS
Factory Floor – "How Do You Say"
The music video for Factory Floor's "How Do You Say" is really nothing more than monotonous vocals, Nik Void's bouncing hair, and geometric projections upon an empty wall — but this, in essence, is Factory Floor. Having just caught them on their national tour, I will say that this is techno for those who don't really feel the need to go anywhere over the course of a song or even a half-hour set, because when jogging in place looks and feels like this, it's somewhat enthralling enough.
Directed by Factory Floor's Nik Void and Dan Tombs themselves. Releases are spread on two digital EPs and three physical 12 EPs, to be released throughout the month of April, featuring the original as well as a number of remixes; hear Daniel Avery and Helena Hauff's below.
The Notwist – "Run Run Run" (Ada Remix)
This Ada remix of The Notwist's "Run Run Run" hearkens back to the highlight days of The Notwist yore by putting in just the perfect amount of instrumentation from here to there and everywhere, strange sounds spaced out, sparsed out and parsed out. The band will be hitting the road in support of their latest Sub Pop Records full-length, Close To The Glass, with east coast dates in June, select west coast dates, including Sasquatch Festival, in July, and then onto Europe.
Throwing Snow ft. Adda Kaleh – "The Tempest"
Throwing Snow is the project of London producer Ross Tones, and his latest EP, Pathfinder, is short but hypnotically effective. Though the EP is generally wordless, highlight track "The Tempest" features Romanian vocalist Adda Kaleh, who ably creates an atmosphere that explores the higher reaches of space yet simultaneously remains tethered to the earthly. Dark and beautiful.
David Douglas – "Higher"
As it blends together trancey textures and dubby bassline, "Higher", the first single from Dutch producer David Douglas's upcoming Moon Observations LP feels a bit like a playful sci-fi expedition. The full-length comes out on May 22nd via Applescal's Atomnation label, and the track is also featured on a four-track EP that includes remixes by Weval, Mattheis, and the aforementioned Throwing Snow.
His description of the upcoming record also tickles my fancy:
"Everyone is a moon, and everyone has a dark side that they never show to anybody. Since the dawn of mankind, we've been fascinated by the moon. The moon is cold and silent, shrouded in mystery. It's pulling our dark sides. Lightning our blackest nights. Marking the times. We share the moon like we share madness, mystery and music. My new album Moon Observations is a musical search to the far side of the moon."
Um, pumped.
Ω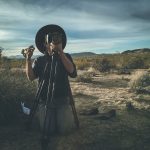 Vivian Hua 華婷婷 is a writer, filmmaker, and organizer. As the Executive Director of Northwest Film Forum in Seattle and Editor-in-Chief of the interdisciplinary arts publication, REDEFINE, much of her work unifies her metaphysical interests with her belief that art can positively transform the self and society. She regularly shares human-centered stories through her storytelling newsletter, RAMBLIN' WITH VEE! In 2020, she will [hopefully] begin production on a comedic Asian-American series entitled Reckless Spirits.
Ask Vivian about MARSHMALLOWS, cuz she's gross... and being tips for being frugal while nomading!