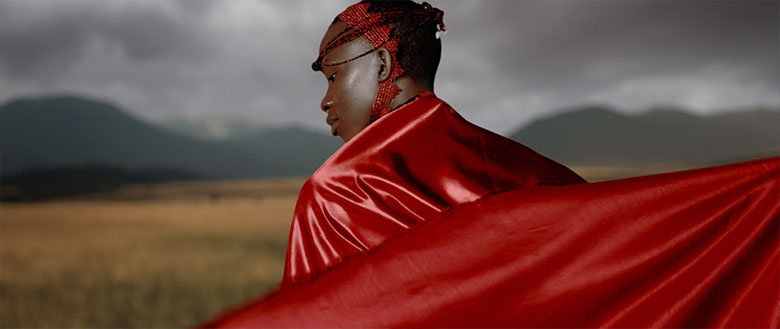 Director Travys Owen, along with art director Rochelle Nembhard, have concocted quite the imaginary mythological world with this new music video for Petite Noir's "Best". By incorporating four fictional tribal groups that revolve around the elements, this colorful music video flies through surrealistic African landscapes, offering a visually-stunning representation of the new Africa, with its burgeoning multicultural artistic scene. Read on, as Owen and Nembhard offer insight into their collaborative process, the symbolism behind the work, and the future of Petite Noir's inventive genre of "Noirwave".
Director: Travys Owen https://vimeo.com/travysowen
DOP: Michael Cleary https://vimeo.com/michaelcleary
Digital Art Direction, Animation, Compositing, Colouring : Dylan Wrankmore https://vimeo.com/user1362659
Edited by: Lucian Barnard
Art Direction: Rochelle Nembhard
Wardrobe and Styling: Gabrielle Kannemeyer
Hair and Makeup Amber Recha Caplan and Amori Birch
Focus Puller: Tim Christokat
DIT: Marina Korskowa
Spark: Faud Casker
Photographic Assistant: Jesse Fine
Produced By Travys Owen in association with Domino Recording Co
---
How did you come to collaborate with one another, and how closely did you work together on conceptualizing the pieces?
Rochelle Nembhard (Art Director):
I knew Travys from a mutual friend who was a photographer who I would often collaborate with. She would always speak highly of his work. Travys made Yannick's second video, which was great. When I had come up with the initial concept for the video, I was looking for directors that would bring the concept to life. Spoek Mathambo had just released a
mind-blowing video with his group Fantasma
and when I looked who directed it, it was Travys! I was really impressed by how how much he had grown and the levels of artistry he had taken his work to. I contacted him straight away told him the concept, flew to Cape Town, and the rest is history!
Travys Owen (Director):
Rochelle and I have been in contact before, but we had never worked together until now. I did a very
lo-fi music video for Yannick
a few years ago, so that's how I got to know Rochelle — through Yannick. Rochelle gave me a call one day about doing another music video for Petite Noir and we all got together on skype to chat about it and everything just flowed from there. I actually wrote the full treatment for the video in the car whilst travelling to a Game reserve in the Timbavati area which is situated near the top of South Africa. I sent the treatment just before I lost signal so I actually didn't even know if they liked the treatment until 5 days later, when I got to Johannesburg. We got back in contact and immediately, flew down to Cape Town and started organising everything.
The music video incorporates "4 distinct tribes" of people, which are essentially summarised by different elements. How did the decision to incorporate these tribes come about, and how, if at all, does what they represent or tie in with indigenous or modern beliefs in South Africa?
Rochelle Nembhard (Art Director):
I had been researching tribes for 6 months prior to the video. The distinct nature of each tribes and the ancient knowledge they possessed fascinated me. I wanted to portray this in the video. I wanted to show how diverse and outstandingly beautiful Africa is. We came up with 4 tribes loosely from each region of the globe – North, South, East and West. Although we drew inspiration from the continent, all the tribes were completely conceptualized to bring them into a modern Noirwave context. The elements all tie in with African indigenous culture as well as beliefs. For example, Gold and Malachite are stones of the continent. We took a Pan-African approach rather than focusing on just South Africa.
Travys Owen (Director):
I wanted the tribes to be seen as tribes but not recognised as real tribes that we have in Africa today. I thought that if we focused on duplicating real tribes then our message would be limited to those particular tribes rather than making a general statement for all people in Africa. The team and I discussed and pulled references from documentary photos of real african tribes and mixed and matched certain elements to create our own tribes based on our 4 main elements that we had pre-decided: Fire, Earth/Rock, Water, Gold. We thought that as we were going to showcase the beauty of Africa we should focus on natural elements and then adding elements of magical surreality.
"The distinct nature of each tribes and the ancient knowledge they possessed fascinated me. I wanted to portray this in the video. I wanted to show how diverse and outstandingly beautiful Africa is."
– Rochelle Nembhard, Art Director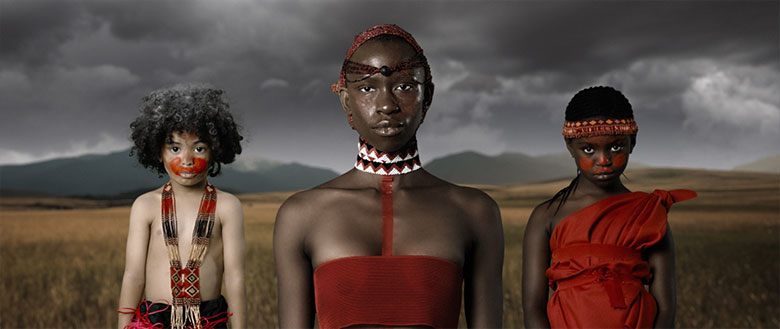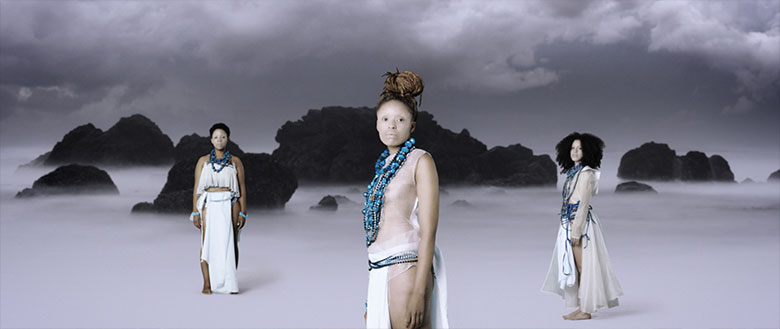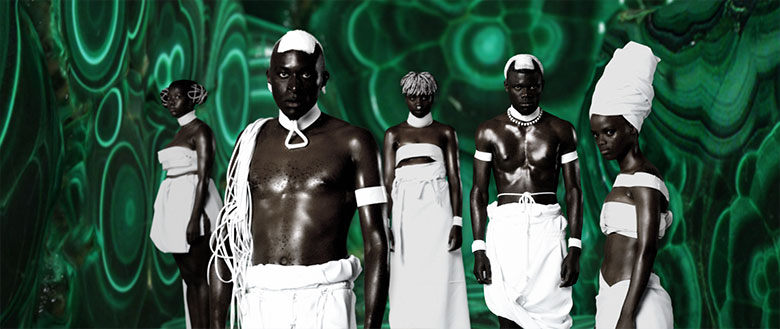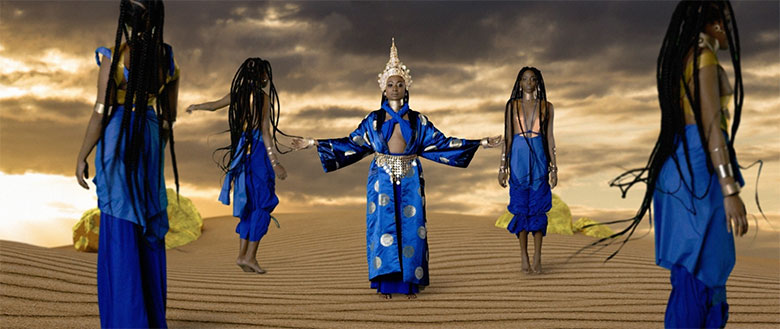 "I thought that if we focused on duplicating real tribes then our message would be limited to those particular tribes rather than making a general statement for all people in Africa."
– Travys Owen, Director
The record is partially about a sense of freedom and about "seeing the positive in dark times"; the video likewise seems to address similar dualistic themes, with its stark minimalism and expansive landscapes. Can you talk about how this balance was achieved? How much was pre-determined versus spontaneous?
Rochelle Nembhard (Art Director):
Travys answered this question perfectly.
Travys Owen (Director):
Everything in this video was shot in green screen studio. All the backgrounds and landscapes are built from photographs and composited footage. This allowed the post-production team and I to find a balance between beautiful positive aesthetics and also create dark melancholic scenes. It allowed us to balance these out by having the utmost control of scale and to collage our scenes together to generate certain feelings though the use of colour and light grading. As we were shooting green screen, I had to stick to a pre-determined shot list I had created, but I also allowed time to experiment with my DOP, and we found really beautiful moments, moments which ended up being my favourite shots of the video.
What are your favorite moments of the music video, and why?
Rochelle Nembhard (Art Director):
That's a hard one! One of my favorite moments has to to be the scene where my tribe (gold) is jumping, and their hair is swaying up and down. The gold tribe was based off my style and how I perceive women to be. In all my work, I portray women as goddesses and queens. It was moving to see the women in that scene embracing that. My second favorite moment was the end scene where Yannick is ascending. That scene was taken from the album cover that my close friend Lina Viktor did. I love the way Travys took that image and added all the tribes around Yannick and literally made Yannick ascend, which is something we wanted to portray in the album cover.
Travys Owen (Director):
Being a portrait photographer, my favourite moments in the video will be biased towards the strength and presence of the Malachite tribe. The strength and fierceness in their eyes and — it gave me goosebumps the the first time we had dropped in the backgrounds in post and saw it all together in a timeline. Also the Fire tribe in the beginning, with the mother and her children, is my favorite… we hint at a protective layer of red cloth which she keeps her young ones safe. It gives me the feeling of togetherness, love and vulnerability.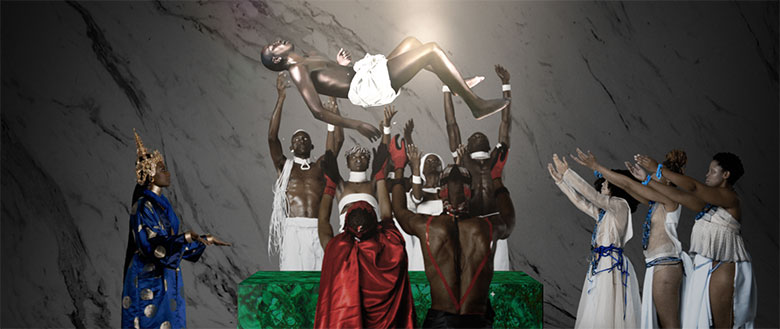 "Noirwave is more than a sound (New wave) it is a New wave (a movement). Yannick has taken a global approach to his musi,c which means many influences intersect at any given time. I find it more natural than fascinating given Yannick's global upbringing." – Rochelle Nembhard, Art Director
Where there any particular challenges or super exciting victories you wish to discuss?
Rochelle Nembhard (Art Director):
The most important victory was getting everyone on the same wavelengths as well as in the same head space to be able to achieve this video. Everyone understood that this was a higher calling that would impact the world in a big way. The cast was a challenge that turned into a victory. We put out a call via Facebook and Instagram since we didn't have much time to find people for the video and this amazing cast pitched up. It was definitely divine-given.
Travys Owen (Director):
The hugest challenges was finding the right people to cast, which was a huge victory in itself. We were blown away by the responses we got and how excited by the project everyone was. It was a huge victory for me to be able to show the cast the video once we were done and see the look on their faces and responses. It is always quite hard to direct people with only a green screen behind them, as you have to make them aware of your intentions for the shot as well as getting movements and gestures right, whilst imagining the backgrounds in your mind at the same time in playback, to settle on particular shots.
Another huge challenge and victory was the compositing and digital effects, which were all computer-generated. This was all done by one person who I have the utmost respect for. Dylan Wrankmore is so adaptable to any situation in post-production. Dylan took my ideas and styles into mind but interpreted them in design and aesthetic ways that blew my mind. Whilst sitting together looking at the backgrounds and compositing he had designed and built, it became apparent to me that this is why we do what we do… Dylan Wrankmore, we love you!
South Africa is quite a hot-spot for music and art these days. Where do you see the "scene" headed in the future near, and are there any notable creative figures that you think are contributing in a big way?
Rochelle Nembhard (Art Director):
SA is just starting, and I only see great things for the future. With the internet, more and more people are able to put out their work and get noticed. There is so much to say in SA and the energy is fresh and new and has a defiant voice. Okmalumekoolkat is an artist I admire. He is definitely changing the music and art landscape in SA. 113 studios are a family trio that consist of two sisters and a brother. They are putting out captivating visual work and are beginning to contribute to the new Renaissance that is taken place in SA.
Travys Owen (Director):
I think South Africa has always been a hot spot for music and arts. I think that the rest of the world is finally discovering more and more of these hidden gems and embracing it. It is so amazing for me to see this and makes me so proud to see my peers overseas doing their thing and getting noticed.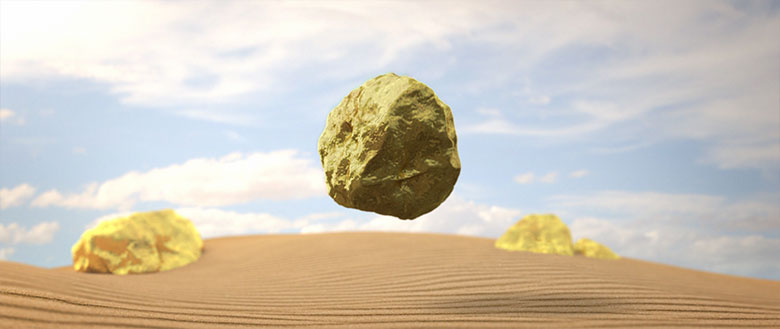 Petite Noir – Listening Station
Ω