Sunny in its disposition and rich in primary colors, s.e.c.r.e.t.s.' music video for "toki" combines fashion, dance, and creative video editing into a playful swirl of distortion. Featuring dancer and fashion designer Ryan Boyle as the video's centerpiece, Boyle's form is used to heighten — as well as shrink, warp, and twirl — s.e.c.r.e.t.s.' experimental pop sound into a full-fledged audio-visual adventure that is well-worthy of repeat viewings, despite being shot completely on an iPhone.
"toki" comes from s.e.c.r.e.t.s.' debut record, Prince Romeo, which will be self-released on July 30. In the Q&A to follow, Airin Chapmin of s.e.c.r.e.t.s. and Boyle discuss their collaborative creative process and share behind-the-scenes images!
s.e.c.r.e.t.s. – "toki" Music Video
What is the inspiration behind "toki," and how does it fit within the remainder of the upcoming record?
Airin Chapmin (s.e.c.r.e.t.s.): "Toki" is one of the most lighthearted, playful songs on the record. In the Pacific Northwest, there's this general feeling of collective euphoria as we all emerge from the winter months. (Coupled with coming out of the pandemic. 🤞) This song feels like that to me; the spirit of spring and coming out of your shell. Being slightly delirious after a day in the sun. Or I think of a bee drunk on pollen, being effusive and loving its bee friends.
The record, Prince Romeo, sort of has a day to night arc — or, staying with seasons, you could say it starts in spring and ends in winter. This is from the hopeful beginning of the record and feels lighthearted and free. It gets a bit more moody as it goes.
How much of the vision, relating to the movements, colors, edits, etc. came together beforehand versus in the post-production process?
Airin Chapmin (s.e.c.r.e.t.s.): We started with a few specific ideas, but wanted to leave a lot of room for spontaneity. My idea of the video definitely evolved a ton during editing.
When we first started shooting, there were a handful of takes that I thought would have been compelling as a single shot without any edits, but there was so much material I would have been sad to lose. I just wanted to squeeze in as many of the moments I loved as possible. That sorta led to the quicker, rhythmic editing style.
As far as colors, we were sort of referencing that era of videos with really saturated, plastic sheen. Like Aqua – "Barbie Girl."
Ryan Boyle (Dancer): I remember sending Airin a few clips of me dancing in '70s ski pants, a tight rainbow bicycle top, and a green beret I designed (as seen in the "Toki" video). It was winter, and I just finished painting a cheery backdrop of blue sky and lil' fluffy clouds. I planned to use it for documenting Collect Call gear but after talking to Airin about the concept of the video, I got inspired to dress up and dance in front of it. That turned into a continuous mood board that quickly morphed into the video.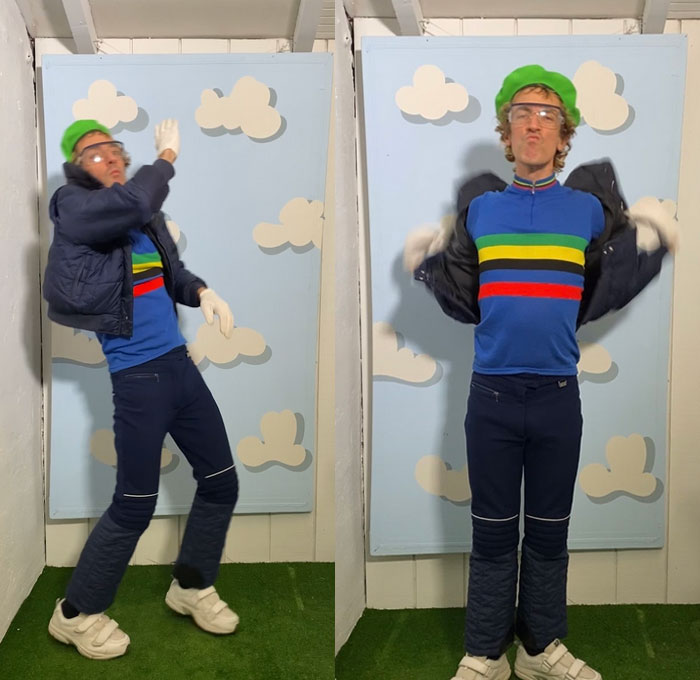 Pictured: The aforementioned images 🙂
Fashion plays a huge role in the piece and your lives; can you speak to that a bit and how that furthered this particular piece?
Airin Chapmin (s.e.c.r.e.t.s.): I work in vintage clothes, and Ryan is a designer. I think we have a lot of taste overlap, but I'd say he's quite a bit deeper in fashion than me. He did all of his own styling in this video. Some of the pieces are his own designs for his label Collect Call. Although, I just realized I did find one of the tops he wears so I can take the tiniest amount of credit there 🙂
Ryan Boyle (Dancer): As Airin began to edit the images together from the first couple of takes, we decided that we would need another outfit. We didn't need any more dance moves; we just needed a little bit more apparel. After the third take, it started to feel more dynamic — at least in terms of color and shape.
Airin did a remarkable job on elaborating these shapes and added more color with the background shots of flowers and street safety ephemera. One of the most exciting parts of the process was watching all the distorted animations Airin produced out of my imagery. I never considered myself a narcissist until I fell in love with my own avatar.
Are there any more collaborations or music videos to come? What about your individual projects?

Airin Chapmin (s.e.c.r.e.t.s.): s.e.c.r.e.t.s. has a couple more videos in the works. I like to think of the project as pretty open door with regards to collaborating. I'd almost rather not even define the project as specific members; it seems more fun as sort of an amorphous thing. I just love any chance to work with people I admire; it's one of my favorite parts of working on creative projects.
Ryan Boyle (Dancer): I get the feeling that Airin and I will be collaborating on another project, but right now I'm working on getting my clothing label off the ground. This month I'll be launching Collect Call's online shop: CollectCall.xyz!
Is there anything else you'd like to add about your creative process? Interesting anecdotes or moments?
Airin Chapmin (s.e.c.r.e.t.s.): This might be like showing someone a picture of a baby, and no one will care — but this song is named after my cat, because I love her.
Ryan Boyle (Dancer): One day, I walked like 5 miles to get to the spot we wanted to shoot. When I got there it was closed and I had to pee so bad! I spent the next two hours trying to find a place that was open or private enough to not get arrested. Luckily, I ran into a mail an (who may or may not have been a mirage brought on by panicked delusion) =that pointed me in the right direction. I probably walked 15 miles that day for the shoot.
Select Behind-the-Scenes Images

A piece from the mood board which wasn't ultimately used but helped with idea generation for the music video.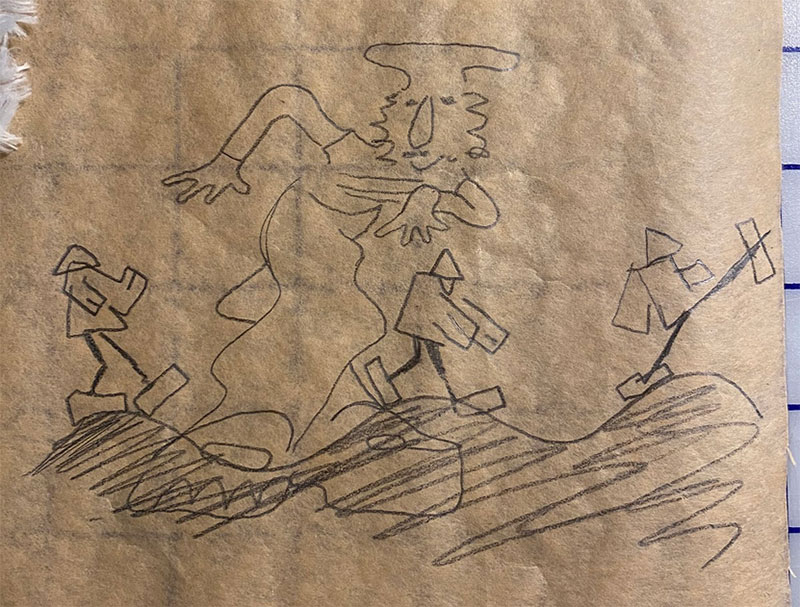 A drawing from Ryan Boyle after Airin Chapmin developed his "avatar."
S.E.C.R.E.T.S. is an experimental pop project based out of Portland, OR. and Los Angeles, CA. The duo, Airin Chapmin and Tagne, blend contemporary production with found-sound collage and nostalgic homages to many corners of the music world. Never content to stay put, their debut record Prince Romeo opts for an amorphous approach – musical threads loosely connected like the plot of a dream. "toki" comes from s.e.c.r.e.t.s.' debut record,
Prince Romeo
, which will be self-released on July 30.
FOLLOW THE ARTISTS:
s.e.c.r.e.t.s.: instagram
Ryan Boyle (Dancer): instagram
Ω