18 Apr

Charitable Musicians: La Dispute Collect For Youth And Poverty, Locally And Abroad (w/ Interview)

In April 2012, La Dispute announced their latest charity benefit project,

Conversations

, a packet consisting of a hand-assembled and multi-dimensional collection of items courtesy of La Dispute themselves, writers involved with 826michigan, and the band's artist friends. All proceeds from

Conversations

benefit

826michigan

, a branch of Dave Eggers' literacy organization,

826 National

.

In this feature, we speak with vocalist Jordan Dreyer about their work with 826michigan and highlight all of the organizations they have worked with in-depth. As La Dispute continue to use their youth and energy to benefit the less fortunate, this on-going article will be updated to reflect their continued humanitarianism.

"Everything goes a long way. Every little thing counts." — Jordan Dreyer


See all articles related to Non-profit and Charity work

Why did La Dispute choose to work with 826Michigan?

I've known about 826 nationally and 826 San Francisco for some years now, kind of the obvious route, through reading Dave Eggers when I was in high school, and I've always been pretty attracted to the organization itself because I think it's unique, in that it has a really creative approach to what it does — a very youth-oriented approach. It's not like it's just a program for creative youth; it is a program that is creative and youthful, I guess, kind of bizarrely and redundantly. So that was appealing to us, and trying to work with organizations that promote literacy has always been another important thing for us, so it kind of encapsulated multiple things we hold close to our hearts, and we also wanted to do something that was local, so we would see a more immediate impact. So rather than going through the national organization, we decided to work specifically with the one in Michigan.

Was there one particular point in La Dispute's career that you guys decided you were doing well enough or you were influential enough as a band that you wanted to start supporting organizations you cared about? Was it something you thought about from the beginning or something that just kind of popped up?

It's always been important to us to utilize the resources that we have as best we can. The first thing we did that was charity[-oriented] was we put Here, Hear III up for download by donation a few years ago for Christmas. That was really our first foray into charity, and it was really rewarding to be able to… we didn't raise a ton of money, but to put it out there and give people the opportunity to help and raise awareness, no matter how much you're raising fiscally, is a really satisfying thing. Everything goes a long way. Every little thing counts, I guess, so it's been kind of how we operate as a band, as we just now have more resources to utilize. It's expanded the ways in which we help out. We did stuff on our last European tour; we gave [a portion of] the merch we sold to an organization there, and when we were in Australia, we did the same thing, and the 826 thing has kind of been a work-in-progress for a long time. It's kind of invariably woven into us right now, I think…

The other thing that's important with us is to work with organizations that seem to have a lot of transparency and have people we can actually meet and talk to, rather than helping faceless multi-million-dollar non-profits. To be on ground-level, I guess… it's been pretty cool.

Do you guys get any kind of a feedback loop, other than the profits you raise, regarding listeners who are encouraged to get involved because of your demonstrations?

Here and there. We did the thing a Well House a couple years ago; we played a show in Grand Rapids, our hometown, over Christmas, and we invited a representative from the Board of Directors and also one of the people who was living in one of the houses to come to the show and hand out information. We actually had a couple people volunteer, or offer to volunteer – I don't know what ever came of it – but they were interested enough that they want and talked and collected information and applied to volunteer. Here and there, you'll get it, I think, but it's interesting this time around [with the 826Michigan project]; it really depends where we are. Sometimes we'll sell a lot of packets and get a lot of feedback, and other times, I don't think people know they're there. It does happen, which is cool.

Read our interview with La Dispute's Jordan Dreyer about Wildlife Read our live show review of La Dispute
---
A Timeline Of La Dispute's Charitable History
826michigan
www.826michigan.org
April 2012 — USA Tour + December 2011
"826michigan is a volunteer-driven non-profit writing and tutoring center that offers after-school tutoring, creative writing workshops, publishing opportunities, field trips, and in-class support to local schools, all free of charge. It is part of the 826 National network founded by writer Dave Eggers, with locations in Ann Arbor, Boston, Chicago, Los Angeles, New York, San Francisco, Seattle and Washington, D.C."
— Brad Vander Lugt, in a blog post
On December 25th, 2011, for a 24-hour period, the band
offered up their entire discography for free
, with all donations going towards the organization. All proceeds from their sales of
Conversations
(see above) will benefit the organization as well.
Included in the limited edition packet for Conversations (pictured above), as described by a post made by La Dispute drummer Brad Vander Lugt:
– "Conversations" – an audio interview with Jordan about the stories and themes presented in Wildlife. The interview is also coupled with movements from Chad's "Mixtapes" (which were ideas recorded on a dictaphone that would later shape some of the songs on Wildlife). Everything is open for interpretation by the listener, of course, but it does give a little more insight into the concept of the record.
– "Snapshots" — a zine of polaroids I've taken on various tours and studio sessions surrounding Wildlife.
– Screen printed poster designed by Mr. Adam Vass.
– 4 postcards: a Departure, a Letter, a Poem, a Broken Jar.
– The 826michigan OMNIBUS Vol. 2 — A fantastic and very unique collection of short stories and poems written collaboratively by 826michigan students. (Seriously, it's awesome. There's a story called A Shark Named Pistachio.)
– a select few will also include our "First Drafts + Sketches" zine.

There are only 150 of these packets, and when they're gone, that's it. $20 each. All proceeds go to 826michigan.
---
Headspace
www.headspace.org.au
February 2012 — Australia
On their Australian tour 2012, La Dispute collected donations for Headspace, the national organization that aids young people aged 12 to 25 who are suffering from mental health issues.
---
Teenage Cancer Trust
www.teenagecancertrust.org
January 2012 — United Kingdom
"[They work] to create stable living environments for young people living with cancer, so they don't need to sacrifice the normalcy of being young, I guess. We got to visit some of their wards and meet with kids, and that was a pretty interesting experience and a lot of fun."
— Jordan Dreyer
"Teenage Cancer Trust aims to ensure that every young person with cancer and their family receive the best possible care and professional support throughout their cancer journey. We know how damaging it is to take a young person away from their everyday life, their friends, their environment, their family – and put them in a cancer ward with small children or older people. Young people have a much better chance in their fight against cancer if they are treated by teenage cancer experts, in an environment tailored to their needs. So we're working every day to make that happen."
– Teenage Cancer Trust's website
During the United Kingdom portion of their 2012 European tour, La Dispute gave all of their profits from sales to Teenage Cancer Trust, as well as plastered venues with posters to raise awareness about the organization.
---
Well House Community Living Of Grand Rapids
www.wellhousegr.org
December 2009 — Grand Rapids, MI
"It [provides] permanent residency for people who have struggled with homelessness problems. They do organic farming and… raise income [so they can be] financially independent. That was the first thing we did, and we're all still reasonably close to everyone at Well House, so that's cool, too."
– Jordan Dreyer
"Well House Seeks to help provide a transition to permanent housing for homeless women and families, and to provide activities that foster new directions and goals. Well House has offered temporary emergency shelter to women and families since 1978 and is now in the process of transitioning to permanent community living. Over 5,000 people have been assisted over the last 27 years."
– Well House's website
La Dispute's
Here, Hear
series consisted of three spoken-word EPs released over the course of a year-and-a-half. With the release of the series' third installment,
Here, Hear III
, the band offered the EPs for download on Bandcamp, in exchange for donations that would benefit Well House. Between December 24th, 2009 and January 27th, 2010, they raised $1755.44 for Well House
1
.
"Homelessness is not a simple lack of house. It has to do with a lack of connections." — Marian Clements, founder of Well House
Read our interview with La Dispute's Jordan Dreyer about Wildlife Read our live show review of La Dispute
Ω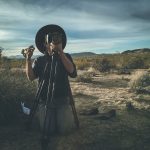 Vivian Hua 華婷婷 is a writer, filmmaker, and organizer. As the Executive Director of Northwest Film Forum in Seattle and Editor-in-Chief of the interdisciplinary arts publication, REDEFINE, much of her work unifies her metaphysical interests with her belief that art can positively transform the self and society. She regularly shares human-centered stories through her storytelling newsletter, RAMBLIN' WITH VEE! In 2020, she will [hopefully] begin production on a comedic Asian-American series entitled Reckless Spirits.
Ask Vivian about MARSHMALLOWS, cuz she's gross... and being tips for being frugal while nomading!