17 May

Tuva's Meridian of Musicality, Spirituality, and Cross-Cultural Place: A Primer On Tuvan Throat Singing

"I am connected with nature in my 39 years, even if I now live in the city, since my past life and memories are connected with nature. My parents believed in the spirits of the river and the taiga, kneeling before the rising sun and the full moon. I also pray to them, the sky, the mother of Yenisei River, and the seven stars of Chedi-Khaan (Big Dipper), so that they may bless me and my people with joy and peace, serenity and good fortune." – Choduraa Tumat, Tyva Kyzy

"Я связана с природой. В мои 39 лет. Если даже сейчас живу в городе. Так как моя прошлая жизнь и воспоминания связаны с природой. Мои родители верили в духов реки и тайги. Преклонялись перед восходящим солнцем, и полной луной. Я сама молюсь им, и небу, и мать реке Енисей, и семи звездам «Чеди-Хаан» (Большая Медведица). Чтобы они даровали мне и моему народу счастье и мир, покой и удачу." – Чодураа Тумат, Тыва Кызы
Between Political and Folk Narrative

A significant element of Tuvan folklore is the personification of non-human nature. Tales are told of rivers, mountains, and the creatures that live within them, through relationships particular to humans. Tuva's emphasis on the deep and personal ties between humans and land nurtures compassion, responsibility, and the sense of belonging which accompanies the understanding of human place within a greater network of life. How can a person not appreciate the beauty and power of nature when images of lovers, friends, and family are embedded so deeply into the earth? It is both a romantic and affective language that holds power over perception.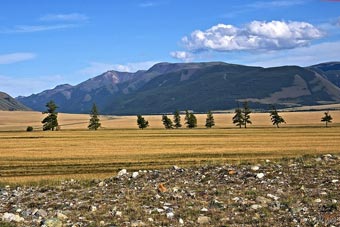 Like two girls walking hand in hand,
Look how lovely are Kosh-oi and Torgalyg,
Two rivers like sisters in beautiful clothes,
Grains and pastures as their ornaments.
Blessings to the devoted people
Whose toil beautifies our native land.
Alash Ensemble – "Kosh-oi and Turgalig" from Buura, 2011
Where are the sixty horses in my herd?
Where is the hitching post for my horse, Konggurei?
Where are the six regions of my homeland
Where is the village of my tribe, Kongurei?
Huun-Huur-Tu – "Kongurei" from Ancestors Call, 2010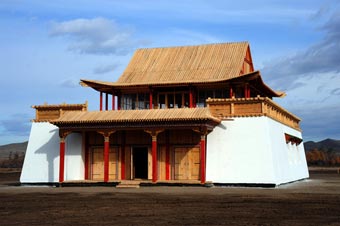 It's a good time for bankers and winners and sailors
With their stories of jackpots and islands of pleasure
They keep their treasures locked in Iron Mountain
Locked in Iron Mountain
They're sailing through this transitory life.
Laurie Anderson – "Transitory Life" from Homeland, 2010
Using such language steeped with a symbolic allusion typical to many Asiatic cultures, the band Huun-Huur-Tu released a powerful album in 2010, entitled Ancestors Call.8 Anyone willing to venture into the heart of the album's track "Kongurei" finds translated the grief and displacement of a semi-nomadic culture within its own lands. The Soviet regime did not offer Tuva opportunities to cultivate according to its traditionally nomadic needs, instead forcing the prescription of communal farming and consequently, settlement, as well as quarantine from ancient customs through the repression of the region's widespread practices of shamanism and Buddhism.9 In the same way that many artists across Russia have historically managed to maintain political expression through allusion and folk symbolism, Tuva continues these parallels today within songs that might otherwise seem easy to dismiss as only a single layer.
"I am connected with nature in my 39 years, even if I now live in the city, since my past life and memories are connected with nature," admits Tumat as she shares her personal connection with the land that has etched herself and her art. "My parents believed in the spirits of the river and the taiga, kneeling before the rising sun and the full moon. I also pray to them, the sky, the mother of Yenisei River, and the seven stars of Chedi-Khaan (Big Dipper), so that they may bless me and my people with joy and peace, serenity and good fortune."
Even before the inception of the Soviet Union, Tuva's performers remained largely isolated from the international realm. It is both impressive and surprising then, that within the two decades Tuva has been more or less open to the world following the Soviet collapse,2 performers from the remote republic have enchanted many international audiences and musicians. Huun-Huur-Tu were in cahoots with Frank Zappa3 and American blues guitarist Paul Pena learned throat singing and traveled to Tuva,4, while local celebrity Kongar-ol Ondar, also known as Ondar the Groovin' Tuvan, cheekily performed on Letterman's Late Show.5 Such collaborations, and many more, have made throat singing an accessible art for cultures beyond the country's own borders and helped in the evolution of Tuva's music.
It is through these bands and collaborations that the folk motifs and throat singing of Tuva have become not just more popular — but more accessible — for Western audiences. The most familiar encounter for Western audiences may be the vocal and instrumental collaboration between Chirgilchin and Laurie Anderson on the tracks "Transitory Life" and "The Beginning of Memory" from Anderson's 2010 album, Homeland.10 These performers manage to create a unified statement despite coming from different cultures; with haunting harmony, the political pain of the West expressed in Laurie Anderson's lyrics fuses with the spiritual expression of the East through the stirring voices of Tuva. The poetry is American, but the alienating consequences of a profit-driven power-structure familiar to the West are not foreign to Tuva. The post-Soviet reality,11 for instance, is still manifesting in communities' difficulties to adjust to a non-nomadic lifestyle.12 The existing and desired relationship with the earth is something that can be felt differently in the blood and bones, but is expressed universally through music.
Alash – "Kosh-Oi And Torgalyg"
[audio:/wp-content/uploads/2013/05/Tuvan_6_Alash_Kosh-Oi-And-Torgalyg.mp3|titles=Chirgilchin – Konturei]
Chirgilchin – "Lonely Man"
[audio:/wp-content/uploads/2013/05/Tuvan_7_Chirgilchin_Lonely-Man.mp3|titles=Chirgilchin – Lonely Man]
Huun-Huur-Tu – "Kongurei"
[audio:/wp-content/uploads/2013/05/Tuvan_8_Huun-Huur-Tu_Kongurei.mp3|titles=Huun-Huur-Tu – Kongurei]
Laurie Anderson – "Transitory Life"
[audio:/wp-content/uploads/2013/05/Tuvan_9_Laurie-Anderson_Transitory-Life.mp3|titles=Laurie Anderson – Transitory Life]