11 Oct

V V Brown – Samson & Delilah Music Video Series: An Interview About Brown's Short Film

V V Brown

has released three albums since 2009 — but it is only now that she is making a foray into the

independent

music world. Freshly divorced from her former major label home, Capitol Records, V V Brown has recently found renewed strength in herself as an artist with her latest record,

Samson & Delilah

. Themed around the Biblical tale, which mirrors the themes of vulnerability, slavery, and freedom that led to her massive career change,

Samson & Delilah

also presents a sonic change into moodier and darker territories, where hints of The Knife echo through, replacing previous tendencies towards mainstream pop appeal.

A bold new audio-visual approach accompanies the record as well, in the form of a dramatic, carefully-plotted fifteen-minute short film directed by Jessica Hughes. Comprised into three separate music videos, the film bears similarity to mesmerizing black and white Japanese classics by Akira Kurosawa or Masaki Kobayashi, while catching a mood not unlike that of Ingmar Bergman films. They're transportive from part to part, leaving viewers wondering about the terrains to be crossed next.

In this Q&A interview about the creative process of the short film, V V Brown speaks of being inspired by geishas and noir, Biblical stories and archetypal characters — and the feeling of finding one's own artistic voice.

"Samson and Delilah is a story about strength and weakness. It's about the pendulum between the two. The story for me conjured up the idea of empowerment and fragility. When Samson was deceived by his love and was in the wilderness discovering and finding himself, waiting for his hair to grow back, this represents times in my life I have felt lost creatively. Hair clipped and [with] a sense of vulnerability. Delilah was the deceiver. Samson represents the artist and Delilah represents the cooperation. The Artist can often loose the strength of their messages in the corporate arena, and my own record label exercises my freedom and new strength." – V V Brown
V V Brown – "Samson" Music Video (Part 1)
How did the collaboration between you and the director first come to form, and how much creative give-and-take is there?
The catalyst to a lot of the ideas, melodies and feelings for this album came from existing visual stimulation. We had a projector on the wall in the studio whilst we created, and I was obsessed with noir, microscopic particles and the "geisha". I also had directed a lot of fashion films previous so had a taste for moving image from behind the scenes. The product of a short film was such a natural development to an already existing appreciation to moving image and visual arts, My partner is also an art director and filmmaker, and I learnt a lot from him. He was a huge inspiration. I didn't work with my partner, sadly, until "The Apple Video Part 2", but despite [that], I decided that working with new directors and artists would be more interesting than [working with] well-known ones. We put a message out to all the film schools in the UK and eventually met an incredible director called Jessica Hughes. We then co-directed and produced the film together. The creative give-and-take felt quite natural, and I must admit I took a dominant role, as it was my baby, but there was a strong consistent exchange of ideas and respect. Jessica was incredibly good at translating strong ideas to the screen and our DP and lighting were geniuses, which was important. There was dialogue.
You've thus far released two parts of a larger short film. What are the overarching concepts or philosophies driving this film, as a whole, and can you give a brief summary of each of the components?
Samson and Delilah is a story about strength and weakness. It's about the pendulum between the two. The story for me conjured up the idea of empowerment and fragility. When Samson was deceived by his love and was in the wilderness discovering and finding himself, waiting for his hair to grow back, this represents times in my life I have felt lost creatively. Hair clipped and [with] a sense of vulnerability. Delilah was the deceiver. Samson represents the artist and Delilah represents the cooperation. The Artist can often loose the strength of their messages in the corporate arena, and my own record label exercises my freedom and new strength.
Tokyo geisha with shamisen, circa 1870s
About the Geisha (芸者)
Japanese geisha first originated in the 18th century, but followed a long lineage, which first began with the saburuko, or serving girls, of the late 600s. Saburuko primarily offered sexual services initially, but evolved into yujo, or play women — who, at their highest level, were a combination of actress and prostitute, known as Oiran. Oiran often performed the erotic skits which later became known as kabuku ("wild and outrageous") and gave rise to kabuki theater.
Surprisingly, the first geishas were male, initially staffed to provide entertainment for customers waiting to see the Oiran. Rather than offering sexual services, geisha danced, sung, played music, and played games.
At the same time, teenage female dancers-for-hire known as the odoriko, or dancing girls, provided services under that title; but once they reached full womanhood, they were required to adopt a different name for themselves. Geisha was one of the names which was adopted, firstly by a Fukagawa prostitute named Kikuya, who was a skilled singer and shamisen player. Kikuya spread the popularity of geisha throughout the region from the 1750s to 1770s, and female geishas soon worked side-by-side with male geishas to provide services for those waiting for the Oiran.
By the 1800s, however, geisha were primarily female, and the geisha style evolved and was emulated by fashionable women throughout the 1930s. Their numbers declined with the onset of WWII — but modern geisha still exist in Japan, in smaller but unquantifiable number.

Delilah cutting Samson's hair, c. 1460
About Samson & Delilah
The story of Samson and Delilah is a famous Biblical tale about power and the nature of love and betrayal.
Samson was a man who was granted supernatural strength by God in order to perform heroic feats, such as destroying pagan temples and slaying armies with only the jawbone of an ass. Yet Samson was flawed; he was powerless without his hair, and he had an attraction towards untrustworthy women.
When Delilah was approached by the Philistines and offered money in exchange for the secret of his strength, she complied. To start, she asked Samson three times for the secret of his strength; three times he answered falsely:
"If they bind me with seven green withes that were never dried, then shall I be weak, and be as another man."
"If they bind me fast with new ropes that never were occupied, then shall I be weak, and be as another man."
"If thou weavest the seven locks of my head with the web, then shall I be weak, and be as another man."
The fourth time, however, Samson revealed the true reason: that he did not cut his hair in fulfillment of a vow to God.
Delilah took advantage of this; once Samson fell asleep on her knees, she called in another man to shave off the locks on his head. From there, "The Philistines took him, and put out his eyes, and brought him down to Gaza, and bound him with fetters of brass; and he did grind in the prison house." (Judges 16:21)
V V Brown – "Apple" Music Video (Part 2)
Some of the lyrical content on the record, Samson & Delilah, was developed with little forethought. How spontaneous or pre-planned was the process of making these music videos? Are there any particularly interesting moments of improvisation that you would like to share?
The film was planned with intense storyboards and shot lists. We didn't improvise much; it was extremely organised. Time is money, so they say, and we didn't own our own studio like I do with music, so we had to be efficient. We approached this professionally and strategically. I really learned a lot and love the psychology of being a producer. I learned so much. I think the only thing improvised was Delilah crying in set, which got us all crying our eyes out.
Can you tell me a little bit about the main characters in the music videos? How were their characters first conceptualized and what was the casting process like?
The casting process was quite easy. There are only 3 characters excluding me, and 2 of them are our friends. It was difficult finding the elderly man as we wanted his face to really tell a story on camera. We must have seen over 100 Asian men. The characters were conceptualised by my sheer imagination and also Jessica's sketches.They were great storyboards.
I was inspired by Japanese film as well. I wanted the younger Samson to be intensely handsome but have a darkness about him and the older Samson to have pain in his wrinkles and eyes. He needed to tell a story by a look.
Delilah needed to be beautiful and Mel, who is the lead in Les Miserables UK, was perfect. Her ability to cry on camera was incredible, and she personified the feelings of betrayal.
Finding two characters, Samson old [and] Samson young, who resembled each other without SFX was hard too. We had to analyse the structure of their faces and imagine what the younger one would look like aged.
The album title, Samson & Delilah — as well as track titles like "Samson" and "The Apple" — seem to hint at archetypal stories and symbolic imageries. Is this a true assumption? If so, what are some of the images which feel most important to convey, and to what ends?
The whole album centers around the Biblical story and the idea of strength and weakness. Overcoming, not being patronised, weakness, being lost then found, deliverance, freedom, slavery, bondage, vengeance, love, peace, conflict, independence, emotions intensity: these are the themes that play over and over again.
Black and white is used in music videos these days, for dramatic effect. Why was it chosen for this series?
We wanted the film to have an identity. Our grader Is incredible and loves the relationship between digital and film, and [knows] the grading qualities and how to replicate film authentically digitally. Tom Tomkins was passionate about the film having a monochromatic film with a unique identity. Black and white also looks incredibly elegant and iconic.
There are a number of pan-ethnic imageries in the music videos, with a heavy emphasis on Chinese and Japanese aesthetics. Were these chosen for purely aesthetic appeal, or were there other considerations as well?
It was The Geisha and my love and obsession for the geisha that drove it all. This is why you feel the Japanese influences. We had geishas on the wall of the music studio all the time. They are elegant, mysterious, controlled, magical artists.
How much of a budget did you have to work with?
Hardly any. The film was made for under 5k. To hire RED cams and lighting was our priority and everyone understood it was an indie project.
Ω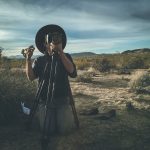 Vivian Hua 華婷婷 is a writer, filmmaker, and organizer. As the Executive Director of Northwest Film Forum in Seattle and Editor-in-Chief of the interdisciplinary arts publication, REDEFINE, much of her work unifies her metaphysical interests with her belief that art can positively transform the self and society. She regularly shares human-centered stories through her storytelling newsletter, RAMBLIN' WITH VEE! In 2020, she will [hopefully] begin production on a comedic Asian-American series entitled Reckless Spirits.
Ask Vivian about MARSHMALLOWS, cuz she's gross... and being tips for being frugal while nomading!