A Culture Of Collaboration
Cultural homogeneity is of incredible prevalence in Iceland. But as already alluded to, the homogeneity is found more in culture than in musical creations. Musical tastemakers in the country share a similar attitude towards the pursuit of music — one in which mutual support is the centerpiece.
"I think it's all about inspiration from one another," says Albertsson. "There is a very bonded music community in Iceland, and I think that it's obvious that these bands start to inspire each other."
The scene is small, but its vibrancy offers immense potential for collaboration. The verity of this is echoed time and time again, by musicians of all kinds — from the indie rock stalwarts, as one might expect, to the garage rock nobodies who have barely seen their music exported outside of the country. Show bills on any given night might feature bands of three or four varying genres of music, the only connection being that they are simply friends who want to play a show together.
"Everyone goes to the same places, plays the same clubs, and get wasted at the same after-parties…" says indie singer-songwriter Pétur Ben. He explains that the community rewards those with good attitudes and sincere spirits. "First, you need to look at what you can do to help, and the community responds accordingly."
"I've got a lot of friends here who are involved in music, and they're always more than happy to help out and give out tips and pointers, although they're making entirely different music from me," explains Geir Helgi Birgisson. He explores a hardware-heavy variety of electronic music called Skweee and creates under the moniker, Rabbi Bananas. "People here tend to be adventurous; there's a lot of different styles going on, so the community has a large variety of directions."
"There is competition and there are cliques, like in every scene, but everyone helps everyone out…" says Collings. "It's such a small place that if you go around acting like an arrogant rockstar, then everyone will despise you, and no one will respect or help you or what you are doing."
Ukulele-wielding songbird, Ólöf Arnalds, seconds this fact, saying, "Everyone knows everyone here. If you meet someone new, it usually takes less than a minute to find a link to that person."
But according to Bragi Marinósson and Emil Svavarsson of the electropop band Yoda Remote, a small music community can be a blessing and a curse. "It's easy to get noticed," says Svavarsson, while Marinósson adds, "but because of the small size, it's hard to get attention if the music is not very different from the music that's already there."
"You don't get away with doing something that's not original," Svavarsson concurs.
"Everyone feels they have to contribute something unique, compared to some places in the world where… [if there is] a band that's unique, it's okay in that town [to] have two thousand of exactly the same band singing about… exactly the same stuff," muses solo artist Mugison. "Over here, that's nearly impossible… Even though we're definitely all copying from all sort of places, there's kind of a mix, which turns unique.
"Say, somebody is copying me… and they release a song," he continues. "I think the chances are that, within one week of them releasing the song, they'll run into me in Reykjavik, or at some place, some venue, some street… and they'll feel awkward, because they know everybody, who's saying, 'Hey, you've got that same sound as him; you're just copying him…' And that's kind of nice, because then you're forced to at least try to make your own voice."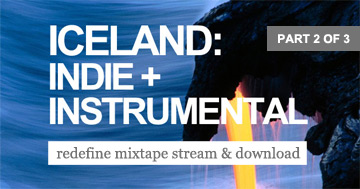 SAMPLE TRACKS
DOWNLOAD / STREAM COMPLETE MIXTAPE
Rökkurró – Augun Opnast (12 Tónar)

Seabear – "Lion Face Boy" (Morr Music)

Daníel Bjarnason – "Bow To String I. – Sorrow Conquers Happiness" (Bedroom Community)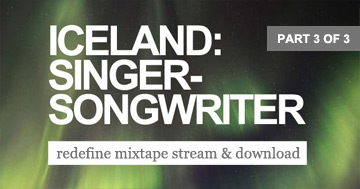 SAMPLE TRACKS
DOWNLOAD / STREAM COMPLETE MIXTAPE
Ólöf Arnalds – "Innundir Skinni"

Pétur Ben – "Something Radical" (12 Tónar)

Lay Low – "Why Do I Worry"


"Very, very few musicians can live off their work, and there is not a lot of money involved in the business."
— Baldvin Esra, label manager at Kimi Records