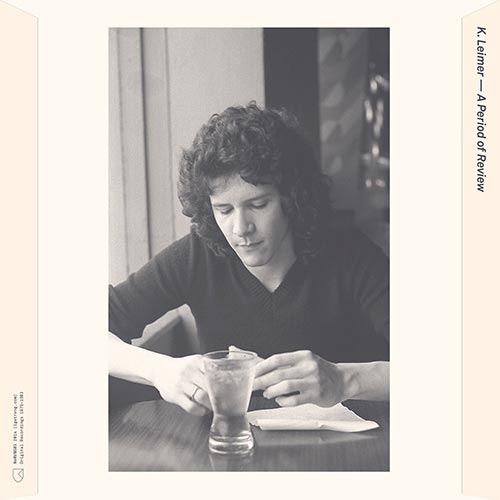 When asked about the influence of late '70s and early '80s electronic music on his own record,
A Period of Review
, Seattle ambient pioneer and head of the Palace Of Lights label Kerry Leimer told
The Ransom Note
:
What interests me most about "A Period of Review" is the sense that it really is that period now in review. So many years on, in the constant rush and search for something "new" there's plenty of evidence that alot can be overlooked and never fully comprehended. Especially now, when more work is published than any one individual could ever hope to have even a passing familiarity with, it's always helpful to at least understand the way ideas and aesthetics about expression originate and evolve."
A Period In Review (Original Recordings 1975-1983), a lavishly packaged document for RVNG Intl.'s stunning archival series, rewinds the clock to investigate this period through the works of the under-known/under-appreciated luminary, K. Leimer.
Coming from a background in Dada and surrealism, Leimer began making music when his family permanently relocated to Seattle in 1967. Inspired by Cluster's II, Leimer realized the ability to compose with limited training, and began hauling in a series of Moog synthesizers and tape machines. His next keystone would be the Terry Riley-influenced compositions of Fripp and Eno's No Pussyfooting, which introduced Leimer to the possibilities of loop-based recordings that would become trademarks of his sound; they led him to create what he described as Generative Music: organic and evolving musical systems.
"The loop provided an instant structure-a sort of fatalism," Leimer says in the liner notes for, A Period In Review. "The participation of the tape machine in shaping and extending the music was a key to setting self-deterministic systems in motion and held a clear relationship to my interests in fine art." This exploration of various kinds of world and art music, the limits and possibilities of loop-based music, the tactile power of analog electronics, and a skepticism towards the market's influence of music, are all ideas that are extremely pertinent to today's cultural climate, all reminding us why this period is a period worth reviewing and what is so special about Leimer, in particular.
The first and most noticeable thing about the material collected here, is the range and scope of styles Leimer undertakes, from the digital exotica of "Ceylon" to the crisp drum machines of "Entre'acte"; from the outer space ambiance of "From A Common Center" to the crooning artpop of "Lonely Boy". This is clearly a restless and ceaseless musical imagination at work, taking us back to a time before there were such steep walls between genres. Leimer is clearly drawing from every well; a number of these tracks sound like they could be soundtracks to nature documentaries ("My Timid Desires"), while others, clocking in at a staggering 8 seconds, could be incidental music for commercials ("Commercial").
A Period In Review could be seen as a missing link in the chain between the early experiments of the BBC's Radiophonic Workshop and the age of art techno experimentation of the '80s. There's an almost even 50/50 split between the cut-up bricolage precision of John Baker and Delia Derbyshire's razor blades, and the infinite riffage of locked sequencers that reminds us of the links between techno and '60s minimalism.
Still, in a world full of archive raiding re-issues and lost and forgotten geniuses, make makes one proto-electronics release stand out from the rest? What makes A Period In Review so special? Is it worth your time and money?
If you're interested in any brand or offshoot of any electronic music that has been made in the last 8 years, then yes, absolutely, A Period In Review should go to the top of your "must purchase" list.
Firstly, this is a lovely introduction to what turns out to be a phenomenal indie label, Palace Of Lights. What strikes me most about the output on PoL is how remarkably gorgeous it is, steeped in classicism. See the lovely lead single "Gisella" for examples of how traditional piano melodies are blended with electronic tones and textures to create a next wave classical music. This was coming from a time when most of the underground labels were either plying harsh and aggressive noise, like what was belching from Industrial Records' smokestacks, or straight-to-the-dancefloor fare. Palace Of Lights was a nexus of artful, cutting-edge sounds that still managed to evoke beauty and emotionality. Seeing as how a lack of emotion is the main criticism leveled at electronic music, this remains as serious a point as ever.
Secondly, while a lot of re-issues seek out ephemera, looking for every lost breadcrumb, trying to find that fabled forgotten genius or undiscovered hit, Leimer never really went anywhere. He's been making music this whole time, and Palace Of Lights is still operational, which makes this more of a collection than a re-issue, designed to introduce a new generation to a wonderful and under-appreciated innovator in the field of electronic music, although most of the material on A Period In Review is unreleased. There is no feeling of nostalgia or exploitation, here, no feeling of faded glory. This material seems vital, lively, powerful, even if it was made 35 years ago.
While poring over these 30 tracks over and over, it struck me how much of the current experimental music couldn't exist, if not for the works of Leimer, and people like him. You can find the roots of Oneohtrix Point Never's Fourth World eccjams in these fertile crescents, or the virtual exotica of James Ferraro. You can hear the hardware hacking of Bass Clef, or pretty much any artist operating on the influential electronic label PAN.
There is also a geographical interest, for any who happen to be reading this from the Pacific Northwest, as Palace Of Lights was an early Northwestern indie label, predating Sub Pop and K Records by a number of years. It could be said, in some regards, that the history of alternative, indie and grunge might've looked very different, without the participation of early indies like PoL.
Lastly, and most importantly — and probably the only thing that matters — is how the music sounds. Getting lost in the drifting airs of this double LP is a mesmerizing delight. As expected from the time period, all the gear sounds great, with the Minimoogs sounding as warm as fresh taffy, and the drum machines as crisp as frozen pea pods, all captured in a warm nimbus of tape saturation, like sitting in a cedar sauna. These worlds sound idyllic, floating on the early spring breeze, lazily drifting like underwater currents as your home/office/wherever you listen to music is transformed to unimagined alien mesas, and 4D sylvan forests.
A Period In Review is an essential listen, for anyone with an interest in the history of electronic music, or culture in general, and wondering how we got where we are. It offers us a respite from the disassociated cynicism of referential living, as it is OF the future, not just looking at it. Anybody who has a fondness for any of Brian Eno's works, for Jon Hassell's Fourth World musics, the tape degradations of William Basinski or Leyland Kirby, or the digital exotica of James Ferraro or Daniel Lopatin, or a million other cassette purveyors, get this on your turntable, now!
Ω