03 Mar

Pure Potentiality (#31) Austin 2014 Unofficial House Party Announcement & Mixtape

REDEFINE magazine, Holocene, and XRAY.FM present…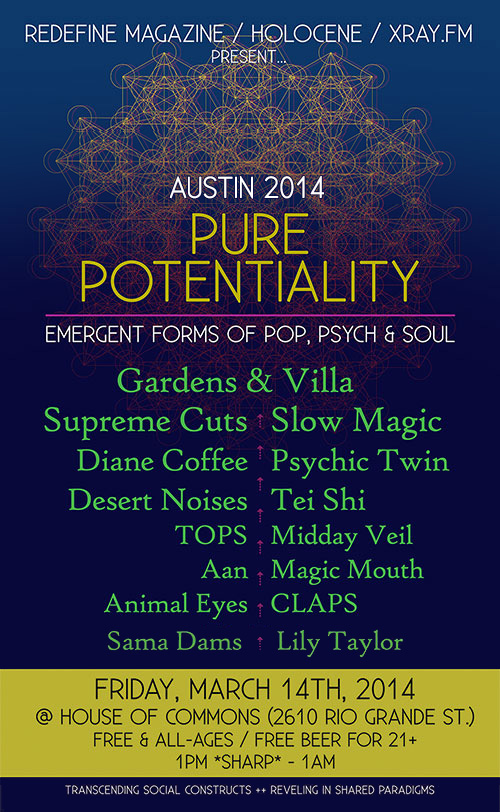 Saturday, March 14th, 2014
@ House Of Commons
2610 Rio Grande St., Austin, TX
1:00PM SHARP – 1:00AM+
ALWAYS FREE, ALL-AGES, AND DIY
FREE BEER FOR 21+
VIEW SET TIMES & RSVP ON FACEBOOK
We are immensely pleased to bring you the fourth annual iteration of REDEFINE magazine and Holocene's collaborative hi-jinx in Austin! Best friends and co-conspiring dreamers Gina Altamura (talent buyer at Holocene) and Vivian Hua (Editor-in-Chief of REDEFINE) are throwing another free, all-ages, and unofficial DIY house party! We're excited to be bringing on a new co-promoter this year – Portland's own XRAY.FM, a new community radio station with very big ideas and a bevy of talented people on board to execute them.
This year our theme is PURE POTENTIALITY, and we're showcasing our favorite artists from across the country (including some of our hometown loves) who are exploring emergent forms of pop music, psych, and soul/R&B. The emphasis is on futuristic sounds, mystical / metaphysical subject matter, and the very noble effort to actualize innovative, boundary-pushing approaches to pop. With the year 2014 still young, we're looking ahead and feeling the extraordinary potential of our generation of music-makers. We want to celebrate this exciting age with all of YOU!
Join us as we dance into l'avenir!
Tune into http://xray.fm/listen every Sunday at 4pm PST for INTUITIVE NAVIGATION, as Gina and Vivian preview these exciting musical acts and stretch the theme of Pure Potentiality to the radio airwaves.
TRANSCENDING SOCIAL CONSTRUCTS ++ REVELING IN SHARED PARADIGMS
VIEW SET TIMES & RSVP ON FACEBOOK
Stream Mixtape

Diane Coffee – "Hymn" (Western Vinyl)
SEE ALSO: Diane Coffee – My Friend Fish Album Review

Tei Shi – "M&Ms" (Self-Released)
SEE ALSO: Tei Shi – Saudade EP Album Review

Aan – "Bubble Bath Pop" (Party Damage Records)

TOPS – "Easy Friends" (Arbutus Records)
SEE ALSO: Arbutus Records Label Profile + BODY||MIND REDEFINE magazine SXSW 2012 Mixtape

Psychic Twin – "Dream State" (Polyvinyl Records)

Gardens & Villa – "Bullet Train" (Secretly Canadian)
SEE ALSO: Gardens & Villa Band Interview: The Realism Behind Contrasting Experiences

CLAPS – "White Lies"
SEE ALSO: CLAPS – No Science / No Party EP Album Reviews

Supreme Cuts – "Gone" (ft. Mahaut Mondino)

Magic Mouth – "Speak Softly After Dark (For Nina)"

Midday Veil – "Choreia" (Translingustic Other)
SEE ALSO: Up-And-Coming Seattle Bands to Watch + Psychoactive Soundscapes 2013

Animal Eyes – "Pleasure Hound"

Slow Magic – "Youth Group"

Ω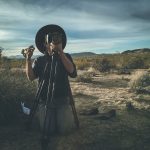 Vivian Hua 華婷婷 is a writer, filmmaker, and organizer. As the Executive Director of Northwest Film Forum in Seattle and Editor-in-Chief of the interdisciplinary arts publication, REDEFINE, much of her work unifies her metaphysical interests with her belief that art can positively transform the self and society. She regularly shares human-centered stories through her storytelling newsletter, RAMBLIN' WITH VEE! In 2020, she will [hopefully] begin production on a comedic Asian-American series entitled Reckless Spirits.
Ask Vivian about MARSHMALLOWS, cuz she's gross... and being tips for being frugal while nomading!