Hailing itself as Slamdance Film Festival's "largest and most accessible festival yet," Slamdance 2021 runs virtually from February 12th through 15th, and can be accessed with an impressively cheap $10 festival pass. With its long-time focus on emerging artists, the 27th edition of the festival boasts 25 features plus 107 shorts and episodics — and its pricepoint practically begs you to dip your toes into its varied waters.
Below, you'll find top picks in shorts programming from the festival to use as a quick guide. (Note: film entries with asterisks are ultra-worthy of your attention, and this list is a work-in-progress.)
ASMR for White Liberals
John Connor Hammond, USA, 2019
(Department of Anarchy Shorts Block 2)
Written by and starring Randall Otis, the premise for ASMR for White Liberals is simple: a Black man sits in front of a two-mic setup and whispers sweet nothings to alleviate white guilt. Brilliant. You can stream it in its entirety above.
Autoscopy
Claes Norwall, USA, 2020
(Narrative Shorts Block 2)
While collecting field recordings on a trip in the woods, a musician discovers a strange enclosed structure, and breaks into it. When he later returns home, he settles in by brewing himself a batch of mushroom tea and sitting before his home studio, only to eventually doze off to the tune of his own drone music. When he "awakes," sleep is as much wake as wake is sleep, and whether he ever returned at all becomes a psychedelic mystery.
Bad Mood (Malumore)
Loris Giuseppe Nese, Italy, 2020
(Animated Shorts Block 1)
Paired with stark, blocky, and high-contrast animations, Malumore features a young narrator who recounts the struggles of their mother's work as a caregiver for the elderly. "They pay her day by day, so that, when they want, they can tell her not to go there anymore," the young narrator says.
Throughout the course of the short film, repeating images emerge and submerge on the screen, as if to denote the repeating cycle of the mother's life ticking slowly by — and as the narrator becomes a teen at age 16, then a young adult at age 21, both of their lives degrade in their own ways, as client after client passes on into the great beyond.
Blue (Mavi)
Ali Şenses, Turkey, 2019
(Narrative Shorts Block 1)
Building as a slow mystery, Mavi introduces a wandering man who meanders through the world with a long stick and brush tucked into the back of his overalls. It juts out horizontally, tapping everything he passes — and each time, the sonic satisfaction is palpable; tactile, even. As the man purposely seeks out a metal fence or beelines straight for a weathered old statue, one's curiosity is raised: what exactly is he searching for?
By the end of the first day, no questions have been answered. He lays down his tool to enjoy a meal, blows out a torch, and a mosque's call to prayer sounds in pure darkness, denoting a night of sleep. The next day, he begins again, until he finally discovers what he is looking for… and it is a sublime sonic anomaly.
Delimitation (Vymezení)
Tereza Vejvodová, Czech Republic, 2020
(Narrative Shorts Block 1)
"Touch" is the central theme of Delimitation, which centers around one woman's experiences of physical space, both public and private. Whether seen as observations of her contorted body, leaning against a metal wall in a park, or anonymous hands alternately gripping between soft fabric and hard handrails, Delimitation moves from minimally composed explorations of texture and architecture into a blurry space of imagination and a magical reality, where the woman is allowed to traverse through the world and seek sensual elation, as her body finds full expression within foreign spaces.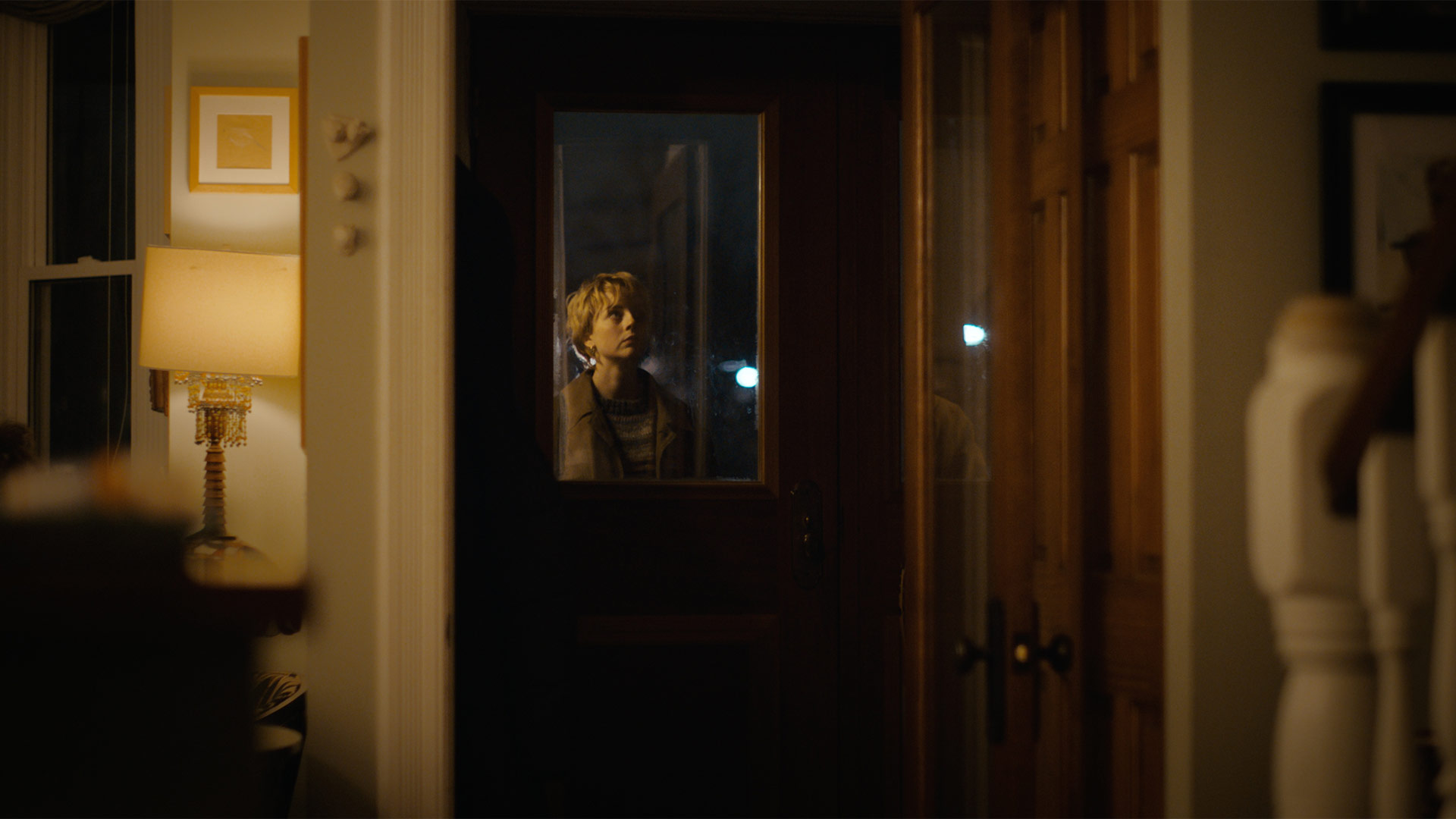 Every Day's Like This *
Lev Lewis, Canada, 2020
(Narrative Shorts Block 1)
Every Day's Like This explores a horrifically mundane evening interaction, as a father, son, and daughter struggle to navigate the last days of the family matriarch's battle with cancer. The mother, it seems, is ever-present, yet never once on-screen; she somehow possesses gravitas yet simultaneously lacks any power of self-determination. Her family buys her groceries she requests but ends up feeding her items she never requested; they read to her but only choose books they want to read themselves. Indeed, as the nurse tends to the cancer patient quietly in her room, the family converses in the kitchen — at last finalizing the date of her medically-assisted death, and deciding that perhaps they'll finally consult her later.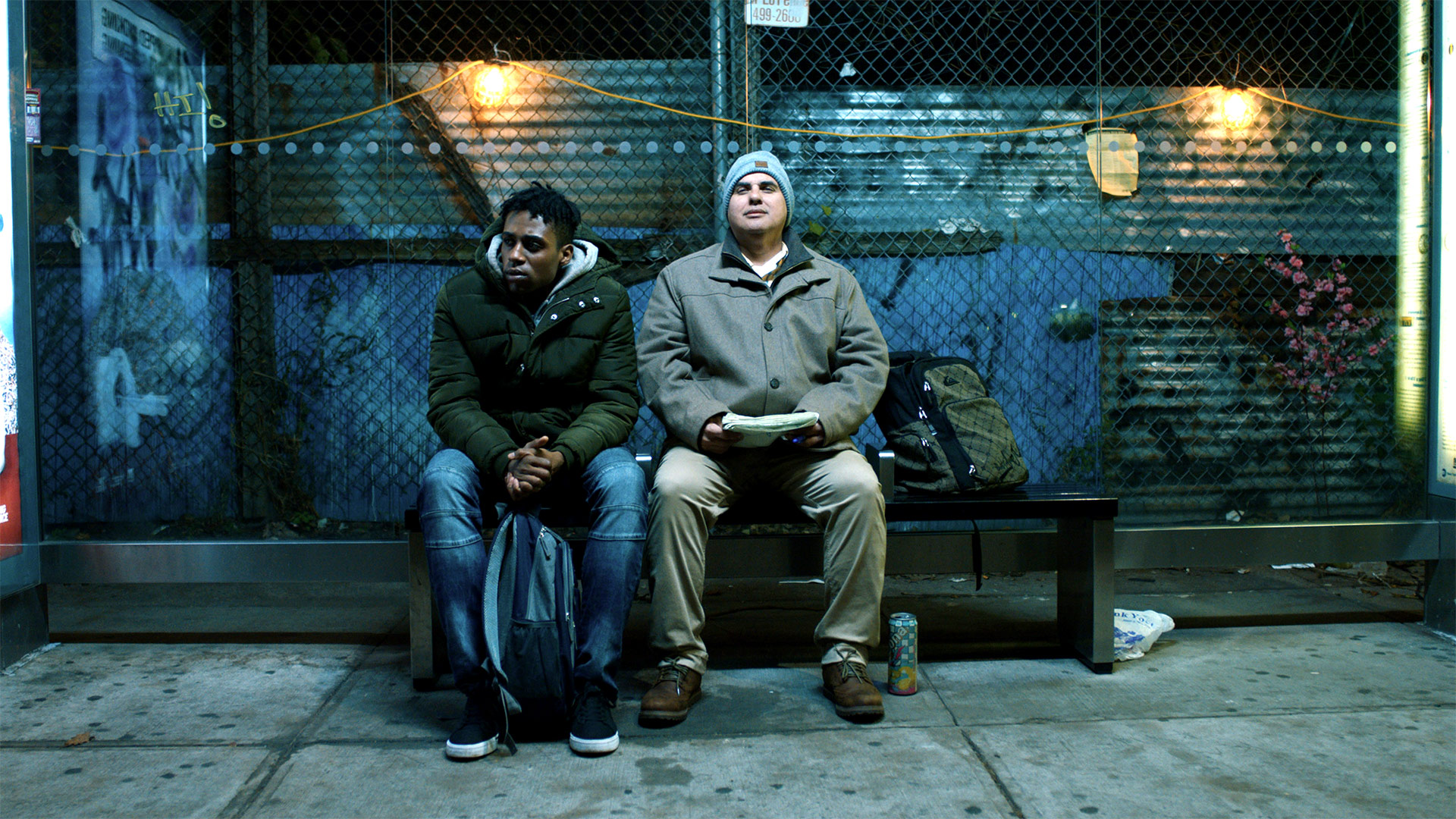 Feeling Through *
Doug Roland, USA, 2019
(Unstoppable Block 2)
A story of those who are down and out on their luck in New York City, Feeling Through finds a young Black houseless man in service of an older DeafBlind man stranded on the street corner. By assisting the man in reaching his destination, an unexpected friendship blooms which ultimately leaves both better off. A straight-forward and simple tale which offers touching insights into DeafBlind lifestyles.
(Note: The film's production team states that Feeling Through is the first film to ever star a DeafBlind actor in a lead role. An Oscar-shortlisted film!)
Full Picture *
Jacob Reed, USA, 2020
(Unstoppable Block 3)
At the outset of Full Picture, Santina asks, "How do people define you?" In a wheelchair since age 6, Santina explains that often, all people ever wish to talk about is that aspect of her existence — but virtual meetings during the COVID-19 pandemic have completely changed that dynamic. Hence, she and her friends set up a social experiment and invited strangers to have one-on-one video chat with her. Never once did she mention or show her wheelchair. When this detail is revealed, the strangers' perspectives are fascinating — and even Santina's own relationship to ableism becomes illuminated.
In France Michelle is a Man's Name *
Em Weinstein, USA, 2020
(Narrative Shorts Block 3)
Depicting a rite of passage between an unlikely father's acceptance of his trans child, In France Michelle is a Man's Name quietly portrays the challenges of being trans. Within a testosterone-fueled venue, it showcases everyday hurdles that trans people face: of being misgendered by identification cards, being forced to use restrooms which don't match their gender identity, or having to perform gender for the benefit of others. Excellently and intimately portrayed, the film shows that acceptance sometimes comes in unexpected ways.
Instructions to Let Go (Instrucciones Para Soltar) *
Gustavo Gamero, Mexico, 2019
(Narrative Shorts Block 1)
In Instrucciones Para Soltar, isolation is explored through a narrow focus on one character in a hotel room. Initially, they seem like a voyeur, eavesdropping on the conversations of others — but when reality is in fact revealed, the situation is one of reminiscence; of elusive memories and forgotten pasts. Of a love affair that is played out in one's mind over and over and over again, long when the love affair itself has passed. As the film's title advises, the best practice might sometimes be to go through the motions of loss, in order to lay them to rest.
Just a Guy
Shoko Hara, USA, 2020
(Department of Anarchy Shorts Block)
Many famous serial killers attract groupies, and the handsome Richard Ramirez was no different. In Just a Guy, two ex-lovers of Ramirez, alongside the film's creator Shoko Hara — who was only minorly in correspondence with Ramirez to send him fetish photos at the invitation of one of these other women — appear as claymation characters to light-heartedly tell the story of love, loss, and what ultimately attracted them to the fellow in the first place.
Miss Curvy
Ghada Eldemellawy, Uganda, 2020
(Documentary Shorts Block)
Centered around a controversial pageant which was launched by Uganda's Ministry of Tourism, Miss Curvy showcases that while the event was considered as an unfortunate step back by some women's rights activists, its participants ultimately considered it a vehicle for self-empowerment. Through a series of trainings with a coach, the contestants are encouraged to strive for the best — on mental, physical, and spiritual levels — and by the end of the film, one can see why some women appreciated claiming the term "curvy," because the message it contained was ultimately much more than just a word.
Mountain Lodge
Jordan Wong, USA, 2020
(Experimental Shorts Block)
Displayed as different windows open on a computer screen (think: Searching, starring John Cho), the entirety of Mountain Lodge is meant to throw shade and make a joke on Yankee Candle's limited edition scent, "Mountain Lodge" — one of a collection meant to mimic the scent of boyfriends and idealized manly men. It's fun and full of clever mash-up visuals and wordplay.
Opera *
Erick Oh, USA, 2020
(Animated Shorts Block 1)
An 8K art installation and Oscar-shortlisted animation, Opera begins with what looks like a slow descent down a living tableau. Lemming-like characters inhabit a towering pyramidal structure, complete with compartmentalized scenes of deity worship, sacrificial beheadings, factory assembly lines, and Jesus Christ and The Last Supper.
At the lowest level of the pyramid, a lone key hangs in the center of the ceiling, and opposing parties soon battle for its control. Almost immediately, the fine-tuned mechanics of the structure fall into chaos and disarray; the ant-like characters leave their respective posts to fight and destroy one another. One party slowly takes over the other — until a god-like intervention simply starts the cycle all over again, and every single character returns to their original position, to dance, die, worship, learn, and cast judgments upon one another. They are, it seems, participants in the grand opera that is life.
Others
Grace Rex, USA, 2019
(Narrative Shorts Block 3)
Separated into a series of highly-stylized vignettes, Others features Invasion of the Body Snatchers awkwardness mixed with plenty body horror and the kind of quiet suspense which could only come from two parties attached to one another by an umbilical cord. With notable change in tone and content between each vignette and seemingly little connection asides from said shared tissue mass, this short thrives on its ability to remain compelling without ever taking itself too seriously.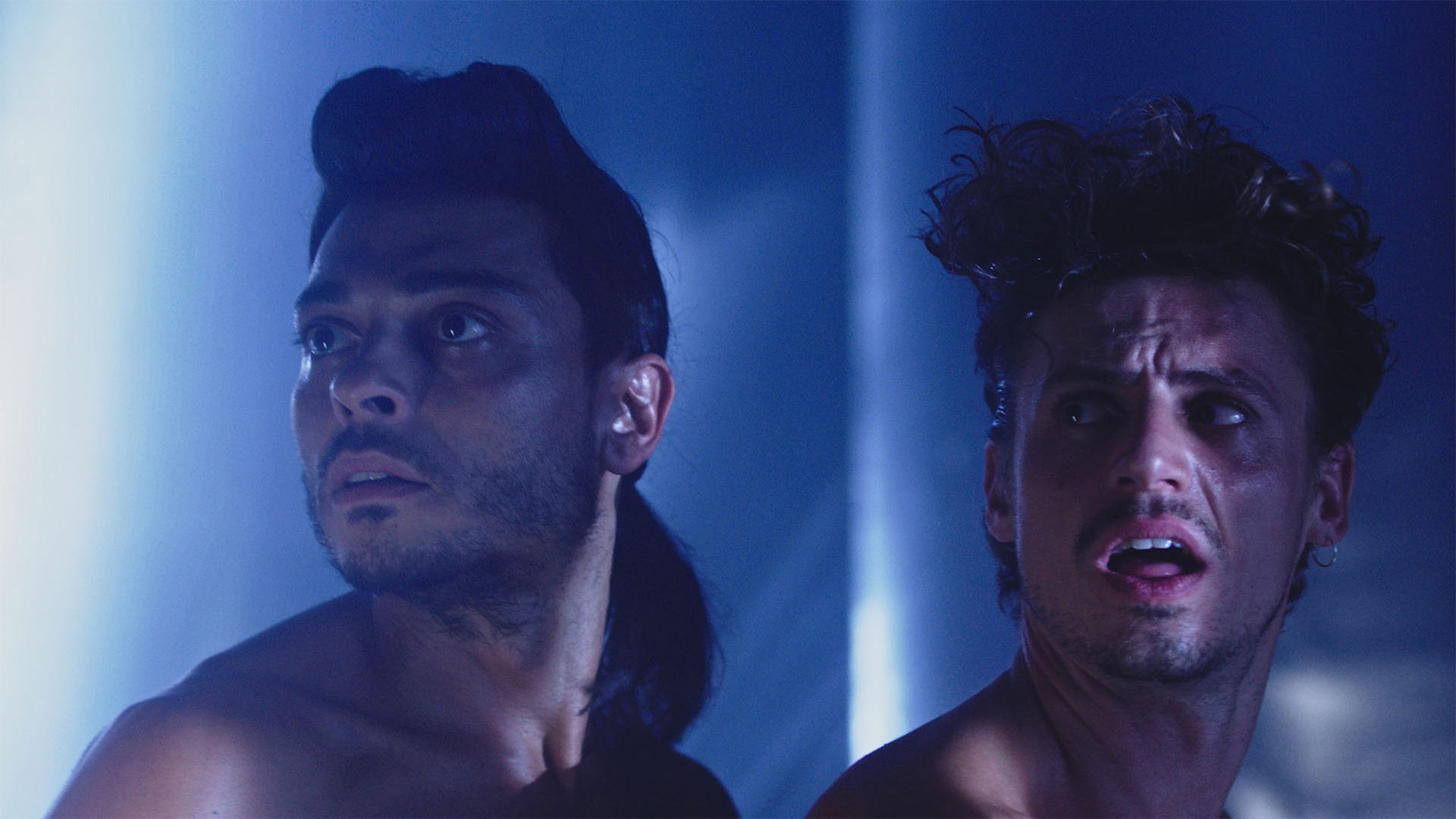 Progressive Touch
Michael Portnoy, USA, 2020
(Narrative Shorts Block 4)
At the top of every Slamdance screening comes a warning about the lack of official ratings for the films. This enjoyably absurdist portrayal of highly acrobatic sex is definitely for adults. Though its choice of dubstep throughout is arguably questionable, Progressive Touch looks lovely with its futuristic backdrop, rich with neons — and its bold choices to display full-full-FULL frontal nudity and three combinations of sexual orientations are certainly appreciated for their singular vision.
(It is worthwhile to note that this film is a part of a larger video installation series, intended to "improve" sex.)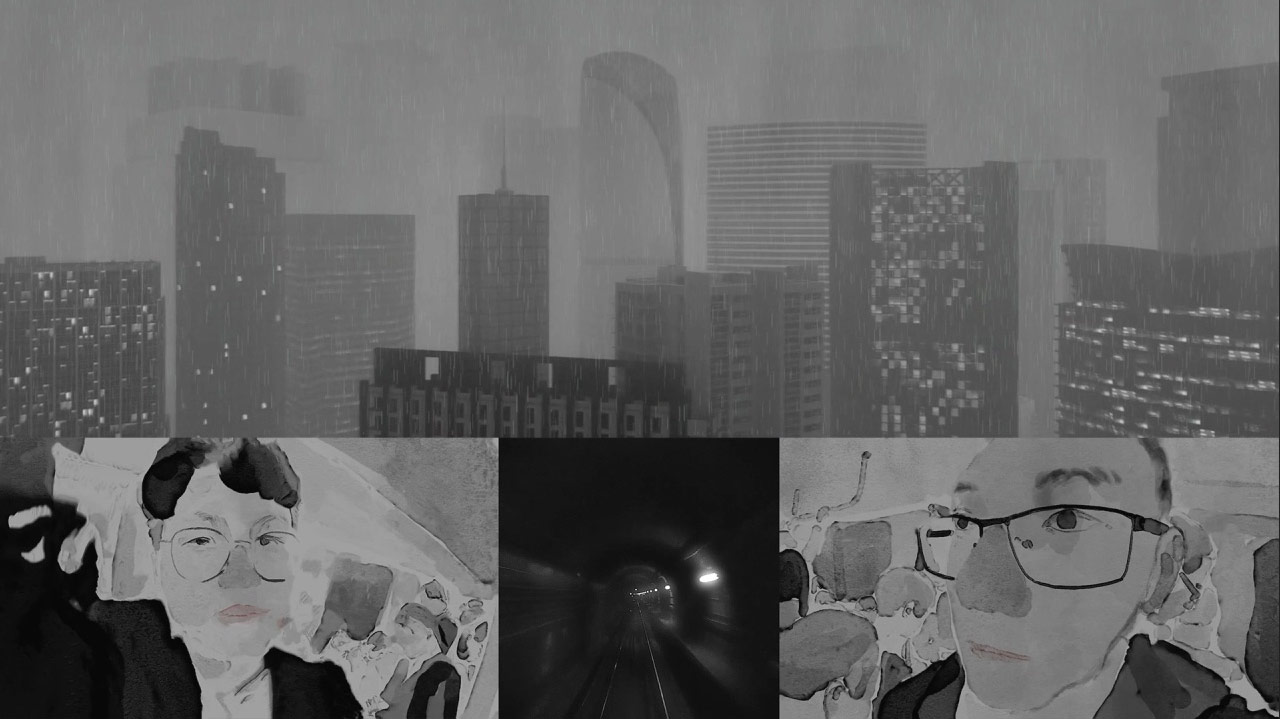 Return to the Peach Blossom Wonderland
Haomin Peng, Yue Huang, Yuchao Luo, China, 2020
(Animated Shorts Block 1)
Presented as a watercolor triptych through scenes of modernized China, Return to the Peach Blossom Wonderland opens on a high-rise building jutting out of a landscape of peach blossom trees. A computer programmer is seen coding in his home, then ends up in a hospital for an ambiguous medical procedure. Alternating between extended moments of negative space, more disparate scenes follow, depicting everything from a social media influencer self-taping in front of a microphone and a couple fighting over a cat to grandmothers exercising in a courtyard and two men in a crowded subway car. When the focus finally returns to the hospital, doctors talk among themselves in hushed and confused tones about the emergence of a new virus. All scenes afterwards are framed by this all-too-real news, bringing a different perspective to each of the characters as they exercise, cook, laugh, and workout in the isolation of their high-rise homes.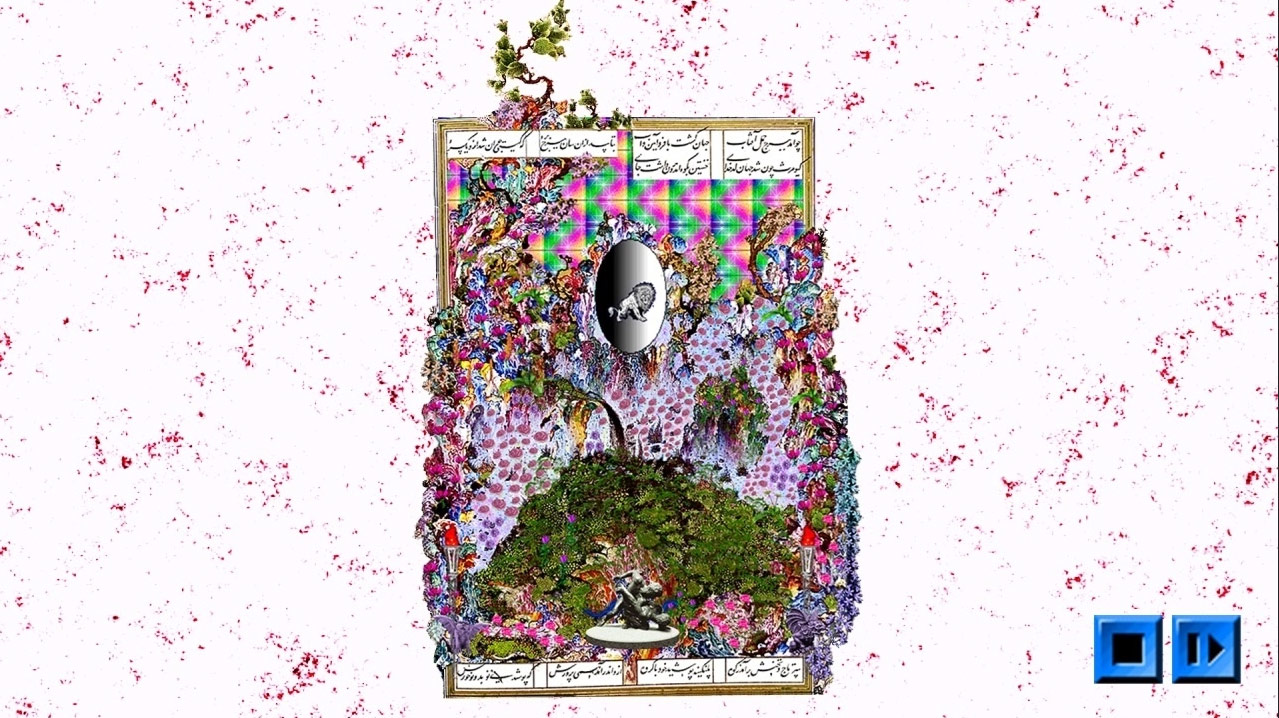 Rumi and His Roses
Navid Sinaki, USA, 2020
(Experimental Shorts Block)
A tale of queer love in Tehran, Rumi and His Roses draws colorful visual inspiration from pixelated Iranian DVD displays. Woven together like tapestries in digital space, they serve as a link between the filmmaker and his past lover, who first met when they were bootlegging media as a young age. Though packaged as an experimental work, this film is visually dynamic, astoundingly personal, and heart-breaking.
Single *
Ashley Eakin, USA, 2020
(Unstoppable Shorts Block 4)
Striking even upon repeat viewings, Single follows a beautiful blonde bombshell as she moves through the world full of swagger and power. Yet, as a woman with one arm, she has lived her life all too used to over-accommodating people who look down on her. These moments come out when she's at a clothing store, at a supermarket, or on dates… so when she is finally set up on a blind date and discovers that — cute as he is — he only has one hand, the remainder of the night is wildly unpredictable. Full of ups and downs, their interaction is bittersweet and lovely, holding plenty of real conversation not often seen on the big screen.
Sixteen Thousand Dollars *
Symone Baptiste, USA, 2020
(Episodics Shorts Block)
What happens in a United States where descendents of slaves finally get reparations? In Sixteen Thousand Dollars, one Socialist-minded Black college grad deals with the internal struggle of the simultaneously exciting and limiting new reality… and comes up short. A sociopolitical commentary that manages to refrain from being too over-the-top in its messaging.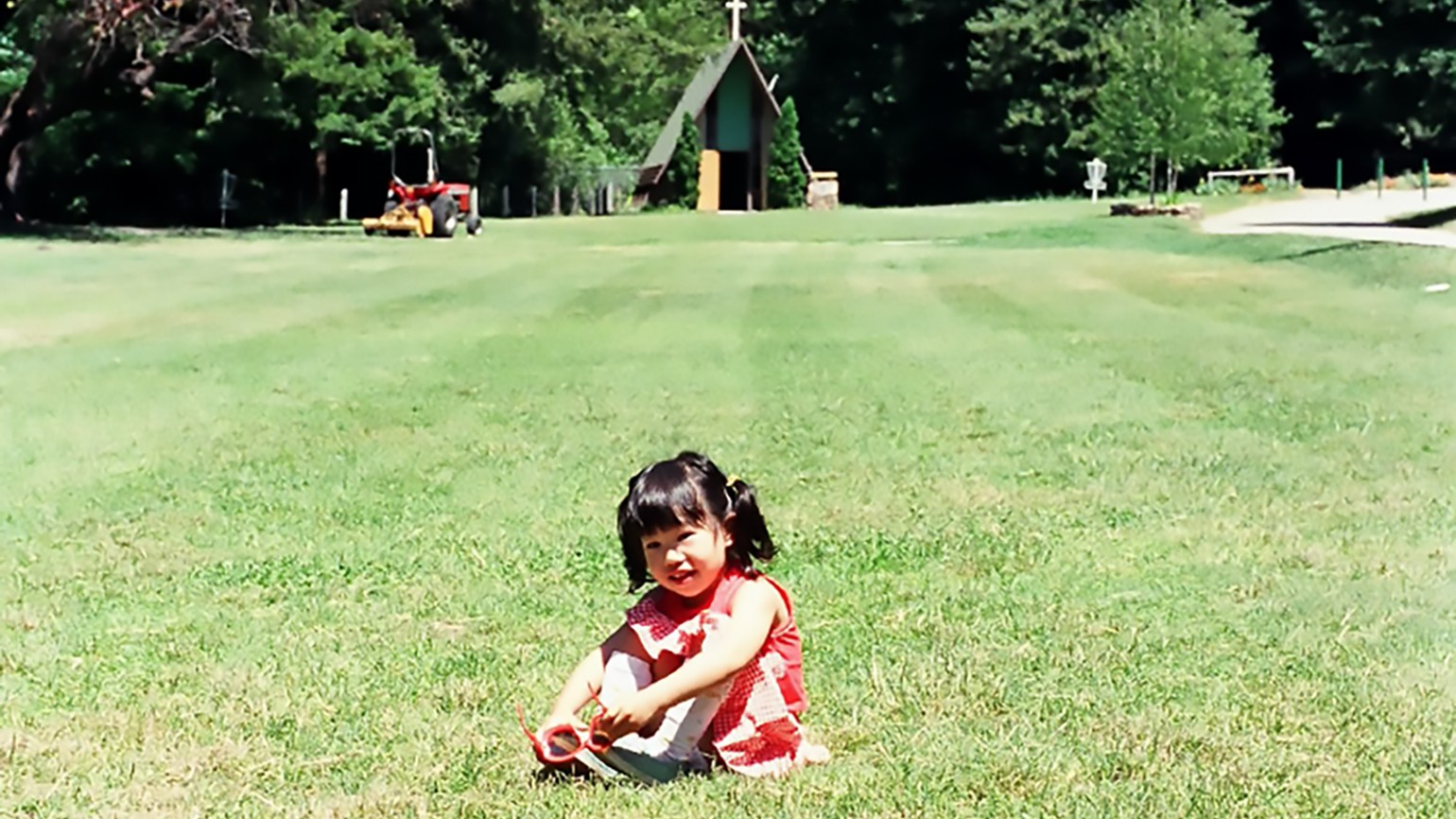 Sleeping With the Devil *
Alisa Yang, USA, 2020
(Experimental Shorts Block)
Sleeping with the Devil is a document of religious fanaticism. After years of nagging from a mother who believed she needed an exorcism, filmmaker Alisa Yang decides to participate in a Skype service with Bob Larson — a man who advertises his services through infomercials for the low, low cost of $295. When they begin the session, one of the questions Larson asks is, "What are the two main bad things that have happened in your life?" then asserts that Alisa had multiple personality disorder and was sexually abused because she was cursed. Over the course of 23 minutes, this film goes back and forth between Larson's infomercials, news clips on the topic, and their Skype exchange; Larson can even be seen sharing such wisdom that sex can lead to an STD: a "Sexually Transmitted Demon." The whole exchange is madly uncomfortable, comical, and horrifying… yet it's hard to stop looking.
There (入世) *
Yu-Fen Wu, Taiwan, 2020
(Narrative Shorts Block 3)
Taking in the rich colors and textures of a Taiwanese funeral ceremony, There runs through the rituals of grief, after a grandpa has passed on too early. Balancing the heavy and dramatic emotions of the family with conversations among foreign domestic workers from Indonesia, There sheds light on the complex hierarchies and family dynamics where sometimes the foreign workers become more intimate family than the children themselves, who often neglect and ignore their elderly parents to live their own lives.
Unforgivable (Imperdonable) *
Marlén Viñayo, El Salvador, 2020
(Documentary Shorts Block)
While La Mara Salvatrucha (aka MS-13) is one of the most renowned gangs from Central America, Unforgivable shows ex-gang members within prison walls, where they sew, play "airplane" with food on spoons, and engage in other interpersonal interactions one would never expect from gangsters so "hard." Many of these men joined MS-13 in their early teens and learned that violence and crime were sports that were easy to play; one man recounts a particularly atrocious murder in graphic detail, then follows it up by explaining that he had no idea why he ate the victim's heart. The true focus of Unforgivable, however, is a tale of queer love between two ex-gang members who can't quite understand it themselves — and how the evangelically-run prison somehow allowed a degree of acceptance not found on the streets… at least temporarily.
Verisimilitude
David Proud, United Kingdom, 2020
(Unstoppable Shorts Block 4)
On the set of a high-budget film where all characters in a wheelchair are played by able-bodied people, a struggling actress who was born disabled finds herself on the sidelines, desperate for positive attention. Full of ignorant and snide commentary — such as the director referring to the wheel-chair bound characters as "invalids" — Verisimilitude is an important tool for inciting conversations around who is allowed to play what roles respectfully. By the end, even when the young disabled actress gets an opportunity to shine, it unfortunately comes at a price.
(Note: While the Unstoppable short blocks at Slamdance fill an important role around representation, especially around disabled stories, the necessity to separate these films out into their own category may be appropriate to consider restructuring. The argument can certainly be made that all of these films deserve to be mixed in with the festival's other documentary and narrative films, and that putting them in the same space moving forward will be important for true equity and inclusion.)
Ω