Influenced by the everyday strange nature of people and the world around him, Ian Stevenson is unlike many modern artists. He generally shuns the computer as a means of creating art and prefers to draw with the age-old, unfailing contraption known commonly as the pen. He enjoys the challenge of placing his art in interesting places; walls, toilets, and cardboard boxes are all fair game for being personalized by Stevenson. Because most of the projects he participates in allows him free creative reign, Stevenson is satisfied with practically all of his work. The result? A never-ending eccentric cast of characters that command attention with their simplistic nature and subtle use of humor. In a world where artists take themselves too seriously, Stevenson's art serves as a reminder that art is supposed to be fun.
What are some of the first projects you were involved in?
The first project I did was drawing in sketchbooks, and I did this for about a year before I thought about showing them online. One of the first paid jobs [I had involved] drawing in the Ladies toilets at Mother, a creative agency in London. I treated it like a gallery and enjoyed drawing in an interesting space.
Did you go into the project with an idea of what you wanted to draw or did it gradually come to you while you were there?
It was my first time drawing on the wall so I started off by referring to my sketchbooks. After a while, I drew without any planning. When I draw characters I like to create scenes that relate to the surroundings. The characters actually feel like they belong and interact with the toilet fittings. This approach has become a major part of my work.
A lot of humor is evident in your works. What kind of influences do you have?
I like comedy like The Mighty Boosh, Flight of the Concords and The League Of Gentlemen. Most of all I enjoy chatting in the pub with my friends and there are many strange new things created at these tables.
INTERVIEW CONTINUED BELOW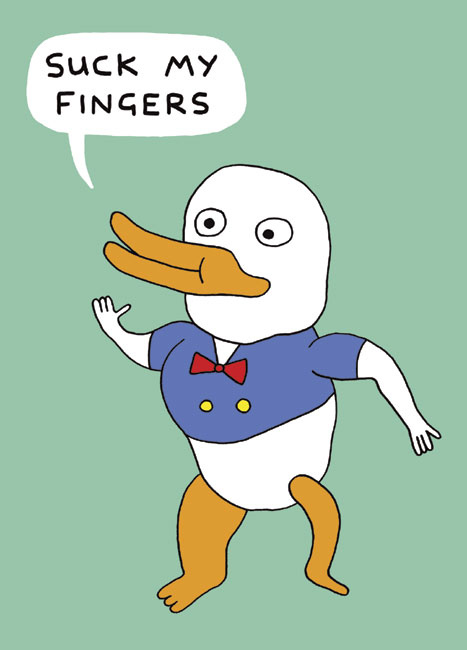 Although caricatures are obviously your strong point, do you dabble in any other kinds of art?
I used to work as a designer so I've done most things like websites, t-shirts, logos, animations, typefaces, photography, music, etc. I ended up leaving this world to concentrate on my own work and explore my own mind, but everything I've learnt on the way is useful.
Is your work primarily digital or hand-drawn?
Hand-drawn is the only way, and I find that characters created in the computer have less personality. [However,] I do scan the drawings in and use the computer for its basic functions.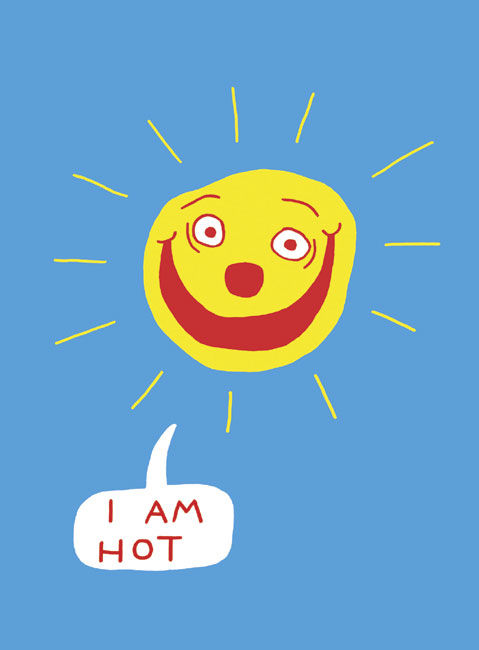 Do you have any kind of formal training? How did you get into art?
I studied at Camberwell College Of Arts; we learnt how to think about projects creatively and approach the solution in new and interesting ways. I then entered the world of Graphic Design and learnt many things about to work in the real world. I left that after 3 1/2 years to work on my own ideas.
You drew all over the YCN website. What an amazing idea. Can you tell me more about it? Had you worked much with animating .gif images prior to that?
YCN liked the way I drew on things and brought them to life. They asked me to do the same to their website and I added characters that interacted with the graphics or sections on the site.
Pictoplasma greatly involved the public in the art creation process, and it was an amazing idea. What kind of reactions did you notice from it? (Editor's Note: For Pictoplasma, artists drew outlines of scenes on the wall and the public was invited in to color the scenes in.)
It was a great thing to be part of and felt like a new idea for a gallery. The public liked getting involved, as I think most of them didn't draw as a profession. They approached it without too much thinking, and great things happened.
INTERVIEW CONTINUED BELOW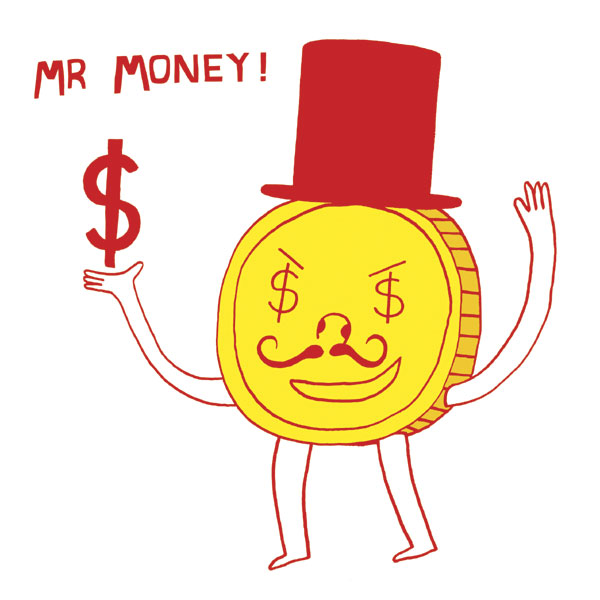 Some of these galleries seem to get rid of the work the next day. Do they just paint over everything? Do you draw with non-permanent marker?
I've done a lot of non-permanent work, and yes, most of the time, it's painted over. I use permanent pens or paint and treat it like it would be there permanently, but sometimes [that] doesn't last long.
Al Gore's channel created a documentary about you. What sparked that?
An independent film company called Institute For Eyes put forward a proposal to Current TV about doing a documentary about my work. The idea was to focus on the Rubbish Art project that I was doing, which involved walking around the streets and drawing on rubbish. Current TV really liked this idea and how it highlights environmental issues in a new way.
How has the response been for that, and where can readers watch it?
The response has been great, and it helps people to understand that I actually do go to the street and draw on real rubbish. It can be seen on the Current TV channel in the UK and also online… go to current.com, and search for my name.
Of all the projects you have done and participated in, which have been your favorite?
Most of the work I been involved in have been enjoyable as I mainly get left to do my own thing. That is when I think it works best. At the moment I'm liking the world of animation as it's a development of what I've done before. It's great to see things come to life with animation, voices, and music. Oh yes, that is fun.
END.