PHOTOGRAPHY – PART ONE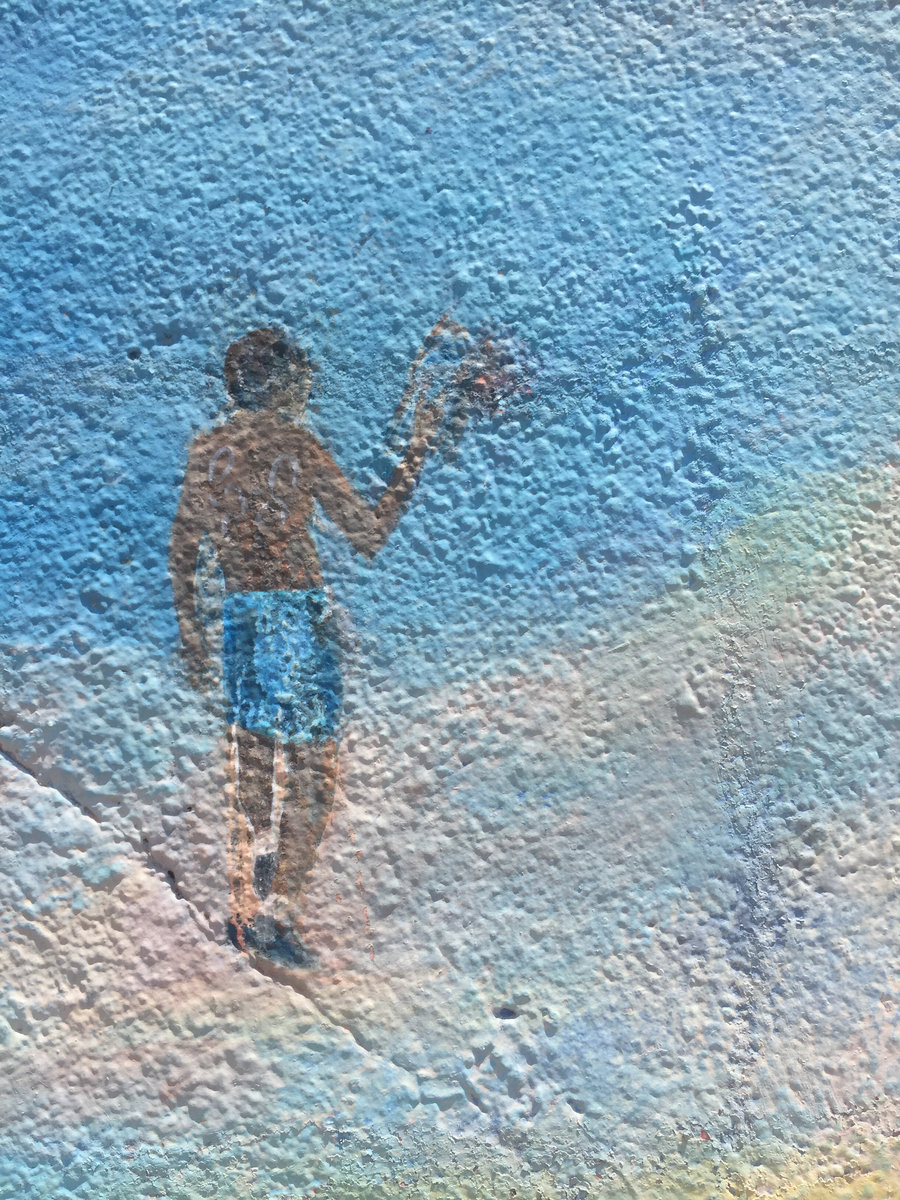 Admiral Radley – Memories at 133
Admiral Radley (Musician):
The Walking Man was a mainstay / character of Silverlake [in Los Angeles] in the '90s thru mid-2000's (probably even before then… the 80's?). He could be seen walking endlessly through the streets and hills of Silverlake. day and night. Rain or shine. There was a lot of folklore that surrounded The Walking Man. Was he insane? Or was he a brilliant surgeon who spent all his free time walking (and reading the paper)… the tales are endless. He is no longer with us… so in turn, it reminds me of the "good ol' days"… pre-pandemic…pre-Trump… pre-all the bullshit we are dealing with now. Like the song: "Will the memories fade away, when everything is gone?"
John Schlue (Visual Artist):
Where to begin! There were actually 2 of these figures painted on that mural, and I guess I wanted to sort of make them little gems, like Where's Waldo or something. The mural, which is on the side of the Army Surplus building in Silverlake, was a project I was brought in to help with by my friend Annie Sperling… The Walking Man, whose real name was Dr. Mark something… He had all of the makings of a great neighborhood character; a mysterious Dr. of nobody knew what, he supposedly walked like 20+ miles a day, the leathery tan, the short shorts… and you would just see him all of the time!
Sounds: Admiral Radley
Artwork: John Schlue
Photography: Lisa Klipsic
---
ADULT. – Perception is/as/of Deception (Dais Records)
With the rampant sense of emptiness on the minds of many these days, there continues to be few attempts at scoring these common, unfortunate human qualities with pure sincerity. Thankfully, ADULT. has a long-standing reputation for creating the soundtrack for our insecurities, and Perception is/as/of Deception further solidifies their apprehensive position.
Sounds & Artwork: ADULT.
---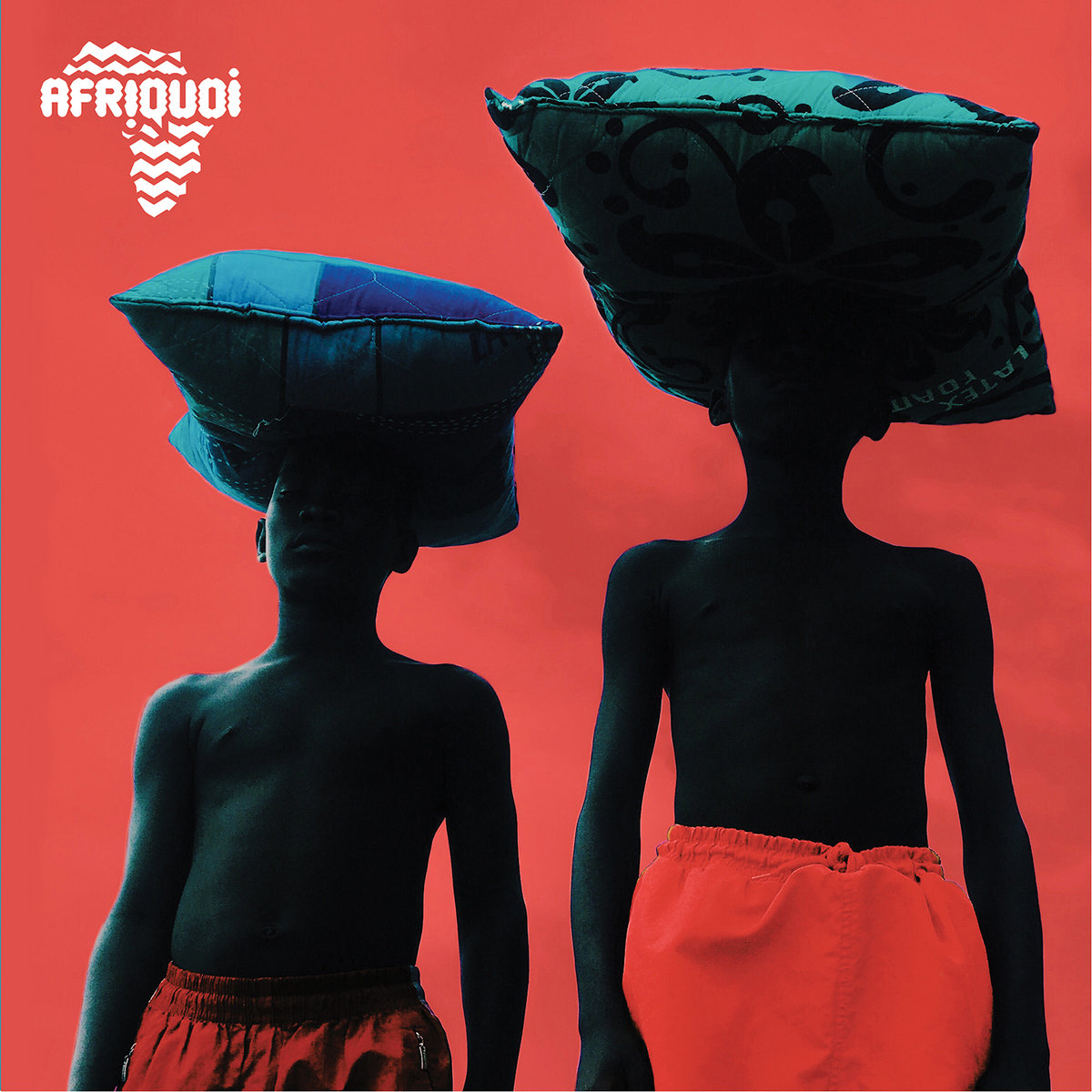 Afriquoi – Time is A Gift Which We Share All The Time (Mawimbi)
Sounds: Afriquoi
Artwork: Derrick Ofusu Boateng
Sleeve Design: Bertrand Cerruti
---
Aho Ssan – Simulacrum (Subtext)
Désiré Niamké (Aho Ssan):
The album is based on the book of Jean Baudrillard, Simulacra and Simulation. I took some ideas from the book and related it to my own experience and conditions! With a goal of creating my own world and Simulacra. So during the shooting, we were looking for a balance between abstraction and figuration, to create this fine line separating Reality and Simulacra!
Sounds: Aho Ssan
Artwork & Music Video: Marvin Jouglineu
---
Armand Hammer – Shrines (Backwoodz Studioz)
From Pitchfork's review of Shrines:
"In 2003 the NYPD, acting on an anonymous tip, punched through the wall of an apartment in the Drew Hamilton Houses at Adam Clayton Powell Jr. Boulevard and 141st Street in Harlem. Through that hole, officers saw a mattress that had been shredded the way a dog might shred a newspaper and claw marks that reached all the way up to an eight-foot ceiling. The tiger they removed, a Siberian-Bengal mix named Ming, belonged to a construction worker named Antoine Yates. Ming grew as the story spread: 350 pounds, then 425, 450, 500. Yates had acquired the tiger from an exotic animal dealer in Minnesota by falsifying papers to suggest he had land to build a zoo in Sullivan County; he had just been hospitalized after it maimed him in an attack."
According to Genius, Ming spent the rest of his life at Noah's Lost Ark Animal Sanctuary in Berlin Center, Ohio. She died from natural causes in February 2019.
Sounds: Armand Hammer
Photography: John Roca
---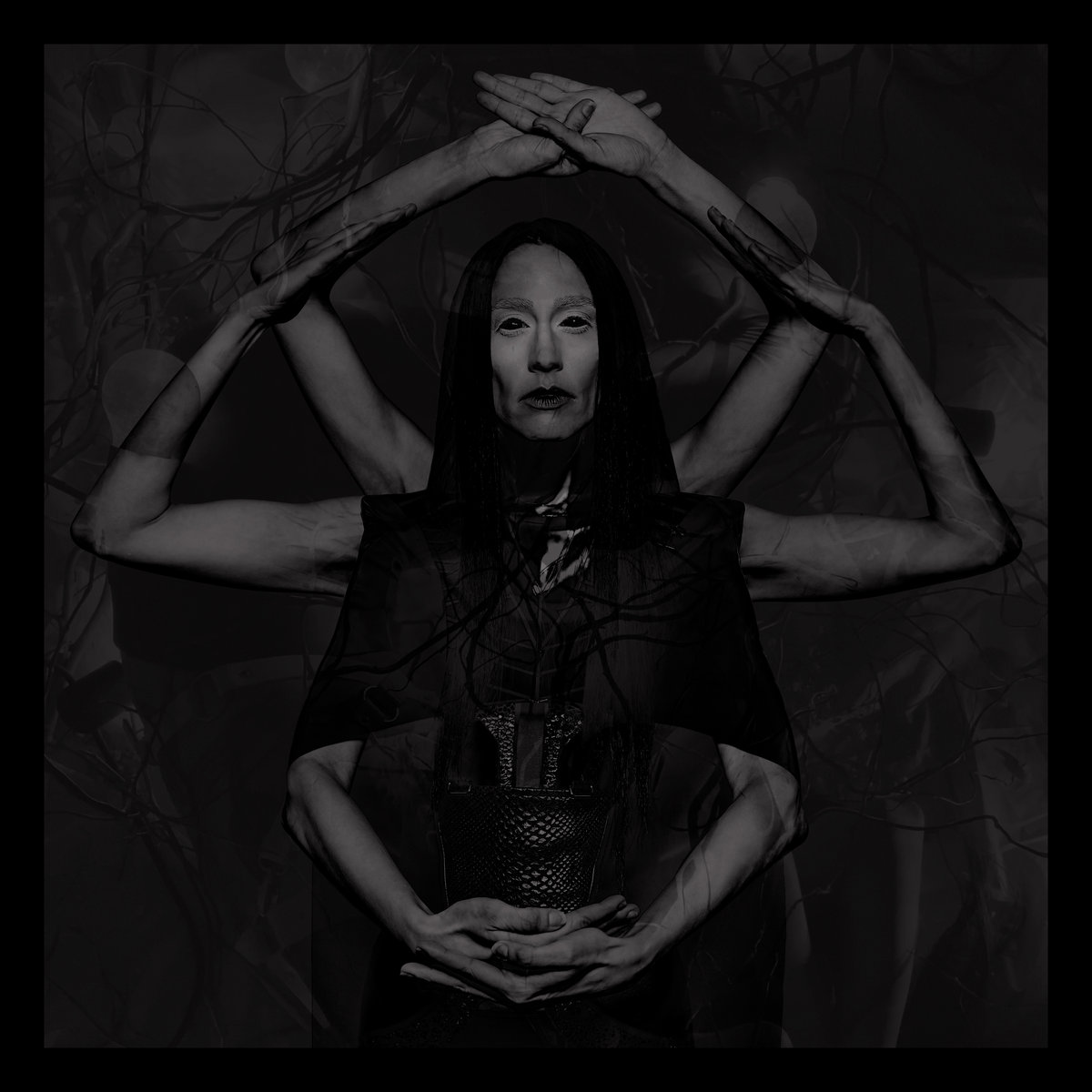 Bestial Mouths – RESURRECTEDINBLACK (RUNE & RUIN Records)
Bestial Mouths (Musician):
The figure performs a circle around itself in a movement that ends in a bowl in front of the womb. It represents birth, or rebirth, the divine ability of womanhood. The arms are strong, her gaze determined, the clothing similar to a priestess. Black eyes are surrounded by white light. The circle around her also symbolizes the completed, the perfect transformation.
Sounds: Bestial Mouths
Concept & Production: VOID.EXE_BERLIN
Layout & Design: Justin Pape
Styling/ Hair/ Makeup: Eavan D. Makeup
Vegan Leather Accessories: Tommy Vowles
Catsuit: Lena Quist
Cape: Blacklickorish Latex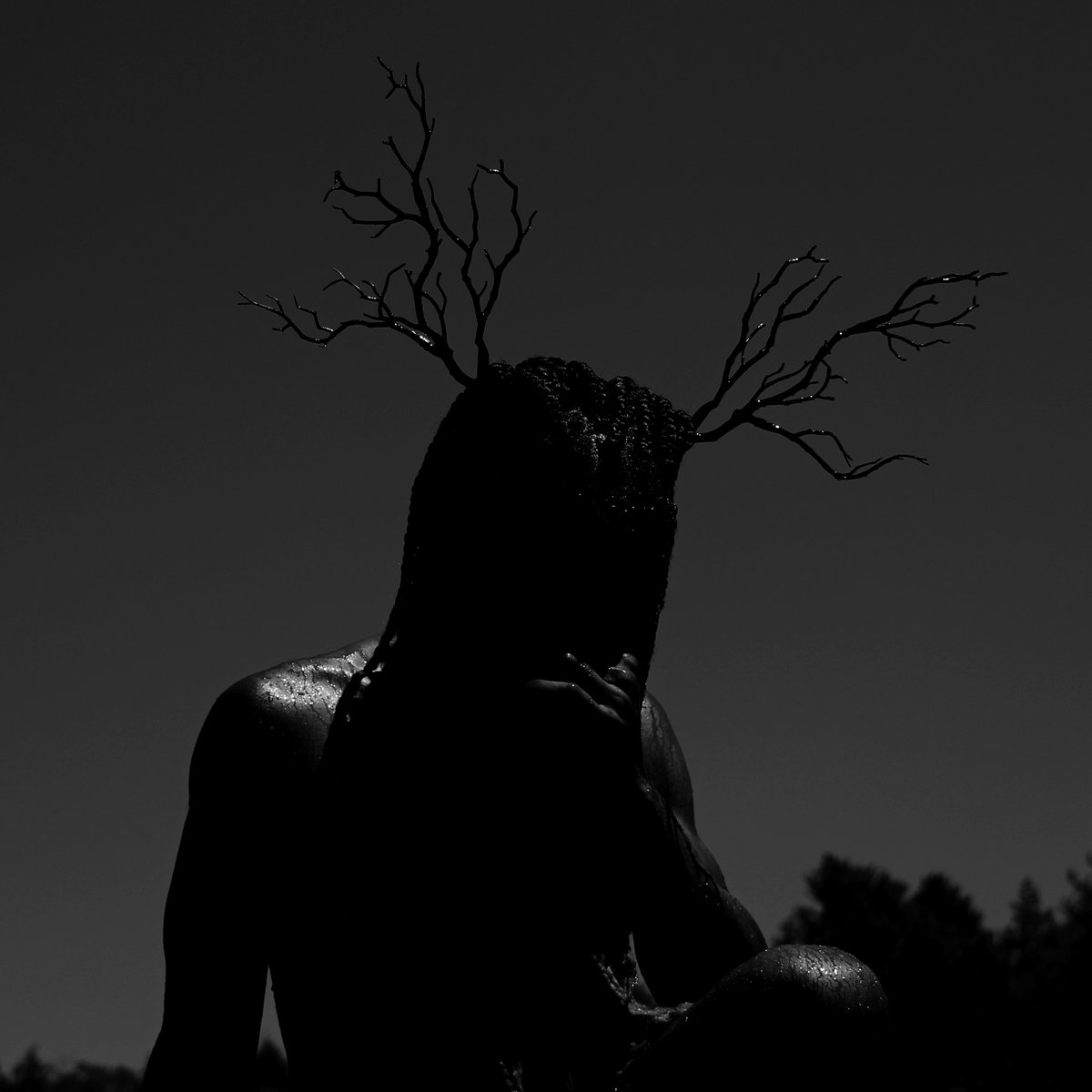 blckwndr – Less Food Worse Days
blckwndr (Musician):
It's a human with antlers seemingly brooding or deep in thought. Water running off while hunched to convey a feel or sign of novice — birth of potential greatness, if you will. Black, whites and grays to give it a stoic brilliance while still being a wild sight in itself.
Sounds: blckwndr
Model: Tajh Matiq Gill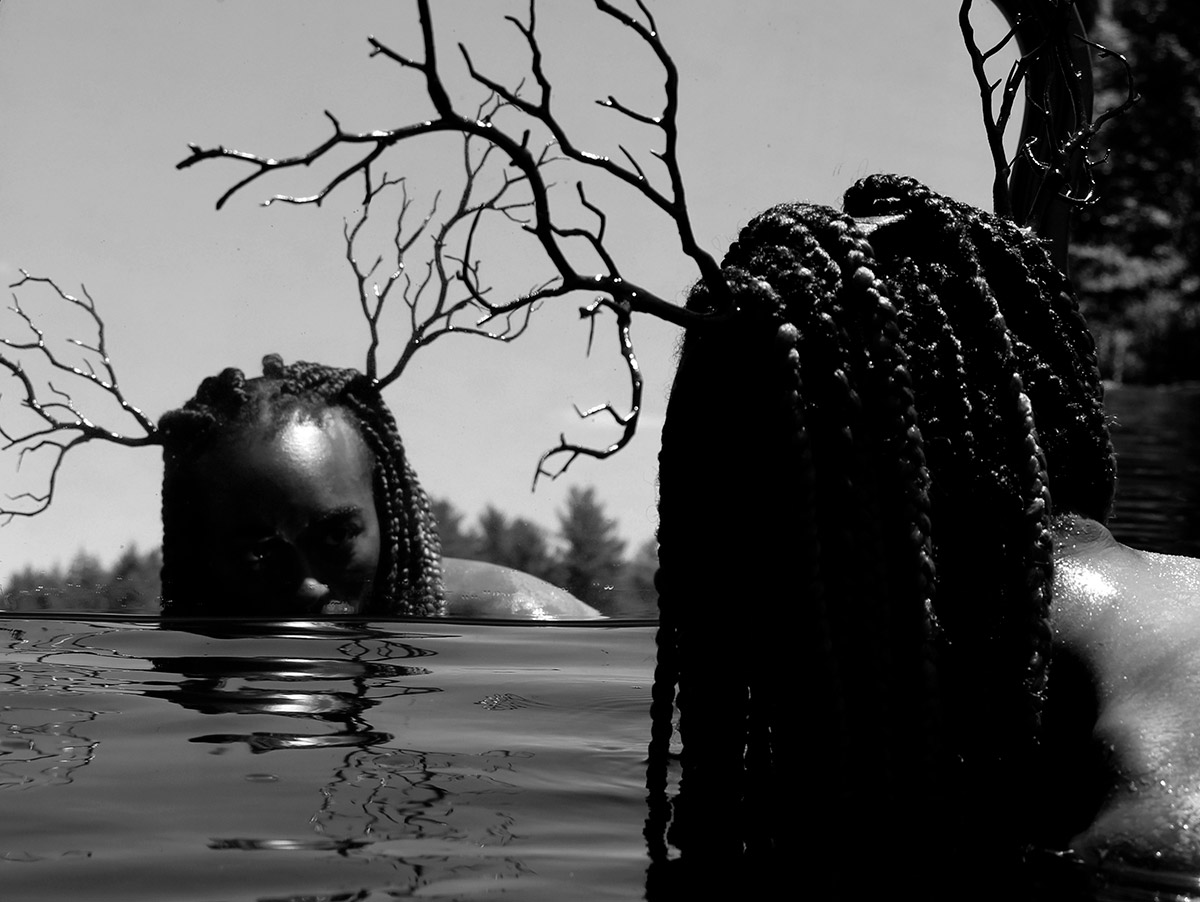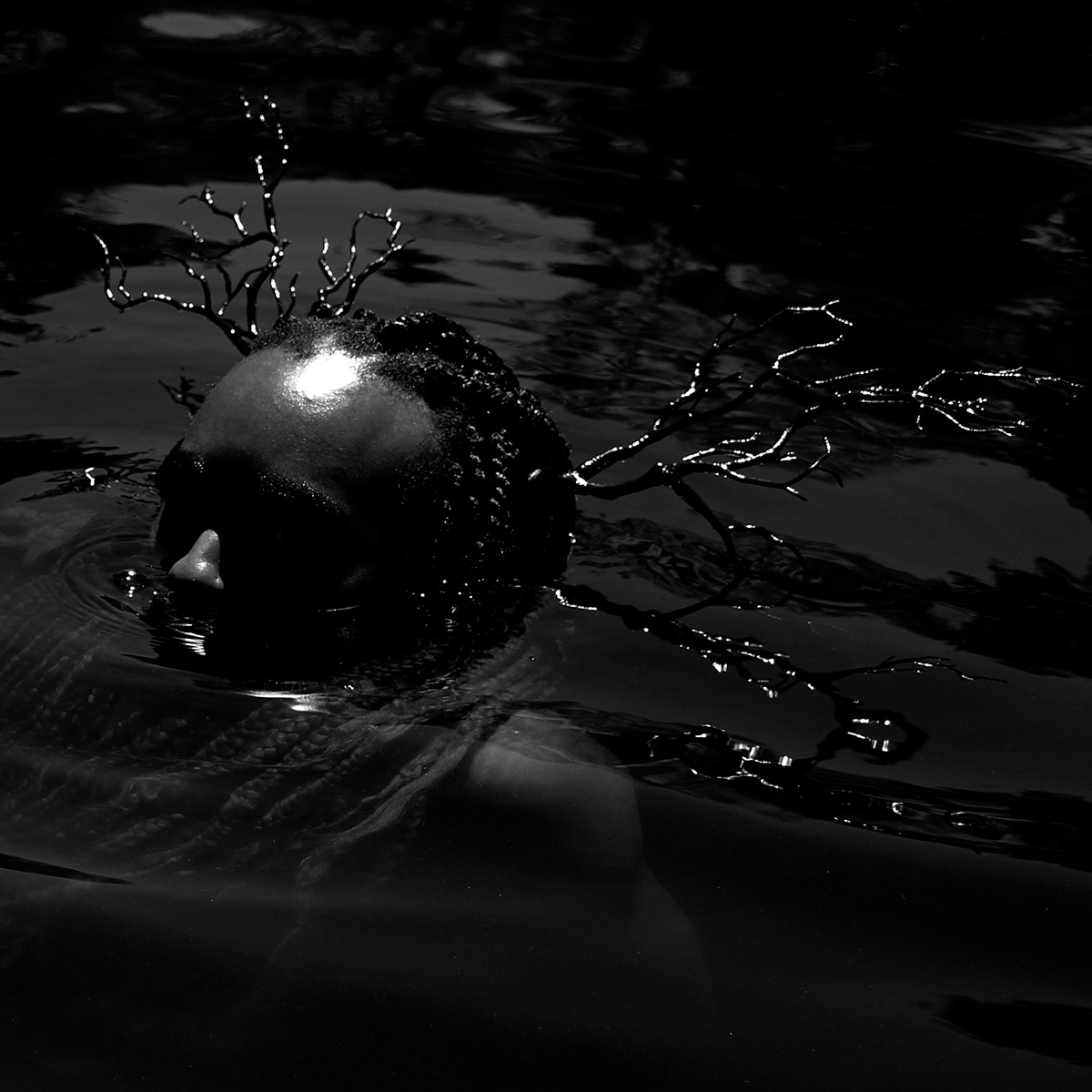 Boneflower – Armour (Dog Knights Productions)
Boneflower's full-length record, Armour, was released with a series of singles with matching artwork for the singles "Saltpeter" and "Starless."
Sounds: Boneflower
Artwork: Oopart
Photography: Shannon Tomasik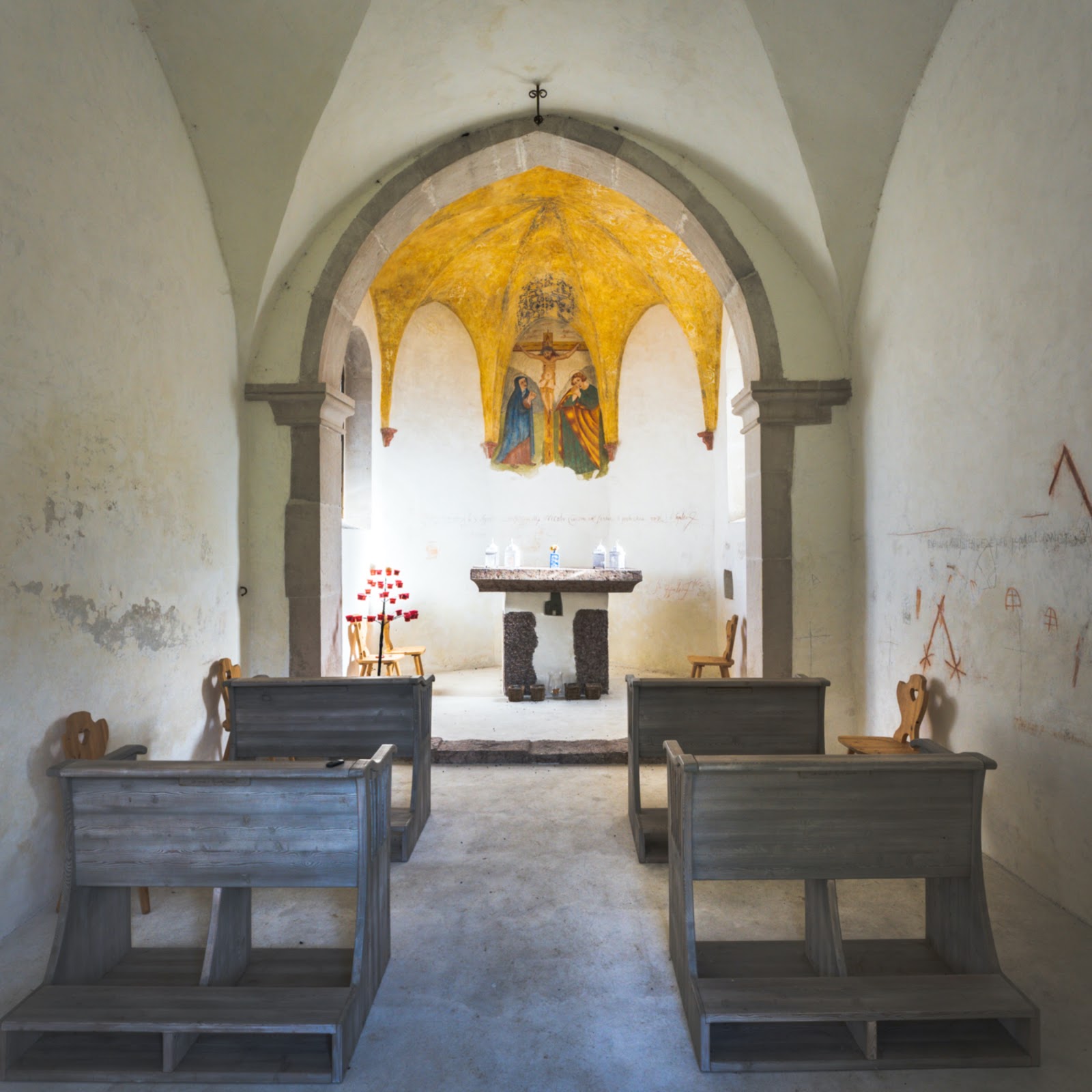 Charles Spearin & Josefin Runsteen – Thank God The Plague Is Over (Arts & Crafts)
Charles Spearin and Josefin Runsteen, two complete strangers from different spheres of music, met at a 12th-century castle in northern Italy in July 2019. They were invited by Feist and Damien Rice, among a handful other fantastic musicians and artists from various countries, to a week-long residency to collaborate on music, poetry and ideas…
On the first day of the residency, when Charles and Josefin had barely exchanged a word to each other, they went up to test the acoustics in the Chapel and began improvising on their instruments. Charles, the Canadian, brought his nyckelharpa, a Swedish folk instrument, while Josefin, the Swede, brought her violin. Immediately, they were astonished by colourful explosions of sound and they felt an instantaneous, profound musical connection. They decided to meet there every day and record their improvisations. These explorations are collected here as their debut album, Thank God the Plague is Over.
They walked back and forth to their chapel every day in complete silence except for the crunch of the gravel under their feet. The walk, the nearby collection of new friends, the kind Rasini family, the mountains, the chirping sparrows in the rafters—and, most important, the sacred tiny sanctuary of the Chapel—were all direct contributors to the creation of this album.
They still don't actually know each other.
Sounds: Charles Spearin & Josefin Runsteen
Photography: Samuel Guetti & Sofia Rasini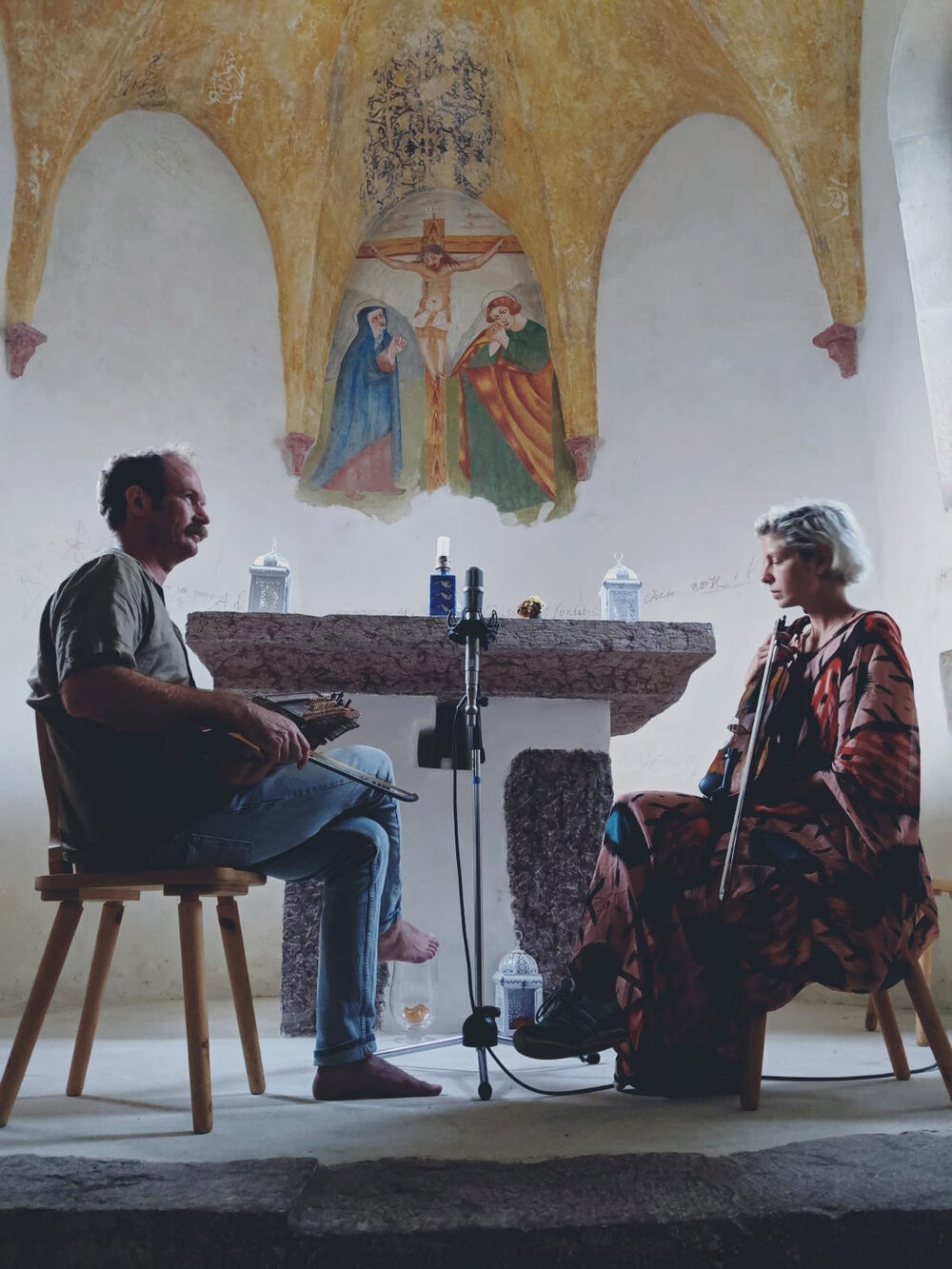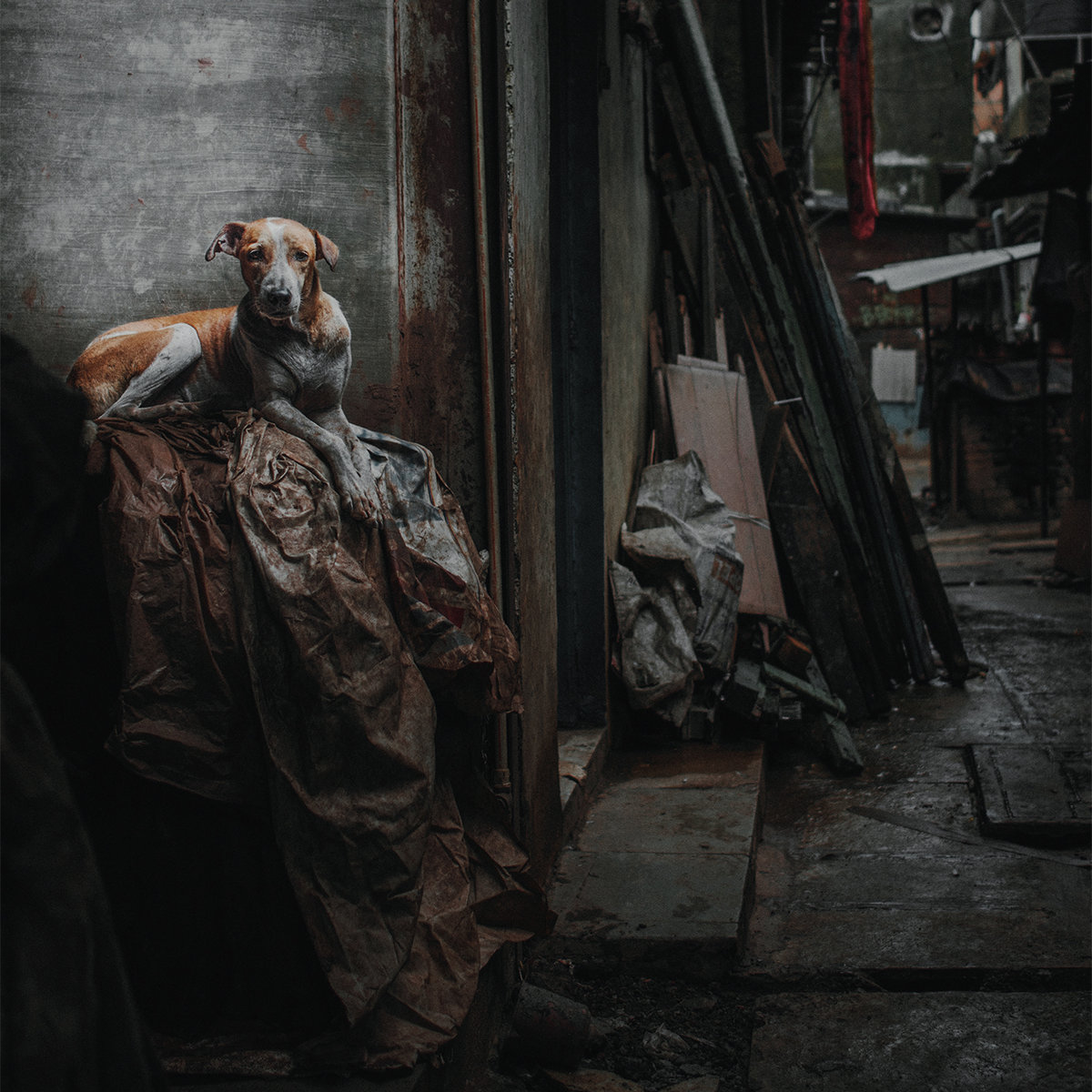 CREMATIONS – Dissolution of Balance (Isolation Records)
Michael König (Vocalist of Cremations):
Lyrically, there is a dark and misanthropic theme that is established from the outset and built upon over the course of Dissolution Of Balance. The lyrics mostly describe an imbalance of a planet that is rapidly disintegrating. When we first saw the photo that later should become the artwork for our album, we all agreed that this is a clear visual representation of the lyrical content and that it matches the album title perfectly. The photo itself was taken a few years ago by a friend of our drummer, when he was traveling in Asia for a while and documented the trip with his camera. When we asked him if we could use the picture as a record cover, he agreed immediately. So all in all, it just happened by chance that a snapshot by a friend became a cover for a hardcore punk record. This friend, by the way, is called Maik Przyklenk, and he is usually focused on wedding-photography these days.
Sounds: CREMATIONS
Photography: Maik Przyklenk
---
Cross Bringer – The Signs of Spiritual Delusion (Consouling Sounds)
Dehn Sora (Visual Artist):
The cover shows a figure inspired by the Amazons. Ancient warrior women, who, as some legends / histories said, used to cut off one breast in order to be more efficient using bow and arrows. It was, for me, a reflection around sacrifice, being able to have so much distance for your physical shell, not considering suffering in order to move forward. Also, a personal homage to women figures and their strength.
Sounds: Crossbringer
Artwork: Dehn Sora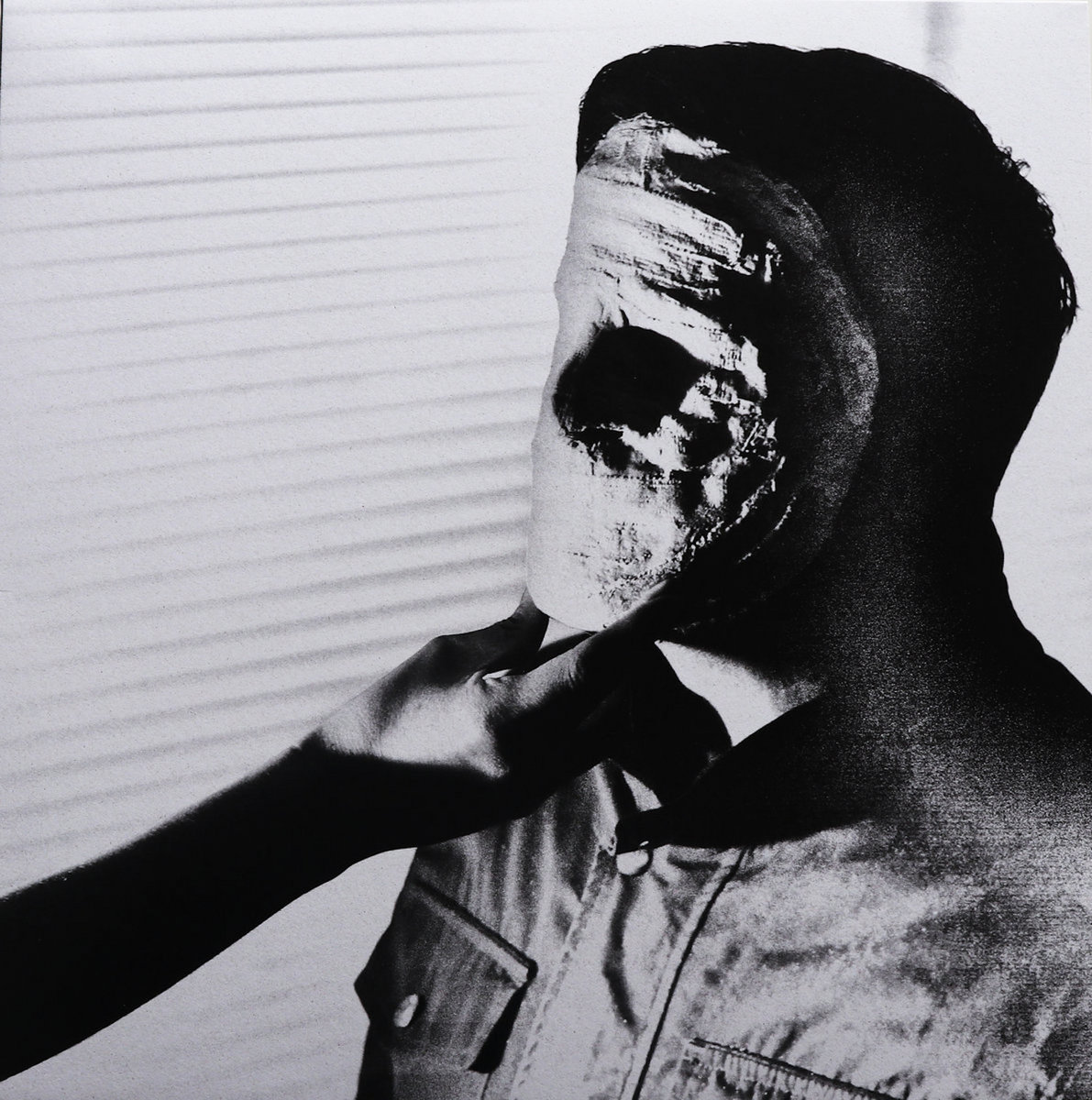 Dame Area – La Soluzione é Una (B.F.E. Records)
Editor's Note: Responses have only been slightly edited to maintain original linguistic tone.
Giulia Passamonti (Photographer):
Ideas like "wanting to try to do something"; we know how they work; they just pop up as a not understandable quest, start to reappear a bit as synchronicity, maybe entering in a mental to-do list, and at the end, you are trying to put some sculpture material with the wrong consistency on friends' faces. But at the end, who says that there's a wrong consistency, if you don't know how you want the result? I want it as I want it, but I will just discover it at the end. So I can also learn patience and how to accept "gifts" from life.
Cassandra Dada (Designer):
I think it's mostly Giulia's artistic merit; I just gave the photos a corroded look and did the design around them. I believe firmly in the Brian Eno motto, "Shoot the arrow first, then paint the target around it." In this case the target painted itself and any previous considerations were left behind. There are some quite amazing coincidences in this record: the artwork was done in January in the year of the masks and right in the cover there is a masked person, while the name of the record is the Italian for "There's only one solution." While the lyrics apparently seem to point to the lockdown — particularly the title track — they were actually all written in 2019.
Sounds: Dame Area
Photography: Giulia Passamonti
Design: Cassandra Dada
---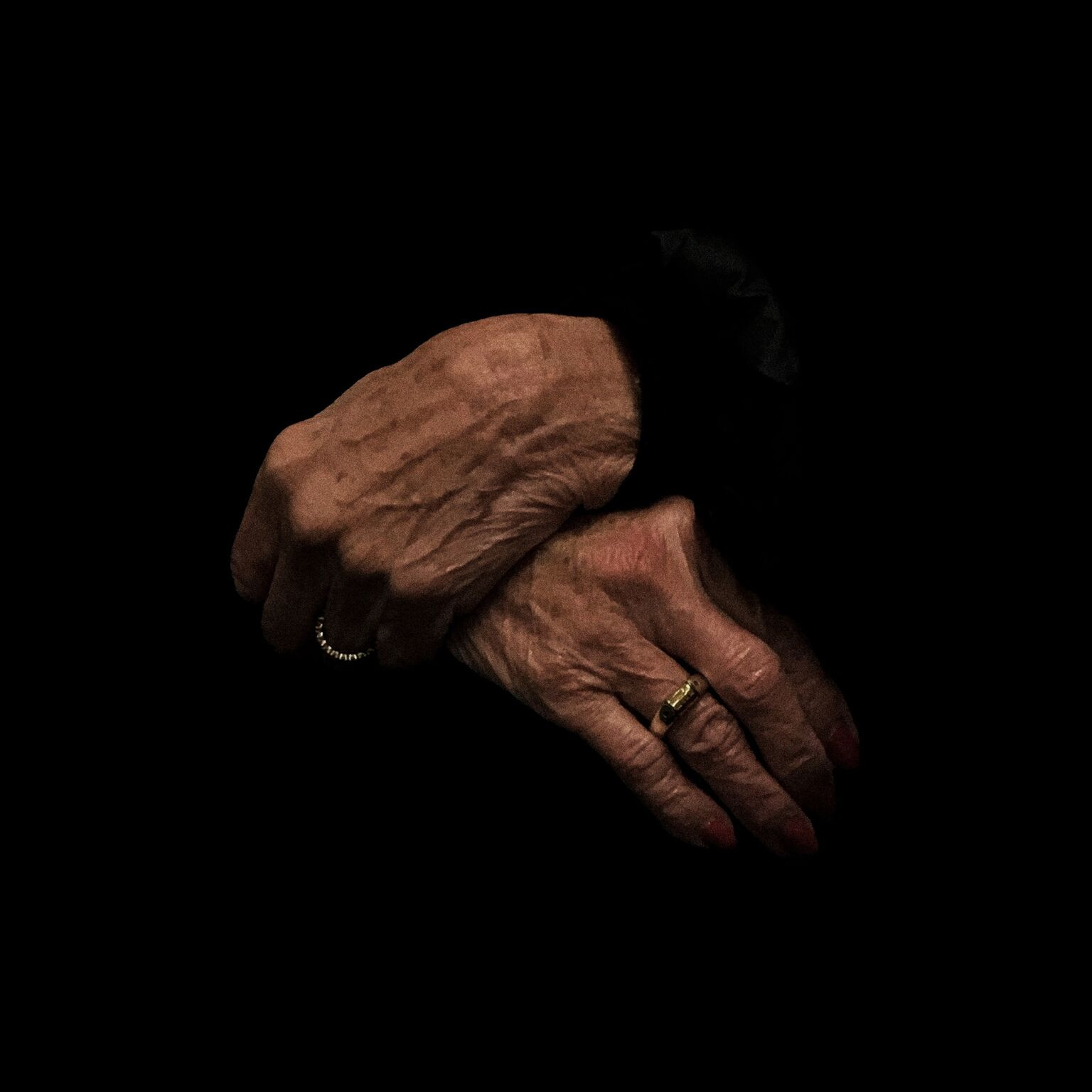 Diamondstein – Reflecting on a Dying Man (Doom Trip Records)
Diamondstein (Musician):
The album Reflecting on a Dying Man was witnessing the atrophy and death of my father from a degenerative disease, and being present in my hometown for the entirety of the experience and all its awfulness. So, when I approached Hex, my main collaborator on all of my visual elements for NTS and many of my records. We explored a lot of different images, but nothing felt like it quite satisfied the unique sensation of the story that the album was based on. Then, she shared the photo of a woman clenching her hands, and I felt the complexity of my feelings around the album in that image. I think it was largely projecting, but I saw a lot of sorry in those hands, with the age and the beautification. You experience a lot of tragedy with age, and the photo just reminded me so much of my grandmother and my mom on the way to my father's funeral, fighting grief with small decorative elements and color. It was just very powerful for me, so we decided it was the right imagery.
Sounds: Diamondstein
Artwork: Hex
Dua Saleh – ROSETTA EP (AGAINST GIANTS)
Dua Saleh returns with a new EP titled ROSETTA, a name inspired by Sister Rosetta Tharpe, a pioneering black artist who became known as the Godmother of rock and roll. Like Dua, Sister Rosetta Tharpe wasn't afraid of violating taboos or religious dogma. Tharpe wowed both churches and juke joints with distorted guitar stylings and a flamboyant stage presence. And though she was married several times, she was known to have had romantic relationships with women. Dua draws a parallel to Tharpe with their own biography of growing up queer in a strict Muslim household. They channel Tharpe's self-assured swagger as they fearlessly recount intimate encounters.
Sounds: Dua Saleh
Creative & Art Direction: Braden Lee
Duma – Duma (Nyege Tapes)
Arlen Dilsizian (Co-Founder of Nyege Tapes):
Almost all NNT artwork are based on photos taken around our studios in Bunga Kampala[, Uganda]. A vibrant Pan African suburb of the city which is also home to the first parties we used to throw before we started the festival and the labels. We hadn't even started thinking about artwork yet for Duma, when one day Lola, who manages bookings for Nyege acts, walked into the studio and showed us and the band a photo she had taken earlier in the day. It was pretty clear that we had an album cover then and there.
The photo was taken just up the road at the local market which has a string of butcheries. Lola was passing by and this Sudanese lady… [was] shopping at the butchery just happened to be wearing this dress with a printed motif that was like meat camouflage.
The image immediately felt appropriate for the album. Brutal iconography of butchered meet harking to the grind and noise and the ladies wonderful dress rooting the image squarely into east Africa from where the music was created a produced.
We occasionally still see the same lady wearing the same dress walking down the market.
Sounds: Duma
Artwork: Moroto Hvy Ind & Jonathan Uliel Saladhina
Photography: Lola
Duval Timothy – Help (Carrying Colour)
Recorded in London and Los Angeles, Help reveals the artists' experience traversing the meshes of the music industry, mental health, YouTube self-help videos, and the healing he discovered through friendship and collaboration.
Sounds: Duval Timothy
---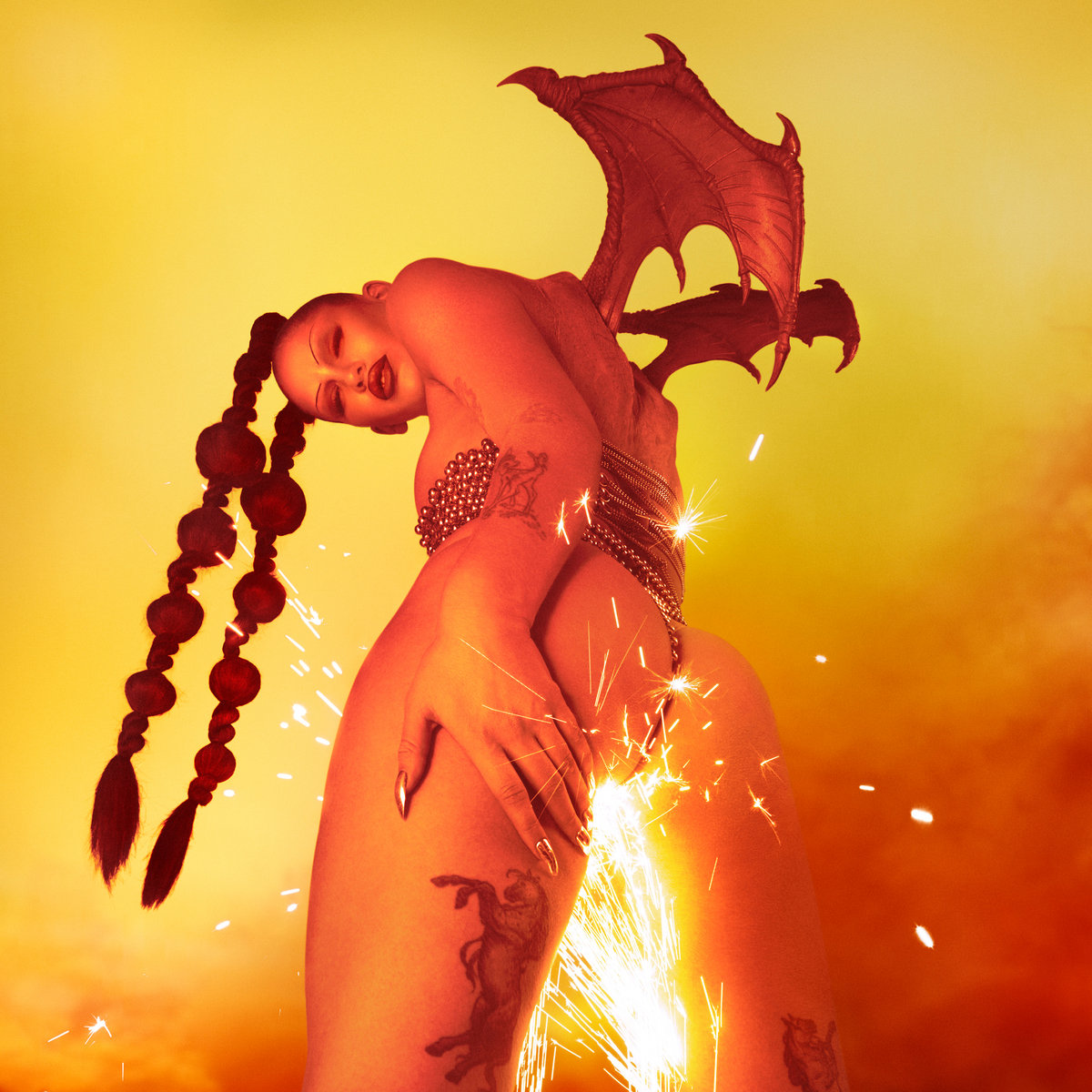 Eartheater – Phoenix: Flames Are Dew Upon My Skin (PAN)
Sounds: Eartheater
Photography: Daniel Sannwald
Design & Layout: N MRE 08
---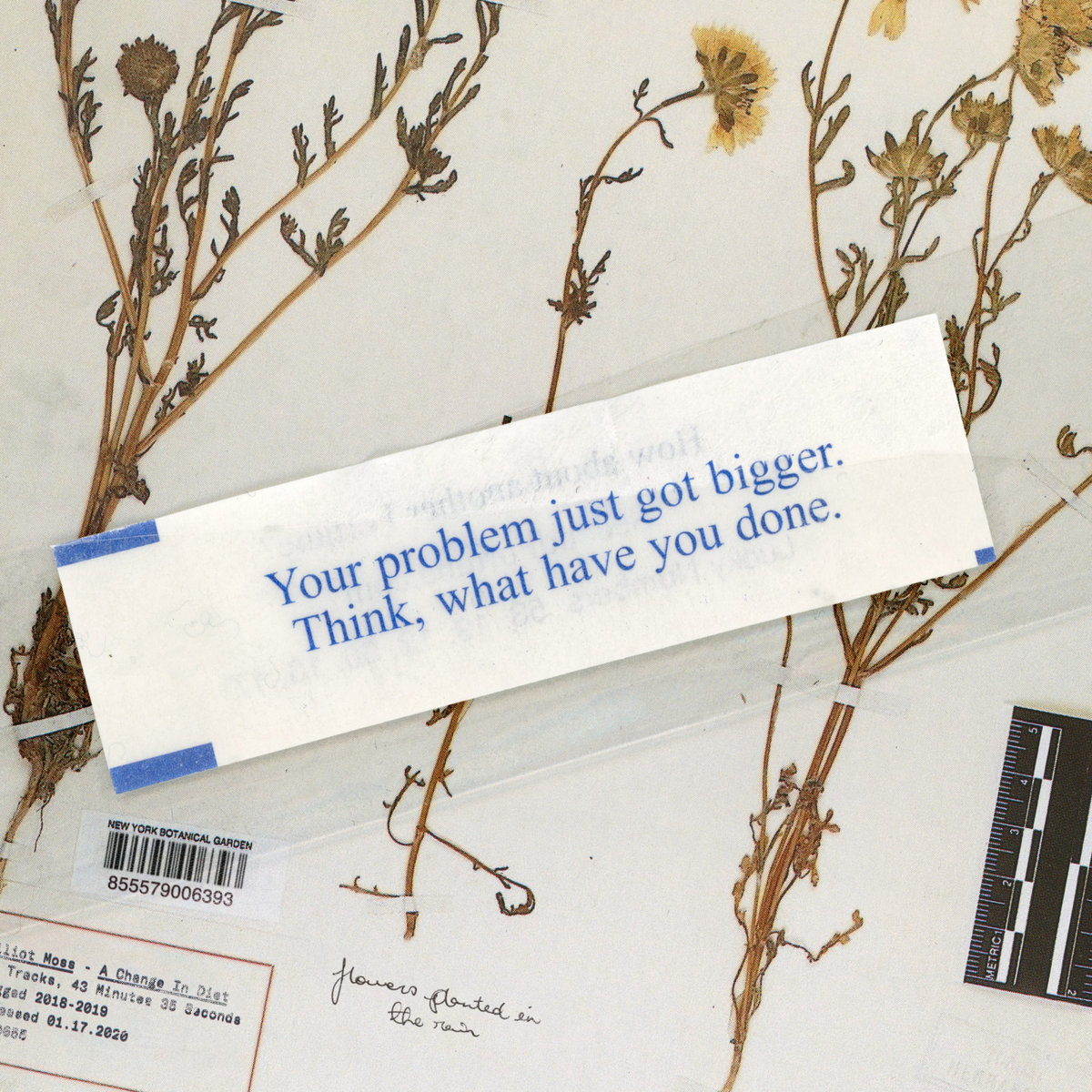 Elliot Moss – A Change in Diet (Grand Jury)
Elliot Moss (Musician):
The cover features a fortune that I got some years back. I'm always backing myself into corners, whether it be in life or in music, so this was a (hilarious) way of reminding myself to always be aware of the bigger picture. Ironically, the record talks about a lot of things that could have been avoided had I been more present. I had the fortune scotch-taped to my computer monitor for years, and its implementation felt so obvious.
Sounds: Elliot Moss
Artwork: David Kramer
---
EYES – Underperformer (Indisciplinarian)
Jon Gotlev (Visual Artist & Designer):
[EYES] had a theme about the perfect and polished being disrupted by something off-putting. This was to take shape in a staged setup — mimicking Nordic interior design magazines — with a family, beautifully dysfunctionally pictured in a living room. Then the pandemic hit, and the concept no longer was possible, and ironically, we went with a lonely individual on the cover, in a much more simple and minimalistic setup…
I tried to push the boundaries of the room and with the sarcastic approach to the title, I wanted the "individual" to be pedestaled way beyond the ceiling. Almost exhibiting the "underperformance" of the individual. This is represented throughout the cover and inner-sleeve in different ways, displaying the individual faceless and hiding in plain sight.
Victor Kaas (EYES):
Our album, Underperformer is about feeling like you're not living up to the expectations of society; the feeling of falling behind everyone around you but you're trying to hold up the facade…
Even as the idea had to be scaled down, Jon really nailed it and we ended up liking the simplicity of the final result, even more than what we had come up with and in my opinion, it tells the story way more concisely than it would have otherwise. Less is more.
Sounds & Concept: EYES
Artwork, Design & Concept: Jon Gotlev of No Heroes
---
Faux Real – Faux Real (Father/Daughter Records)
Faux Real, via i-D:
The EP tells the story of the inception of "faux realism." We draw from our own lives and obsessions and fears.
Sounds: Faux Real
Photography: Maxime Imbert
---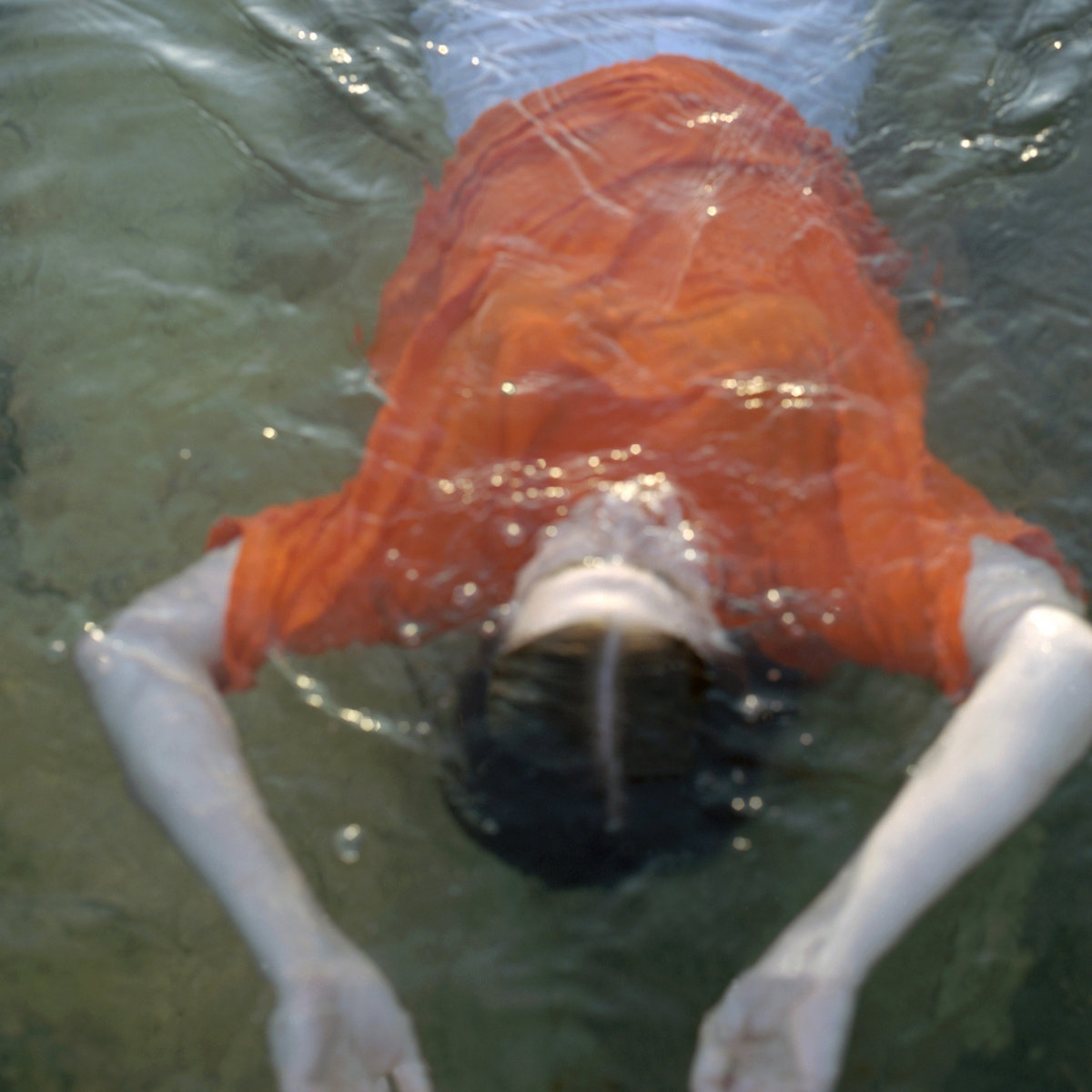 Gia Margaret – Mia Gargaret (Orindal)
Gia Margaret (Musician):
After having to cancel tours because of illness, I was unable to sing for nearly half of the year. This left me feeling like a shell of myself, so I turned to my synthesizer for comfort. These compositions helped me hold onto my identity as a music maker. At times this music helped soothe my anxiety more than therapy or anything else could.
Sounds: Gia Margaret
Photography & Design: Carley Solether
EXPLORE ALBUM COVERS OF THE YEAR: