PHOTOGRAPHY – PART TWO
Girl Friday – Androgynous Mary (Hardly Art)
Libby Hsieh & Vera Ellen (Girl Friday):
When trying to envision the cover of Androgynous Mary, we wanted to feature someone who we could see ourselves in. We wanted the photo to embody a sense of unconventional regality, deep contemplation, and uncompromising power. When trying to find the right photographer, we came across [Pacific Northwest]-based David Belisle, who has photographed our idol Patti Smith and is responsible for many beautiful album covers such as Mudhoney's Tomorrow Hit Today and R.E.M Live. We gave him our concept, and he intuited it immediately. David showed us a video of Helena playing in her band Student Nurse, and we were all sold. She's a prolific artist / musician whose strength is tied to her artistic expression. In the photo, she's surrounded by lush gardens and greenery, effortlessly staring into the camera, hunched like Rodin's "The Thinker." Our collaboration with David and Helena brought Androgynous Mary to life.
Sounds: Girl Friday
Photography: David Belisle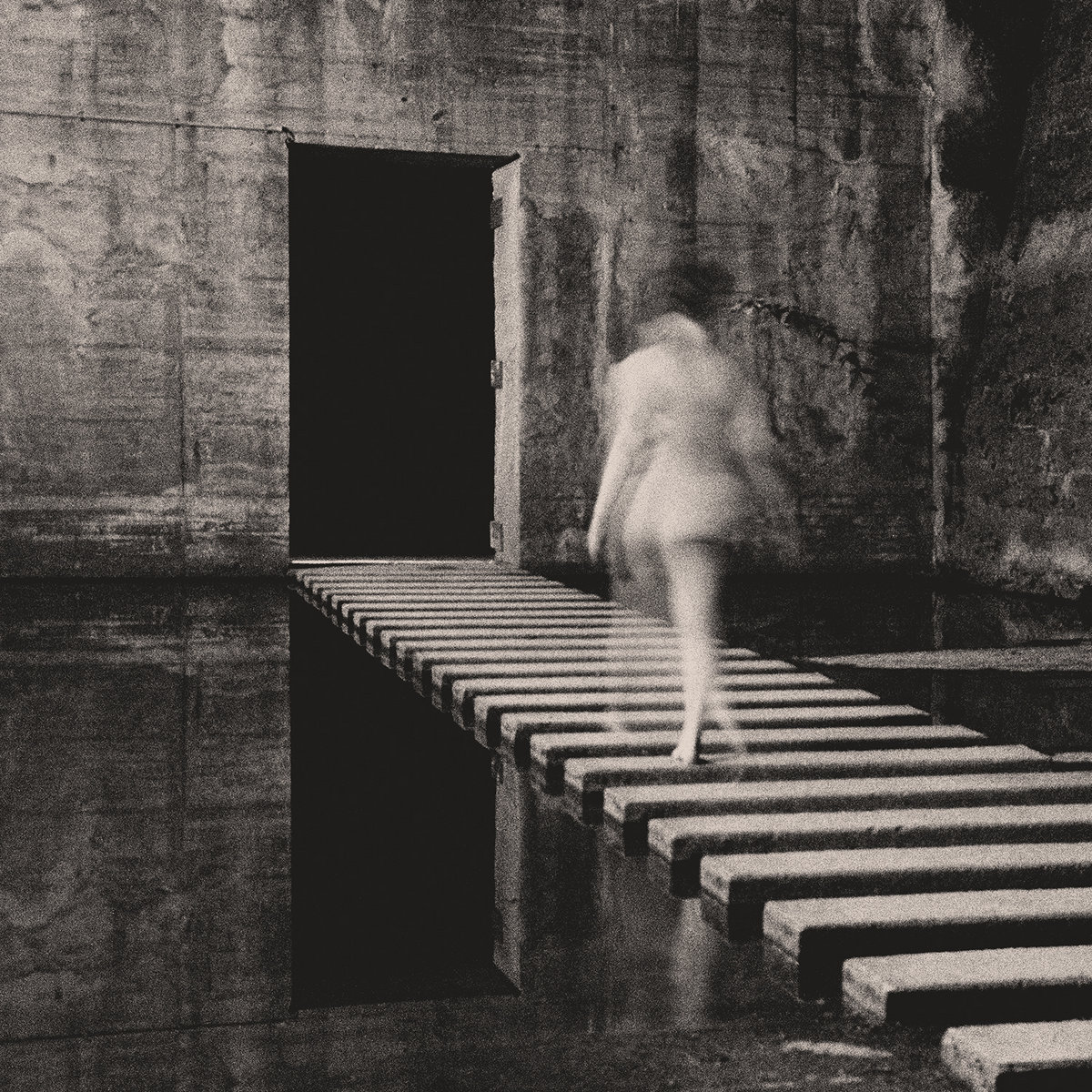 Giver – Sculpture of Violence (Holy Roar Records)
Giver (Musician):
Sculpture Of Violence is a metaphor for mankind itself. We're all products of our environment, the mass media, our parents values, advertisement campaigns, our friends expectations and facebook algorithms. It is insanely hard to come to terms with the fact that the world we live in tears your true self apart constantly to make you a calculable thing. Living in this system means enduring the immoral contradictions that it is built upon on a daily basis. Still, in order to change it, we need to change ourselves and build alternatives within it. Things can always be different. Does that make sense when you look at the cover? The image of the cover artwork emerged together with the album title, and we figured they speak to oneself as a whole. However, even with these themes in mind, we don't want people to see any certain thing at all when looking at the artwork.
Sounds: Giver
Photography: Marie Laforge
---
Half Waif – The Caretaker (ANTI-)
Nandi Rose (Half Waif):
In the past, I've had album covers that have been more muted, with my face obscured. For this record, I wanted everything to feel more bold and to be looking straight into the camera. I was playing the part of the Caretaker: a bit androgynous, tan from a summer spent outside, vulnerable and alone, yet unafraid. The colors are elemental: blue (sky), green (earth), red (fire), and black and white (yin and yang). Musically, I play with a lot of natural and unnatural acoustic elements, so I liked the idea of the cover expressing that contrast — elements of nature that also feel unnatural.
Collaborating with Brian Vu was a dream. I love that the cover bears his signature style, and yet we worked together closely on every element. I gave him my mood board and a lot of writing about the themes on the album, as well as the music itself. I didn't know what the final backdrop would look like (we shot in front of a purple screen), but I knew I wanted something natural; a field or sky. We landed on the moody, cloudy sky with a storm rolling in, pulling from lyrics on the album. One of the coolest surprises was that Brian showed up to the shoot with a giant rose he bought at a florist down the street. It turned out to be the perfect prop. Together, we came up with the image of the rose petals flying off the flower, disappearing into the sky. There's a touch of magic and surrealism to what is otherwise a hyper-real, vivid photograph.
Sounds: Half Waif
Photography: Brian Vu
Illustration: Nuria Riaza
---
JAHMED – THEBOOFMOBILE
Sounds: JAHMED
Jean Dawson – Pixel Bath (P+)
Via Noisey (Vice):
On the cover of Pixel Bath, Dawson, who played high school football, is wearing a helmet with a rainbow visor, which is a saturated color lens through which he's reflecting on his memories. The title of the album is a reference to his friend Redford, or "Red" who Dawson met in his freshman year of high school in San Diego, who once wanted to change his government name to "Pixel Bath." Redford taught Dawson how to count bars and rap on beat, and Dawson still calls Redford his "sensei." Upon having their first session, which started with a trip for fish and chips, Dawson felt like he'd known Red forever.
Sounds: Jean Dawson
KP Transmission – Beatrice (Klammklang)
Karina Kazaryan (KP Transmission):
I got the idea for the cover after watching Walerian Borowczyk's movie Blanche (1971)… I was inspired by the aesthetics of the Middle Ages, costumes, dressing rituals of the main character, her grace and beauty…
[Masha and I] have very much in common: in philosophy, literature, cinema – Jungian philosophy, tarot and alchemy. I thought that Masha could convey my thoughts through her subtle perception… Sasha Umnova and I went to a special place for movie attributes, where we rented several costumes from the Middle Ages, and Polina also provided me the cup for shooting. Masha filmed video with a VHS camera and also took pictures on film. Then the whole process was interrupted because of the COVID, and we decided to use only shots for the album cover… In addition to each cassette, there were 3 postcards from our filmed material.
Sounds: KP Transmission
Photography: Masha Demianova
Additional Assistance:
Sasha Nguyen, Sasha Umnova & Polina Zhuravkova

---
LEYA – Flood Dream (NNA Tapes)
Serge Serum (Photographer):
I think LEYA's music has so much beauty and elegance blended in with a visceral rawness tension which is usually what I try to strive for in my own work. It makes working with them so enjoyable because we usually have the same vision. The photos I took for the album cover were taken after they had me over to listen to the album. I wanted to see what kind of vibe the album put out first and take it from there. I shot this on film and aimed for a more grainy look to create a more strenuous and noisey look that I think compliments their sound. We didn't really have a definitive concept before taking the photos; I usually like to work more spontaneously to avoid any restrictions from having a final thought out plan.
Sounds: LEYA _ insta
Photography: Serge Serum _ insta
Calligraphy: Leo Gutman
Layout: Matt Mayer
---
Los Cogelones – Hijos Del Sol (Piccolo Records)
Editor's Note: these responses have only been edited minorly to maintain the original feel.
Vicogelon (Vocalist & Guitarist of Los Cogelones):
Our city was founded on a lake, and with time, it has been disappearing. Now, the spirit of the children of the sun is reborn from the deep of the water.
Dorian Ulises Lopez (Photographer):
Los Cogelones, apart from being brothers and forming a band, all give war music classes to children from different primary schools. A war band is a group of people — in this case boys and girls — who [do] the work of carrying out the military touches and marches. The war band is in charge of decorating solemn ceremonies, be they academic or sports. So they took three of their students, decked out in their uniforms and musical instruments, to the lake of Texcoco, wanting to refer to the lake where the Mexica built the great Tenochtitlán.
Marcogelon (Drummer of Los Cogelones):
OUR MUSICAL INSTRUMENTS LIKE OUR WEAPONS. AS WE KNOW, IN OUR NEIGHBORHOOD, VIOLENCE IS EXPLICIT AT ALL TIMES, IT HAS BEEN THE CONSTANT SINCE ITS BEGINNINGS. IT REPRESENTS THE RESURGENCE OF A NEW SOCIETY BATHED IN UNCLEAR WATERS, WHERE THE CHILDHOOD REPRESENTS THAT RENEWAL OF STRENGTH AND SECURITY, EXPRESSING IT THROUGH MUSIC AND ART.
Sounds: Los Cogelones
Photography: Dorian Ulises Lopez
---
Lumiere – Phases (Self-Released)
Aris Goumpouros (Visual Artist):
One could say that this album artwork depicts the existential angst that a person is going through while searching for true identity, self-acceptance and love, peace and eventually bliss. Phases, as the album is named. While peeling the onion of the ego one will surely face darkness and void to arrive at his/her destination. It's a striking image. Unsettling, yes, but not particularly grotesque.
Sounds: Lumiere
Artwork: Aris Goumpouros

---
Lyra Pramuk – Fountain (Bedroom Community)
Donna Huanca (Visual Artist):
We started from the idea of working with water, the underwater, and the emotional process of being reborn, transformed, or ritualised through water. Water is a source older and more powerful than we are, and we liked the idea of submitting to it, or being changed through it…
We are sisters; we are family. This image was achieved through our trust and love, embodied in our togetherness as artists and close friends. We drank a lot of coffee and took most of the photos for the album artwork with Lyra laying on the floor, listening to different wild and sensual music. We have so much fun together!
Sounds: Lyra Pramuk
Artwork: Donna Huanca
Retouch & Image Composition: Sayuri Chetti
Graphic Design: Gergő Kovács at Nufolklore Studio in Budapest
---
Makaton – Crime Wave (Voitax)
Voitax (Record Label):
The chosen artwork of the Crime Wave EP by Makaton was part of Nina Röder's series, "bath in brilliant green." With its melancholic visual language, this series presents a poetic perspective on different forms of helplessness and loss. In associative arrangements of portraits, landscapes, and still life motives — often created in darkness — she approaches metaphors of letting go. Staged images of marble-like bodies, often in performative correlation with surrounding nature, question the meaning of human existence. Her works frequently depict natural structures and vegetal artefacts, such as bits of algae or thistles in an absurd form. The artwork was part of the book, bath in brilliant green, that was published by Kehrer Verlag in winter 2018.
Sounds: Makaton
Artwork: Nina Röder
---
Marlana – At Least I Tried (Play Count Recordings)
Marlana Sheetz (Musician):
The visuals for the EP were heavily inspired by Ann-Margret. I've always loved how she was able to blend a sexy, fun and slightly quirky vibe. That really resonated with me. I wanted to make sure it was clear that I don't take myself too seriously, so I channeled Ann and put my own spin on it. My photographer friend Kate Rentz took a series of photos of me in the outfit, and I Photoshopped them to recreate one of my all time favorite Ann-Margret shoots. She was a legend. I'll probably be stealing from her forever. 🙂
Sounds: Marlana
Photography: Kate Rentz
---
METZ – Atlas Vending (Sub Pop Records)
Alex Edkins (Guitarist & Vocalist of METZ):
The primary image is a photograph of a nondescript climber. It is a photo my father took in the '60s while in college. I grew up seeing this photo when leafing through his photo albums, and it made a lasting impression on me. The physicality and emotion that is communicated through the climber connects with me in a way that is rare. I've always been drawn to anonymous figures. They feel universal and timeless to me. Using a faceless or anonymous figure is intended to represent the idea of us all being one and has become a recurring theme in METZ art. The act of climbing, in this case, is symbolic of overcoming and rising above one's adversities. I see the image as being inherently positive; a breakthrough.
Sounds: METZ
Design & Layout: METZ and Dave Konopka
Cover Design: Jeff Kleinsmith
Cover Photography: John Edkins
---
Moses Sumney – græ
Via Our Culture Mag:
One of the many things that strike me about the cover art for Moses Sumney's græ is the way it not only encapsulates the richness of the music as well as the themes surrounding the complexity of the self, but how palpably it ties in with the album's title: notice the way the two letters are intertwined, much like the way Sumney's nude body is wrapped around a rock in front of that waterfall. The natural setting invokes the transfixing beauty of the instrumentals, a diverse array of sounds that make up their own island, but at its center lies the stark vulnerability and emotional honesty of Sumney's voice, seeking to deconstruct notions of identity, race, and sexuality. What makes the photograph so unique, however, is the way Sumney and Ghanaian photographer Eric Gyamfi, who also worked together on the stunning cover art for 2017's Aromanticism, capture the enveloping quality of the album, how each of its individual elements feel inextricably linked to one another, locked in an embrace that extends, ever so gracefully, to the listener.
Sounds: Moses Sumney
Photography: Eric Gyamfi
---
Mounika. – I need space
Sounds: Mounika
Photography: Swap Jedhe
Layout: spo0ky
---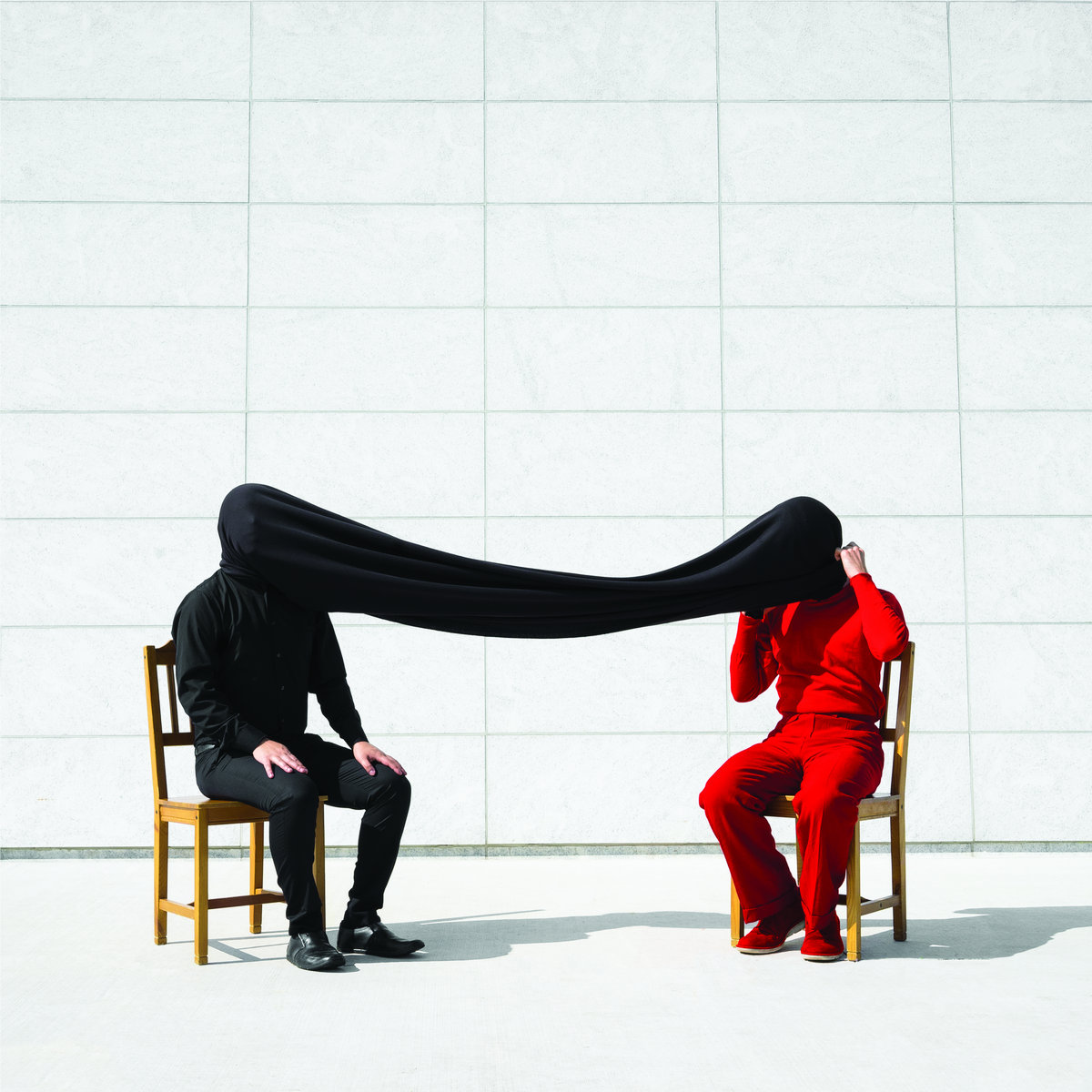 Mute Choir – Silent Conversations
Sam Arion (Mute Choir):
The main inspiration for the Silent Conversations album cover came from Carl Jung's concept of "The Shadow", as well as surrealist art and modern takes on it, such as in Storm Thorgerson's work. The idea of the shadow was interesting to me because a lot of the Mute Choir material (as well as the project name itself) revolve around juxtaposition and duality. I'm also a big Star Wars nerd and always loved the minimalist use of strong colours in those movies to visually represent different sides. For me, the cover represents different things based on the context; I mostly thought of it as a visual metaphor for an internal struggle with two parts of yourself, but if I was looking at it listening to a love song from the record, it might seem more like the push and pull of a relationship with another person. I like keeping that vagueness where the meaning can be different based on who's looking.
Sounds: Mute Choir
Photography: Milan Sarkadi
---
Okkyung Lee – Yeo Neun (Shelter Press)
Okkyung Lee (Musician):
The cover for Yeo-Neun came together as a collaborative effort initiated by Shelter Press. At first, I wasn't aware of the Shelter Press' philosophy behind their cover images for each release, so I had this one picture of the Parisian sky I took in mind as a possible cover image. After clarification through communication, we looked at different photographers' works together, which actually took quite some time. However, when Bartolomé Sanson from Shelter Press suggested Ron's work, there were a couple of images that were just perfect even on the first glimpse. The very first image didn't work out because Ron had already used it prominently on one of his books, but the second one that ended up on the cover was just as perfect with the meaning behind the title of the album. I tried to emphasize the action of opening (여는 / Yeo-Neun) rather than the result of the action (열린 / Yeol-Lin) — if that makes sense — because I saw this album as an expression of willfully walking out of boxes that people had put me in both artistically and personally. These two elements in particular in Ron's picture were compelling: the light blueness of Ron's picture suggesting early hours in the morning and intimacy, and the image of the window from an angle luring you to come closer then possibly open it IF you want to. I really cannot think of any other cover image for Yeo-Neun and want to express heartfelt thanks to Ron and Shelter Press.
Ron Jude (Photographer):
The images on the cover and inner sleeve of Okkyung's LP are from a body of work entitled Other Nature. Bartolmé at Shelter Press conceived of the use of these images in relation to Okkyung's music. I love her work and was very happy to collaborate on the project. The work was originally published as a book by The Ice Plant in Los Angeles in 2008.
Sounds: Okkyung Lee
Photography: Ron Jude
---
Phoebe Bridgers – Punisher (Dead Oceans)
Via Our Culture Mag:
Olof Grind's cover for Phoebe Bridgers' sophomore album Punisher seems to encapsulate the whole atmosphere of the record in a single image. The setting captures a sense of desolation, Bridgers standing in the desert alone in her trademark skeleton suit, and yet its vivid tones also hint at the kind of warmth and emotionality that permeates her soul-stirring music. There's an otherworldly feel to it, too, as if the picture was taken on a different planet, or maybe right after the apocalypse; it also feels like a reflection of the way the album builds a world of its own, one that's both haunting and profoundly human.
Sounds: Phoebe Bridgers
Photography: Olof Grind
---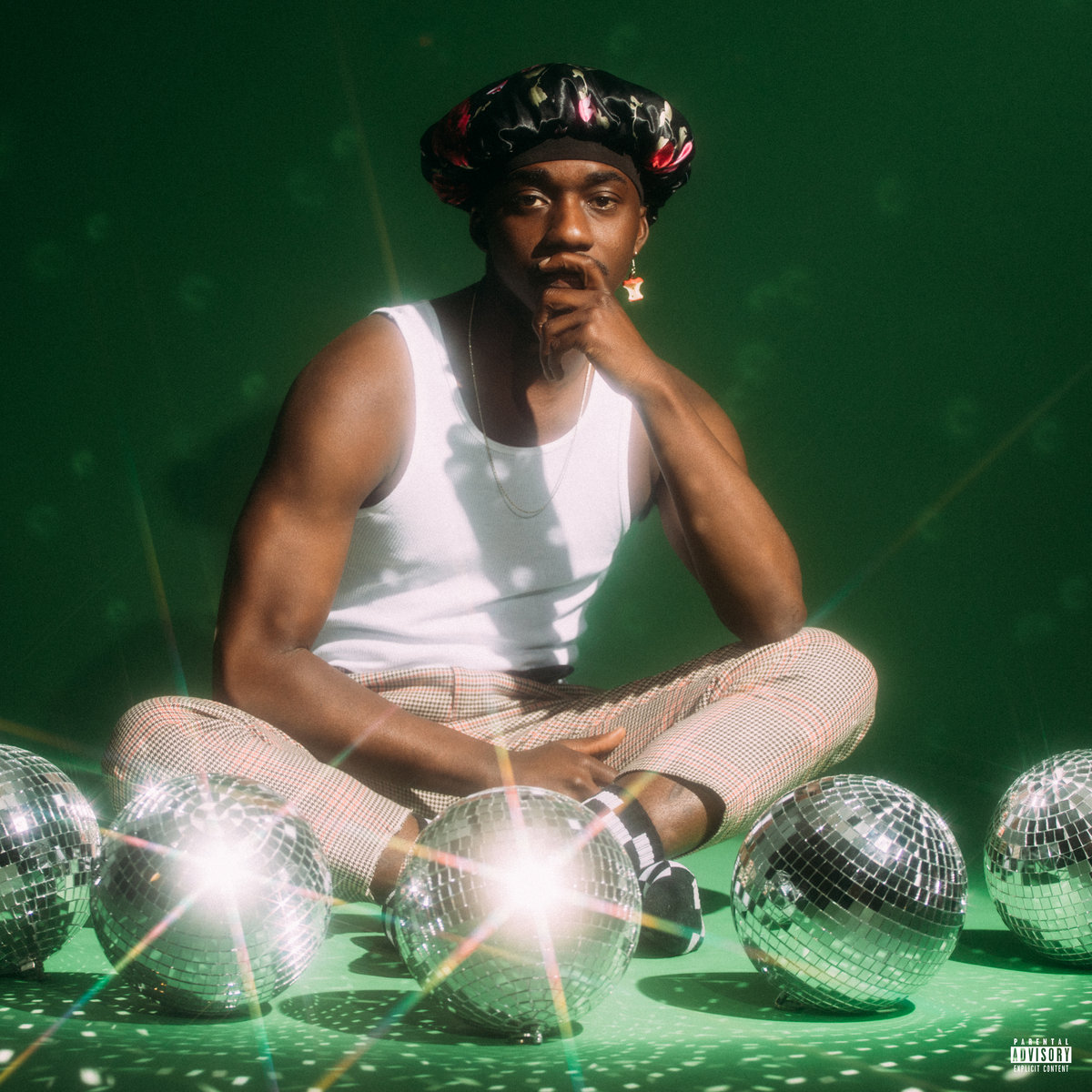 Ric Wilson & Terrace Martin – They Call Me Disco EP (Free Disco / Sounds of Crenshaw/EMPIRE)
Ric Wilson (Musician):
When I wanted to create the art, I wanted it to feel like the music (idk if that makes sense)… I wanted you to feel like you were at a disco by yourself, and then what do you know? The pandemic happened and we had to be.
I can't myself on the disco balls lmaoooooo… When I bought the disco balls the person asked me was I opening a club, LMAO.
Sounds: Ric Wilson & Terrace Martin
Photography: Micheal Salisbury
---
Saffronkeira with Paolo Fresu – Origine: The Field of Repentance (Denovali Records)
Saffronkeira (Musician):
In Origine: The Field of Repentance is a concept album that deals with the origin of man and his impact on the cycle of creation and destruction that drives the evolution of the universe.
We used a reference from Nietzsche's book, Thus Spoke Zarathustra, quoted to introduce the record and to make it clear in the first place that the proposed theme is based on regeneration towards the earth and the human being. There is a verse that says: "It is time for man to set a goal. It is time for man to plant the seed of his highest hope. His soil is still rich enough to do so. But that soil will one day be poor and exhausted, and no other tree will ever grow on it."
Mustafa Sabbagh (Photographer), concerning the "black":
Black _ as the technical challenge that I submit to in giving multidimensionality to non-color color, in giving value to # 000, because art is a limb, and photography is depth on two dimensions.
Black _ like every Christ, every Satyr, every Narcissus, ready-made smokers and sinful saints, traveling hybrids who veil themselves to reveal themselves, disguise themselves to see themselves, in line with the identity truth of one, in line with the wild goodness of each one.
Black _ like a tableau that contains Evil and Good, Social Crisis and Individual Rest, reified in the human act of closing one's eyes out of desperation, or out of relief. Because identity is inherent in man, his loss is equally – too – human, and its meaning is always ambivalent.
Black _ as a dissociative process in search of one's lost identity, or hastily concealed, which – from a lie conveyed, standardized, induced, distorted – leads to the acquisition of a destabilizing, uncomfortable, tormented, autistically proud authenticity in the safeguarding of one's own I walk.
Because, on the way to a lost identity, dissociation is always black … But nothing is truer than Black.
Sounds: Saffronkeira
Photography: Mustafa Sabbagh
Artistx: Paolo Fresu
---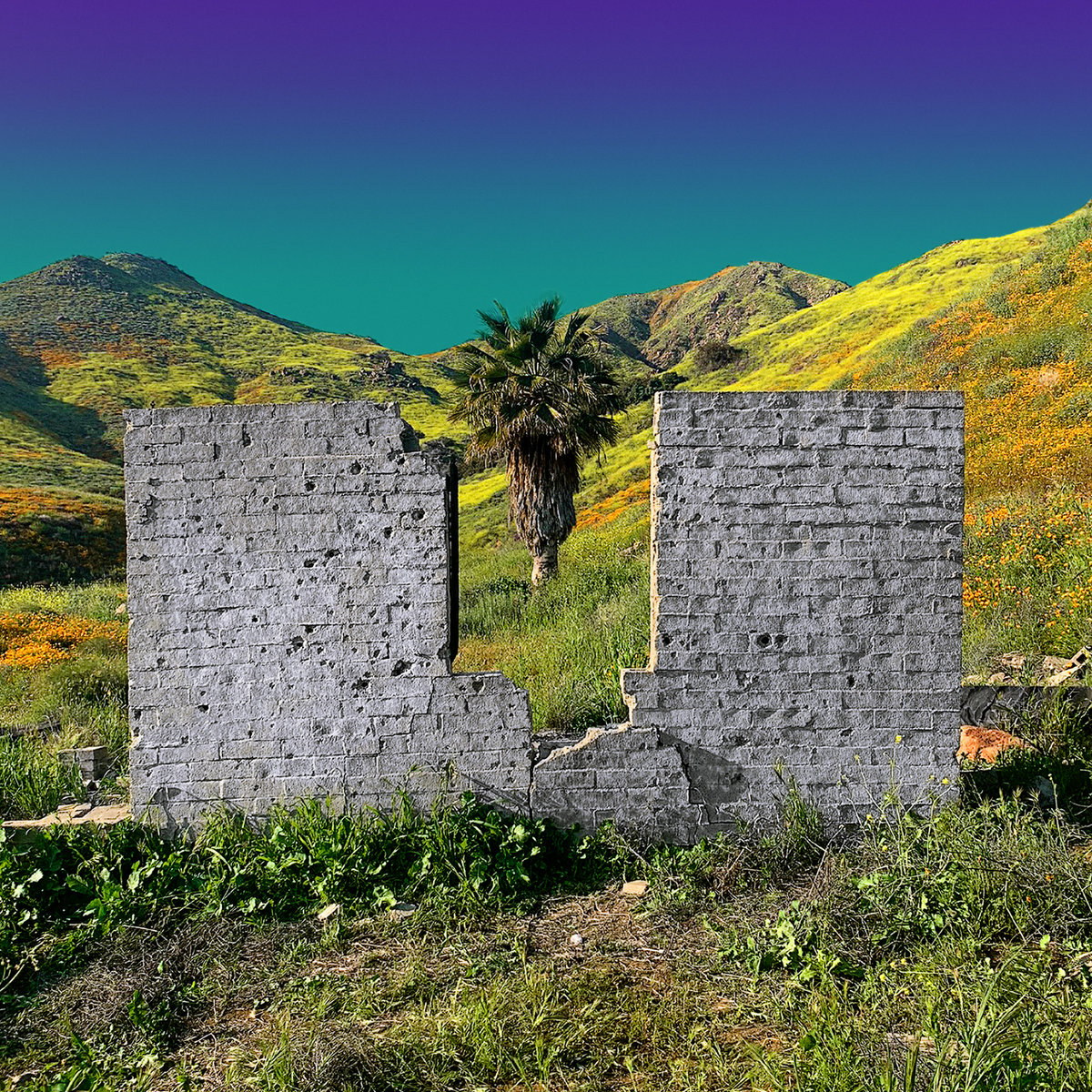 Shopping – All or Nothing (FatCat Records)
Billy Easter (Bassist & Vocalist):
I stumbled on the location in the album cover when going to look at the super bloom poppies at Lake Elsenore, CA, back in 2018. I thought it looked incredible and snapped the cover shot then. We went back there with Photographer Matt Draper in April the following year to take the other shots for the gatefold and the back.
The image represents the barriers and facades we learn to put up around ourselves, revealing only the parts we want others to see. The parts society has told us are "acceptable." In the image, there is this magnificent natural beauty in the palm tree that — when looked at through the wall — is framed perfectly and looks almost manicured. It seems staged. The wall is, however, dominating the image; it's the first thing we see, obscuring the tree's surroundings. We are not seeing the "whole picture," but when we look closely, it's crumbling, weathered and pockmarked. It takes a lot to maintain a defense like this, and often, it's unsuccessful. It's just a matter of perspective. As much as we try, we can't control who looks around or walks past our walls; we can't control how people see us.
When writing All or Nothing, we found ourselves singing about being true to yourself, in an often binary and belligerent digital age, and reclaiming agency when it feels like our personal freedom and privacy are constantly eroding. In an era dominated by spin and surveillance, All or Nothing invites us to remember what really moves us, in dance and in life. It's about when you finally get to the point where you think f*@k it! I've spend to long trying to fit in and be seen in a certain way, it's time to take risks… either that or nothing!
Sounds: Shopping
Photography: Matt Draper
Layout: Dave Thomas
---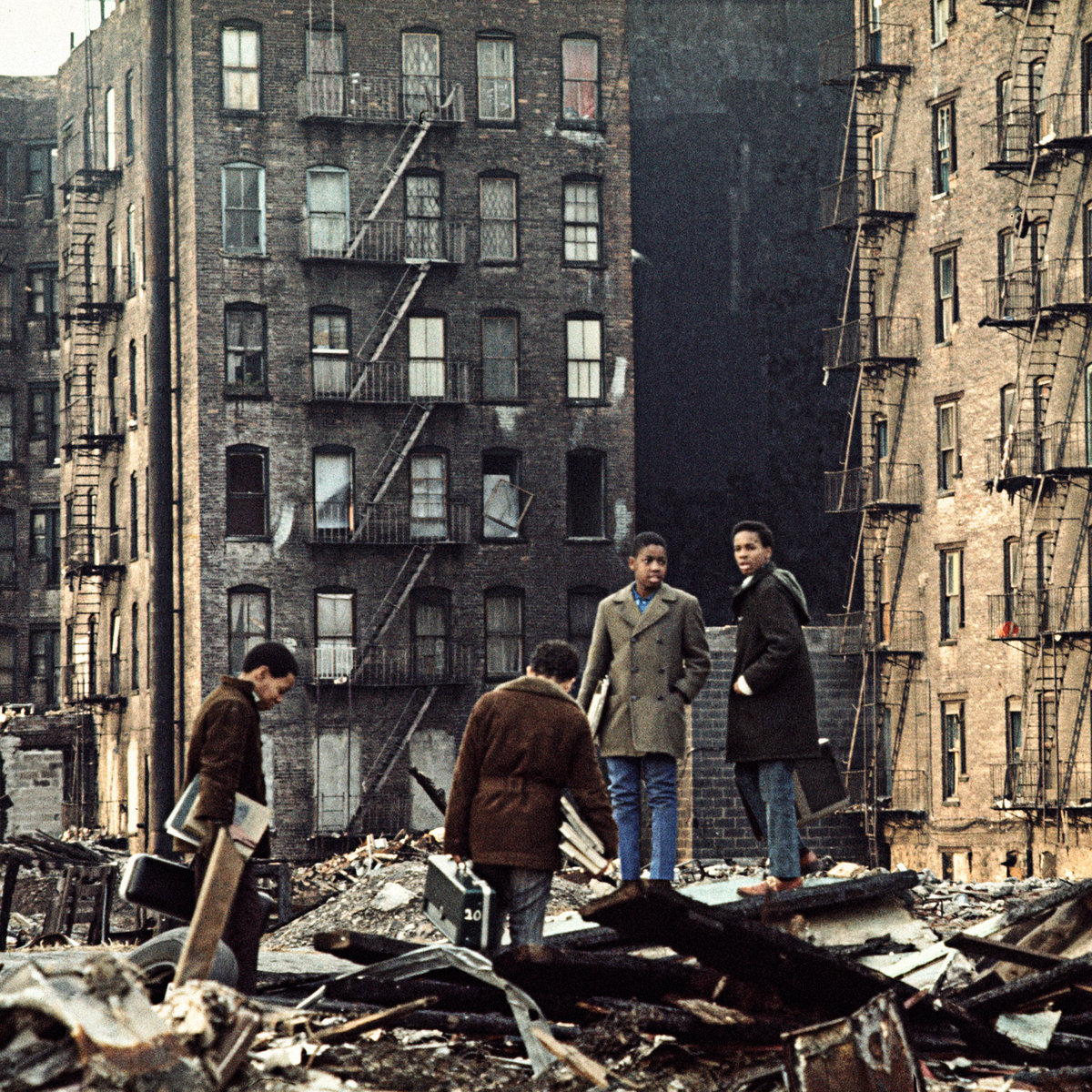 Swave Sevah & Parallel Thought – Hell Up in Harlem (Parallel Thought)
Adam Calman (Musician):
We are huge fans of photography particularly 35mm and film in general. This album was finished almost 14 years ago, so we knew when it finally was due for release we needed a special image. I always loved the street photography from famed NYC photographer Camilo Jose Vergara. When we started storyboarding ideas for the cover, his images were on the top of our list. We zoned in on this one incredible shot he took in Harlem in the '70s. We reached out and licensed the image. It truly speaks for itself and fits in with the theme and title of the album.
Sounds: Parallel Thought
Photography: Camilo Jose Vergara
---
TALsounds – Acquiesce (NNA Tapes)
Natalie Chami (TALsounds):
After curating which songs would go on the album, I started thinking about the colors and vibe I was getting from listening to it. For some reason, the song "Instance" particularly stood out to me, maybe because it was the earliest of the recorded songs from the album. The song made me see dark greens and orange lights, but I also imagined a single street lamp when thinking about it. I had almost called that song "Night Stand," because there was a photo that my fiance took of a night stand in a hotel room with all of my rings on it; I believe during our first vacation together. I always loved that photo. Whenever I remembered that photo, the picture in my brain was a little different than the actual photo, so when I decided to use that image for the album I wanted to recreate it a little more like the way my brain was imagining it.
Zinzi LeMond (Photographer):
I have been making visuals to accompany my best friend Natalie's music since we were kids. It is an honor to work and grow with her, and to be swept up and away with TALsounds as she becomes ever more popular and intentional. When she asked me to shoot this album cover, I was delighted and challenged by the specificity of her vision. We came to an agreement on the burning candle you see here, but for what reason remains as mysterious as the album itself.
Sounds: TALsounds
Photography: Zinzi Gugu LeMond
---
Tame Impala – The Slow Rush (Interscope Records)
Via Creative Review's Best Record Sleeves of 2020:
The artwork for Tame Impala's fourth album The Slow Rush is set in Kolmanskop, an abandoned mining town in the Namibian desert, and showcases fascinating interiors that have been reclaimed by nature.
The series of photographs were shot by Neil Krug, who travelled with the band's Kevin Parker to Kolmanskop. They were then digitally painted to enhance the surreal quality of these miraculous spaces, which despite being a tourist hotspot have the same eerie, isolated feel as Andrei Tarkovsky's Stalker. Artificial views were added in the background and features of the rooms were altered to make for dreamlike images.
"When we were [in Kolmanskop], I kept getting these crazy deja vu moments — like these hair on the back of your neck, freaky vibes, as if I had been there in a dream or I'd thought about it before," Krug told [Creative Review]. "I didn't know much about the place before we went — I'd seen something about it in National Geographic years ago — but standing there and driving around some of the roads I had this very wonderful, eerie feeling that I can't quite put into words."
Sounds: Tame Impala
Photography: Neil Krug
---
Teyana Taylor – The Album (GOOD Music / Def Jam Recordings)
"Drawing inspiration from Grace Jones and flaunting a hi-top haircut resembling that of her husband Iman Shumpert, Teyana Taylor digs into her African roots while looking to the future on the beautiful cover artwork for her debut album. Shot by German photographer Daniel Sannwald, who has previously collaborated with the likes of Travis Scott, Stormzy, and Rihanna, the picture is as powerful as it is visually striking, showcasing Sannwald's visionary approach while also capturing the strength, ambition, and complexity that are so integral to the artistic vision that Taylor lays out on the 23-track LP." – Our Culture Mag
Teyana Taylor, via The Ebro Show:
The same way I got straight to the point with the album being called The Album is what I wanted to represent as a woman, as a Black woman that's really doing it. Embracing my features, embracing my strong features, embracing my roots. My mom plays a big part in that, Black woman plays a big part, Black culture played a big part in that. Of course, Grace Jones plays a big part in that, and she's going to always be one of my biggest inspirations because of her strong features and her unique features.
Sounds: Teyana Taylor
Photography: Daniel Sannwald
---
TYGAPAW – GET FREE (NAAFI)
Alberto Bustamante (Creative Director, NAAFI):
For a few years now, I have been selecting contemporary art pieces from the Mexico City art scene (artists and galleries that are close to the brand) as covers for the main catalogue of the label. A strategy to help contextualize the release with the creative climate.
For TYGAPAW's GET FREE, since the narrative was so personal, we decided to go for a portrait by her partner Avion Pearce. The image is very powerful — the result of queer complicity and very true to the (label) values of doing it with what is available. For the vinyl case and poster (coming next year), we worked with Argentinean designer Jusomor.
Tygapaw:
For the album cover, I chose to work with Avion Pearce, who is an incredibly talented artist. I'm intentional about who I work with and for this album I wanted to work primarily with queer black women. This album explores themes of connection and black liberation, so it felt natural for me to prioritise collaborating with black women. I had to advocate for this, and as a result Avi and I created a powerful image that I believe only her and I could've created. It really came down to the last hour of the shoot where the cover came together. She got the lighting setup the way she wanted and she told me to take off my clothes and I didn't hesitate because I completely trust her. At that point, even though we were both exhausted we both knew that last setup would be the one. Much like the making of the album, the process was a lot of making something out of nothing, and that's what we did.
Sounds: Tygapaw
Artwork: Avion Pearce
Layout: Kevin McCaughey
---
Ulver – Flowers of Evil (House of Mythology)
Sounds: Ulver
---
Various – L'Esprit de Nyege 2020 (Nyege Tapes)
Arlen Dilsizian (Co-Founder of Nyege Tapes):
It was a broken tape we found outside our house, tapes become rare here in Uganda, but as a label they've been very important for our identity; we love how they sound and how easy it is to get them made. This compilation was done in a very free manner taking track submissions from all the artists on the line up of this year's festival, and this photo encapsulated the point where timelessness and timeliness meet.
Sounds: Nyege Tapes
---
Wind Atlas – Arche-Fossil (Cønjuntø Vacíø)
Andrea P. Latorre (Vocalist of Wind Atlas):
The concept of the Arche-Fossil is beautifully defined by Quentin Meillassoux in After finitude. Last year, I got to know speculative realism, which was a great intellectual confrontation for me and, based on this confrontation and this encounter, I created my own poetic fiction, which I put on the record. The ancestral has always been, in one way or another, in everything I have done, but discovering the arche-fossil and this way of explaining ancestry was very exciting for me.
Sounds: Wind Atlas
Artwork: David M. Romero
Art Photos: Alex Sardà
EXPLORE ALBUM COVERS OF THE YEAR: