Album Covers of the Year 2021: Collage & Mixed Media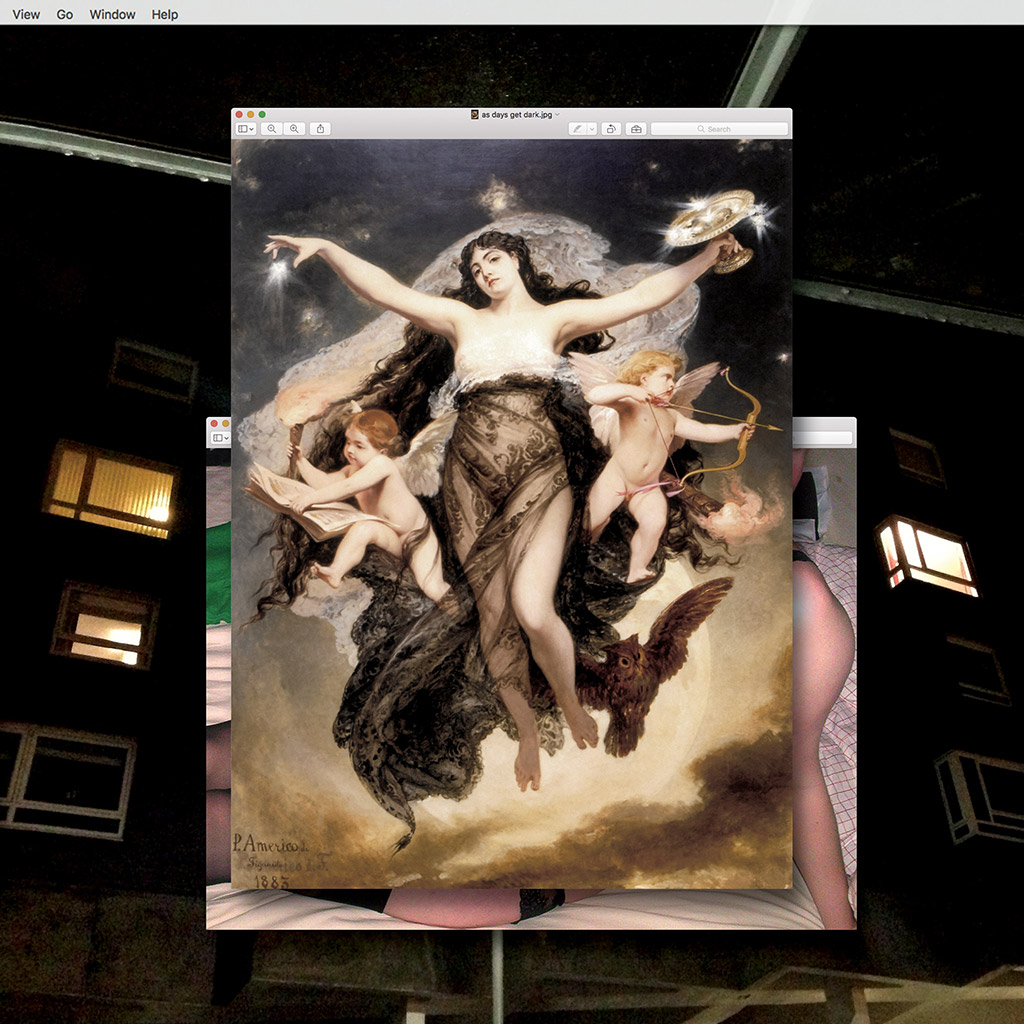 Arab Strap – As Days Get Dark (Rock Action)
Aidan Moffat (Arab Strap):
[The artwork] was originally based solely around Pedro Americo's painting, "The Night Escorted by the Geniuses of Love and Study," which reflected the nocturnal themes of the songs, and imagines the night as an irresistible seductress. But as the album progressed, I noticed a theme of windows, whether literal windows of homes with stories inside, or the windows we all stare into each day on screens.
The final idea was inspired by a song on the album, "Another Clockwork Day," which is all about websurfing and searching through hard-drives, and I realised I wanted to use the cover to put the listener in the position of the album's protagonists.
Sounds & Artwork: Arab Strap

---
ASTRYD – Blind Summit (Dialogue)
ASTRYD (Musician):
The EP is called Blind Summit, a phrase which is quite ambiguous, but also evocative and open to wide interpretation. To us, it felt deeply fitting for that period of time when we were all going through the beginning of the pandemic and experiencing the world as we'd never known it before, and the future felt so completely unknown and uncertain… Trying to find something mysterious and anonymous but also deeply human and intimate was our key aim, and when we saw this photo, we completely fell in love with it… [The main image] felt like it captured so much about the idea of a Blind Summit.
Sounds & Design: ASTRYD
Artwork: Ilmė Vyšniauskaitė
Jewellery: Lauryna Kiškytė
Video: Elisa Cucinelli

---
BadBadNotGood – Talk Memory (XL Recordings)
Talk Memory was also presented with Memory Catalogue, a printed zine released with each single and an art print by Moya Garrison-Msingwana, which was available in record stores. The counterculture book paid homage to the structure and expanded on the meaning and information in works like the 1960's Whole Earth Catalog, including a brainstorm and examination of concepts, creators, spaces, objects, teachers, and terms that BadBadNotGood are passionate about.
Sounds: BadBadNotGood
Album Artwork: Virgil Abloh of Alaska-Alaska™

---
black midi – Cavalcade (Rough Trade Records)
David Rudnick (Visual Artist):
[black midi] have the most distinctive, virtuosic, fearless approach, that effortlessly embraces the chaos of the thousands of influences and musical and artistic forebears that kind of hang heavily all around our generation in the 21st century. In many ways, there was this triumphant aspect of the band that always sounded truly next-generational to me; I think it's why I found them so radical and exciting — that they were accelerating out of the ruins of the 20th century. That they completely rejected it as an edifice or a foundation that we were supposed to respectfully add to. Instead, it was like a riotous junkpile that they could rearrange, destroy, build out of at whim…
I told the boys that the first time I heard Cavalcade, it felt sensorily like all parts of the palette were decadent and expanded, but particularly scents, antique forgotten smells, Marlene Dietrich's perfume, old heavy drapes, curtains, forgotten interiors, people alone in apartments, drinking heavy, tragic cocktails… What's funny is that a lot of the source materials for Cavalcade are French, pulp magazines and from old issues of Lui from the 1970s and stuff, bent into oblivion on the photocopier, elements cut out, photocopied again, until sources become mostly unrecognisable.
Sounds: black midi
Album Artwork: David Rudnick

---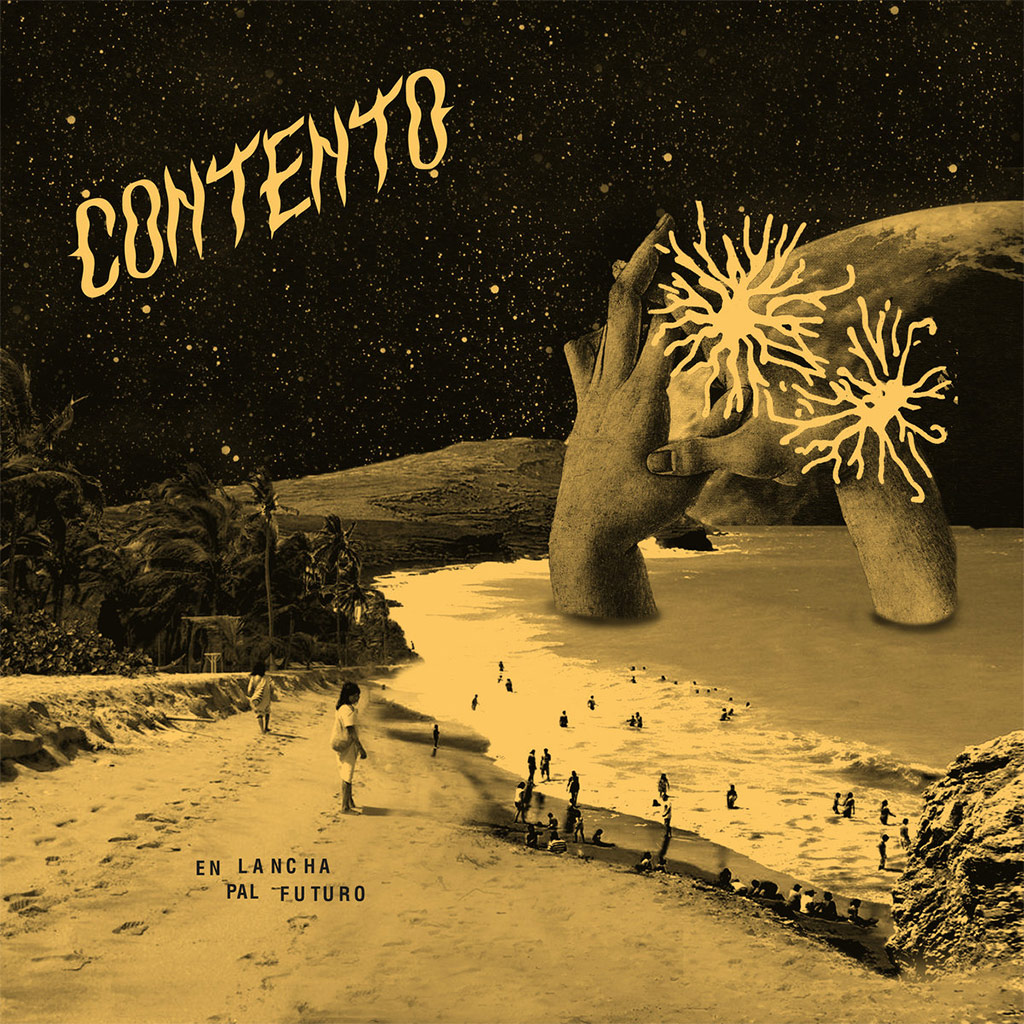 Contento – En Lancha Pal Futuro (El Palmas Music)
The Europe-based Colombian "salsapunk" duo Contento returns with their second full-length record, El Lancha Pal Futuro, which includes a suite of singles with brightly-colored matching artwork crafted by Mateo Correal.
Sounds: Contento
Album Artwork: Mateo Correal

---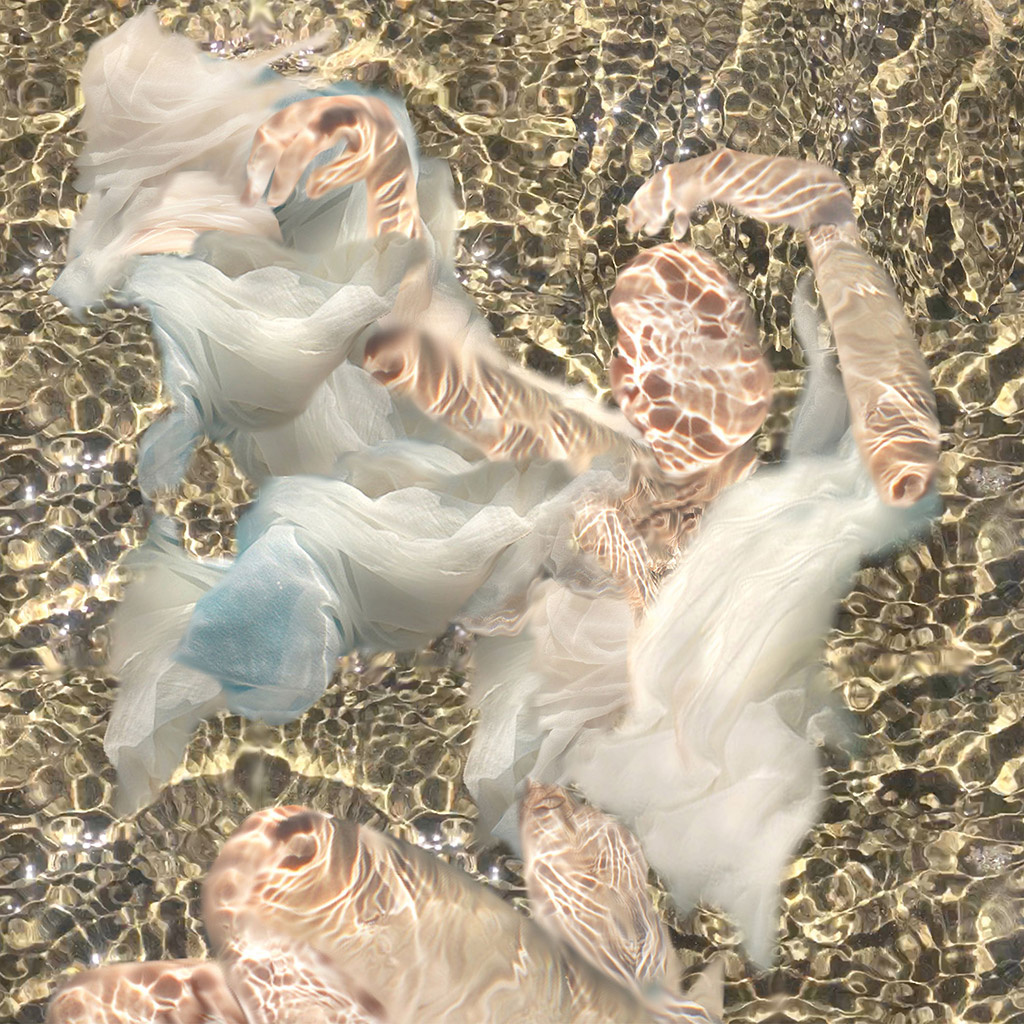 Dolphin Midwives – Body of Water (Beacon Sound)
Sage Fisher (Dolphin Midwives):
The name of the album is Body of Water, and throughout the album, I'm thinking about water, light, vibration, movement, transformation, ephemeral, vulnerable, healing, physicality, bodies, symbiosis… I also feel like I'm edging into an art-pop diva realm, so I knew I wanted to be on the cover, but not in a boring obvious way.
I wanted to really highlight the merging of the light and lofty (intricate light patterns, washed out, blurry, hyperreal flowy fabric) with the heaviness of physicality (ie sinking, body), hint to the multidimensionality of my work (collaged composite photo-graph with hyperreal sharpness and softness, a mix of reality, fantasy, drama, and digital fucked-up-ness).
The light/water pattern play reads vibration, movement and transformation, the white flowy fabric almost feels like wings, it's all very light magic angels in color but the whole piece reads in a slightly jumbled, unsettling way, like a moving puzzle your brain has to put together. I did the collage and the conceptual work, but QU took the photographs that became the final image.
Sounds & Artwork: Sage Fisher of Dolphin Midwives
Photography: QU
Design & Text: Anna Bernhardt
---
Dramachine – ΣΥΓΚΙΝΗΣΙΑΚΗ ΠΑΝΟΥΚΛΑ (Erste Theke Tontraeger)
A Greek punk project brought by "3 mortals trying to survive in a world of snake-eating bats, ex-boyfriends, extreme weather conditions, self-improvement freaks and low wages," Dramachine entrusted their textured black and white cover for ΣΥΓΚΙΝΗΣΙΑΚΗ ΠΑΝΟΥΚΛΑ to illustrator and comic artist, Disco Suicide.
Sounds: Dramachine
Album Artwork: Disco Suicide

---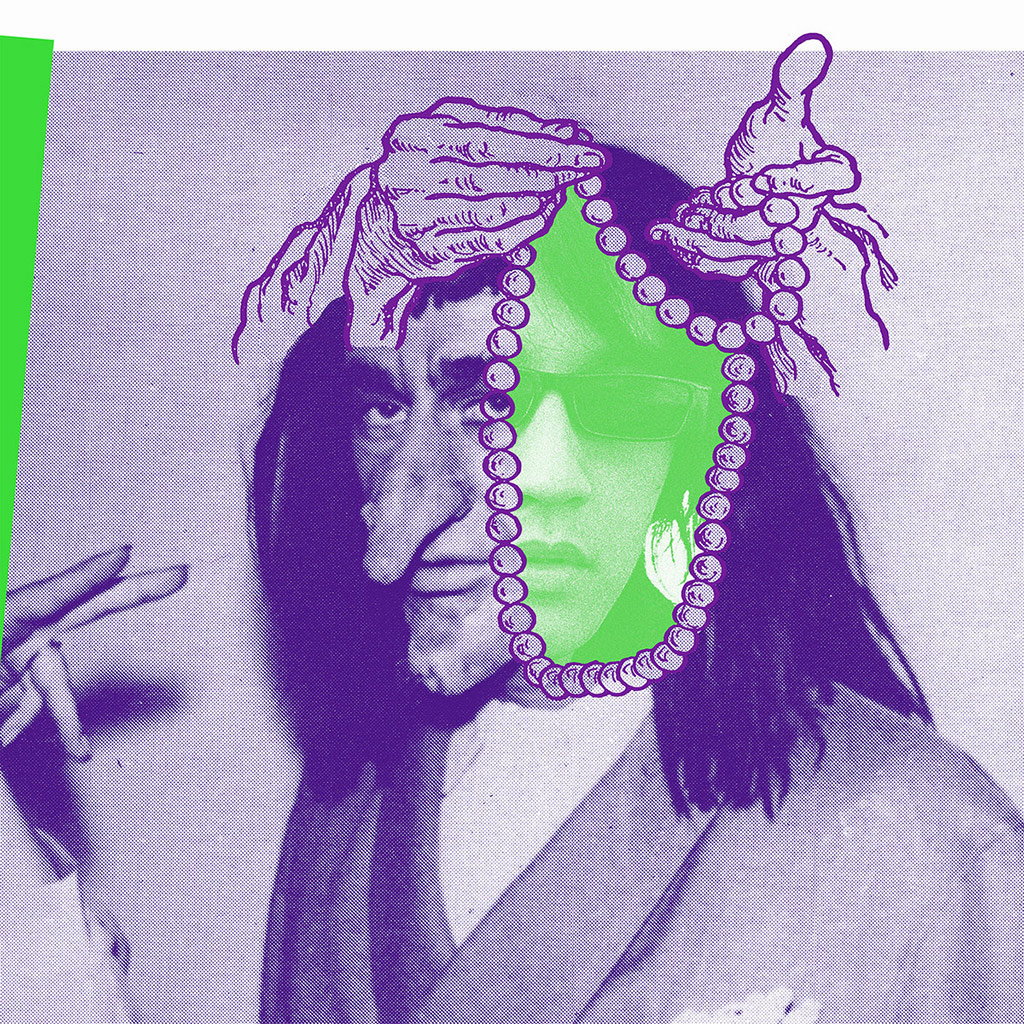 Eyedress – Mulholland Drive (Lex Records)
Eyedress' fourth album, Mulholland Drive, is the latest evolution of the Filipino musician's unique sound, which Eyedress says is "about loving yourself and your life." Illustrated by Brain Dead., the purple opens up like a window to reveal the musician's face, peeking through in lime green.
Sounds: Eyedress
Album Artwork: Brain Dead.

---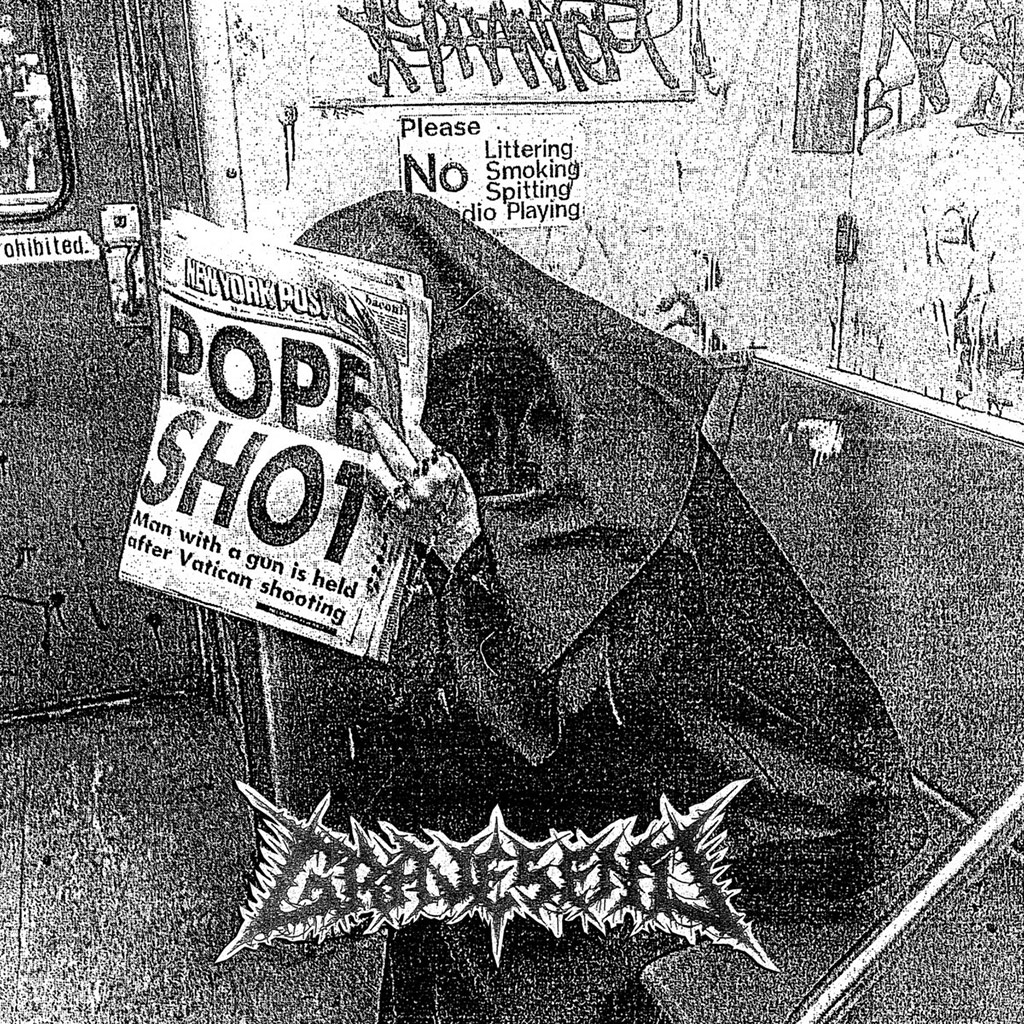 Gravesend – Methods of Human Disposal (20 Buck Spin)
A Xerox aesthetic amplifies the music of NYC-based metal band Gravesend, who present Methods of Human Disposal as an "aural manifesto of urban blight and disgust… [working] like a lone killer stalking the streets, internally seething with rage, preparing to cast off the last remnants of restraint."
Sounds: Gravesend

---
Jaguar – Madremonte (El Palmas Music)
On their debut album, Madramonte, Europe-based Colombian duo Jaguar mine the sounds of the Colombian Caribbean and global dance subculture. The full-length includes a suite of singles which are unified by a collage aesthetic featuring variations of different items and stylistic manipulations of the band's name in red, created by artist Daria Mechkat.
Sounds: Jaguar
Album Artwork: Daria Mechkat

---
Jamire Williams – But Only After You Have Suffered (International Anthem)
Nik Ewing (Visual Artist):
Jamire and I had been wanting to connect on a project for a little bit, so I was pretty honored when he sent me this album and asked me to be involved visually. We spoke about beauty in mistakes. Jamire dug through a lot of mixed media/collage pieces of mine to see if anything struck a chord. He came across this image that became the album artwork almost as is. I was painting over faces from an old magazine. I stacked them all together not feeling anything I had made that day. Fortunately, I accidentally put those pages away while the paint was still wet and a lot of the pages were glued together by the paint. Pulling the pages apart the next day resulted in this happy accident. Rich details from many other different elements, which, to me, represents the avant mixing of genres Jamire beautifully accomplishes on this brilliant album. Similar with the typography. We spoke about simple '70s inspired, classic centered text. I made a handful of options and was exporting .jpgs to show Jamire, but accidentally saved a version with multiple layers on which we both really liked that then became the guiding typography theme throughout the album artwork, promotion and marketing. Beauty in mistakes. Happy accidents.
Sounds: Jamire Williams
Album Artwork: Nik Ewing

---
Lyra Pramuk – Delta (Bedroom Community)
From the press release:
On Delta, a dozen artists across four continents freely interpret Fountain across a double-album, again featuring Donna Huanca's surreal artwork, and the unearthly graphic manipulations of Nufolklore Studios. Remaining faithful to Fountain's presentation, Lyra's curation reflects her commitment to stylistic diversity, with the old guard and the next wave alongside each other. Where some artists chose to rework existing works, others composed new material from fragments found across the record. The results showcase the very themes of wordless identity conflict and technological concerns that Lyra and her foremothers have projected.
Read our 2020 REDEFINE interview with Donna Huanca about the album cover for the previous record, Fountain.
Sounds: Lyra Pramuk
Album Artwork: Donna Huanca

---
Mega Bog – Life, and Another (Paradise of Bachelors)
On Life, and Another, avant pop musician Erin Birgy tends a succulent garden full of plants that the unwitting passerby might mistakenly perceive as extraterrestrial, but which are in fact very much of this Earth. The album's release includes a full-color book — limited to 300 copies only — featuring images, songwriting and studio notes, collages and texts by Erin Birgy, drawings by Zach Burba, and design by Joel Gregory. Watch a preview.
Sounds: Mega Bog

---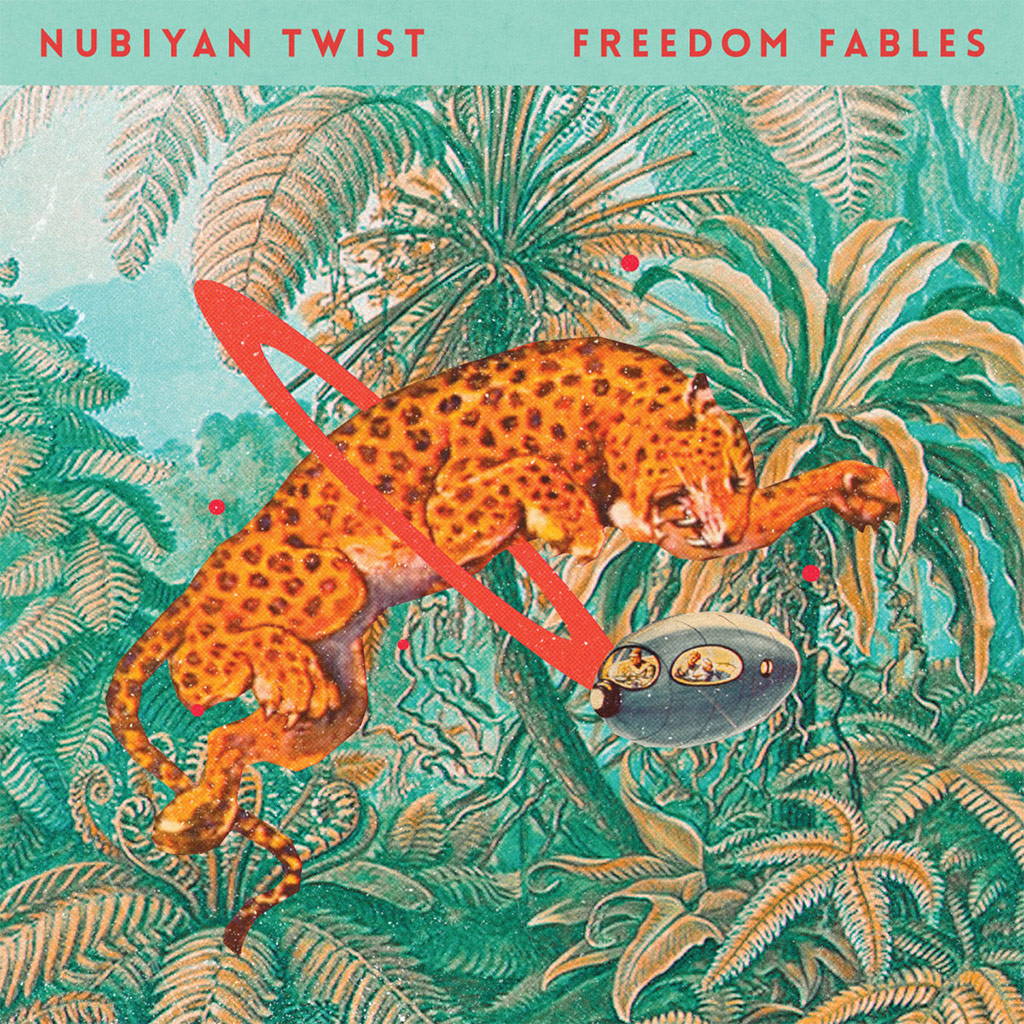 Nubian Twist – Freedom Fables (Strut Records)
Nubiyan Twist, via their Facebook:
The artwork for our new LP was designed by Emma Rodriguez aka MOONCRAB – it paints a surrealist dreamscape, reminiscent of Aesop's fables and represents freedom of imagination.
Emma Rodriguez, via artist website:
I'm inspired by my own ups and downs, because that's when I want to escape the most. That's when I want to create something that helps me get away, but I'm also inspired by things I see and dream of and surround myself by.
Sounds: Nubian Twist
Album Artwork: Emma Rodriguez aka MOONCRAB

---
RAKTA & DEAFKIDS – Live at Sesc Pompeia (Nada Nada Discos / Rapid Eye Records)
Douglas Leal (DEAFKIDS):
As this is a live collaborative album, I wanted to express the concept of something that was bodily and vibrant, that feels alive, and that would represent our collaboration in metaphor with the unity of human beings and nature as something non-individual. So for that, I worked with images of different scales of the human body and nature, such as body tissues, veins, teeth, plants, and an image of the audience present on the day of this concert, manipulated so as if they were somehow all made of the same "material," without distinction of individuality, representing us all there at that moment as different scales of Oneness.
FUN FACT!
Also featured in the art is the image of two Taoist talismans that I found in a Tao Magic book. One of them, the talisman of the Celestial Messenger, is used to protect the body, with legs to walk in coils on Earth to seize and destroy evil spirits, who can only move in a straight line. The other, a charm of the Five Thunder Messenger, who has special power for many things, including bringing good luck. So protection against the evil spirits and good luck to us all. The package includes a beautiful insert with a photo from the talented photographer Fernando Yokota. The image was treated by me, as if we were all faceless shadows on stage.
Sounds: DEAFKIDS & RATKA
Artwork: Douglas Leal aka Água Escura of DEAFKIDS

---
Skydeck – Coupon (Dinosaur City Records)
Mitchum Clemens (Skydeck):
The name of the album, Coupon, came from when we toured our first album, and we used various coupons to buy food throughout the tour. I later read that "coupon" and "cope" kind of share an etymology, which I liked, because I often see my use of coupons as a coping mechanism. So the artwork for the album had to reference coupons. There's the classic empty circles with some stamps that I associate with cafés, scribbles that look like marks on receipts, a QR code, and terms and conditions. At some point, pizza boxes came to symbolise the record in its sleeve, so Dom had the idea to use the magnifying glass to show that Anthony and Little Caesar were carrying copies of the record.
FUN FACT!
The back cover features the lyrics organised in alphabetical order. I got this idea from a video that Snowy showed me while we were mixing the album, where it's the Donkey Kong 64 rap but all the words are in alphabetical order. I like seeing the words laid out in this way; you get an idea of what the themes are on the album by how often certain words are repeated.
Sounds: Skydeck
Artwork: Mitchum Clemens of Skydeck

---
Ziúr – Antifate (PAN)
Stefan Fähler (Illustrator):
Ziúr approached me with a theme for Antifate. It's an abstract reference to the mythical land of Cockaigne, a utopia where wine flows freely and houses are made of cake. In the medieval era, this land of plenty was an escapist fantasy for peasants. Listening to the music intensively, and considering this concept, I was inspired to create a psychedelic fruit as the main focus for the cover. The process happened quite organically, sculpting objects by hand, using watercolours and Xerox, some of my favorite techniques.
Ziúr (Musician):
Antifate is a celebration of friendship in relationship to the love, freedom and ease we provide for one another. Stefan and I have been close friends for over a decade and working on collaborative art for just as long. Antifate in its complexity and beauty has been the logical consequence, reflecting a moment of now in our journey together.
Sounds: Ziúr
Artwork: Stefan Faehler

---