Album Covers of the Year 2021: Painting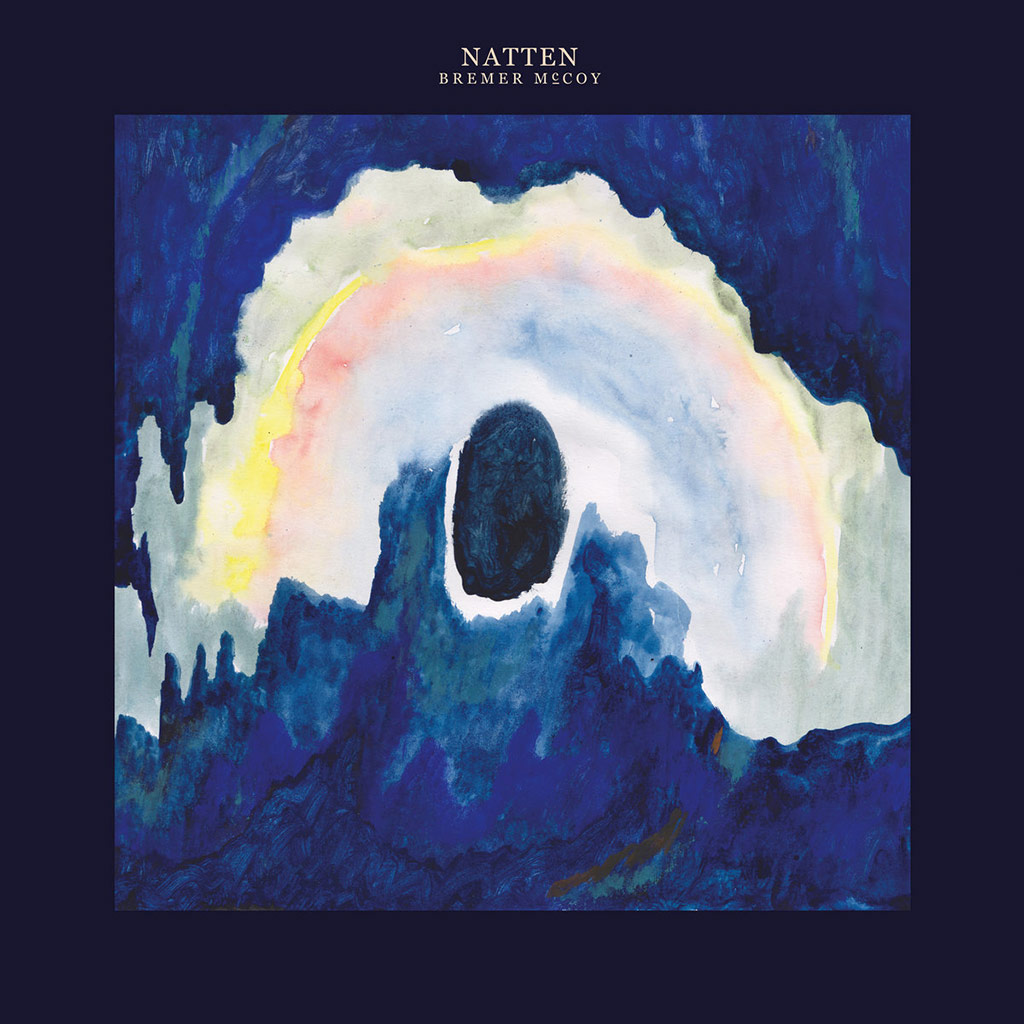 Bremer McCoy – Natten (The Night) (Paradise of Bachelors)
Natten, which is Danish for "The Night," takes inspiration from the end of day, that regenerative time under the constellations when lives look different. Its sounds are gentle, melodic, and calm; the blueness of Jakob Oksbjerg's paintings pair well in mood.
Sounds: Bremer McCoy
Album Artwork: Jakob Oksbjerg

---
Bummer – Dead Horse (Thrill Jockey Records)
Bummer (Musician):
"sense titol" is an original work by Joan Lalucat Vehil. Sense Titol translates to "Untitled" which is a good fit for this soul-sucking beauty. We contacted Joan about this piece because it brought us all the same thing once we saw it, despair. It made us feel terrible. It made the hair on our skin stand up, and churn your stomach. We had envisioned something that implied fear, terror, and inescapable sadness and this painting captured all of those things. It was a match made in hell.
Sounds: Bummer
Painting: Joan Lalucat Vehil
Additional Artwork & Design: Caroline Eck

---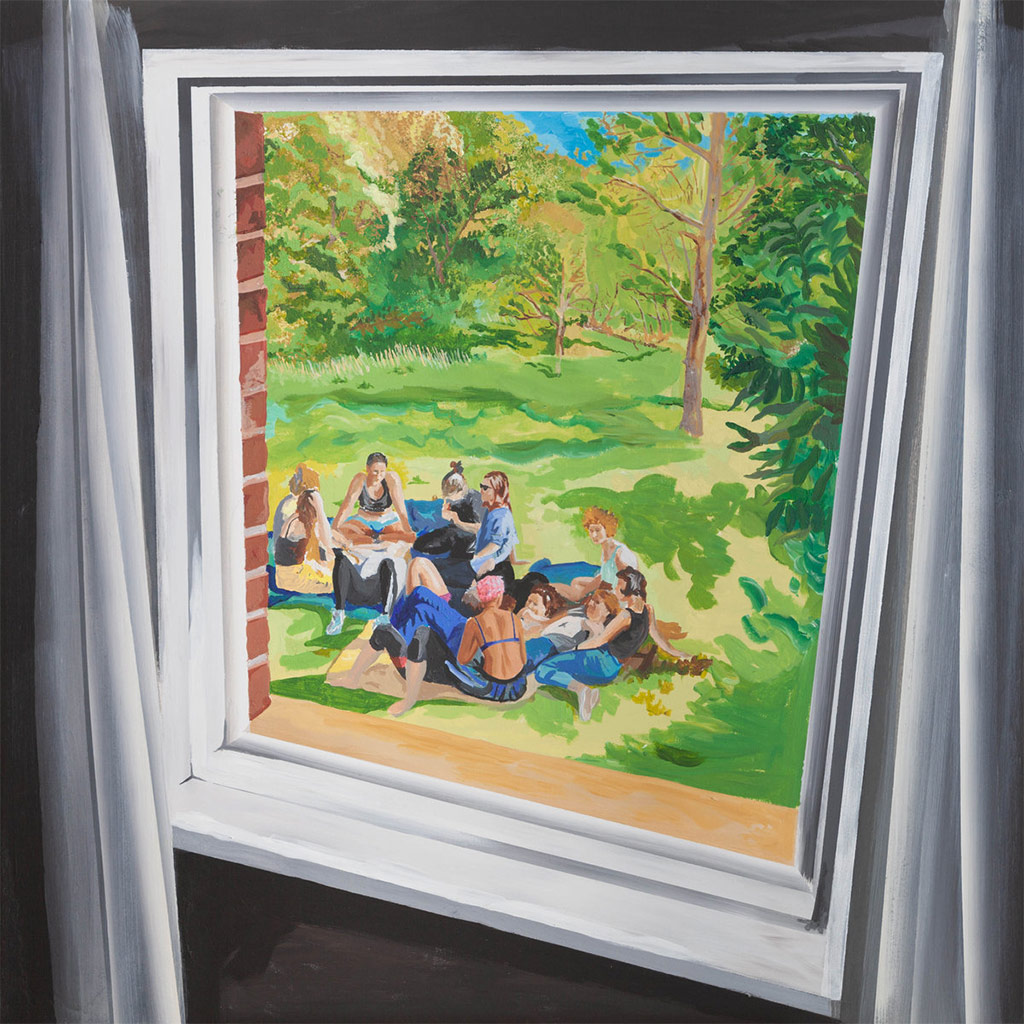 Deep Throat Choir – In Order To Know You (Bella Union)
In Order to Know You's album title and artwork reflect Deep Throat Choir's "drive towards a kind of questing togetherness." "We made this music in order to know and understand each other more fully," says founder Luisa Gerstein, "and that's what music is in general. We're saying it to each other, and to the listener."
Sounds: Deep Throat Choir
Album Artwork: Henry Stringer

---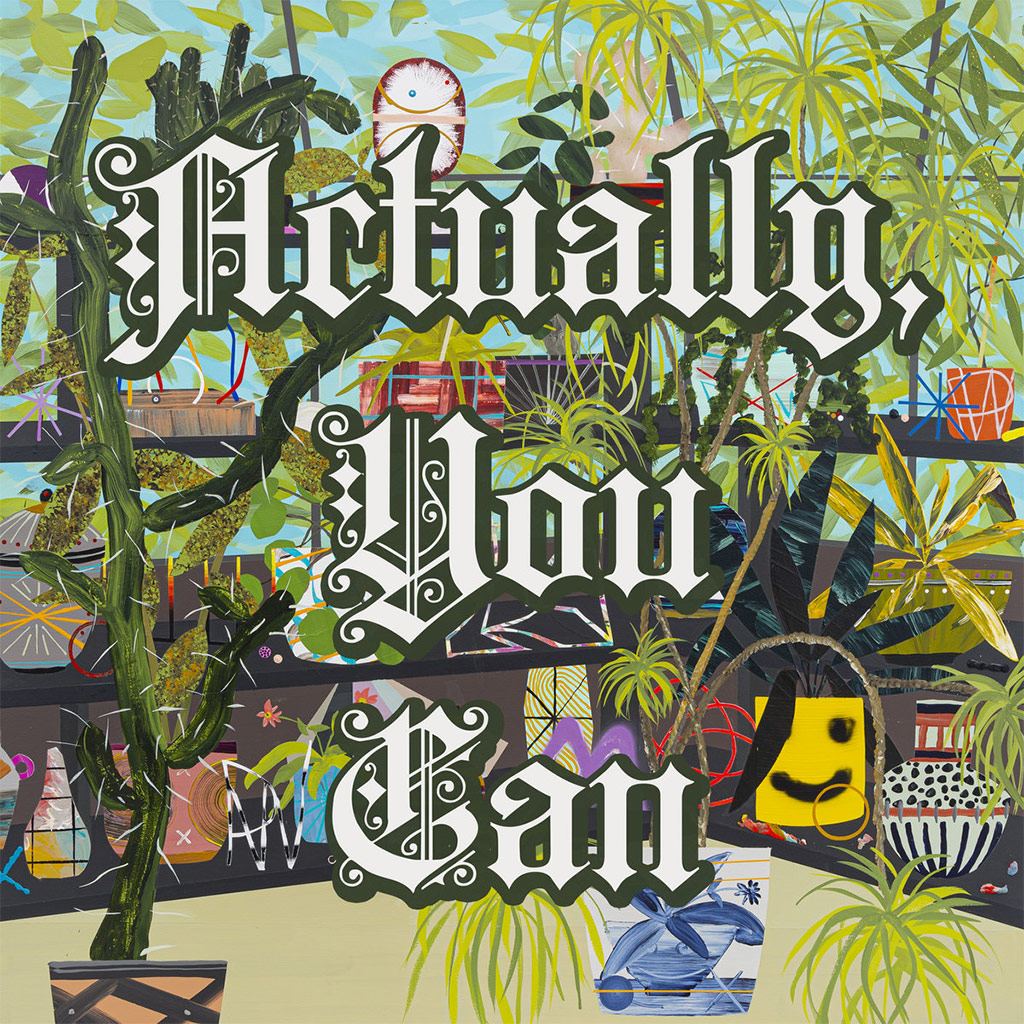 Deerhoof – Actually, You Can (Modern Soul Records)
Via the album's press release:
"I have been collecting plants the last few years and I saw the growth every morning that encouraged me to start a day," offers [bassist and vocalist Satomi] Matsuzaki of a non-musical influence that encouraged her recording process and deepened the album's themes of plenitude. "Plants always lean towards sunlight. Me too," she clarifies. Lush vegetation became a visual theme extended by artist Paul Wackers, who painted Actually, You Can's cover.
Sounds: Deerhoof
Cover Painting: Paul Wackers
Drawings: Satomi Matsuzaki of Deerhoof
Design: Ryan Hover

---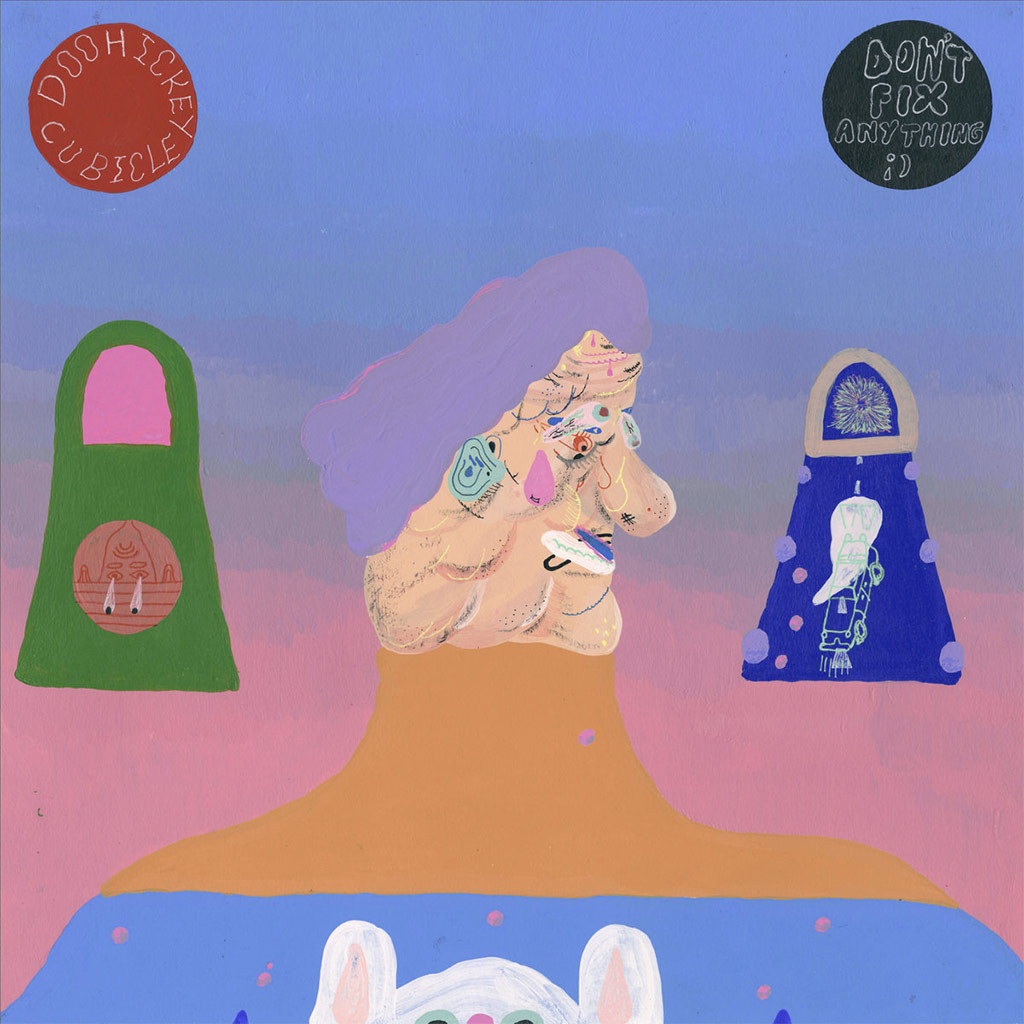 Doohickey Cubicle – Don't Fix Anything 😉 (Self-Released)
Aptly named Don't Fix Anything 😉 — and yes, complete with winky face which unwittingly sets off an emoji on certain browsers — Doohickey Cubicle made a painfully wise decision to choose an awkward, slightly grimace-worthy painting by Aaron Charles Read as its cover art.
Sounds: Doohickey Cubicle
Painting: Aaron Charles Read

---
Hand Habits – Fun House (Saddle Creek)
Meg Duffy (Hand Habits), via Bomb Magazine:
I was drawn to [Curtis Talwst Santiago's] miniatures, like the one on the cover of Moor Mother's Black Encyclopedia of the Air. When we asked him to do the artwork for Fun House, he said that he'd made a lot of them while listening to my music, which confused me because he's so cool and the odds seemed so weird…
I also love Curtis's paintings, and the one that we ended up using on the cover ["Whatever lay ahead he had already accepted" (2018)] shows a figure pointing and wearing pink and blue. Curtis asked me why I was drawn to this work. When I told him that it was partly because that figure felt trans, Curtis was like, "Yes, they are. That figure is taken straight from Paris Is Burning." I'd been watching that documentary and leaning into trans and drag histories while we were making the record, so the connection felt very special.
Sounds: Hand Habits
Cover Artwork: Curtis Talwst Santiago
Photographs: Jacob Boll
Design & All Additional Art: Robbie Simon

---
John Andrews and the Yawns – Cookbook (Woodsist)
John Andrews (Musician):
At the time of completing this album, I was living in a tiny apartment in Dover, New Hampshire. The interior of this apartment probably hadn't been updated in 50 years or so. The kitchen was my favorite place to be at night. Green linoleum floors with pink and purple tiles on the wall along with peeling wallpaper patterned with tiny pineapples. I spent a lot of time in there, working on the finishing touches to this album. Once I settled on the album title of Cookbook, it was sort of a no brainer as far as what I wanted the album art to be. Me playing piano in my kitchen, with fruits and vegetables floating up like music notes, spelling out the album title. I've always had my environment and where I'm living reflect into my artwork/music.
For a second, I considered doing the painting myself, but I came across Greg Hartunian's artwork and knew he would be the perfect person to pull it off. I loved everything about his paintings… He truly made an iconic painting…
FUN FACT!
Originally for this album (and before I had the title, Cookbook), I wanted to somehow rent a chimpanzee and dress it up in my clothing — a flannel and a bucket hat — and take a portrait of it sitting in front of a piano. I did research and realized this was close to impossible unless I had an extremely large budget. Maybe someday it can happen, but who knows. PETA might come after me.
Sounds: John Andrews and the Yawns
Artwork: Greg Hartunian

---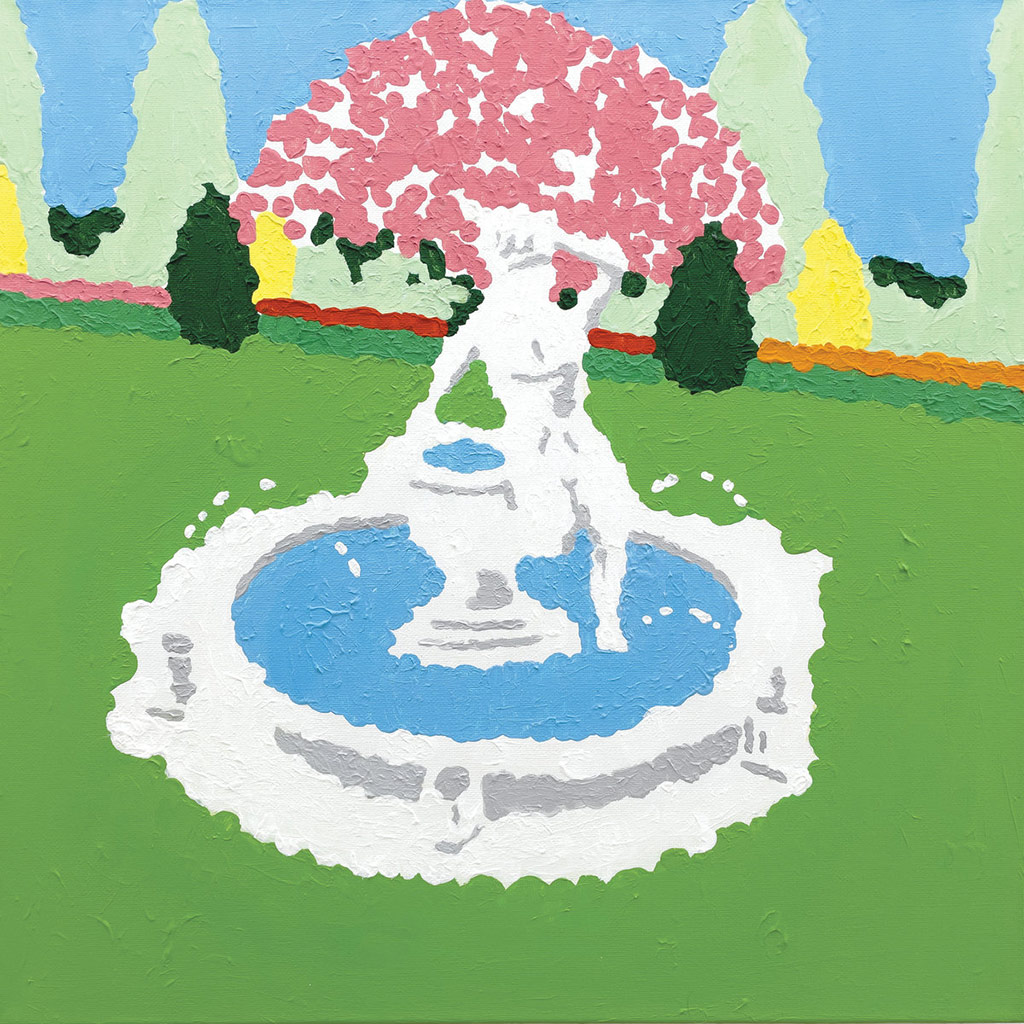 Kasper Bjørke – Sprinkles (hfn music)
Via press release:
Sprinkles is rooted in a multicolored sound and filled with light and warmth… The 13 track instrumental album stands as a breath of fresh air and a much needed, warm ray of sunshine. Named after, and inspired by, Danish visual artist Luca Bjørnsten's mesmerizing work "Sprinkles", picturing an empty, lush and colorful landscape with a large, romantic fountain, perfectly embodies the surreal scenario that we have all become much too familiar with.
The associated album cover for the remix album, Sprinkles Nite Mixes, is also shown below.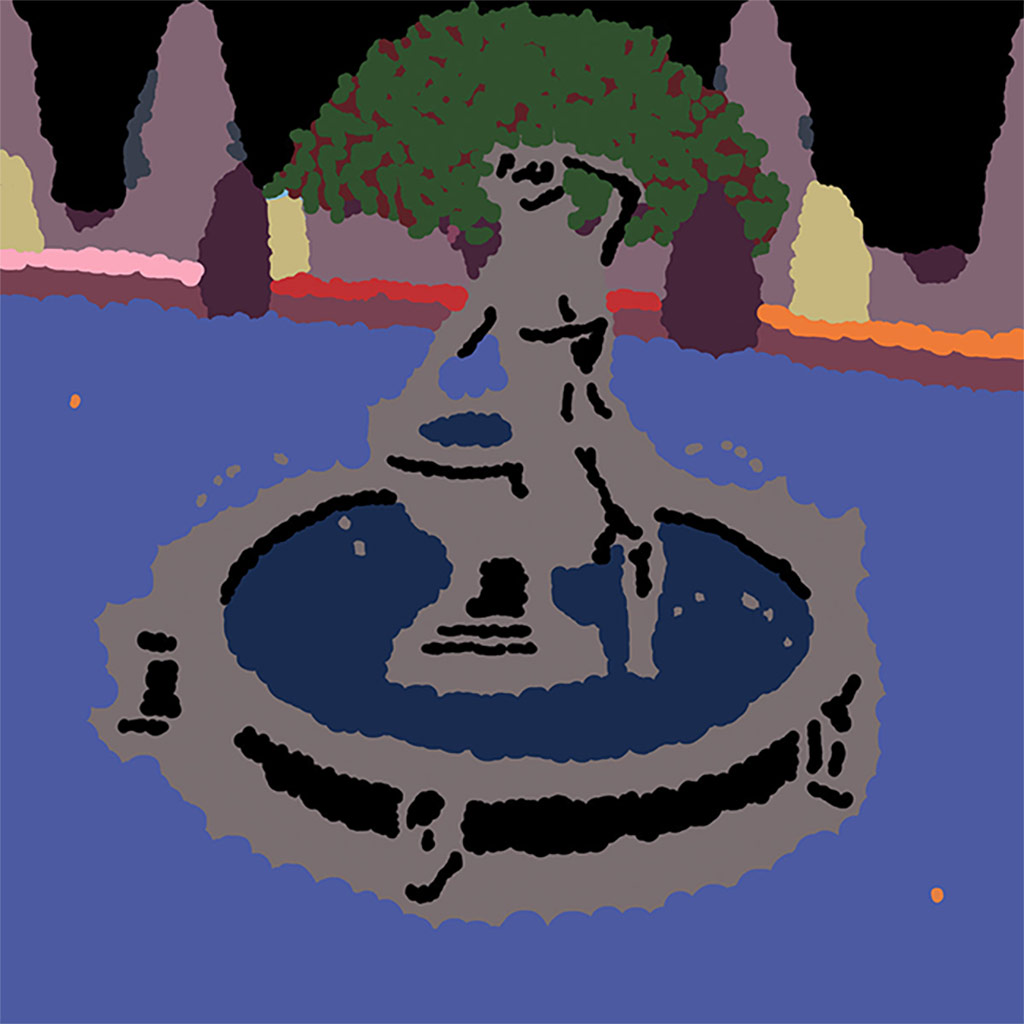 Sounds: Kasper Bjørke
Album Artwork: Luca Bjørnsten

---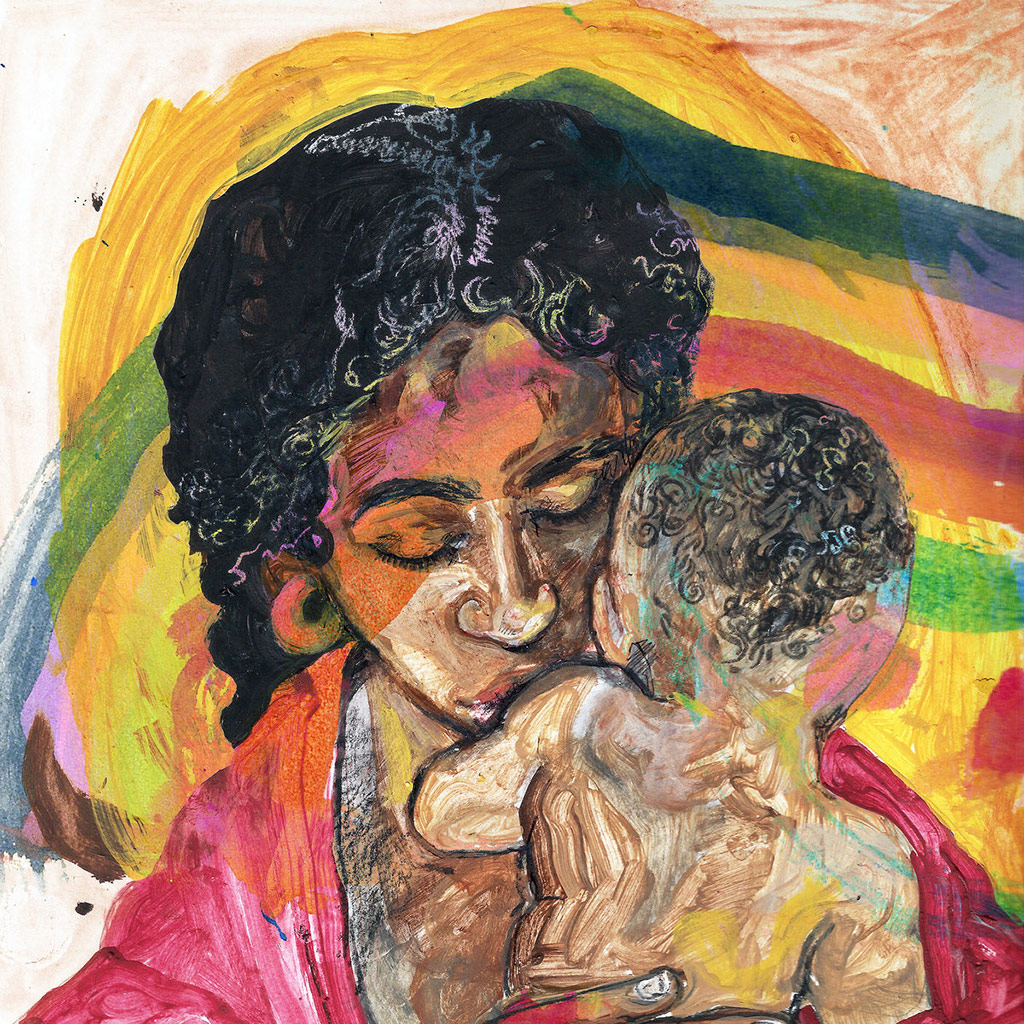 McKinley Dixon – For My Mama And Anyone Who Look Like Her (Spacebomb)
Via Bandcamp:
A vision of Black life as both an opposition to oppression and a self-determining creative force runs through the stunning debut album, For My Mama And Anyone Who Look Like Her, from Richmond, Virginia-based rapper McKinley Dixon. Over rich and dynamic live instrumentation, Dixon's impassioned lyrics focus on themes of joy, pain, death, violence, and love.
Sounds: McKinley Dixon
Artwork – Amber Pierce
Design – Travis Robertson

---
MF Tomlinson – Strange Time (Ninja Tune)
Chiara Baima Poma (Artist)
I have a deep fascination with myth; it is central to my painting. In my practice, I am drawn to taking these classic stories and reinterpreting them with a contemporary point of view. In this case, I've chosen the Greek myth of Prometheus. In the story, Prometheus steals fire from the Gods to donate it to humankind. Strange Time talks about this difficult time we've been through (and we still kind of are going through), so I see it as a gift that the artist donates to the world. Just like Prometheus did with the fire, art can help or at least cheer up those who feel "in the dark" in this, and many other strange times.
MF Tomlinson (Musician):
Like everyone, when the pandemic hit I was struggling to process it all. It was a totally new feeling, but still somehow familiar — something I'd witnessed only in museums. A time of plague and panic depicted in an epic oil painting or a medieval etching. Reflecting on this I found myself feeling a great connection to the past, as a little blip on the arc of history, and was inspired to make this album. From her response above, you can see why Chiara's work really resonated with me. I was overjoyed when she said she'd do the cover, and double overjoyed when she sent it through.
FUN FACT!
The photograph on the cover is a depiction of MF Tomlinson kneeling. He says, "[Chiara] asked for a photograph of me in the position you see on the cover – I knelt in the 'studio' under the loft bed where I recorded most of the album. Maybe the mattress is the roof over my head?"
Sounds: MF Tomlinson
Artwork: Chiara Baima Poma
Sleeve Design: Tomas Jefanovas
Photography: Emily Underhill

---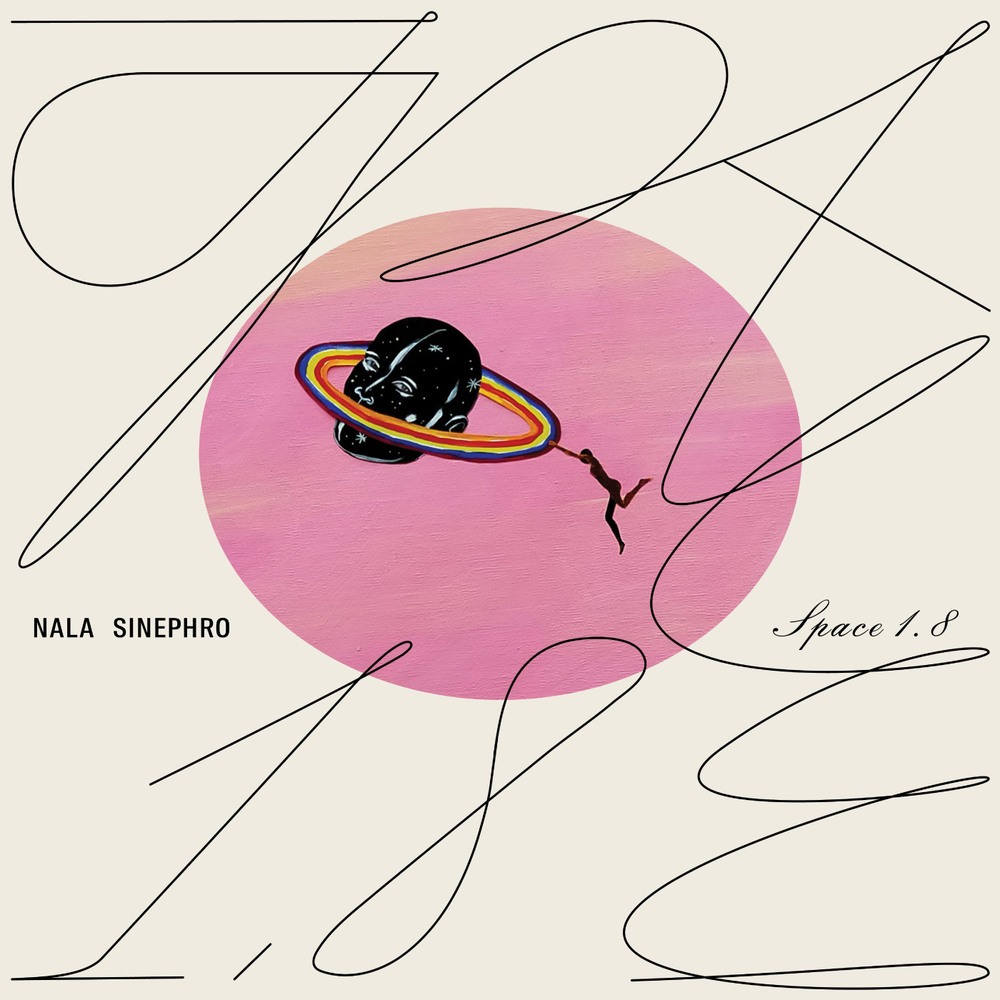 Nala Sinephro – Space 1.8 (Warp Records)
Space 1.8 reflects the inner-most thoughts of a young woman enduring health struggles. It became a catalyst for the composer to assess her own mortality. In Sinephro's own words, this album sees her "turning a wound into gold": an alchemical process and experimental exploration into the transformative power of sound — this formed the connecting threads of the album's sonic structure. "Recording the album was deeply medicinal and what my body needed at that time," she says. "I became more focused on the inner workings of the body and created a sonic world that helped me heal."
Read a REDEFINE review of Space 1.8.
Sounds: Nala Sinephro
Album Artwork: Daniela Yohannes
Graphic Design: Maziyar Pahlevan

---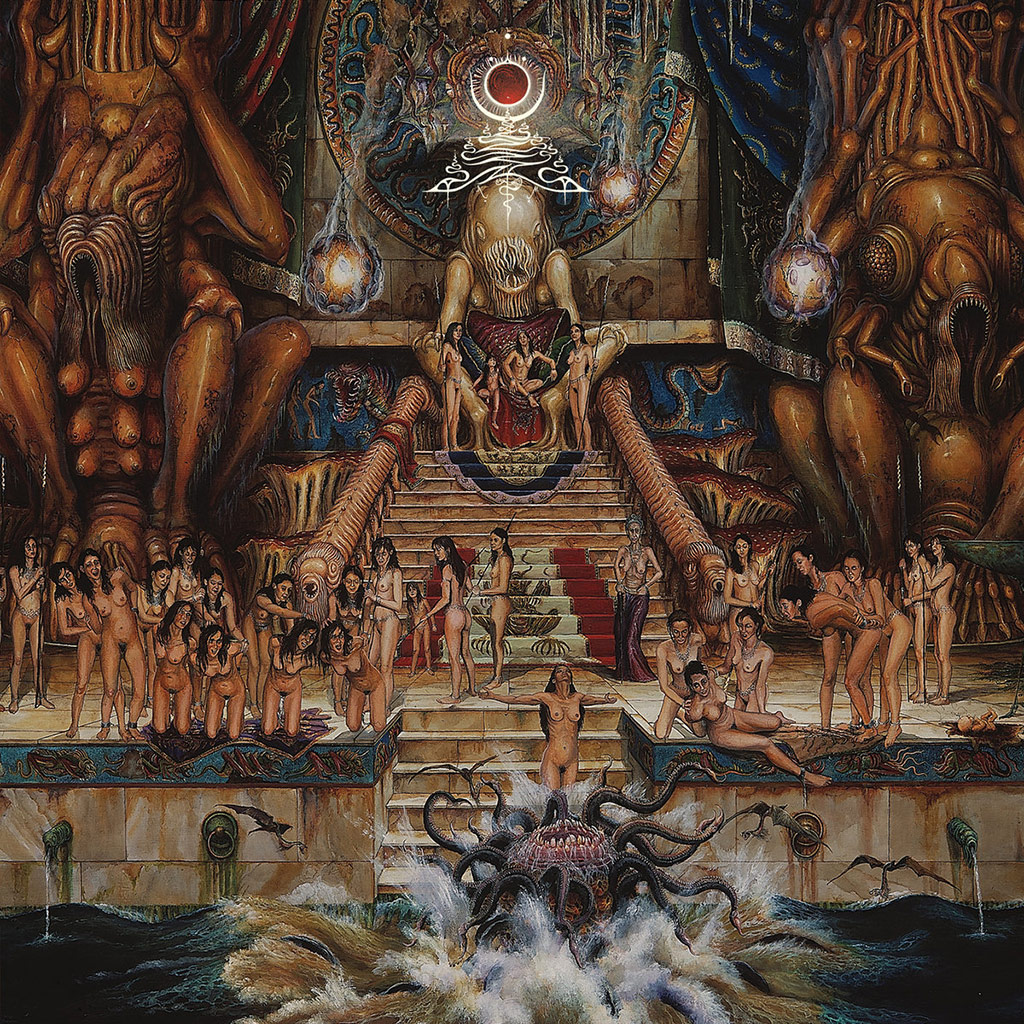 Neptunian Maximalism – Sun Drone Ceremony (I, Voidhanger Records)
Recorded live in Brussels in March 2020 and wrapped in "Sacrifices," a stunning sci-fi painting by French master Hervé Scott Flament, Neptunian Maximalism's Solar Drone Ceremony is a 53-minute audio-visual odyssey through the lands of drone doom metal, free jazz and psychedelic music.
Read a 2020 REDEFINE interview with the band about last year's album cover for Éons.
Sounds: Neptunian Maximalism
Cover Painting: "Sacrifices" by Hervé Scott Flament
Layout: CZLT

---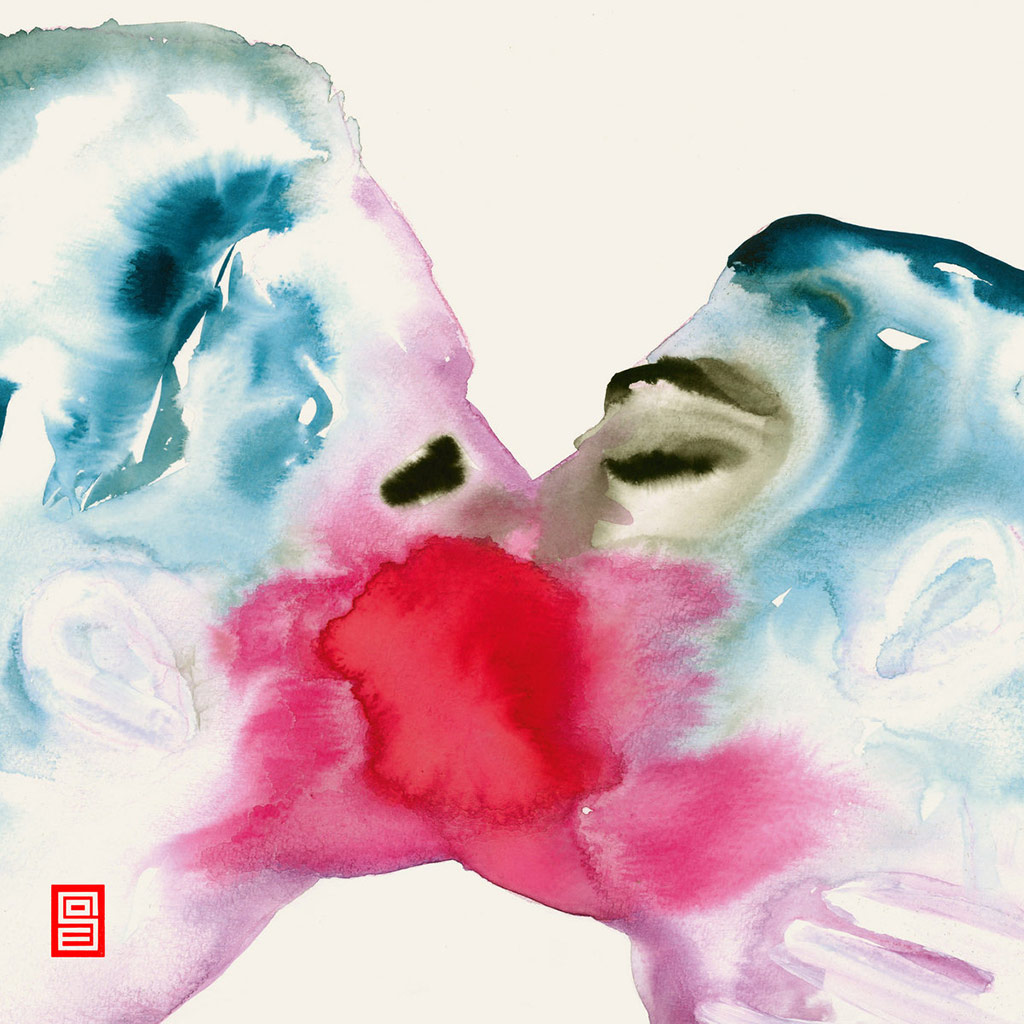 Secret of Elements – Chronos (InFiné Éditions)
Via Novonite:
As Secret of Elements, German composer, multi-instrumentalist and producer Johann Pätzold makes music that straddles the line between modern classical and ambient electronica. Chronos, his first full-length since 2011's Minds, journeys towards the abstract but is deeply evocative in its plaintive melancholy. The same goes for its cover art, one of many paintings Alice Sfintesco sent Pätzold, who had been a fan of her work for years. But it was the kiss that caught his attention the most; a fusion of two worlds. Alexandre Cazac, co-director of the French label InFiné, agreed that it should be on the cover. "For me it means after 10 years of working on Chronos: the conclusion. Coming home," Pätzold told us. "There is so much inside: silence, peacefulness, hope, and freedom."
Sounds: Secret of Elements
Album Artwork: Alice Sfintesco
Design: Motoplastic

---
Spectral Lore – Ετερόφωτος (I, Voidhanger Records)
From the press release:
Graced with a mystical and thoughtful cover painting by the Italian master Alessandro "Sicioldr" Bianchi, "Ετερόφωτος" is SPECTRAL LORE's call for a revolt through radical self-examination; it desires to fight back with the past while claiming what has been rightfully ours in the first place. And to finally see beyond the Self: to where our light comes from.
Sounds: Spectral Lore
Cover Painting: Alessandro Sicioldr
Art Direction & Layout: Francesco Gemelli

---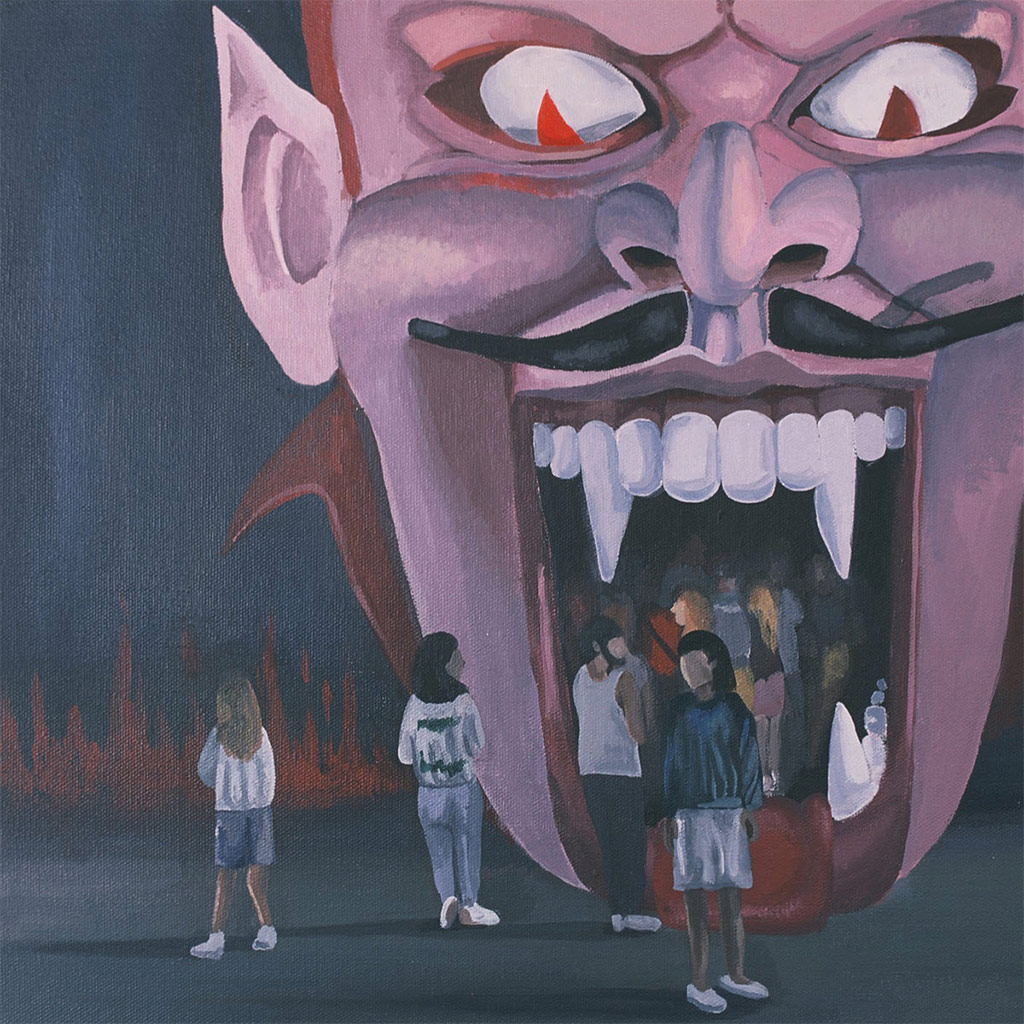 Spirit of the Beehive – ENTERTAINMENT, DEATH (Saddle Creek Records)
Via Novonite:
The cover artwork for Spirit of the Beehive's shapeshifting fourth album, ENTERTAINMENT, DEATH, was created by bassist/vocalist Rivka Ravede, a painting based on a photograph of her mom standing in front of Dante's Inferno in 1988. "She's looking off to the distance like she's been there too long and she doesn't want her picture taken but she's getting in line for this sinister looking ride and remaining in this hyper reality anyway," Ravede explained in a statement…
"I painted the people walking into the ride as semi amorphous and faceless… I wanted it to feel like a memory that becomes fiction, like it's unclear what was reality and what was dream. Like when a low quality jpeg is copy pasted and formatted until the resolution is so bad it makes it hard to tell what it was to begin with. Nostalgia and the recycling of images of the past to quickly satiate a hunger for gratification and capital is a disease of the contemporary age which is a theme that's meditated on through the album. We are all on the content farm, we're all on a hunt for desire, not desiring anything in particular but for desire itself…"
Sounds: Spirit of the Beehive
Cover Artwork: Rivka Ravede
Insert Artwork: Nico Trevizo
Design & Layout: Corey Wichlin

---
W. H. Lung – Vanities (Melodic Records)
Joe Evans (W. H. Lung), via their Instagram:
The idea from the album name came from a passage in A Little Life by Hanya Yanagihara. The scene describes the actor floating above himself and observing all the disparate and interconnected elements of his life; the action around him and the figures that people his life. They appear, objective, in the cold light of pure observation. It is through this process that the lightness of intuition lies. Even though it can be uncomfortable, even painful to experience. Either way, the vanities (makeup, hair and costume) are happening to him. He is the passive witness of his life. It is this detachment, this process of the external being seen happening that I want to capture with the title…
Sounds: W. H. Lung
Album Artwork: Joel Burden

---