Album Covers of the Year 2021: Illustration, Part 1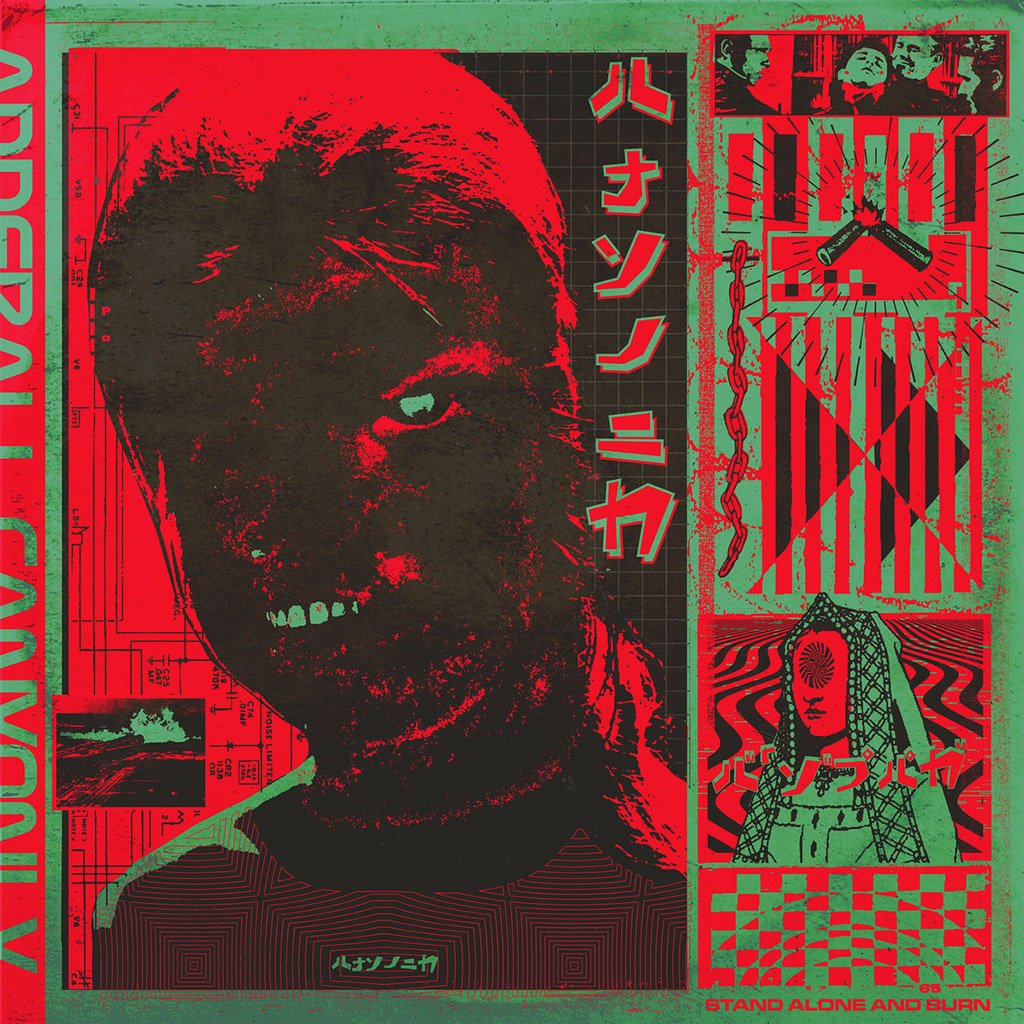 Aderall Canyononly – Stand Alone and Burn (Opal Tapes)
Dylan Marcus McConnell (Visual Artist):
This cover art is just a reflection of the ugliness of that first year of the pandemic. Adderall Canyonly is one of my musical monikers and I wish I could say there was some overall grand intent to this art but really it was just an exercise in spewing or grappling with anger and frustration with my situation at the time, and the situation of the world at large (there is a track on Spotify that is a 30 minute tone of maddening oscillating feedback, if that says anything about that era for me – good for ending parties or clearing bars). I was in a grimy mood and I believe the evidence is seen here. I tried to keep the music in mind while making the art but who knows how accurate it is/was. Last year was a blur. Fuck last year.
Sounds: Adderall Canyonly
Visual Art: Dylan Marcus McConnell of Tiny Little Hammers

---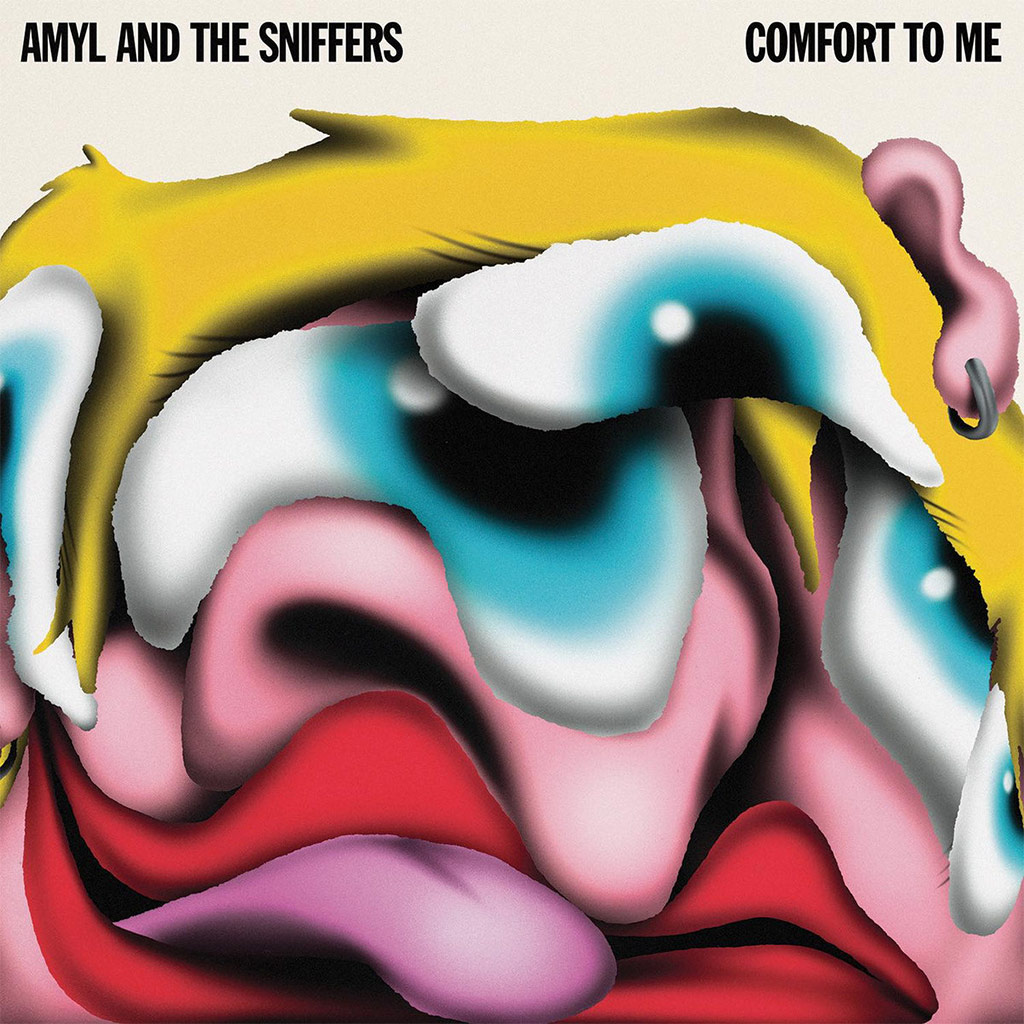 Amyl and the Sniffers – Comfort to Me (Feeltrip Records)
Australian pub and punk rock band Amyl and the Sniffers describe the melting faces on the cover of Comfort to Me as "beautifully rank artwork by Bráulio [Amado]."
Sounds: Amyl and the Sniffers
Album Artwork: Bráulio Amado

---
Annie Blackman – Seeds (Father/Daughter Records)
Jaime Knoth (Visual Artist):
Annie and Father/Daughter records were interested in a series of interconnected single covers to accompany Annie's singles. Annie had a few visual motifs that she wanted and I made sure to include when conceptualizing a narrative that would help me produce several covers throughout the year. I eventually came to two silhouette figures because I felt that the image of their relationship represented the intimacy of Annie's songs. This was the first time I've worked on a long-term project which required so many covers over so much time so it felt important to have a really strong visual motif and world to go along with it. I enjoyed the process; it was definitely a lot of work!

Sounds: Annie Blackman
Album Artwork: Jaime Knoth

---
The Backstops – Losers (Self-Released)
The Backstops' Philadelphia hometown shows up referentially strong in the bold cover art illustration by Rebel Rules.
Sounds: The Backstops
Album Artwork: Rebel Rules

---
Badge Epoch – Scroll (Telephone Explosion Records)
Artists and musicians Andrew Zukerman and Meg Remy created the artwork for Scroll, a 90-minute epic which the project's mastermind Max Turnbull describes as "a cosmic hodge podge of funk, jazz, ambient techno, aggressive guitarmonized rawk, musique concrète, and hip hop." Much like its cover, this "journal album," as Turnbull puts it, collages together the pearls of his eight-year dive into his songwriting imagination.
Sounds: Badge Epoch
Album Artwork: Andrew Zukerman & Meg Remy

---
Beach Bunny – Blame Game (Mom+Pop Music)
Lili Trifilio (Beach Bunny) via Riot Fest:
Stephanie [Priscilla] actually had made a fan art drawing for our single, "Sports," a while back. I remember when I saw her art, I followed her on Instagram; going into Blame Game, I had her as an idea in the back of my head. A lot of the previous Beach Bunny EPs I had just drawn cover art for myself, but my abilities only go so far. I knew we should hire a real artist, and I genuinely am a really big fan of her art.
Sounds: Beach Bunny
Visual Art: Stephanie Priscilla

---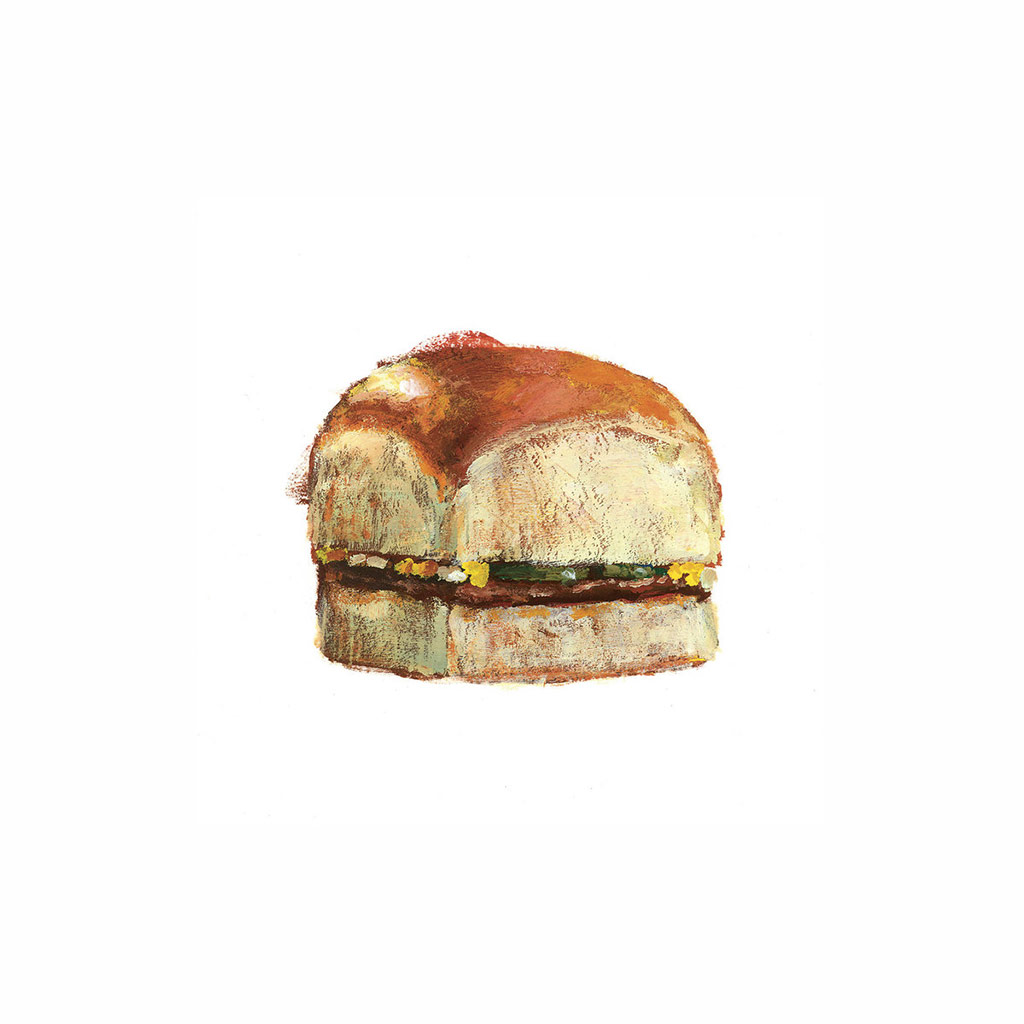 Blunt Bangs – Proper Smoker (Ernest Jenning Record Co.)
A tiny square burger emerges repeatedly throughout Proper Smoker by indie supergroup Blunt Bangs, including an illustration in pastels by Andrew Muñoz and a music video featuring burger-filled take-out bags and burger-headed characters.
Sounds: Blunt Bangs
Album Artwork: Andrew Muñoz
Inner Sleeve Art: Elinor Saragoussi
Design: Daniel Murphy

---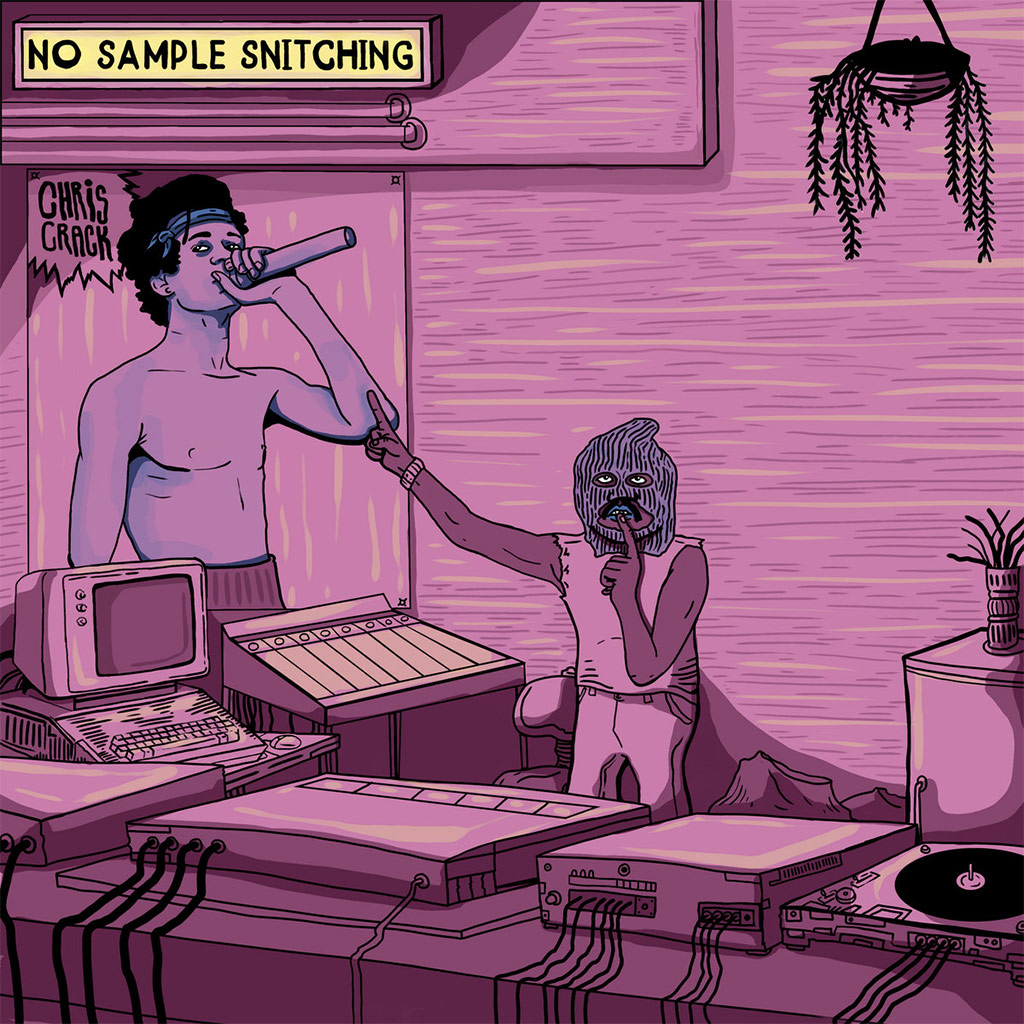 Chris Crack – No Sample Snitching
Prolific Colorado rapper Chris Crack releases his No Sample Snitching mixtape with an illustrated cover — artist unknown — that visually reinforces the album's title.
Sounds: Chris Crack

---
The Coathangers / L.A. WITCH – One Way or The Highway EP (Suicide Squeeze Records)
Pippa Toole (Visual Artist):
When Irita [Pai of L.A. Witch] got in touch with me about creating the artwork, she had some solid ideas from the get go! After our initial discussion, I decided that I really wanted to pay homage to the album artwork of the original artist's releases. The track which L.A. Witch covered by the Gun Club was released on the album Fire of Love, and the cover art is amazing; it was designed by Chris D from the Flesh Eaters with illustrations by Judith Bell of Slash Magazine… It was really fun to pay homage to the cover art of both Fire of Love and [Blondie's] Parallel Lines, and the colour schemes are a great contrast and work so well together. I tried to embody the DIY punk aesthetic of the original releases in my own style of illustration.
Sounds: The Coathangers & L.A. Witch
Visual Art: Pippa Toole

---
CUUSHE – Waken (Remixes) (FLAU)
Yoko Kuno (Illustrator):
This is the third album artwork I had done for Cuushe, and there were some differences from the previous albums. WAKEN was her first album in 5 years, the road to that album was not smooth, and the music had a new and different impression. This time, Cuushe's feelings and visual images for the album were stronger than ever. I decided on the motifs for the pictures based on the keywords of "shedding," "growth," [and] "waken," which are also in the title of the album.
FUN FACT!
The music video for "Magic" was a collaboration with director Tao Tajima, where I drew the animation to match the live-action background that he had shot, and then combined it with his realistic composite.
Sounds: Cuushe
Illustration: Yoko Kuno

---
DJ Seinfeld – Mirrors (Ninja Tune)
DJ Seinfeld, via the press release:
My dad had a stroke a few years ago which means I need to be home more to help. Aside from the obvious tragedy of the situation, it's also helped ground me in reality. Even when I was at the peak of touring, I've always had something I've had to come home to and contribute to and it's meant I've grown up a lot and really seen the importance of having a happy relationship and a good group of friends around who will nurture you and appreciate your idiosyncrasies.
I saw this quote from Cortázar recently, which says, 'You were always my mirror, to see myself I had to look at you,' and it just made sense in relation to this album. I don't know who I am but perhaps it's easier to see the silhouettes through things like heartbreak, family trauma, but also through the peculiar flickers of light and love that enter your life. If the first album was about getting past a breakup, this one is trying to understand who's standing on the finish line. This album is my mirror.
Sounds: DJ Seinfeld
Art Direction & Design: Jay Vaz
Illustrations: Rosie Rackham
Animations: Lawrie Miller

---
Fake Fruit – Self-Titled (Rocks-In-Your-Head Records)
The minimal, moody post-punk project, Fake Fruit, hail from the Bay Area. The brightly-illustrated cover of their self-titled record, made by Berlin-based illustrator Pamela Guest, includes a reference to Albany Bowl, a well-known bowling alley which closed due to the pandemic, after 71 years of being in business.
Sounds: Fake Fruit
Artwork: Pamela Guest
Additional Artwork & Band Photography: Lauren D'amato

---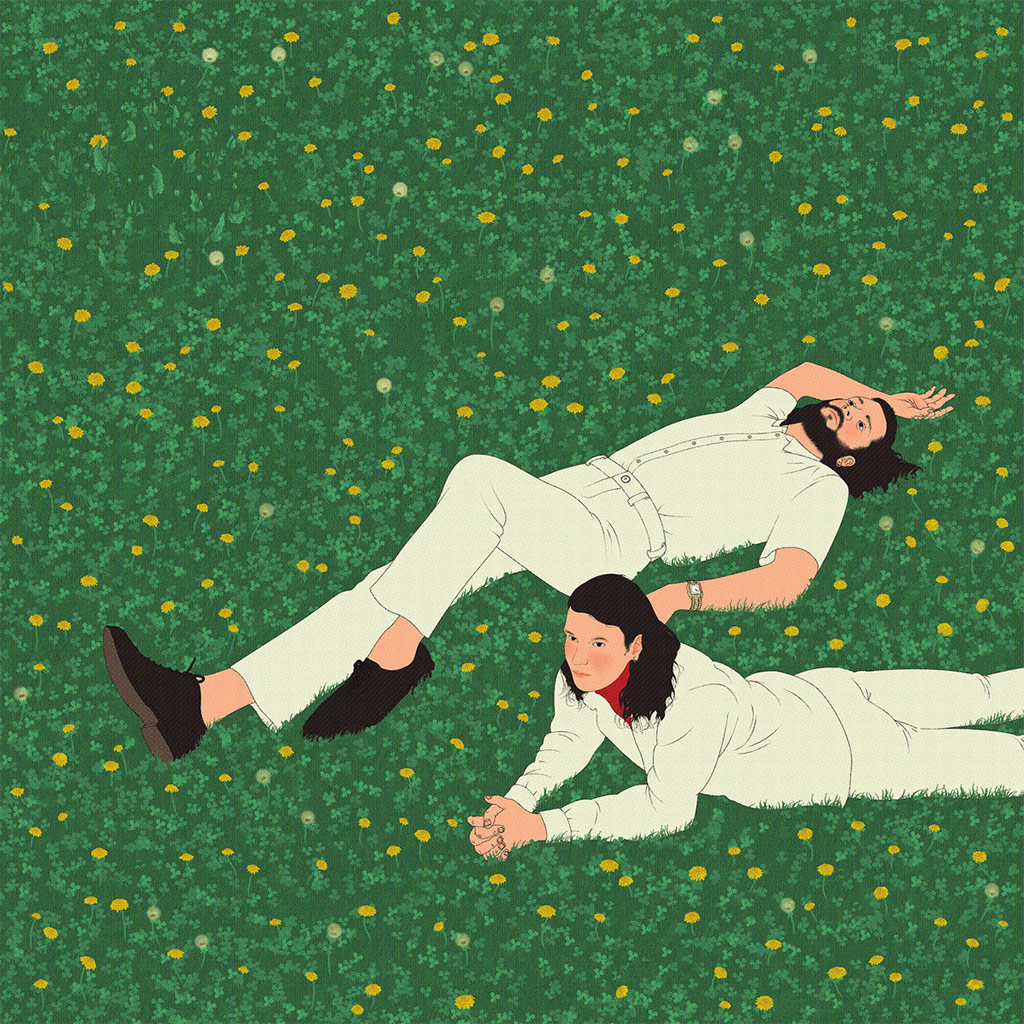 Feng Suave – So Much for Gardening EP (Pony Recordings)
For the album cover of Feng Suave's So Much for Gardening EP, artist Armando D. Cosmos drew inspiration from Japanese artist Tateishi Harumi's 1934 piece, "Clover," pictured below, and placed the band members into the scene.

Sounds: Feng Suave
Album Artwork: Armando D. Cosmos

---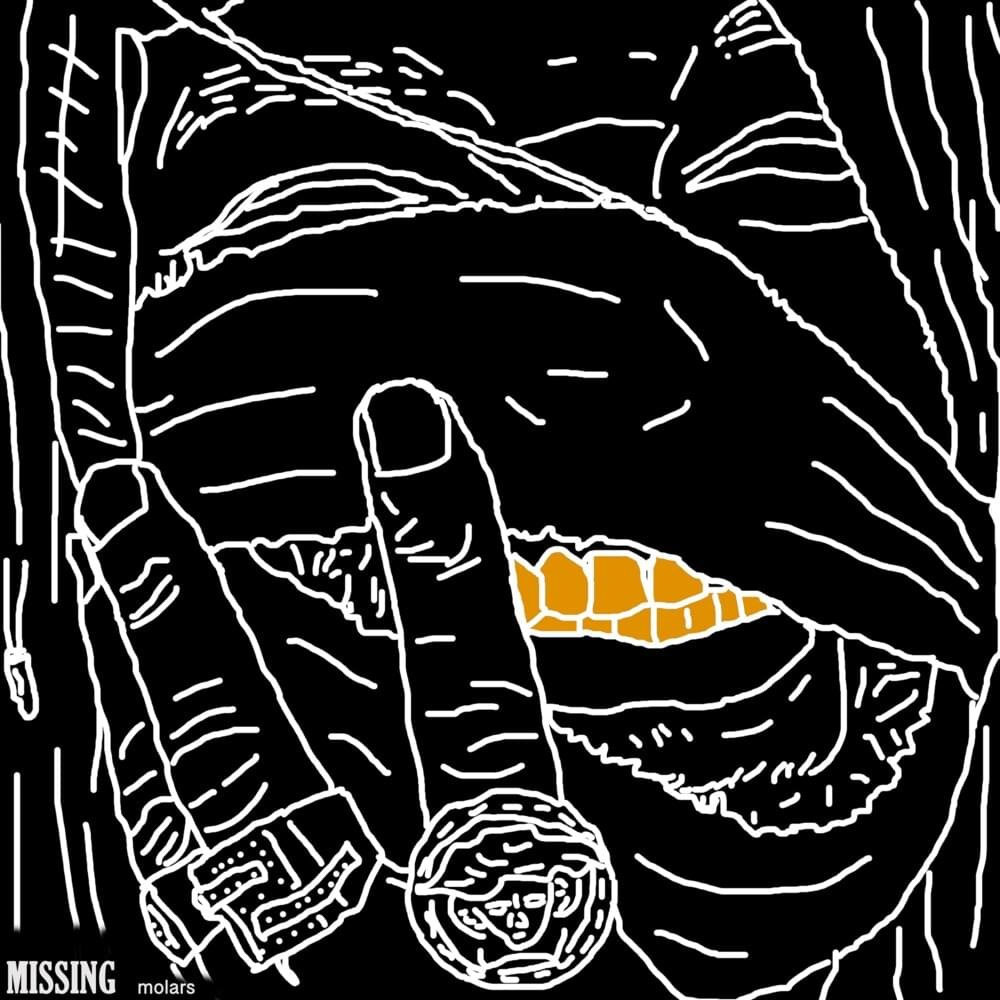 Genesis Owusu – Missing Molars (House Anxiety / Ourness)
A five-track accompaniment to Genesis Owusu's debut album, Smiling With No Teeth, Missing Molars features a bare, stripped down illustration which is a playful take debut's cover photo.
Read the REDEFINE 2021 Interview with Genesis Owusu.

Sounds: Genesis Owusu

---
Guay! – Todo Esto Es Para Ti (Self-Released)
On the album cover of Todo Esto Es Para Ti, Barcelona's playful and uplifting Guay! enlists the help of illustrator Sergi Puyol to bring geometry and levity to portrayals of consumer culture.
Sounds: Guay!
Album Artwork: Surgi Puyol

---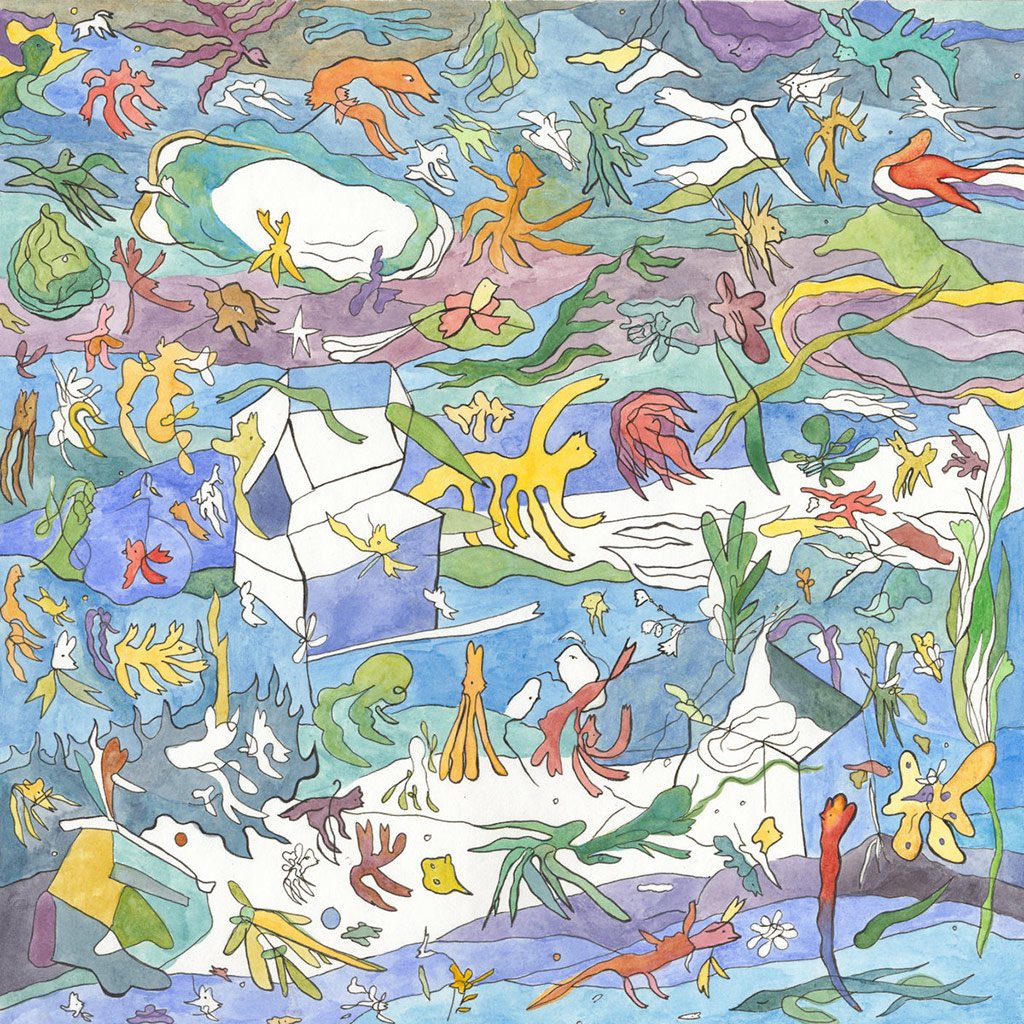 HMOT – This Music Greets Death (Warm Winters Ltd.)
On HMOT's first-ever full album, the Moscow-based sound artist, Stas Sharifullin, shares that, "This is a record about the horizon of possibilities." Karina Sadreeva–Nurieva's abstract underwater creatures — complete with mysterious treasure chest — vibrantly expands those horizons.
Sounds: HMOT
Visual Art: Karina Sadreeva–Nurieva
Design: Violetta Postnova

---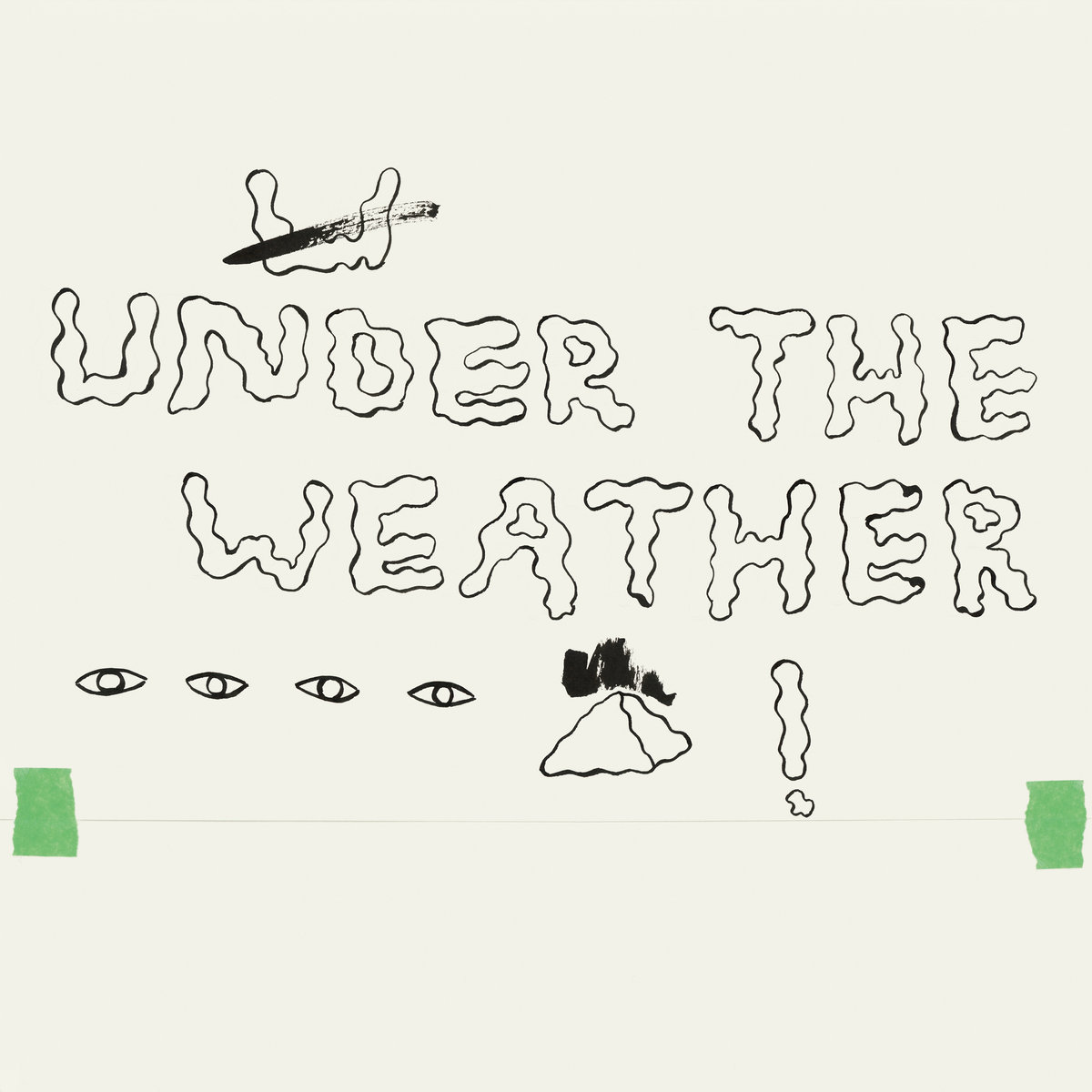 HOMESHAKE – Under the Weather (Sinderlyn)
Peter Sagar of HOMESHAKE wrote most of his fifth studio album, Under the Weather, in 2019, when he was going through a long, unrelenting period of sadness. "I was in a deep, deep depression," he recalls of that time period now. "Tours were breaking me. It was awful… That's kind of what the whole album is about." Its wiggly minimal album artwork shows similar distress.
Sounds: HOMESHAKE
Album Artwork: Salina Ladha

---
KAYTRANADA – INTIMIDATED (RCA Records)
Sounds: KAYTRANADA

---
LADADA – ré (Gold Robot Records)
Josiah Schlater (LADADA):
The EP is called ré (the 2nd note in solfege or in the Sound of Music, a drop of golden sun. I originally told Hampton I wanted a sun and rays of light shooting down, with one of the rays turning into a drop, and he took it from there.
Hampton Boyer (Visual Artist):
I wanted to create a composition that was able to voice a deep internal reflection. To grow so much that you begin to revel and converse with your environment.
Sounds: LADADA
Album Artwork: Hampton Boyer
Layout & Design: Stephen Suratos

---
Lydmor – Capacity (hfn music)
Via press release:
CAPACITY is a musical maze full of alluring mysteries, and its album cover reflects a celestial calendar containing hidden words. The record is part of the musician's process of liberation; of opening oneself up and discovering one's capacity…
"I am interested in delving into issues where something interesting is happening psychologically, anthropologically and sociologically, where you can see what is happening and how a fight is escalating," Lydmor explains via the album's press release. "The album is a process of liberation, which is very much about romantic liberation and emotional intelligence in the modern world, where I see a new generation that deals with gender, identity and relationships in a different way than in the past."
Sounds: Lydmor

---
Mala Herba – Demonologia (aufnahme + wiedergabe)
Zosia Hołubowska (Mala Herba):
I asked Iza to create a wild dance of different Slavic demons. A lot of them are vengeful, lustful, and dangerous female spirits.
Izabella Dawid Wolf aka Devil's Claws (Visual Artist):
The main theme was a pagan ritual and an ode to old goddesses and gods. I resonated with Mala Herba's album because she touches aspects of life I am deeply interested in such as mythology, ritual, celebration. So it was very important to me to create a sense of sabbath, dance, a celebration of some creatures from legends and myths… I think we both have similar influences of power, and we both are witches. So it was a very easy-going and wonderful experience for me, as I felt lots of freedom, and for me, it was a wonderful escape to some fantastic world.
Sounds: Mala Herba
Album Artwork: Izabella Dawid Wolf aka Devil's Claws

---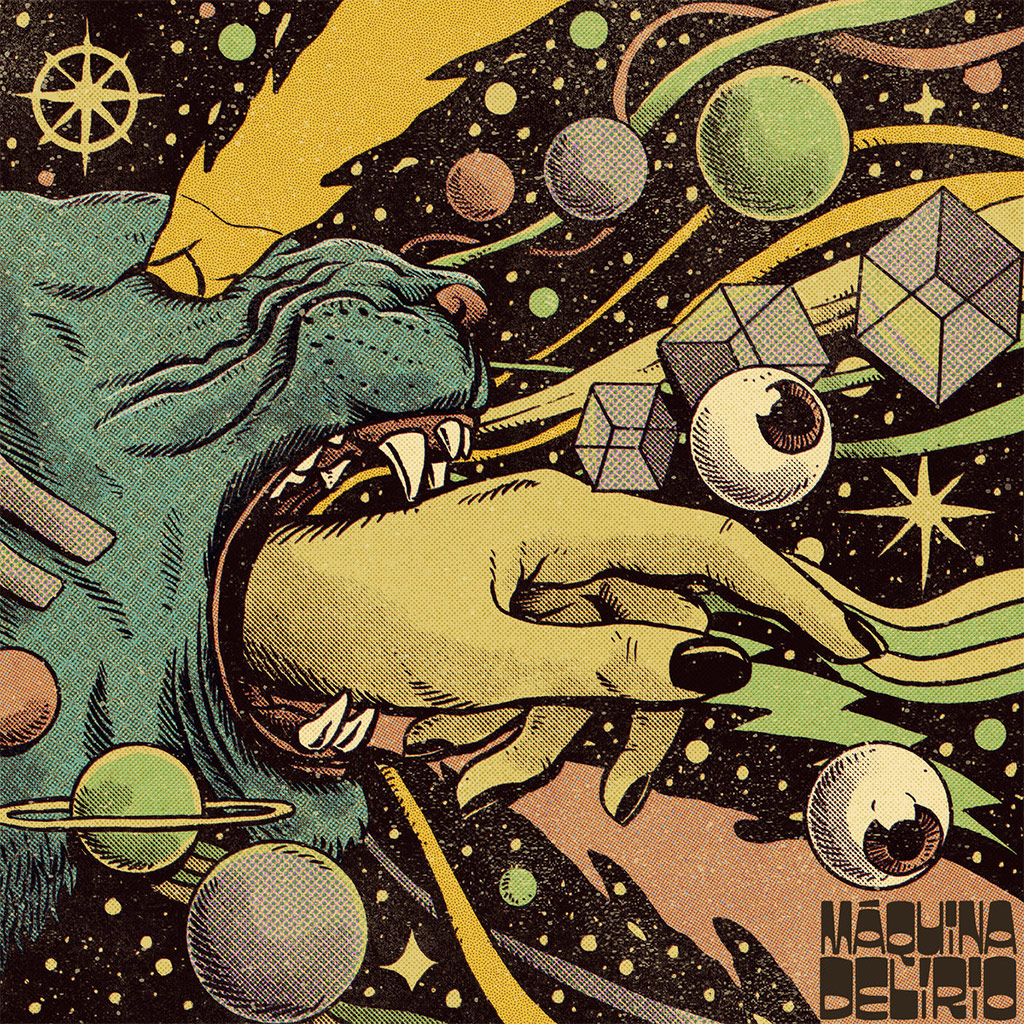 Máquina Delírio – Mefistovalsas (Self-Released)
Delirium is the goal of Brazilian band Máquina Delírio, whose name translates to Delirium Machine. Thus, Pedro Correa's interstellar artwork for Mefistovalsas is a burst of energy to match the band's hypnotic and cosmic musical emanations.
Sounds: Maquina Delirio
Album Artwork: Pedro Correa

---