Album Covers of the Year 2021: Illustration, Pt. 2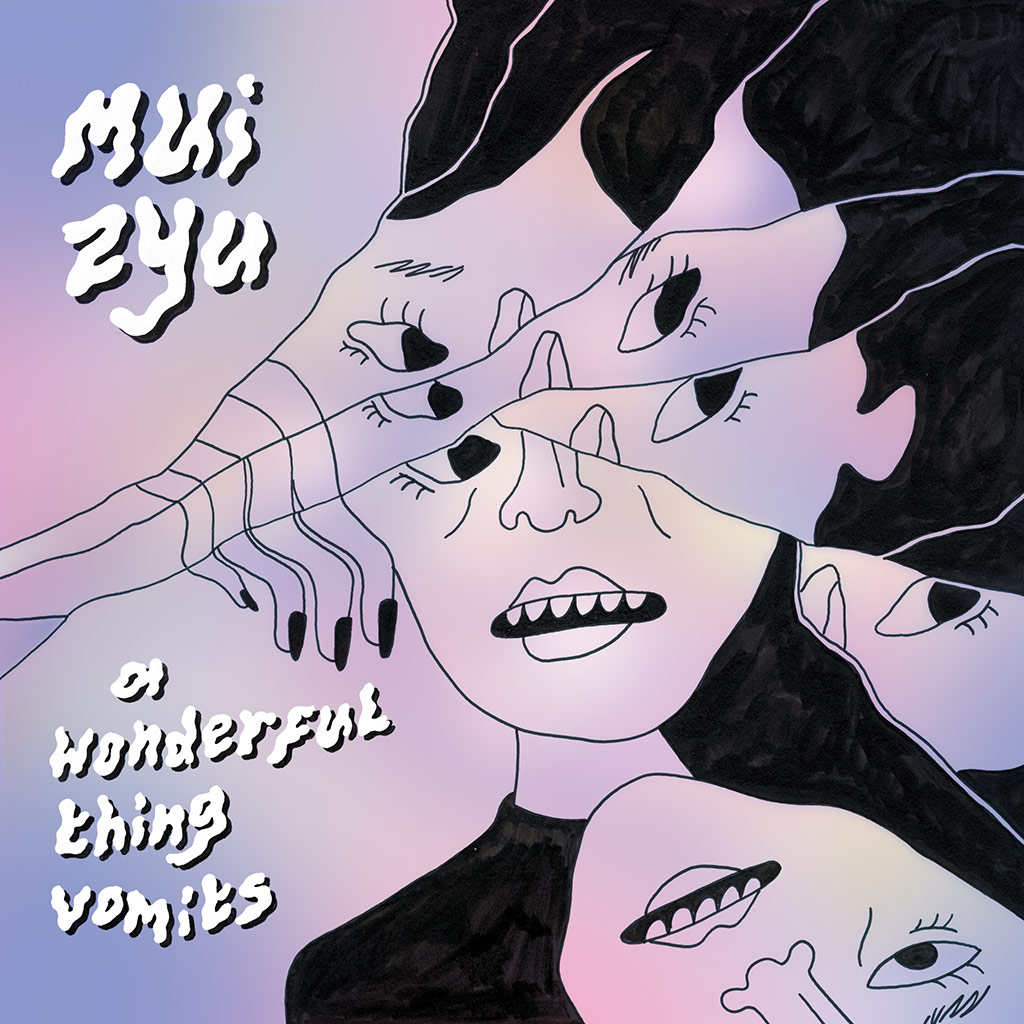 mui zyu – a wonderful thing vomits (Father/Daughter Records)
On mui zyu's debut EP, London-based musician Eva Liu explores "themes of alienation, cultural displacement, escape, and her own gathered trauma as an East Asian queer woman not sure where to call home whilst trying to find strength and positivity through creativity." The album comes with a suite of matching single artworks illustrated by Clio Isadora.
Clio Isadora (Visual Artist):
The artwork for a wonderful thing vomits was very much a collaborative project with mui zyu / Eva Liu. We worked together to create the cover artworks for each track on the EP before coming up with the main cover. Eva briefed me on the mood of the visuals, and I was given a lot of freedom to draft out ideas for imagery. I submitted a number of images for Eva to select from, the shattered mirror/ fractured face wasn't intentionally symbolic but it seemed to resonate well with her because the music deals with themes of identity.
Sounds: mui zyu
Album Artwork: Clio Isadora

---
MUNYA – Voyage to Mars (Luinelle Recordings)
Québec-based musician MUNYA created the original sketch for this creature-filled album cover for Voyage to Mars, later turned into a full-fledged illustration by AZAAZELUS.
Sounds: MUNYA
Album Artwork: AZAAZELUS

---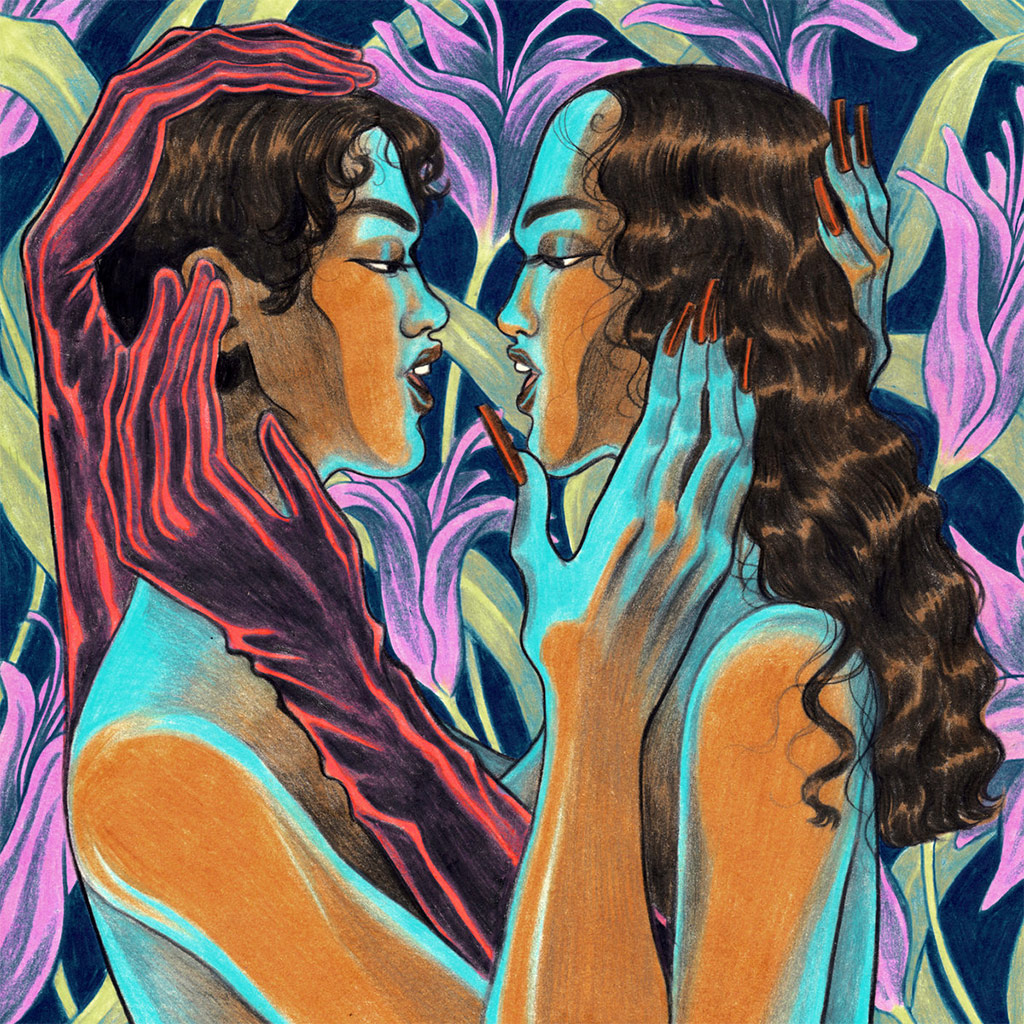 Mykki Blanco – Broken Hearts & Beauty Sleep (Transgressive Records)
For Mykki Blanco's full-length album, Broken Hearts & Beauty Sleep, and its related singles releases, Copenhagen-based illustrator and comic artist Anna Degnbol created a colorful suite of artworks featuring queer characters romancing.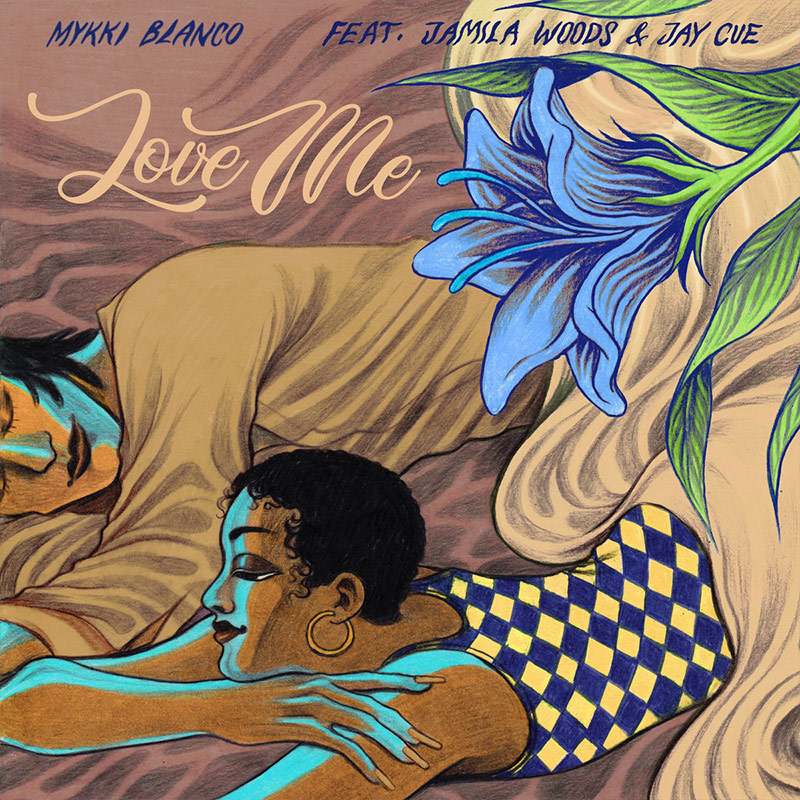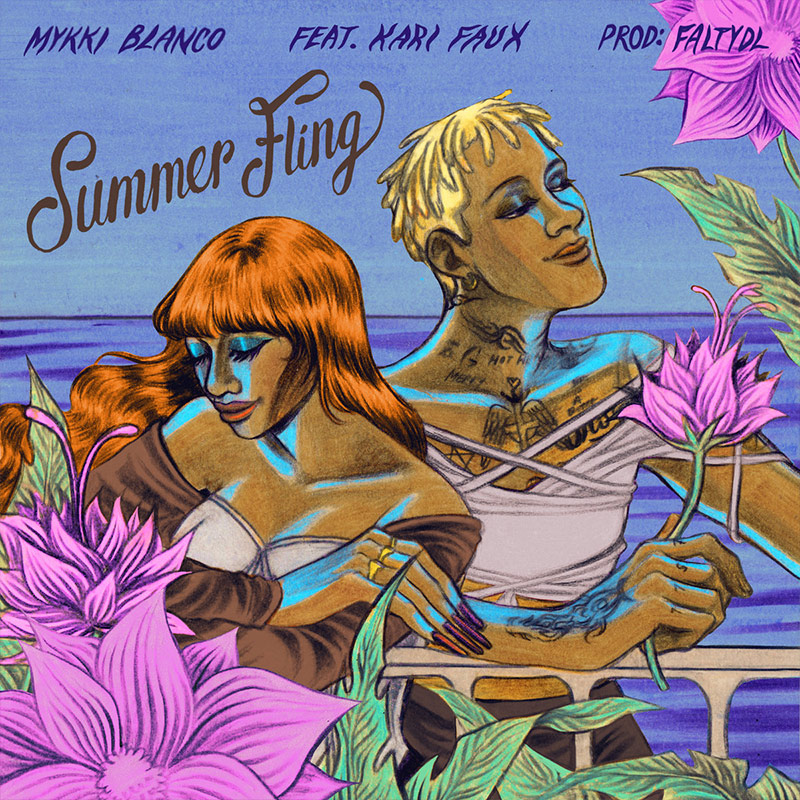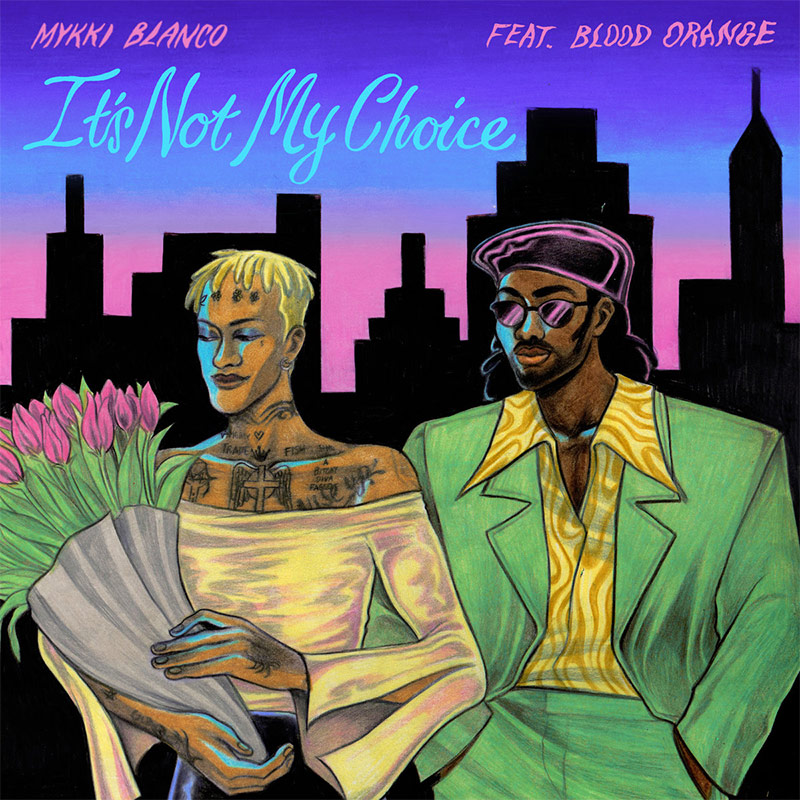 Sounds: Mykki Blanco
Album Artwork: Anna Degnbol
Graphic Design: Eliot Gardepe

---
Nous Alpha – A Walk in the Woods (Our Silent Canvas Records)
On Nous Alpha's second full-length record, the duo — consisting of multi- instrumentalist Christopher Bono (Ghost Against Ghost, Bardo, Nous) and noisemaker Gareth Jones (Spiritual Friendship, Grizzly Bear, Depeche Mode) — drew heavily on naturalistic elements, literal walks in the woods, ritualistic practices, and information pulled from trance states. Likewise, the kaleidoscopic album artwork by Daria Hlazatova portrays an otherworldly universe which at the same time remains very much rooted to earthly elements.
Read the REDEFINE interview about the music video series for A Walk in the Woods.
Sounds: Nous Alpha
Album Artwork: Daria Hlazatova

---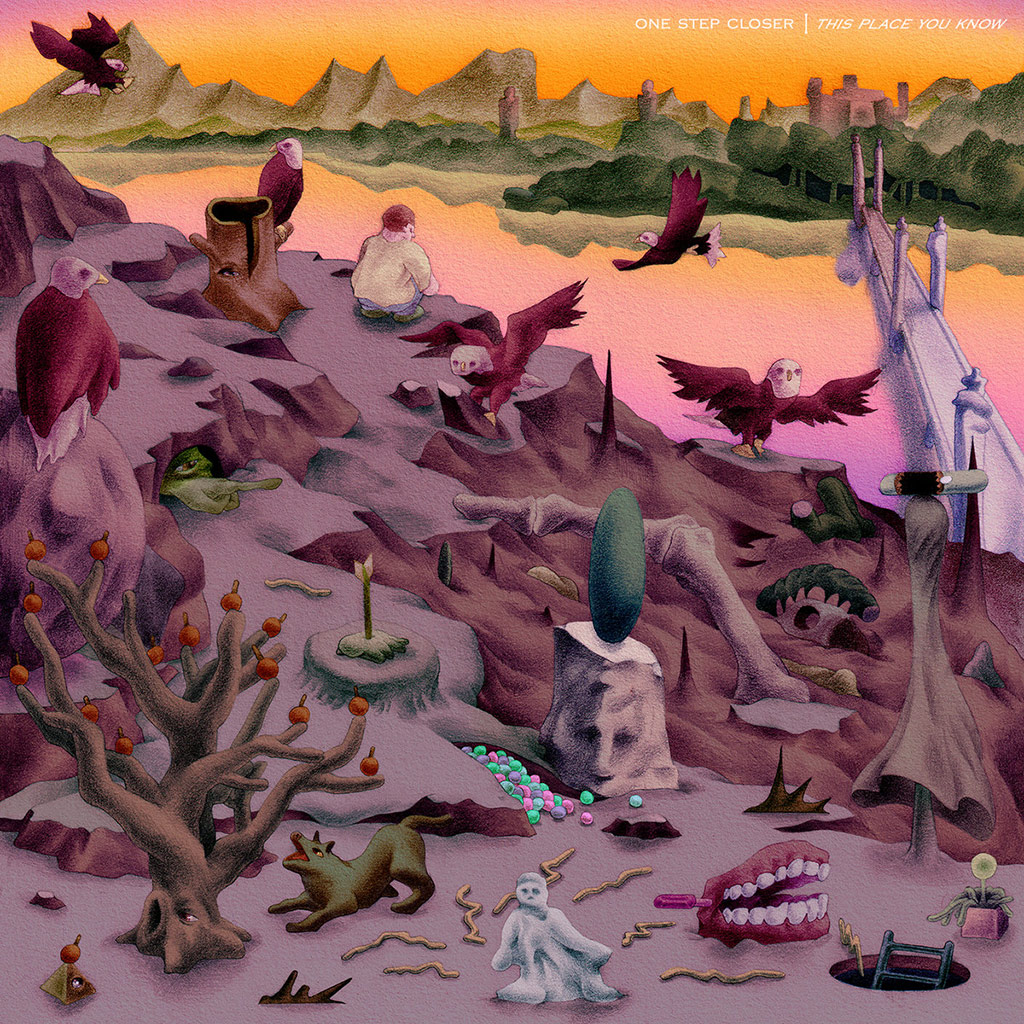 One Step Closer – This Place You Know (Run for Cover Records)
Pennsylvania-based band One Step Closer draws upon thinkers of the natural world, including Henry David Thoreau, in hopes of creating space for "living a full and examined life." Featuring vultures descending upon a riverbank, Toronto-based illustrator Jeffrey Kam has created an album cover that is simultaneously full of weirdness and calm.
Sounds: One Step Closer
Album Artwork: Jeffrey Kam

---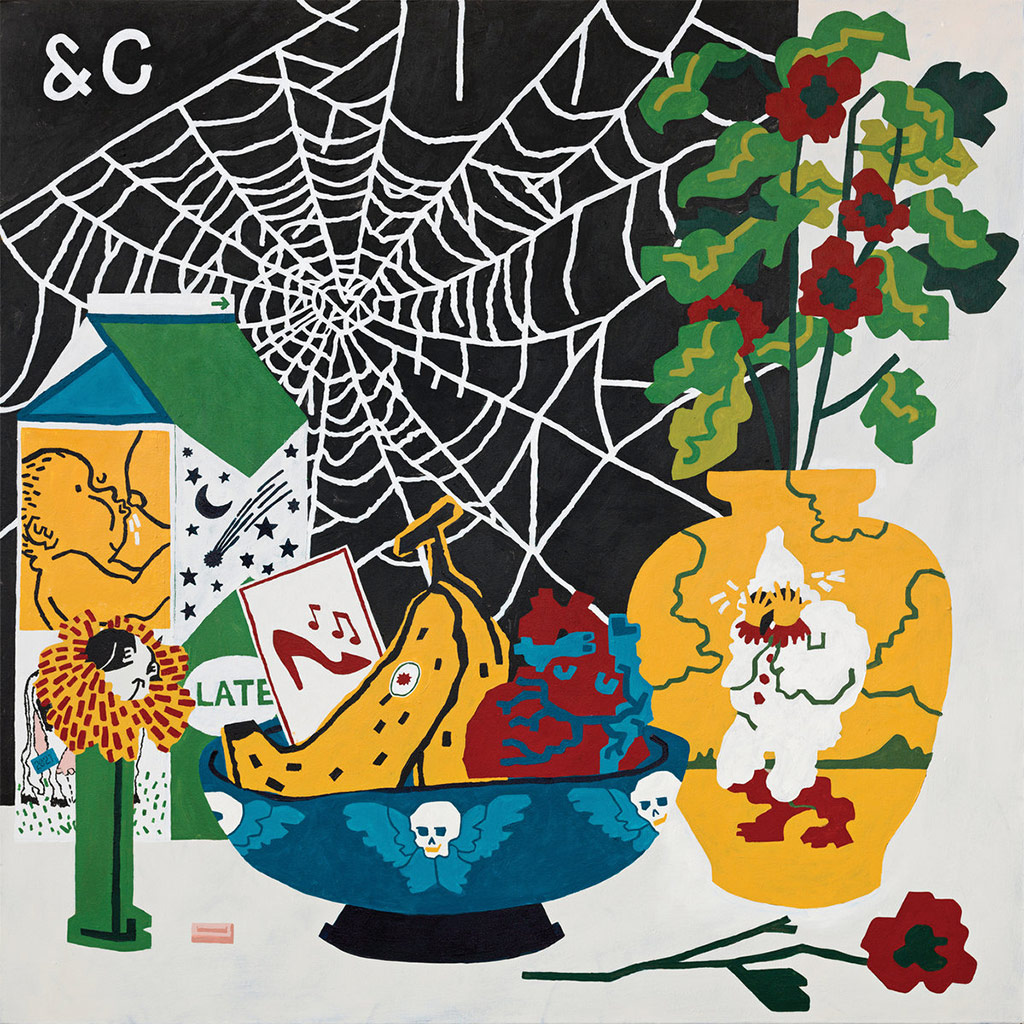 Parquet Courts – Sympathy for Life (Rough Trade Records)
A. Savage, Parquet Courts' singer and guitarist, is also an accomplished fine artist who has been behind many of the band's album covers and visuals since its inception in 2010.
Sounds: Parquet Courts
Visual Art: A. Savage of Parquet Courts

---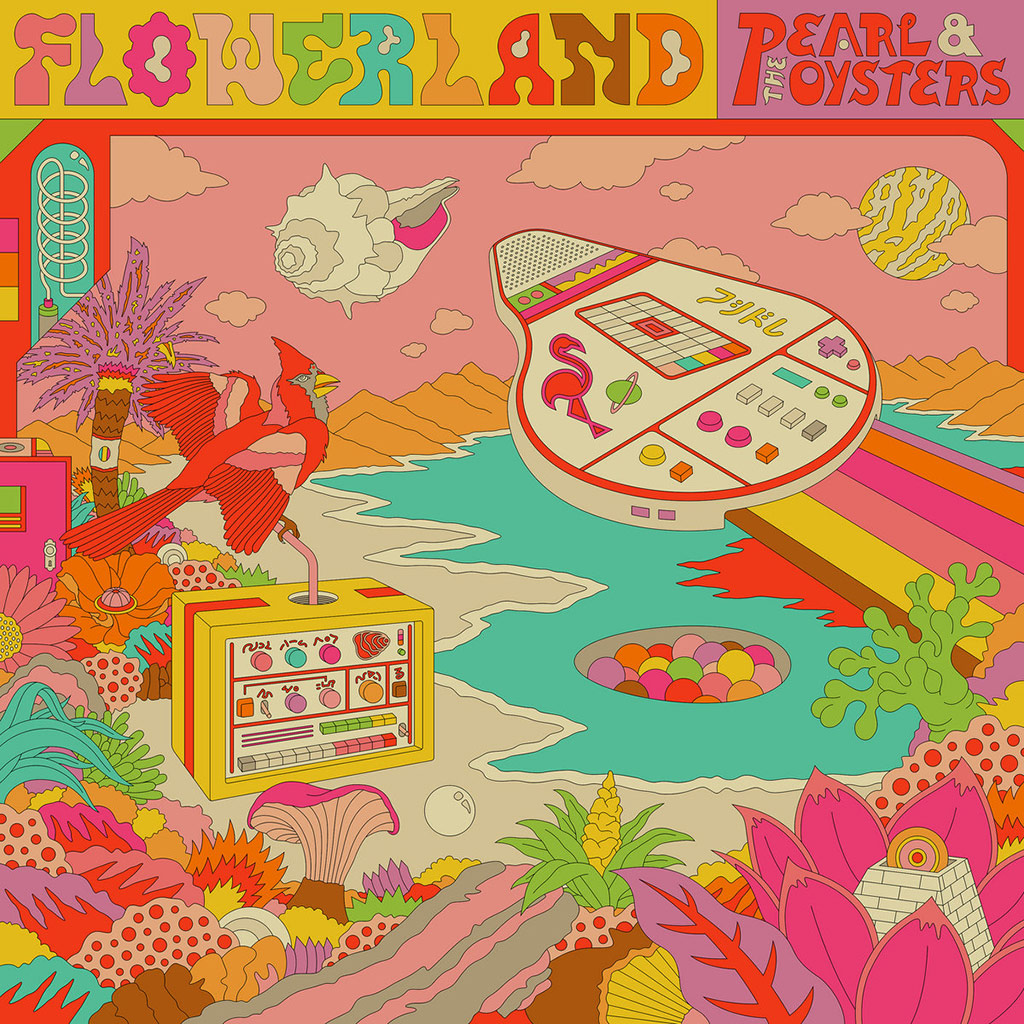 Pearl & The Oysters – Flowerland (Feeltrip Records)
From the press release:
Complete with a cover of Caetano Veloso's tropicalia anthem "Baby" and the use of dusty drum machines conjuring Sly Stone or Shuggie Otis's early-1970s output, Flowerland bears a heavier leaning toward Brazilian and R&B influences than the band's earlier work. However, their signature take on space age music—bright melodies, retro-futuristic electronic accents and Davis's rich vocals—remains intact. "We really love the idea of combining vintage electronic sounds with nature, à la Hosono, and finding a bridge between those worlds," says band member Juliette Pearl Davis. "This is present in all of our albums."
Sounds: Pearl & The Oysters
Painting: Ardneks

---
Peyton – PSA (Stones Throw Records)
Resistance and liberation are presented center-stage on PSA, the first full-length album from Houston-based singer-songwriter Peyton Nicole Booker, aka Peyton.
Sounds: Peyton
Album Artwork: @upb4sunup
Animation: @alexgilbeaux

---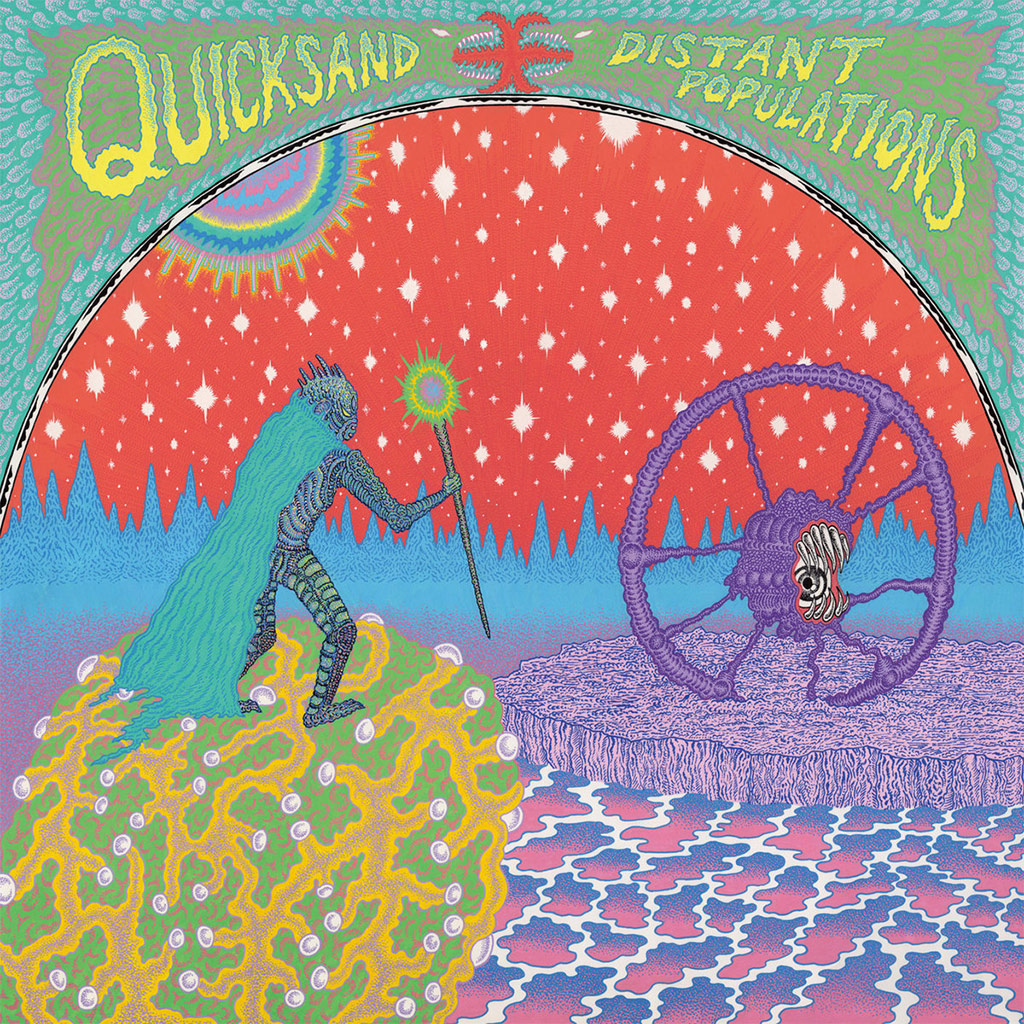 Quicksand – Distant Populations (Epitaph Records)
Tokyo-based illustrator and musician Tetsunori Tawaraya creates alien planets on the album artwork for Quicksand's Distant Populations, which is matched on the single artwork for "Inversion."
Sounds: Quicksand
Album Artwork: Tetsunori Tawaraya
Layout: Jason Link

---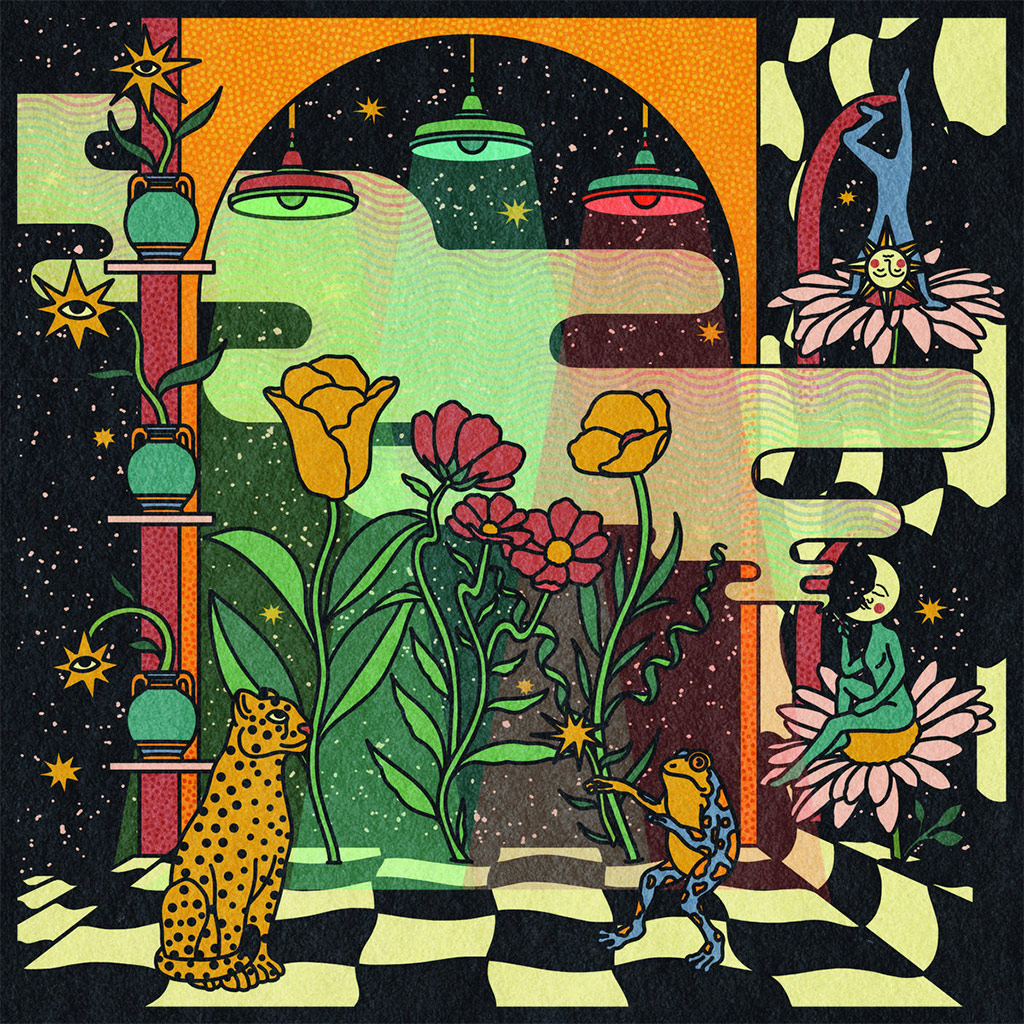 Ryley Walker & Kikagaku Moyo – Deep Fried Grandeur (Husky Pants Records)
The pensive, pleasing psychedelic rock of Ryley Walker and Kikagaku Moyo's collaboration for Deep Fried Grandeur find a matching mood in the digital illustrations of NYC-based artist Lily Nilly.
Sounds: Various Artists
Album Artwork: Lily Nilly

---
Scuare – Phenomenal (Exmordium Music)
Phenomonal, almost entirely self-produced, recorded, mixed and mastered, is Scuare's first solo LP since 2013. Loosely playing off themes of the phenomenal and noumenal world, he illustrates the shift in his thought process; from obsessing over internal analysis towards considerations beyond his own frame of reference, to the world of motivations and perspectives that exists outside his own limited understanding, with the hopes of leading a more empathetic and positive lifestyle.
A minimal illustration from Cam Floyd floats buoyantly as it captures the feeling of finding onseself in the big wide world.
Sounds: Scuare
Cover Painting: Cam Floyd

---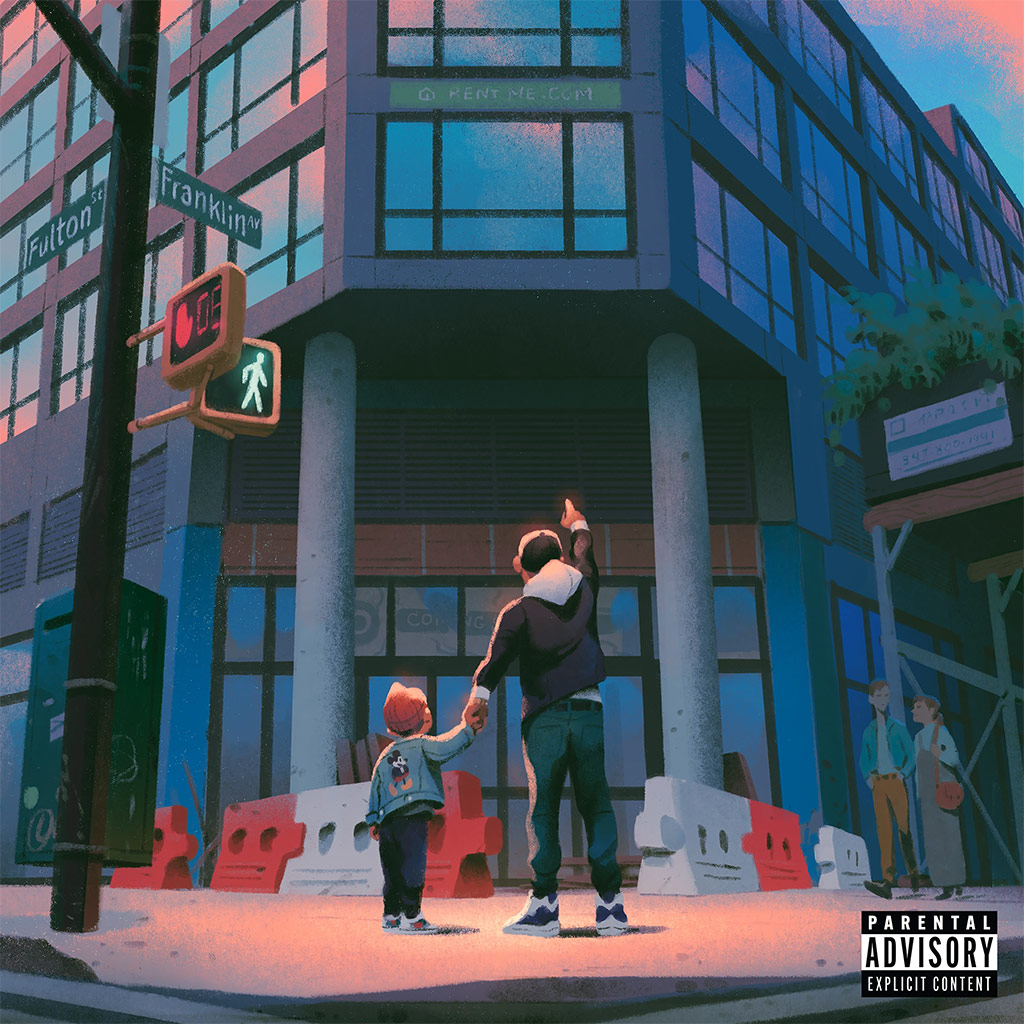 Skyzoo- All the Brilliant Things (Mello Music Group)
Skyzoo (Musician):
The themes of the album are gentrification and cultural appropriation, so when brainstorming ideas for the cover, I wanted to show that on full display but still make it a discussion in its own right, as opposed to just being blatant. Originally, the cover was gonna be an actual photo of my son and I standing in front of that same high rise condo being built on that same street corner: Fulton and Franklin in Bed Stuy, Brooklyn. I'm from Brooklyn but I currently reside in Atlanta, so my son and I were gonna fly back to NY to shoot it, but then the pandemic hit. Two weeks before our scheduled flight, the world shut down…
I found the artist Matt Rockefeller via some of his other work and fell in love with his style, so I reached out and explained what I wanted and he absolutely nailed it. In hindsight, this version is way more poetic and meaningful than if I'd have just taken a photograph. I'm extremely happy with the way it panned out.
Once Matt and I spoke, I sent him some photos of the actual corner, some pics of clothes that I wanted my son and I dressed in, and then a photo of my son and I kind of in a mock stance, placed exactly like the cover depicts, but just in my backyard, as funny as that may sound… It was perfect on the first go round. We did it all via email.
Sounds: Skyzoo
Illustration: Matt Rockefeller
Concept Photography: Courtney Taylor & Sen Floyd
Lyric Book Photography: Sen Floyd
Skyzoo Photo: Robert Adam Mayer
Graphic Design/Layout: Jean Goode

---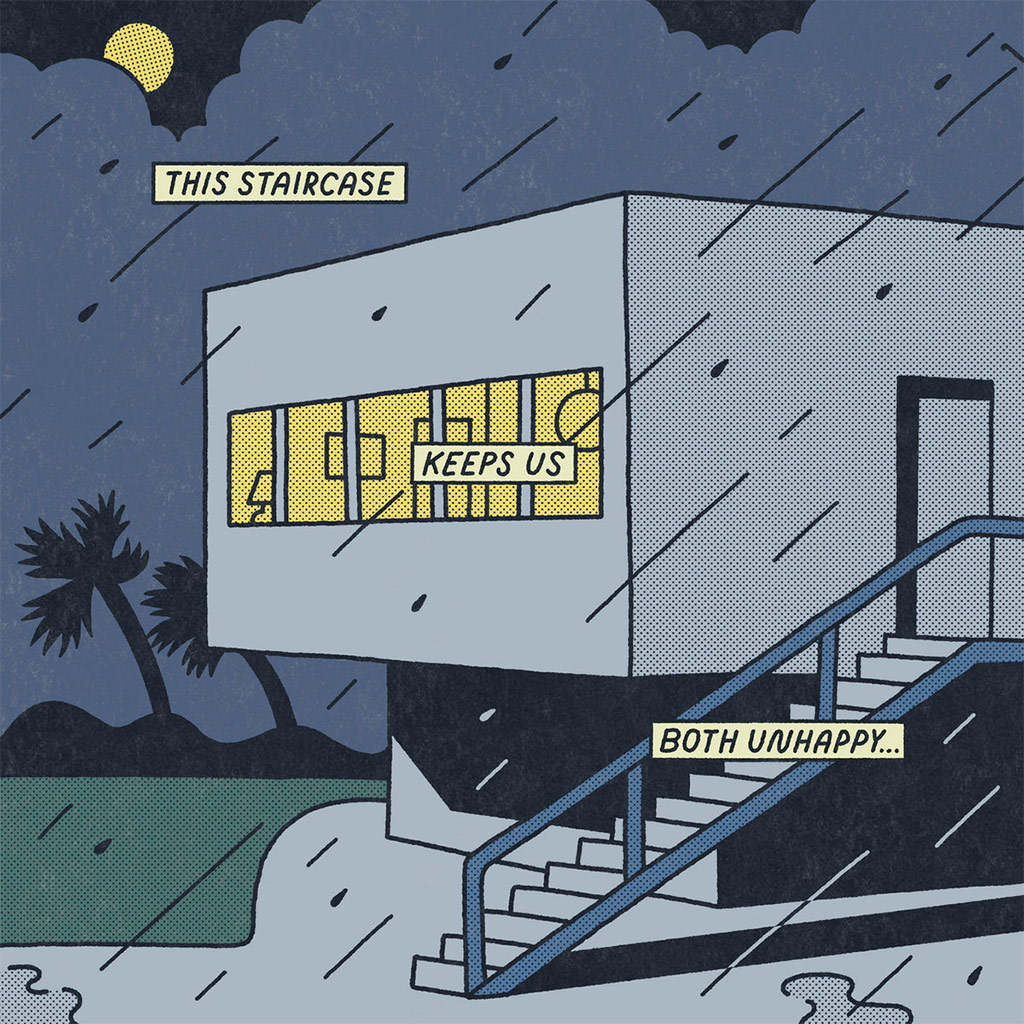 Sun Kin – After the House
Sun Kin (Musician):
Much of the visual aesthetic for the cover of After the House came from the movie Parasite. The way the House serves as a character in that film blew my mind, and I loved the moments where the architecture, story, and political analysis are reflected in each other. The song "In the Cold," in particular, has lyrics inspired by Parasite, and specifically the part where the Parks' old housekeeper begs on her knees at the bottom of a staircase for the mother of the Kim family not to betray her as a "sister" of the working class. This lyric, "This staircase keeps us both unhappy," felt true to both that moment and the central class opposition between the Kims and Parks, where it's clear that neither family is truly happy and yet both are stuck in their social positions at the end of the film, though obviously experiencing very different consequences…
FUN FACT!
Two related singles had similar artwork, including "Blue Light", which was also made by Danny Miller, and "Trying to Trust," which was made by Styles Munson.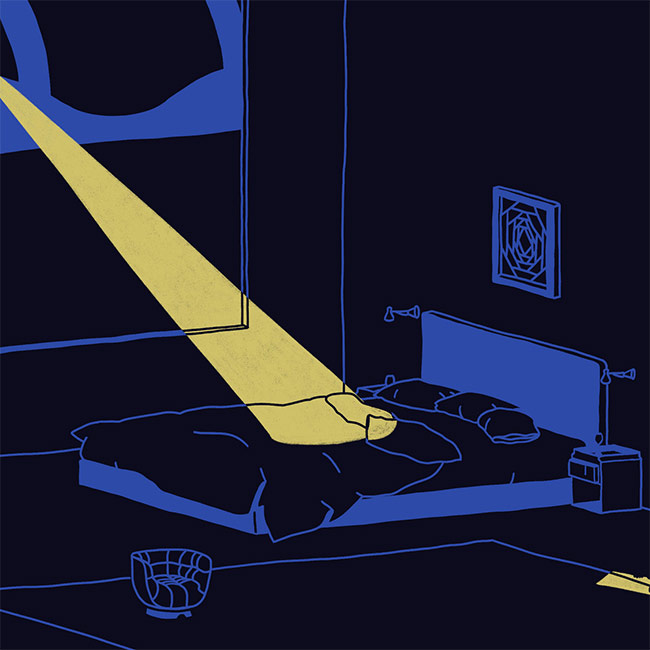 Sounds: Sun Kin
Artwork: Danny Miller

---
Sun Kin – Doom Scroll
Sun Kin (Musician):
Doom Scroll was inspired by Instagram infographic culture. Bright, pastel-themed viral PowerPoint presentations with condescending messages about correctly diagnosing your friends' mental states before engaging with them. Or about buying local, about using your money to "create a better world." These panels contained sentiments I largely agreed with, but their ubiquity and condescending tone encapsulated social media's central conceit that your identity should be harnessed and weaponized, and used to change our relationships into corporate bubbles, permeable only by the exchange of capital…
Sounds: Sun Kin
Artwork: Dylan Balliett

---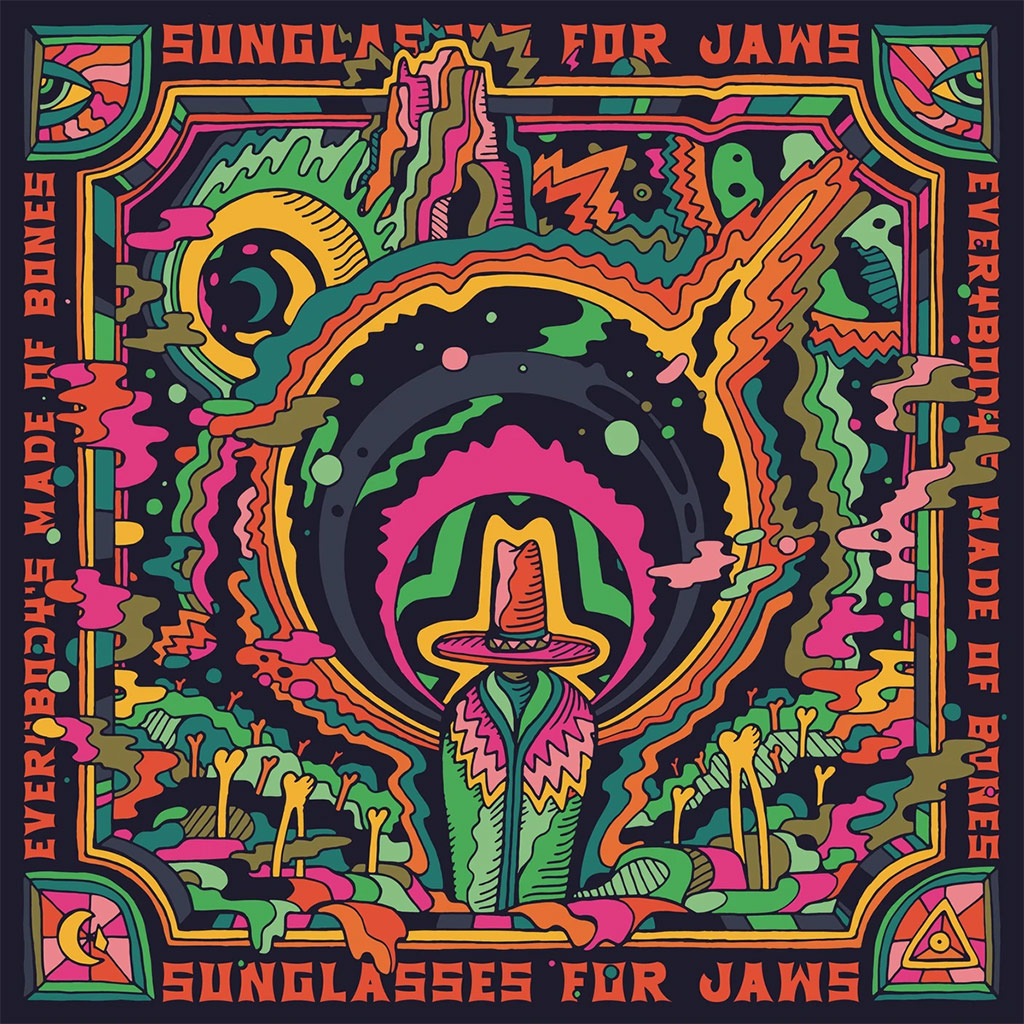 Sunglasses for Jaws – Everybody's Made of Bones (Pony Recordings)
Complete with hidden bones in the dirt and reflections of interstellar travel, Young & Sick's maximalist neon artwork offers a playful touch to Sunglasses for Jaws' Everybody's Made of Bones.
Sounds: Sunglasses for Jaws
Album Artwork: YOUNG & SICK
Sleeve Design: Louis Gilbert

---
Vistas – What Were You Hoping to Find? (Retrospect Records)
London-based illustrator Cameron JL West created a playful 3D illustration for Vistas' full-length record, What Were You Hoping to Find? as well as its deluxe version. An illustrated sample and the deluxe version can be found on his Instagram.
Sounds: Vistas
Album Artwork: Cameron JL West

---
Wavves – Hideaway (Fat Possum Records)
Surrealism gets a nod on Mikey Burey's album artwork for Hideaway by Wavves, which contains themes inspired by the COVID-19 pandemic.
Sounds: Wavves
Album Artwork: Mikey Burey

---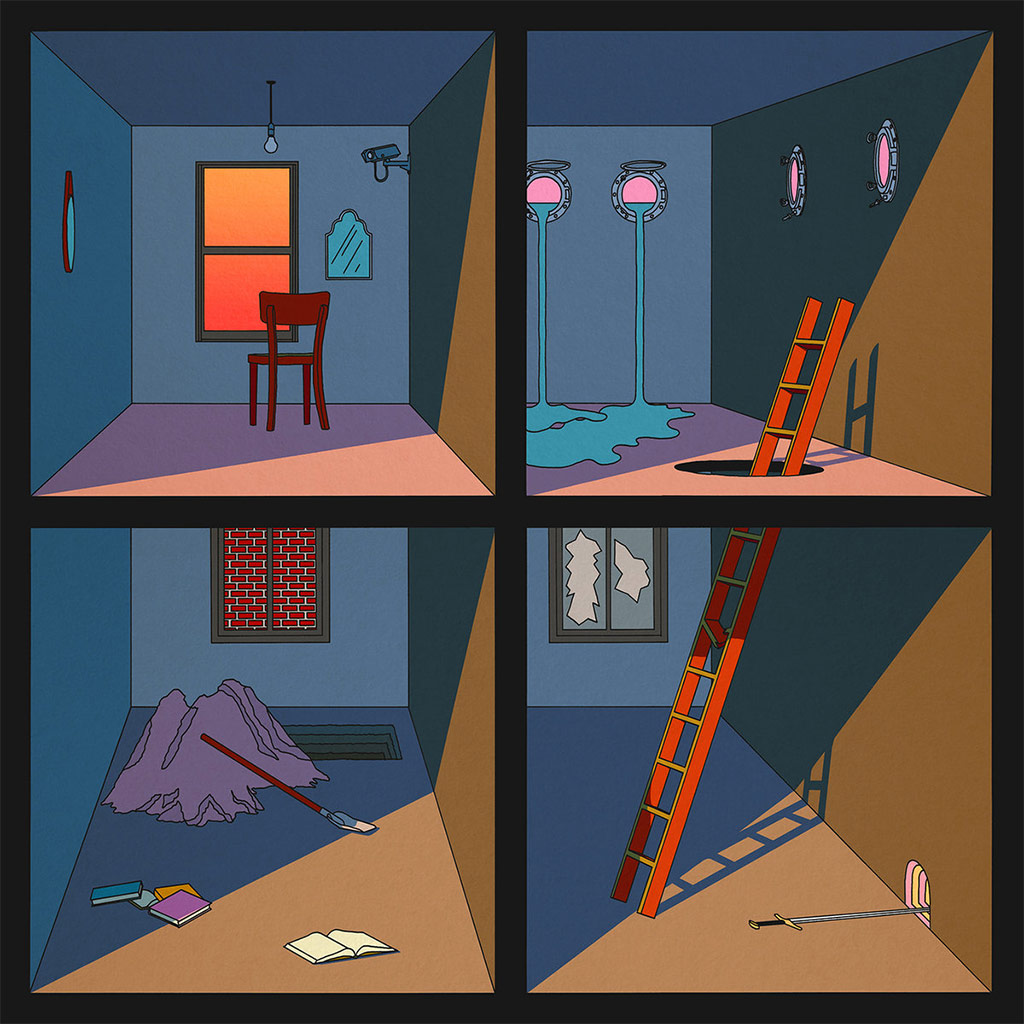 We Were Promised Jetpacks – Enjoy the View (Big Scary Monsters)
Long-time We Were Promised Jetpacks collaborator DLT works again with the musicians on the illustration for Enjoy the View. Extras of similar designs, including a poster print, can be seen via Instagram.
Sounds: We Were Promised Jetpacks
Album Artwork: DLT

---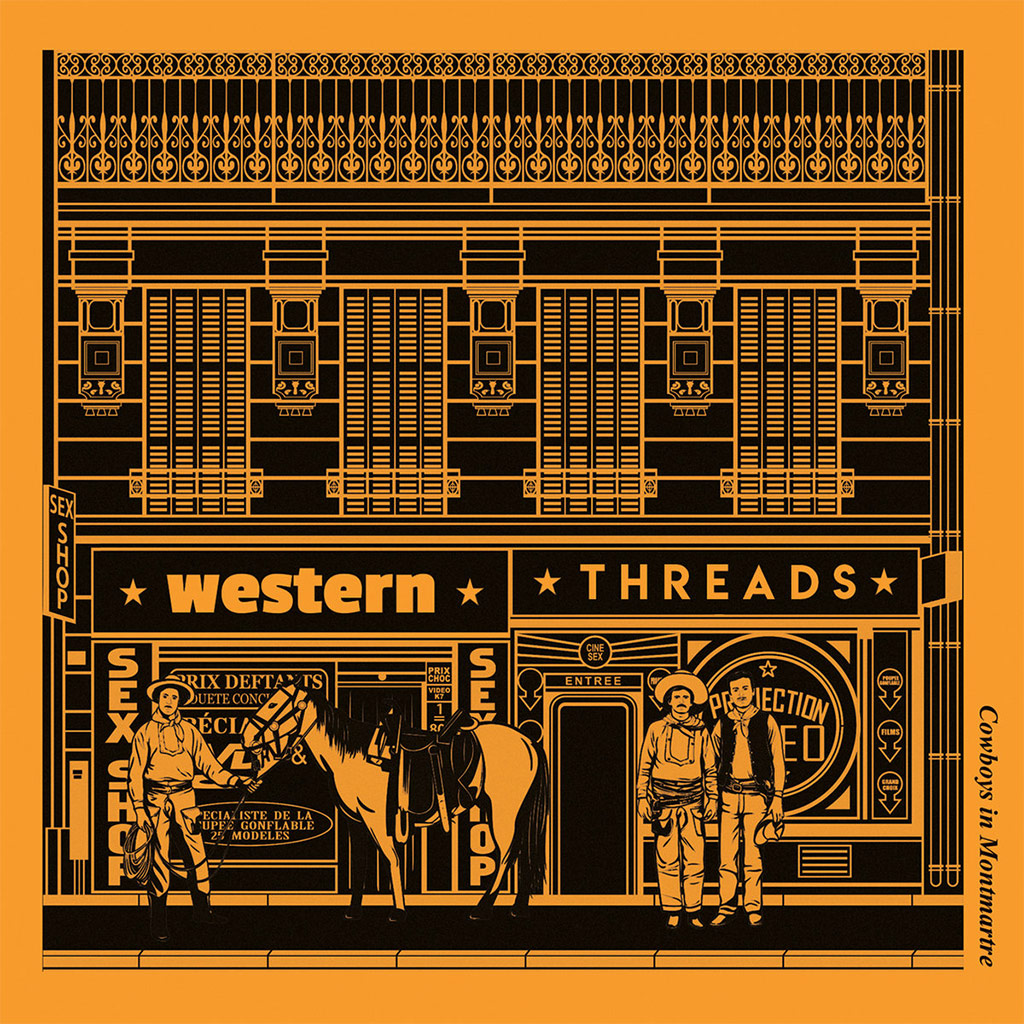 Western Threads – Cowboys in Montmatre (Self-Released)
Western Threads' indie pop album about "love, death, sex, murder, and friendship presented with the semi-steady hands of amateurs" features artwork by Shen that portrays modern cowboy life.
Sounds: Western Threads
Album Artwork: Shen

---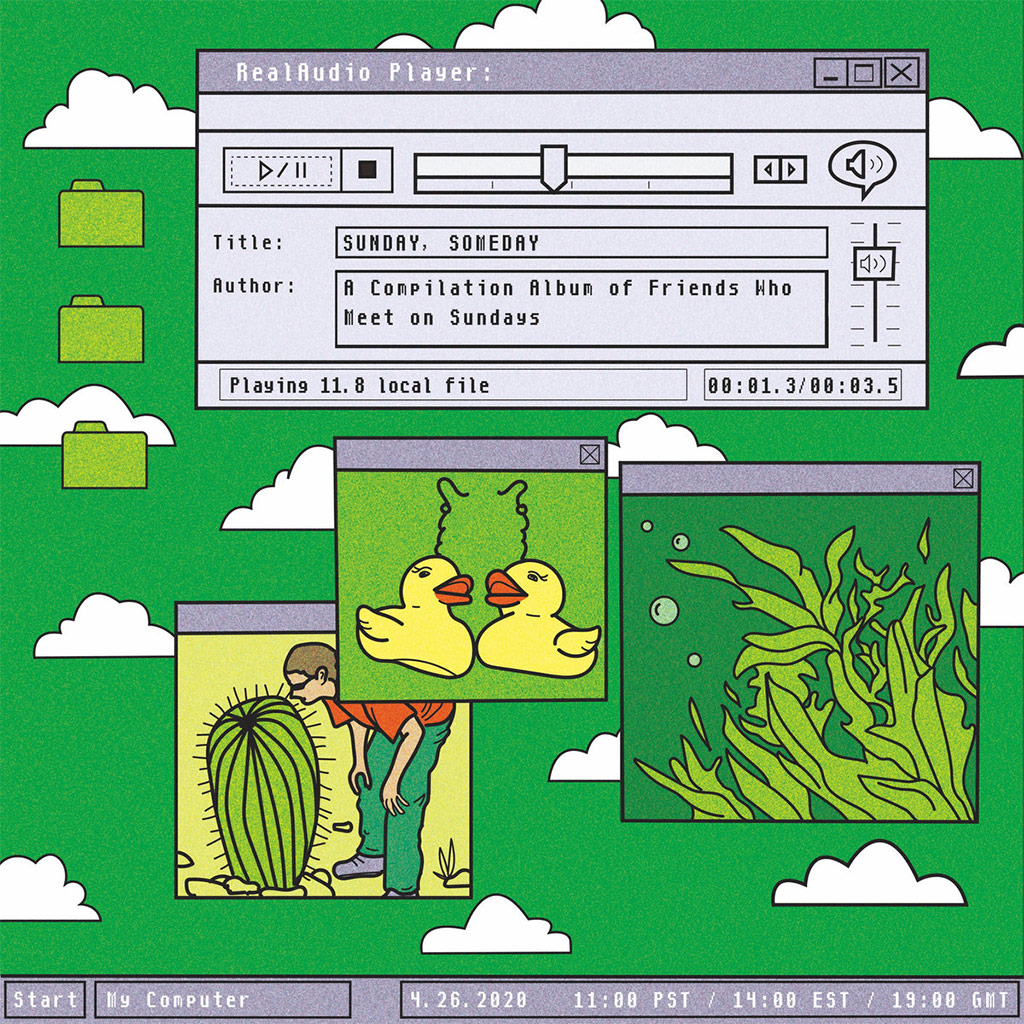 Various Artists – Sunday, Someday (Get Better Records)
Sunday, Someday is a compilation album created by a group of like-minded friends and musicians from the UK, Pennsylvania, and Los Angeles, including Nervus, Potty Mouth, KOJI, Solstice Rey, and Full on Mone't. The record was created to fund top surgery and aftercare for a member of the group while raising awareness about systemic oppression of QTPOC communities.
Sounds: Various Artists

---
Various Artists – YERAZ [Past, Present and Future Armenian Sounds From Los Angeles to Yerevan] (Critique)
Zachary Asdourian (Critique):
As my own label head, I want to be nothing short of deliberate in all of the releases I curate for Critique. YERAZ sets the gold standard for the label's artistic direction and creative calibre when it comes to thoughtful concept albums that go beyond the music to communicate the artists' messages. Following YERAZ, my goal for Critique releases is for the cover artworks to serve as a platform to highlight up-and-coming artists and illustrators who are ahead of the creative curve and whose work best amplifies the sounds, rhythms and textures of the music they encapsulate.
Visual Artist: Natalee Miller
Creative Director: Lara Sarkissian
Creative Director: Karine Eurdekian
Executive Producer: Zachary Asdourian of Critique

---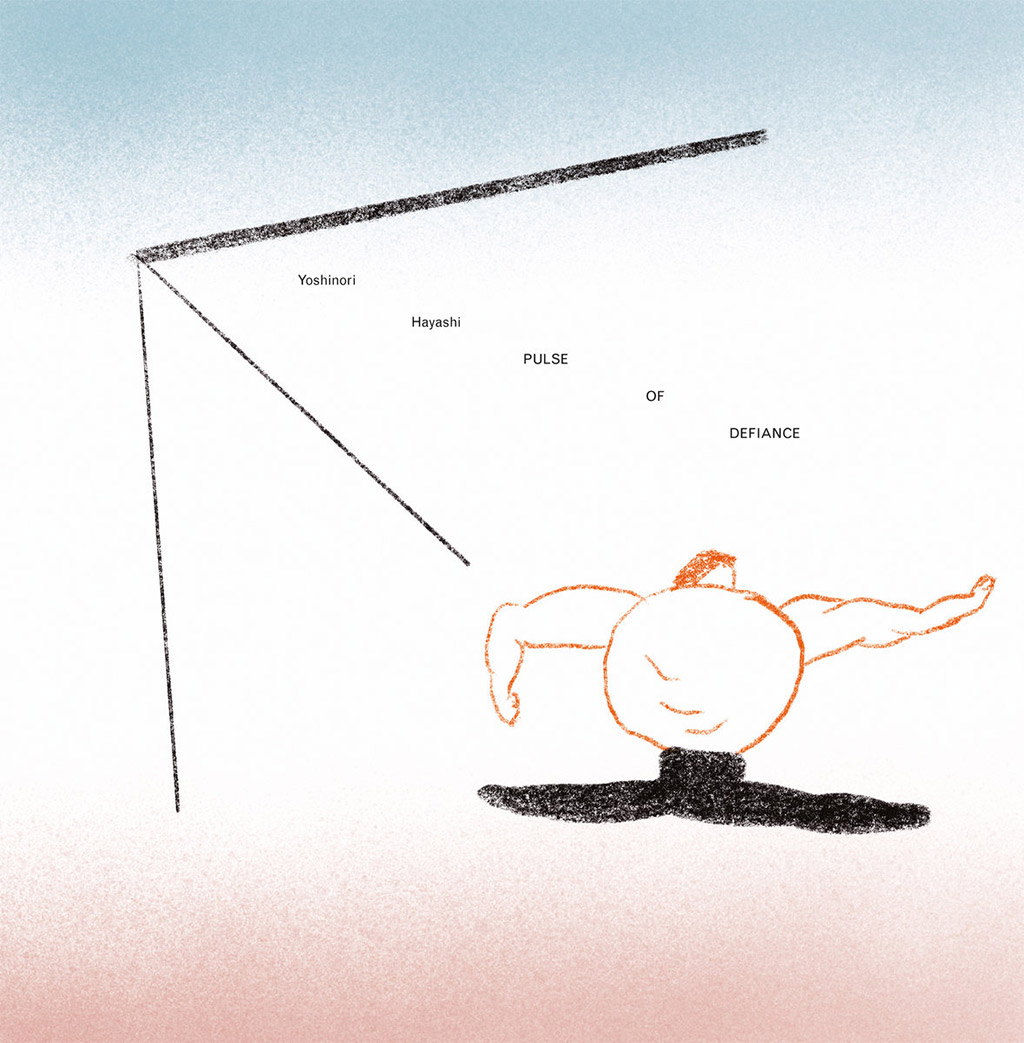 Yoshinori Hayashi – Pulse of Defiance (Smalltown Supersound)
Kim Hørtho (Visual Artist):
Like the music, trying to make something that is both recognizable and not at the same time. Drawings that live up only to criteria made by the drawing itself.
Sounds: Yoshinori Hayashi
Art: Kim Hørtho

---