Album Covers of the Year 2021: Photography, Part 1
100 gecs – 10000 gecs (Atlantic Records)
Via Pitchfork:
"I had to get a big ass tattoo," Dylan Brady murmurs, lifting up his green tee to expose an enormous pair of musical eighth notes that go from the center of his chest down to his stomach. It's a balmy night in July, and he's just arrived at Hollywood's EastWest Studios, slightly sunburned from whale watching with his girlfriend and her mom the previous day. The past few months, Brady says, have been "pretty intense," alluding to the countless hours he and his 100 gecs counterpart, Laura Les, have spent working on their forthcoming second album, 10000 gecs. To mark the moment, and with an idea for a record cover in mind, they went to get inked together—even though their respective thresholds for pain are a bit different.
She got twin stars on either side of her belly button, while he endured three sittings over the course of seven hours. Les, 26, recalls flinching when she watched Brady, 27, go under the needle. "My instinct was just to be like, 'Stop doing this!'" She then pulls up a photo of 10000 gecs' tentative cover, a stark portrait of the duo with the front of their shirts pulled over their heads, exposing the tats.
Sounds: 100 gecs

---
Andrew Lessman – Teethers
Aaron Vinton (Visual Artist):
For the Teethers album cover, I simply took the approach of imagining what a creature called a 'Teether' might look like. The results were pleasantly disturbing. I worked with Andrew Lessman, who is the composer and bandleader. We agreed early on that an eerie take was appropriate, and after a few iterations on Teether creatures, we landed on the young girl as the most fitting representation. It began with a stock photo someone took of their daughter and was heavily manipulated to arrive at the piercing, vacant expression and nub-toothed smile of the final cover.
FUN FACT!
100% of profits are donated to mutual aid supporting the unhoused and tenants facing eviction in LA. The product also comes with a face mask, pictured.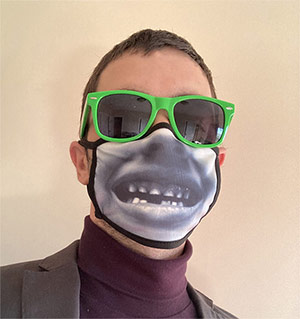 Sounds: Andrew Lessman
Visual Art: Aaron Vinton

---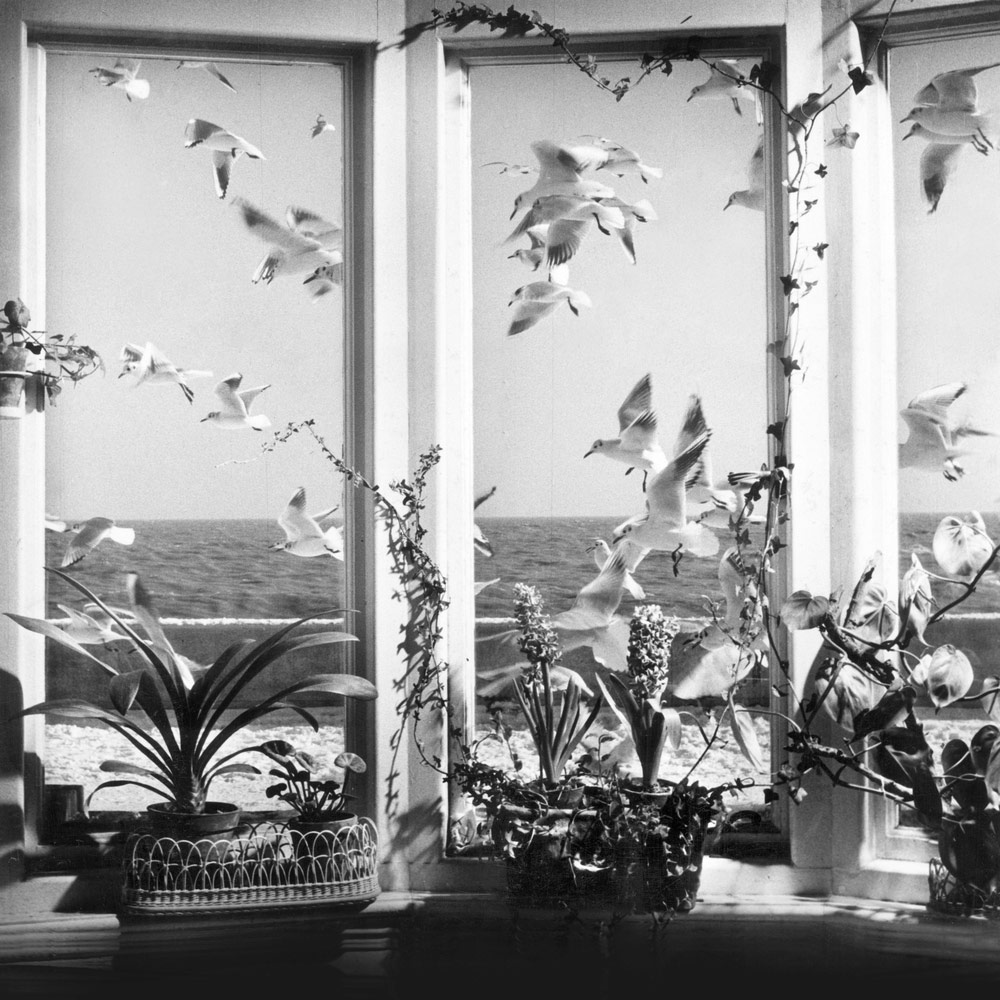 Andy Stott – Never the Right Time (Modern Love)
Via PopMatters:
Just like the greyscale album art, with its shadowy contours and gulls borne aloft, Never the Right Time is bleak, but not unforgivingly so. Stott's latest may be the most inviting record in his catalogue, perhaps even an entry point into his funereal sound-world. It's also one of his best.
Sounds: Andy Stott
Photography: Kurt Hutton

---
Angel-Ho – A Time to Die (NAAFI)
Angel-Ho (Musician):
The album cover is my performance art character, Gia. She is born from fire and is an exploration of transgender phenomenology, so like the album cover, the album is a journey that reflects the unpredictable and transformativeness of the sound. She is also on her own planet, as if isolated and different from society.
I worked with Allison Swank and we created this desert nymph, and we wanted the image to be unique and compliment the music. I wanted to shoot in the sand dunes and create a world of its own. The drag part was ritualistic as I prepared to bring Gia to life again.
Sounds: Angel-Ho
Director: Allison Swank

---
bbno$ – eat ya veggies (Self-Released)
The fifth full-length record by Canadian-Armenian rapper, bbno$ — aka "bbnomula" — the photography on eat ya veggies builds off of other white-background covers he has done for 2021's my oh my and 2019's i don't care at all. (Don't be fooled; the back cover features a hand holding a pizza.)
Sounds: bbno$

---
Bicep – Isles (Ninja Tune)
Via The Dig:
For their second studio album, Irish duo Bicep commissioned artwork from Studio Degrau. As the designers explained, the image — as colourful as the album itself — came from "sculptural moments that are created by freezing gestures from the human body, while reacting to techno."
It can be seen here in movement.
Sounds: Bicep
Album Artwork: Studio Degrau

---
BLK ODYSSY – BLK VINTAGE (Self-Released)
Nana Frimpong Oduro (Album Artwork):
The whole idea or concept of the art is about "Dissatisfaction". That was what I was thinking while creating this work. The thirst for more even if we have enough.
Sam Houston (BLK ODYSSY) via Austin Chronicle:
"As a first-generation Nigerian in America, that dichotomy [of American views of Black beauty and African views of Black beauty] comes into play a lot," Agbaroji explains. "There are some Africans who are always shitting on Black Americans for the predicament they found themselves in, not taking into account the hundreds of years of generational trauma that came with being disenfranchised in this country. That's the dissonance that's part of the Black experience in America – not knowing where you come from. I was trying to say that Africa is standing behind you, you are part of us, and we know where you come from. If nobody else in the world acknowledges where you come from, you still have a home…"
"I didn't want to have a picture of my face or the band because this album is so much bigger than me," Houston says. "There are so many people on this project. It's a project for us, a project for the people."
Sounds: BLK ODYSSY
Album Artwork & Creative Direction: Nana Frimpong Oduro and Ryan Hamilton

---
Cedric Noel – Hang Time (Oxtail Recordings)
The evocative imagery of Hang Time were originally part of a series of 2020 works by Kriss Munsya. The photographer pairs them with a story about the proverbial grass being greener on the other side.
Sounds: Cedric Noel
Cover Photography & Creative Direction: Kriss Munsya
Back Cover Photography: Yoon Rachel Nam
Paintings: Maria José Da Veiga Coutinho
Design & Layout: Ryan Hover

---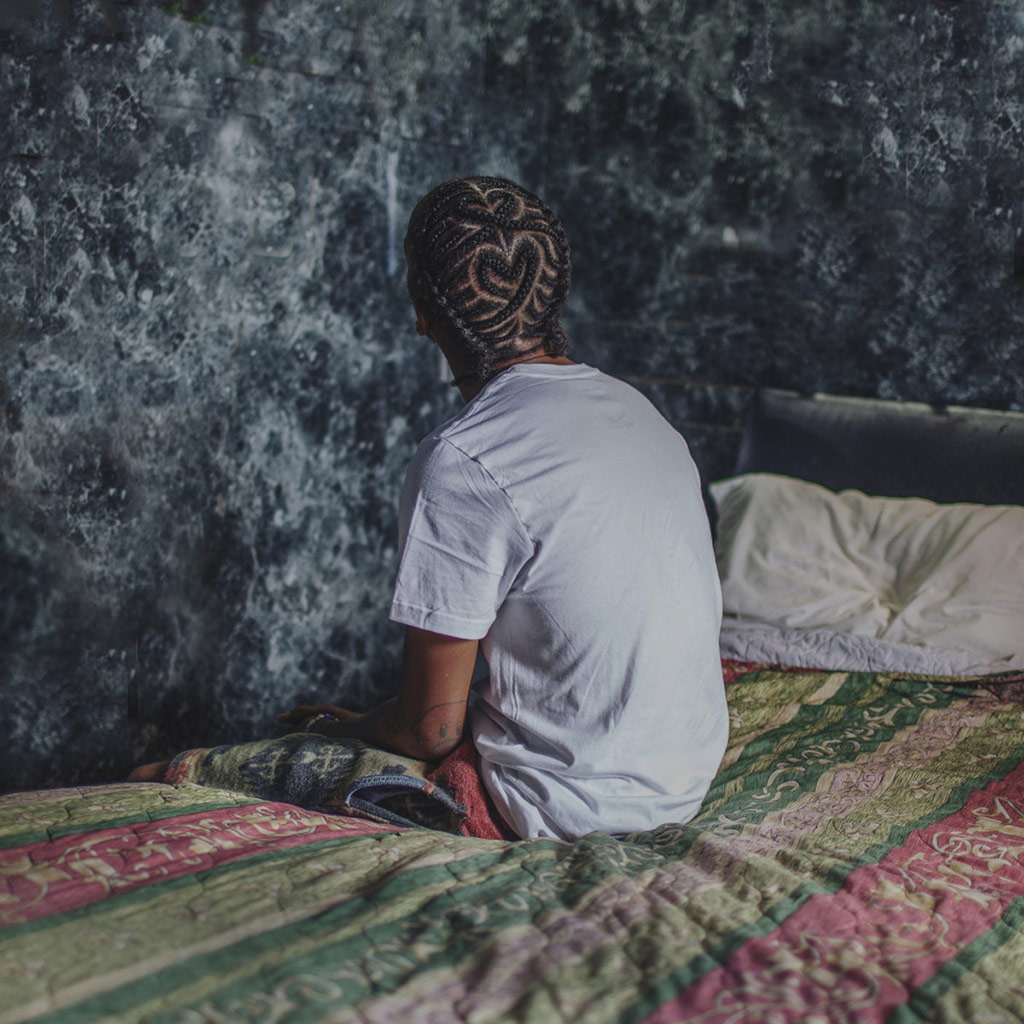 Chris Crack – MIGHT DELETE LATER
One of Chris Crack's more polished and mature offerings of late, MIGHT DELETE LATER features introspective cover art photography by Elizabeth de la Piedra; it provides much reason for pause.
Sounds: Chris Crack
Photography: Elizabeth de la Piedra

---
cktrl – zero EP (Self-Released)
cktrl, via Harper's Bazaar:
"I'm always dealing with emotions and stories about love, because I'm a very open, loving person, and that always comes through in the music and the storytelling."
Sounds: cktrl
Photography: Compelladdy

---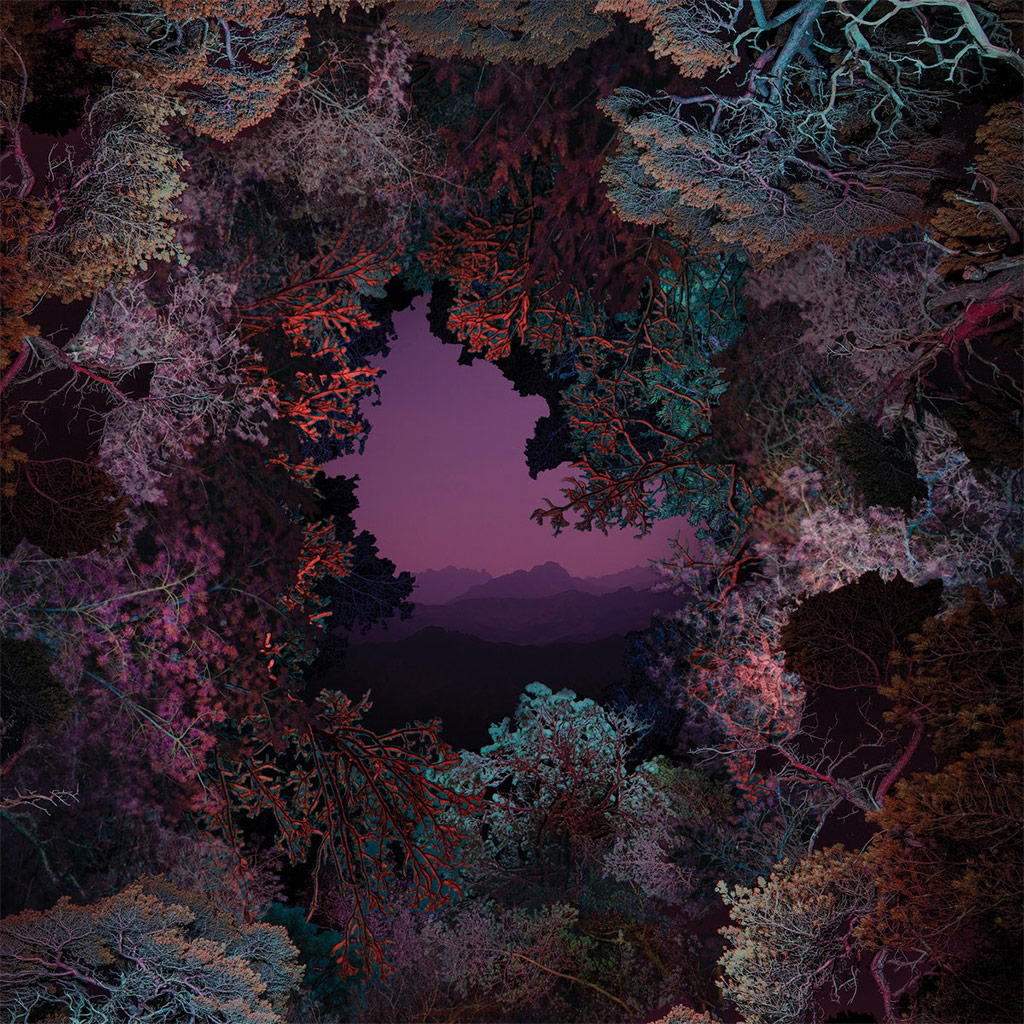 Claire George – The Land Beyond The Light (Cascine)
Via Novonite:
Claire George originally conceived The Land Beyond the Light as a break-up record, but the project took on a different weight in the wake of the death of a loved one due to addiction… When she encountered the work of Linda Westin – images of trees in nature with different lights projected upon them – she found it visually striking, but they also reminded her of her ex-boyfriend and his connection to nature. Expanding on the significance of the artwork in a statement, George explained, "While looking for visual inspiration for the album, I stumbled upon Linda Westin's illuminated dendrology portraits, and felt immediately drawn to them. They inexplicably evoked exactly what I wanted people to feel when they heard the album – the nostalgic and whimsical nature of our very existence."
Sounds: Claire George
Album Artwork: Linda Westin

---
CLEOPATRICK – BUMMER (Thirty Tigers / Nowhere Special Recordings)
Minor details and fascinating composition make CLEOPATRICK's album cover for BUMMER a surprisingly charming delight, best summed up by a background poster, which reads, "There is no goodness in life. Only lengths of neutrality contrasting tragedy."
Sounds: CLEOPATRICK

---
COSIMA – THE FUN IS HERE? (South of Heaven Records)
COSIMA (Musician):
This project is called The Fun is Here? with a question mark because it's more of a question than a statement. The headspace I was in when writing the songs had quite a lot of sadness about it so I watched many episodes of Gidget as an escape. I also watched a lot of '50s adverts and musicals because there's something about that promise of a better life that's so taunting but also comforting and I wanted to make a piece of artwork that encapsulates that in a way.
The most interesting thing to me about these images was the really beautiful process of creating them. Max [Barnett], the photographer, and I mapped out the different scenarios we thought would be interesting. We then really just took a crew to the coast with us for about three days and just kind of went through the different scenarios. After two days, the main crew left and Max, Grace, Jordan and I got in the car and drove around stopping to take pictures whenever we thought something interesting was happening.
There was such a freedom about that especially in a time where everything is always so mapped out and everything is done in the shortest time possible. Sometimes you lose the spontaneity and the creativity that comes with just throwing some clothes into a car and taking your equipment.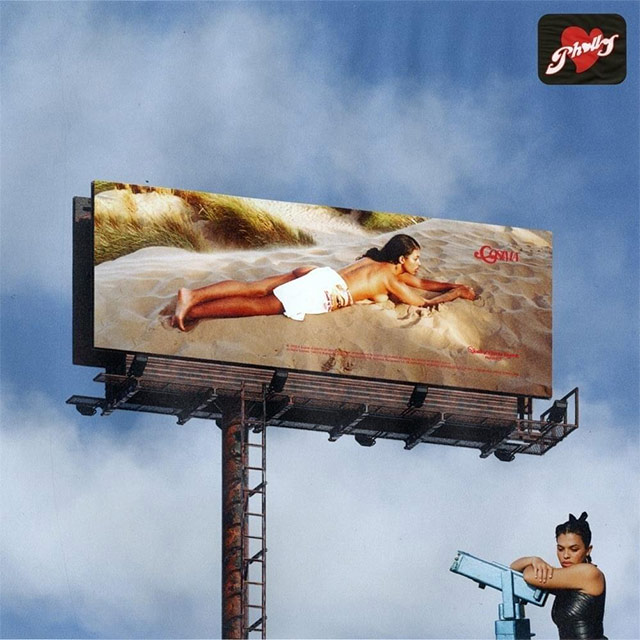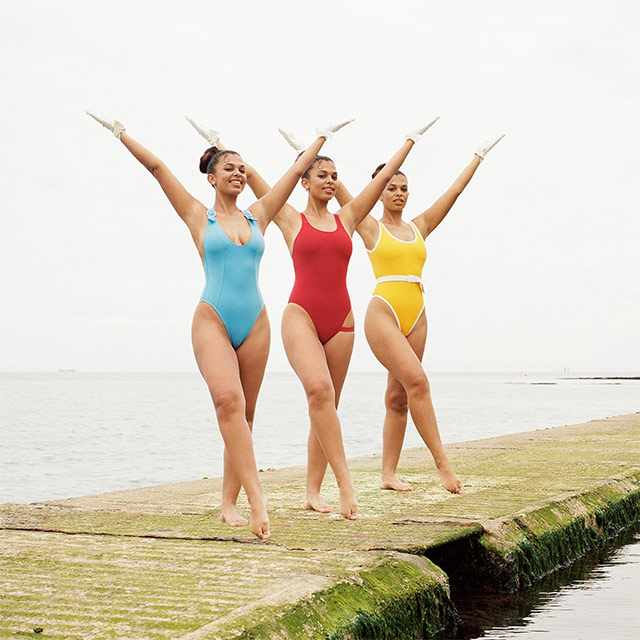 Sounds: COSIMA
Photography: Max Barnett
Assisted by: Jordan Michael Evans
Creative Direction: Cosima
Styling: Chloe Grace Press
Make-up: Grace Ellington
Hair: Yusuke Morioka
Design: Denn Kay
Painting: Ryan Christopher

---
Grey Aura – Zwart Vierkant (Onism Productions)
Grey Aura (Musician):
Zwart vierkant mainly deals with Modernism and artistic/romantic/erotic obsession. We felt the art was really fitting, as it shows two figures, intertwined, their individual characteristics almost swallowed by each other. This fit incredibly well with the theme of the album. Reading Sanja's words about the art (it being taken on her honeymoon, being high on love) feel like there is some overlap in the intention and our interpretation of the artwork, although we approach the subject from a somewhat darker angle.
Additionally, Sanja's use of colour gives it a very dreamlike and estranging quality, and as our album is about Modernism and abstract art, we found it very fitting.
Sanja Marusic (Photographer):
The photo is from my series, Eutierria. It's a series about two people in a relationship, photographed while I was on my honeymoon, high in love. It's about love, trusting each other and finding a balance together. I edited it both analog (with paint) and digitally to create my own world. I also made handmade frames to match the photos and make it more of an object.
Sounds: Grey Aura
Album Artwork & Photography: Sanja Marusic
Character Artwork: Bob Mollema
Layout: Mark Sanders

---
Griff – One Foot in Front of the Other (Warner Records)
Via Apple Music:
It's hard to think of a better title for Griff's 2021 mixtape than One Foot in Front of the Other. On the heels of the Hertfordshire-born singer-songwriter receiving the year's Rising Star Brit Award, it's as fitting for Griff's cusp-of-superstardom status as it is for this EP's exploration of moving on from heartbreak. "It felt like how I feel towards everything, whether that's my relationships with my family, with myself, with my love life or with my music career," the singer, real name Sarah Griffiths, tells Apple Music. "There's this sense of vulnerability and the unknown, and all you can really do is just put one foot in front of the other."
Sounds: Griff
Photography: Kerry Dean

---
The Hellp – Enemy (Terrible Records)
With a cover photograph that raises more questions than answers and leaves much to ponder about its formation, Enemy was described by one Bandcamp user as an "out-of-body experience." Unexpected playful chaos seems to thrive in the sonics and the visuals.
Sounds: The Hellp

---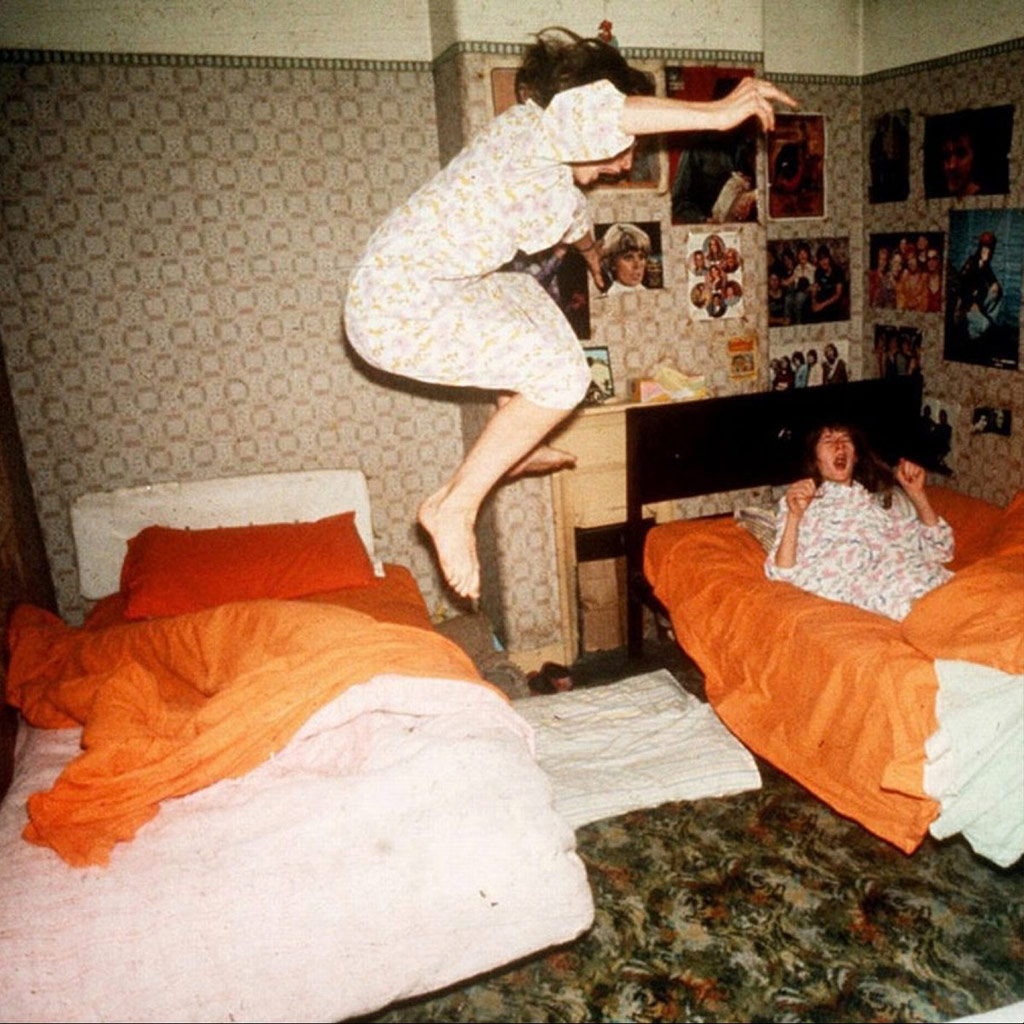 Home Is Where is a hardcore punk outfit that describes themselves as full of "relentless energy." 'Nuf said.
Home Is Where- i became birds (XL Recordings)
Sounds: Home Is Where

---
Iceage – Seek Shelter (Mexican Summer)
Fryd Frydendahl (Photographer):
I've been waiting for the boys to ask me to do something with them for like a million years, so when they finally did, it was an immediate yes. I have worked with quite a few musicians over the years, and none of them are easy; Iceage is no exception to this. After photographing around 20 animal eyes, we settled on the one they had initially asked me if they could use. BUT what an adventure, and for this, I thank these angels. I have a feeling that one day this eclectic collection of eyes will be set to use somewhere/somehow. All jokes aside, who wouldn't want to jump through hoops for these incredibly sweet and talented humans?
Jakob Tvilling Pless (Iceage):
When we got to the stage in creating Seek Shelter where we had to begin thinking about the cover of the album, we sat down during a rehearsal and just started throwing in different ideas for what we felt would be befitting to wrap the songs in. In the wake of going back and forth between around 30,000 ideas — no joking — we all agreed on trying to find a photograph of an animal eye, which is where our friend Fryd Frydendahl came into the picture.
Fryd had taken these incredible and magical photos of a horse called "Prince" on an island not far from Copenhagen, and I think we all more or less settled on it immediately. But in order for everything not to be too easy and smooth of a process, naturally, we talked Fryd into taking a million other photos of a variety of other animal eyes, and eventually settling on the one of "Prince." So if any reader out there has got a record coming out soon, and they've suddenly just got the very original idea to use an animal eye on the front cover I'd strongly recommend contacting Fryd.
Sounds: Iceage
Cover Photo: Fryd Frydendahl
Group Photo: Inger Rønnenfelt
Artwork: Jakob Tvilling Pless and Elias Bender Rønnenfelt of Iceage
Layout: Bailey Elder

---
J. Cole – The Off-Season (Dreamville Records)
Via Genius:
In May 2021, J. Cole released his sixth studio album The Off-Season… The album artwork features a calm Cole with a fiery basketball hoop behind him—evoking a feeling of dedication and persistence—while continuing his career-long basketball motif. To get a closer look, Genius sat down with Dreamville exec Felton Brown and photographer Justin Francis. It's Brown's job as VP of Creative Services at Dreamville to see Cole's vision. "We have to keep the sports theme but we can't make it feel or look like anything else that we've already put into the world," said Brown.
Watch a video interview about the album cover via Genius.
Sounds: J. Cole
Creative Director: Felton Brown of Dreamville Records
Photographer: Justin Francis

---