Historically-Inspired Album Covers of the Year 2014
American Heritage – Prolapse (Solar Flare Records)
Artwork by Allison Sommers
Design by Scott Shellhamer of American Heritage
Sounds by American Heritage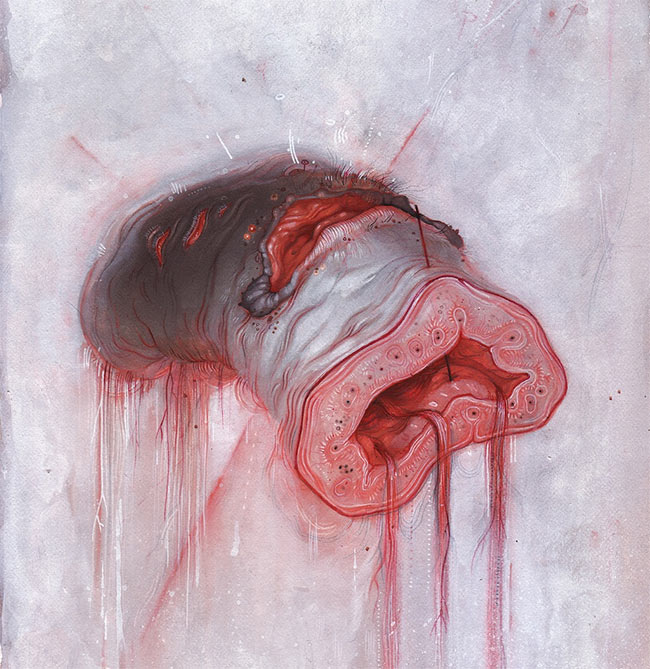 A.W. Sommers (Artist):
The piece is roughly based on the classic motif of Judith and Holofernes, which is rather common in Baroque and Renaissance painting. I like the thought of the verb of the act of beheading being visually absent, leaving only the artifact of the act — a sort of further disembodiment of character and context.I like to be somewhere in between the two poles, with the caveat that I employ a lot of things that masquerade as symbolism but represent nothing in particular. For instance, I use a lot of piercing of flesh in my work, which (at least, for me) hearkens back to the motif of the Agnus Dei, but I don't necessarily mean to bring the contextual connotations into the work.
Scott Shellhamer (American Heritage):
I do a lot of album artwork myself, but have a rule to never do artwork for my own band. I've done that in the past and ended up hating the album cover later. You can move on as an artist but that record is stuck in that period of your visual work. Allison is consistently churning out some my favorite contemporary work. She was my first choice. The painting used for the cover was a pre-existing piece that I felt conveyed the feel of the album really well. It's a bit unsettling, and you're not quite sure what to make of it. She made a great painting, and I feel really lucky to be able to have used it. I did the design / layout but we didn't work together or exchange ideas, per se.
Fun Fact: "The original painting has bits painted with human blood." – A.W. Sommers, Artist
---
Bastard Sapling – Instinct Is Forever (Gilead Media)
Artwork & Illustration by Shaun Beaudry (heavily influenced by Zdzisław Beksinski)
Design & Layout by Adam Bartlett
Sounds by Bastard Sapling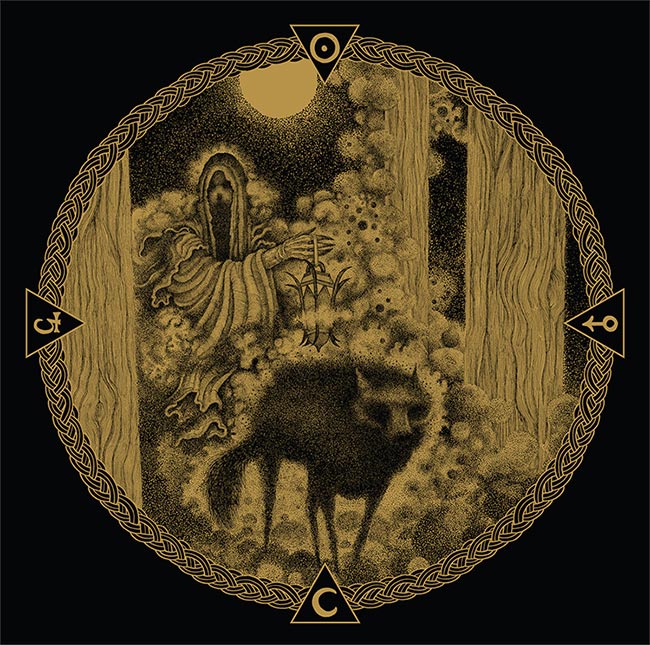 "Bastard Sapling wanted me to base the album cover from a Zdzisław Beksinski painting called "Blind" (below). Beksinski is one of my favorite contemporary artists. So my biggest concern was not to directly copy his work. Instead I wanted to make the image a little more mystical, Norse, and lo-fi." – Shaun Beaudry, Artist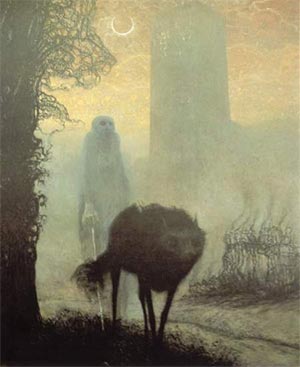 Shaun Beaudry (Artist): Pen and ink fits really well with the band's musical aesthetics; it's bold, raw, and a very visceral medium. Their music is very isolating, hence a isolated shrouded human figure, and a lone wolf. The figure is also a light bearer synonymous with Lucifer. The black triangles and the images inside them are alchemical symbols for metal.
---
Canopies – Maximize Your Faith (Forged Artifacts)
Artwork by Étienne-Louis Boullée ("Vue intérieure du Cénotaphe de Newton" – 1784)
Design by Craig Leren of Canopies

"The image was selected for its pristine ability to distill the primary thematic elements down to the limitlessness of space, and the inevitability of life thereafter, while remaining visually powerful and acutely beautiful. The ability of the image to open the mind to pensive reflection cannot be overstated, and it is important that Maximize Your Faith be heard within this already abled context."
– Jake Brahm of Canopies
Jake Brahm (Canopies): Maximize Your Faith, as an album, includes a multitude of thematic elements, which were created utilizing an array of creative processes and immemorial equipment. Because of this abounding oblation, it was important to us that the album artwork be a representation of a simplified and overarching theme, while at the same time remaining aesthetically powerful and simple enough to convey the diversity of the music held within…

Because Étienne-Louis Boullée lost use of his physical being 215 years ago, direct collaboration with him was nearly impossible. However, multiple graphic designers were enlisted in an attempt to affix additional flourishes to the base image. These attempts proved largely futile, being as if the Shroud of Turin were Bedazzled by a wayward teen in the mid-nineteen eighties. At the end, our own Craig Leren was used as a medium to facilitate our collaborative decisions, which included the cropping of the original image, the extending of various aspects of that image, the addition of the border, and the placement of the album title and group name.

There were also several collaborative attempts made at creating a font that would accentuate Canopies and Maximize Your Faith. In the end, here too, our own Craig Leren came through with the best option. Culled from a 1960's anti-war button that professed "DO IT FOR YOUR HEART", the font gives thought to an eternal moment wherein time is not a specific point on a linear plane, but a possibility unto forever."
Fun Fact: "Once we had agreed on the image's most optimal form, we printed off a five foot by five foot poster of the cover and affixed it to the wall in our studio. We aligned ourselves in lotus position facing East and listened through the final masters of the album while never averting our gaze from the symbolic effigy we had created. At the end of our throng, we felt as if our eyes, ears, and mind had assimilated into one existence, and knew our days were complete." – Jake Brahm of Canopies
---
David Douglas – Moon Observations (Atomnation)
Artwork by Caspar David Friedrich
Design & Sounds by David Douglas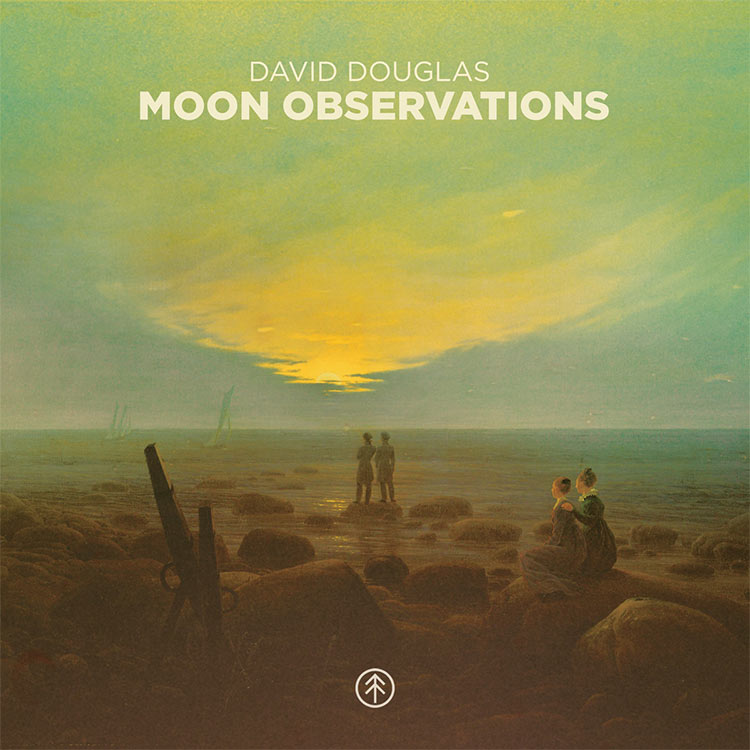 "My album was inspired by the stories of namesake David Douglas (1799), a Scottish plant hunter who explored North America collecting seeds of plants and trees unknown to mankind at that time. The greatness of nature, the sublime mountain landscapes, Icelandic lupine fields, Arctic coastlines and Californian fir forest invigorate his adventures and my music. The artwork of Moon Observations is the painting "Moonrise Over The Sea, 1821″ by the German painter Caspar David Friedrich. Besides that the artwork is a translation of the philosophy of my album, Caspar David Friedrich was also a Romanticus like David Douglas (1799) who lived in the same time of age. They both were overwhelmed by the greatness of nature and were expressing that in their work." – David Douglas
---
David Vandervelve – Shadow Sides (Secretly Canadian)
Artwork & Art Direction by Dirk Knibbe
Sounds by David Vandervele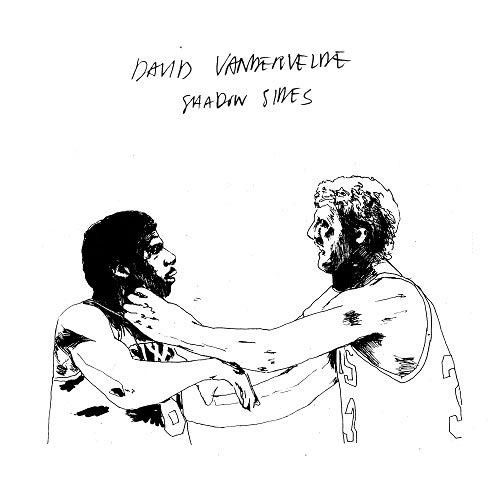 "[The album cover stems from] that hilarious human condition and the absurd struggle of dark vs light that happens at every moment inside of us, or as I understood the concept of Shadow Sides [to be]… Larry Bird and Julius Irving had this famous fight in '84, which this drawing came from. I had been doing a lot of drawings about the culture of American athletics found in the NBA, mostly late '70s to early '90s and how expressive and conflicted it was then. I saw this as a simple and violent visual moment in our public history. These two behemoths of men, American heroes of professional athletics, at each other's throats, choking each other down. With the slight gesture of reapplication, this moment can also exemplify that absurd struggle that happens to each one of us internally. Yes, I did just totally Yin Yang Dr. J and the Bird…" – Dirk Knibbe, Artist
---
Dignan Porch – Observatory (Faux Discx)
Illustration by Edmund Harris
Layout & Additional Illustration by Hayley Akins of Dignan Porch
Sounds by Dignan Porch

"For this record, we were inspired by old sci-fi book covers: for instance, stuff by the artist Bob Pepper [and] '60 and '70s book covers from the publisher Doubleday – particularly the cover of Plague from Space by Harry Harrison. Also lots of the first edition Philip K Dick book covers are great and really weird. That blocky / bold Saul Bass style was a bit of an inspiration for the logo too, such as the art for Anatomy of a Murder… I guess for me, the Observatory title and logo are suggesting the music on the record is a product of daily observations, daily life distorted through a weird lens."
– Joseph Walsh, Dignan Porch
Joseph Walsh (Dignan Porch): I did a crude sketch of the logo and sent it to my illustrator friend Edmund Harris who did a great job drawing us some different versions that feature throughout the vinyl artwork and insert etc… The main clown image is from a magic trick book that's around 100 years old (so no copyright issues); the trick is called 'The Mysterious Ball'.

Our keyboard player Hayley drew additional artwork for the insert and arranged the layout, she also wrote the text for the band name on the front. Hayley animated Ed's logo for a video playlist.
---
Del Venicci – Haunted Hall (Prima Satisfaction)
Artwork & Collage by Ross Politi
Creative Direction by Grace Bellury of Del Venicci
Sounds by Del Venicci

"Ross and I created the artwork together for the Haunted Hall cover. We wanted it to relate to the themes of lingering spirits and mysterious other worlds that present themselves in our realities, a major theme in the title track. I had been drawing pen and ink sketches of spirits and castles, which Ross used as inspiration for his collage. We took photographs of our own arms and legs, and those are included in the artwork as well… Aesthetic is really important to us; having emotive images that correlate to our sound is a big part of Del Venicci. I was personally inspired by a '70's Italo Calvino novel cover I found in an old bookstore in Macon, GA, and partly by Louise Bourgeois' concept of the 'Femme Maison'. But the image is symbolic too of the unseeable presences we've seen and felt in our own lives."
– Grace Bellury of Del Venicci
Peter Matthew Bauer – Liberation! (Mexican Summer)
Design & Layout by Rob Carmichael at SEEN Studio
Sounds by Peter Matthew Bauer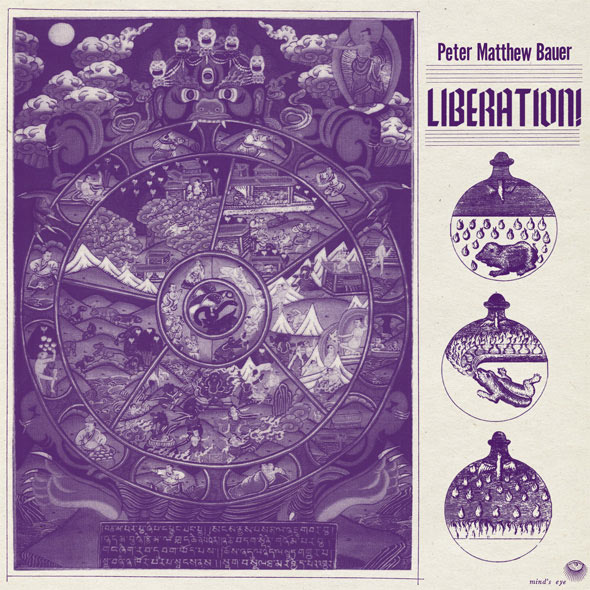 The idea was to evoke a self-published religious tract from the '70s — including the particular ways that New Age publications would mix-up/confuse stuff from disparate sources: Buddhism, Alchemy, esoteric mystical traditions, the personal philosophical traditions of folks like Sun Ra, etc. I wanted it to look like a tract that a borderline crazy person might hand you at an airport in 1975. The imagery is, indeed, very symbolic. But the idea with the record is that it's all being employed only half-correctly. For instance, the Wheel of Life and the various alchemical symbols on the front cover actually have very little to do with each other in the real world. The idea was to juxtapose them and try and capture that vibe that only someone dedicated to make their own mimeographed religious tracts tends to have." – Rob Carmichael, Artist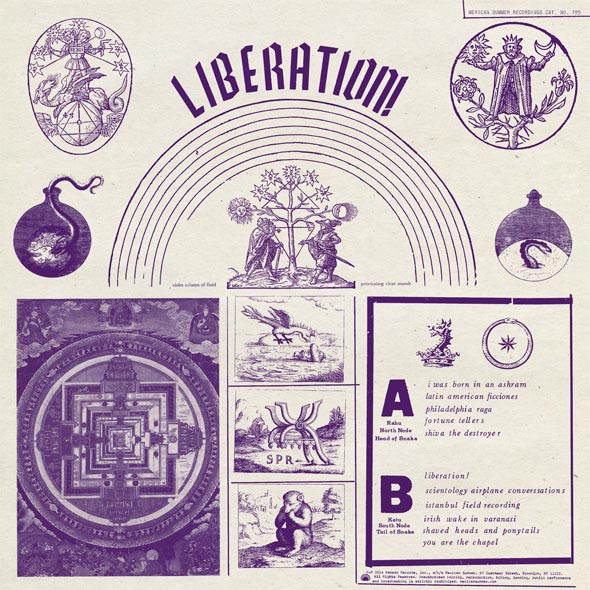 Primitive Parts – Open Heads / Signals (Faux Discx)
Artwork by Robin Christian of Primitive Parts
Sounds by Primitive Parts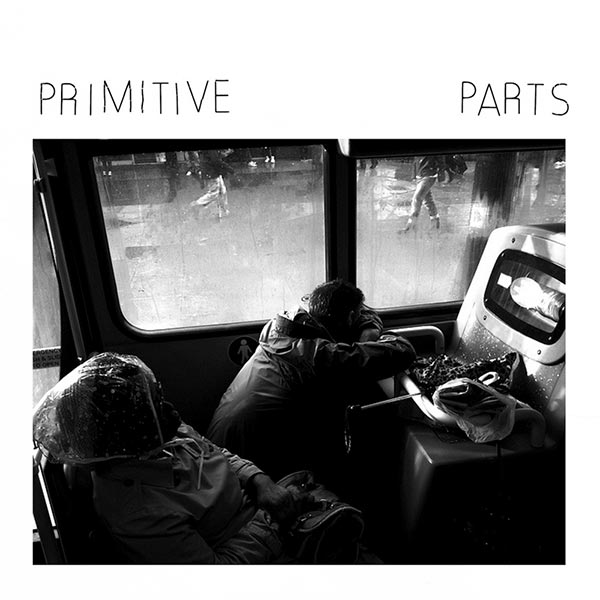 "We all liked the covers and fonts for two 1970s Arts Council photo books called 'British Image 1' and 'British Image 2', as well Euan Duff's 'How We Are', old council and library letter heads and the thin paper picture sleeves of records by bands like The Homosexuals, Vain Aims and Protex. The only 'rule' we had was to create a visual style we could return to and hopefully something that would stand up if you saw it in a box of records in a few years." – Robin Christian of Primitive Parts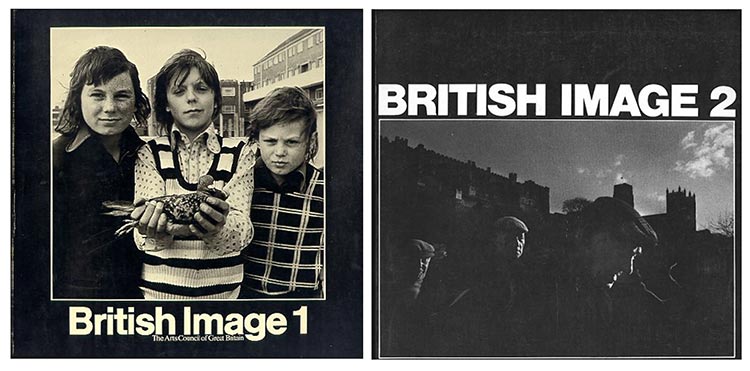 British Image 1, British Image 2, Arts Council of Great Britain, 1975 /1976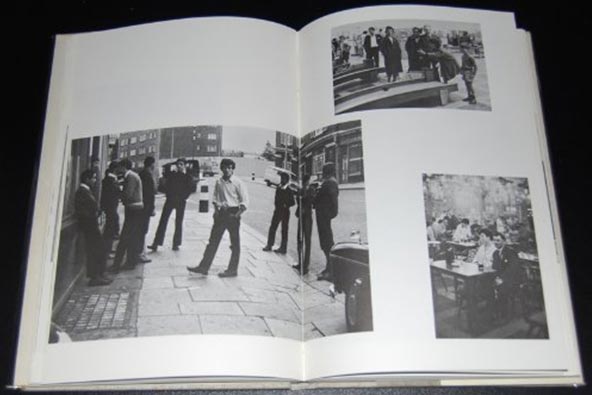 Euan Duff – How We Are, Hardcover, 1 September 1971
---
The Pop Group – Cabinet of Curiosities (Freaks R Us)
Artwork by Unknown
Sounds by The Pop Group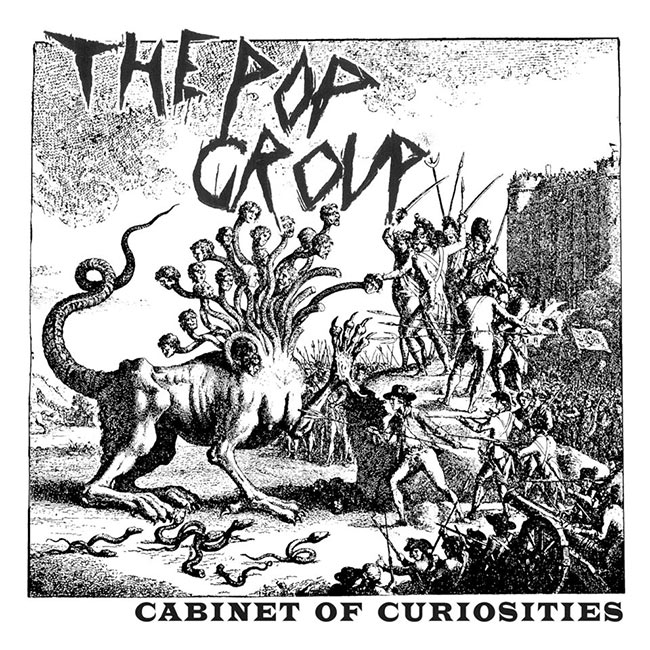 "The multiheaded monster on Cabinet of Curiosities reminds me of the golem released beneath Sherborne Minster [sic] in the 1520s… The blue rituals involved in the chaos magic of creation seemed to pierce the space time continuum and release all sorts of strange synchronicities."
– Mark Stewart, Vocalist of The Pop Group
The Roofer's Union – By Degrees (Flat Box Recordings)
Artwork by Joshua Yun
Sounds by The Roofer's Union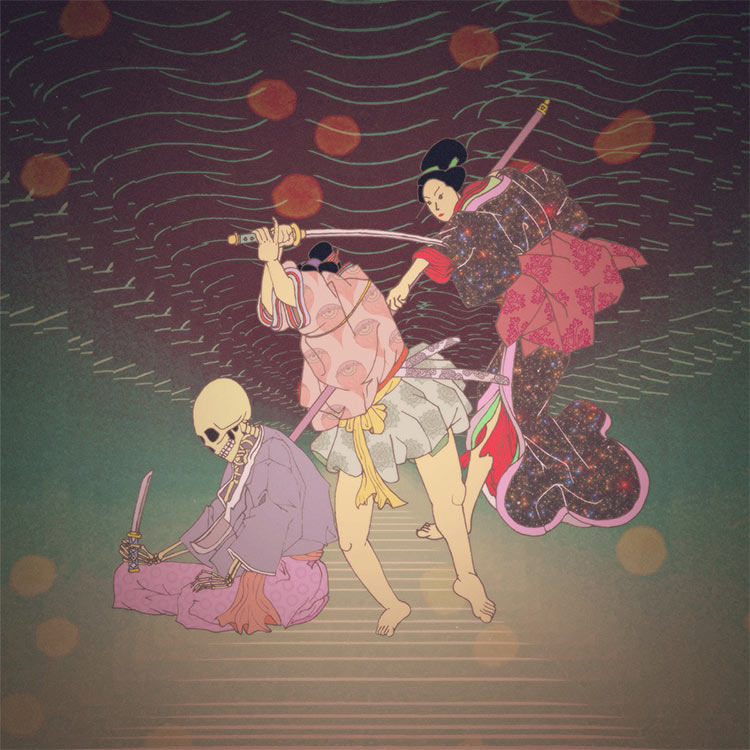 Joshua Yun (Artwork):
What ended up being the album artwork for By Degrees was originally the single art for "Man Kills God, Man Creates Dinosaur," which is a reference to the classic Jurassic Park quote. In my interpretation, I implied the full dialogue in the scene: "Dinosaur eats man. Woman inherits Earth." I wanted to emulate the traditional ukiyo-e style of Japanese art to bring light to a style that isn't really present in Western art, much less album covers for cool bands.

The skeleton is a reference to the giant, mythical skeletal spirit in Utagawa Kuniyoshi's "Takiyasha the Witch and the Skeleton Spectre" (below), a really stunning print and one of my favorites. However, the skeleton here is chastised in defeat, modeled after Yoshitoshi Tsukioka's illustration of General Akashi Gidayu, who is preparing for ritual suicide (right). If the seated skeleton is God, and the kaishakunin about to decapitate him is Man, then the onna-bugeisha is the badass female samurai that ends them both.

Kevin Walker (The Roofer's Union):
We released limited edition cassettes for this record. We re-formatted the artwork to make it fit on a cassette J-card while still keeping the image centered on the cover. To compliment the artwork, we chose a clear Barney purple color for the tapes, which look so cool.
Woman's Hour – Conversations (Secretly Canadian)
Artwork by Woman's Hour and Broomberg & Chanarin
Sounds by Woman's Hour

"We collaborated with the artists Adam Broomberg and Oliver Chanarin to create our album artwork. They have created all of our artwork with us for our singles and videos. Our collaboration began with a love of didactic images. Images that explain things; how to resuscitate a dying man, or put a chain on your Chihuahua, or fall over without hurting yourself. These are images made with a certain purpose, but they can be very beautiful too. Accidentally beautiful, which is what we like about them.
Ambiguity is important to us. In all our artwork, we strive to complicate the reading of the image by de-contextualising it. In most aspects, this happens by zooming in on one aspect of an image and re-appropriating it. In the same way an image can be understood differently depending on the context in which it is encountered, a song's meaning can also change depending on who is listening and how they choose to interpret it."
– Fiona Jane, Vocalist of Woman's Hour
This photograph was the inspiration for our album artwork.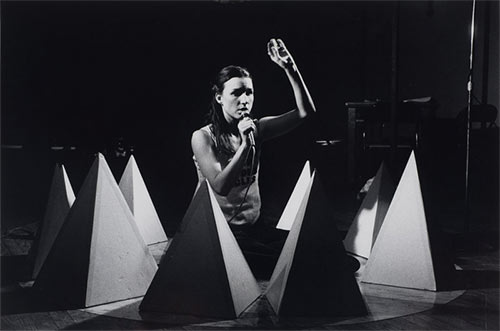 'Jill Kroesen, The Original Lou and Walter Story, performance at The Kitchen 21-23 December 1978.' Photo: Robert Alexander.
Fun Fact: "The nine cardboard pyramids you see on the cover of our album were made in my living room, and are currently touring Europe with us. – Fiona Jane, Vocalist of Woman's Hour
---
Wrekmeister Harmonies – Then It All Came Down (Thrill Jockey Records)
Artwork by Simon Fowler
Sounds by Wrekmeister Harmonies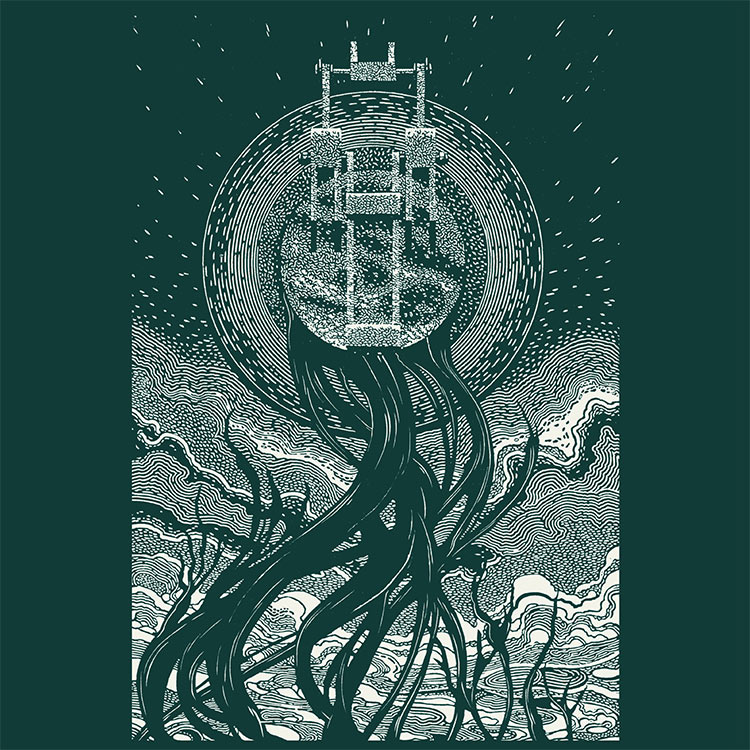 "The idea for the cover art came from a combination of sources; An essay by Truman Capote of the same name, listening to rough mixes of the album, and J.R's explanation of his intentions. I wanted to blur a number of ideas into one image – some abstract impulses, some metaphorical and deliberate. The artwork is intended to be seen as one piece, connecting the front and back cover in a column format; the front panel is a sort of gate or sewage outlet reminiscent of H.R Giger's ominous Passagen series, which I have always loved and found connected to the theme of entering the unknown or opening a door and not knowing what's behind it. In the case of the album art, it's already open and releasing streams of oil; these descend and enter the second panel (back cover) to reveal a change in perspective, a sort of landscape, poisoned ground populated by damned souls (hands raising from the ground). On close inspection the bottom centre a small figure can be seen, striding into the wilderness, unaware of what fate awards him." – Simon Fowler, Artist
JR Robinson (Wrekmeister Harmonies):
The album was conceived as a response to an essay written by Truman Capote in 1973 about an encounter he had with Bobby Beausoleil in San Quentin Prison. The essay posits many interesting ideas to me. Namely, the transition of light into darkness, which I viewed in a more metaphysical sense, and in conjunction with that, the idea of surrendering the self to total abandonment of preconceived ideals which conceivably would leave the individual lost, not knowing what lies ahead or if any actions or conversely reactions, would be "right".I've always been an admirer of Simon Fowler's artwork. He has a completely unique and engaging visual style that commands attention. Working with him on communicating my ideas is effortless.
Simon Fowler (Artist):
When looking at both images together, the top panel's perspective shifts from originally being a close-up to being a monolithic object in the sky raining down on the subject at the bottom.I also created a large format art print of the artwork in tandem with the album design; the prints are made from the exact same plates as the album jacket but feature some more elaborate details and a border pattern which again changes the perspective of the overall image, this time making it appear as if it's framed by a brick window frame, suggesting we are observing the scene from a place of sanctuary or imprisonment. Possibly putting the viewer in the shoes of either Capote or Bobby Beausoleil, depending on how we choose to engage with the image and album track, I also recommend people [seek] out the essay (of the same title) by Capote, as it clearly has a lot of relevance to the project as a whole.
We worked together before on the first album, which was a smooth process. This time was no different; I appreciate how much trust J.R puts in me to reflect his vision. Also, having such potent material provided as a starting point always helps in achieving something we are both happy with. This, for me is the ultimate relationship when making a record jacket, as it's enjoyable throughout.
---