Photography & Manipulation-Based Album Covers
Alvvays – Alvvays (Polyvinyl Records)
Artwork by Unknown

---
Amen Dunes – Love (Sacred Bones Records)
Artwork by Tuomas Korpijaakko
Sounds by Amen Dunes

"We wanted to find an image that represented what was a pretty daunting title for the album. The Love I was talking about was not necessarily romantic love, nor was it strictly a devotional love. We felt the image existed somewhere in between those two ideas, or showed a subtle abstraction to what is a pretty overused and seemingly straight-forward word."– Damon McMahon, Amen Dunes
Tuomas Korpijaakko (Artist):
Love was not an easy title to illustrate. What I think drove the creation of the artwork, in the end, was the album. After having burned through a few ideas for what the art could have been, it wasn't until we had both sat listening to the songs over and over that the artwork found us. In a way, we had to trash a lot of what we thought was an idea of Love, and let any themes or concepts we might have had disintegrate. In the end, we were left with just an atmosphere of the music and the image.I have to say that the picture is, in a way, very symbolic of what love is… because of the fact that I'm tied up in the picture's narrative, personally. But aesthetically it fits quite perfectly. The mood, the color, the cosmos, contrasting with her nakedness point to how complicated an idea of love can be…
Damon McMahon (Amen Dunes):
All images in Amen Dunes artwork are more than simply aesthetically pleasing. Not to get to get too theoretical about it all (since that is the opposite of what Amen Dunes is about), but the woman on the front could be said to be both subject and object of the title.We spent a long time trying to figure out what kind of image would represent the subtle or abstract nature of the title. There were several photo shoots of alternate ideas we tried, but none felt right. None felt simple enough. Then one day, I referred again to the photo Tuomas had hanging on his wall which he had always thought was too obvious. But when we tried it it was at once perfectly simple and simply complex, if you will. It was just obvious that it worked with the music and the broader message.
Tuomas Korpijaakko (Artist):
Yes, I had been living with the photo on my wall for a year or two. When you have artwork on your wall it just starts to become part of the wall… So the idea ofusing it for this album at first felt way too easy in a way. I always want to make something new and take most opportunities to do so. The original picture is 35mm, so you have a much wider frame where the figure is central, and the horizon extending out. After playing with the crop for a while, the picture really started to marry the energy of the album. It's nice to find new strengths in an older artwork.
---
Ballet School – The Dew Lasts An Hour (Bella Union)
Art Direction by Nova Dando
Photography by Sophie Allen
Design by Nova Dando and Sophie Allen
Sounds by Ballet School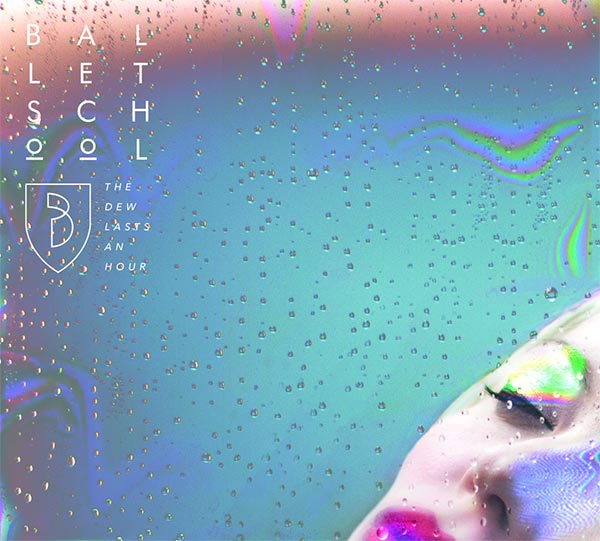 "I just wanted to make something beautiful and really pop. The album is called The Dew Lasts An Hour — meaning beauty is transient. A lot of the songs on the record follow that theme of youth spent. Like "Ghost" is based on Dylan Thomas's "I see the boys of summer in their ruin." The weird thing is that by cutting most of my face off, we kind of broke the pop rule. It really reveals how conflicted I am about the whole idea of mainstream versus indie and what side of the line Ballet School is really on."
– Rosie Blair, Ballet School
Bear In Heaven – Time Is Over One Day Old (Dead Oceans / Hometapes)
Art Direction & Design by Sadek Bazaara
Photography by Bobby Scheiddeman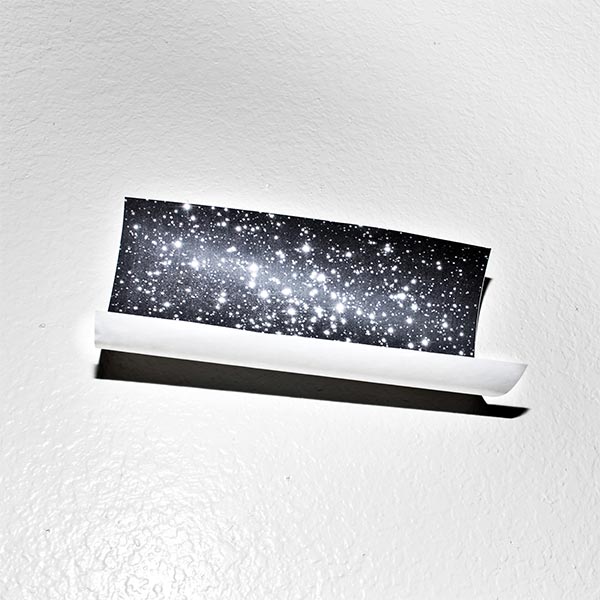 "The fine folks at Hometapes found the photo for us. We we're hunting for something that embodied what we we're doing on this record, stripping things out, becoming less. The cover image spoke to us — almost like it was taken with our eyes. We're this band that wants to explore space and time, but we're only able to understand it from here on this planet. So, we tilt our heads back or stare at photos of space, never able to touch it." – Jon Philpot, Bear In Heaven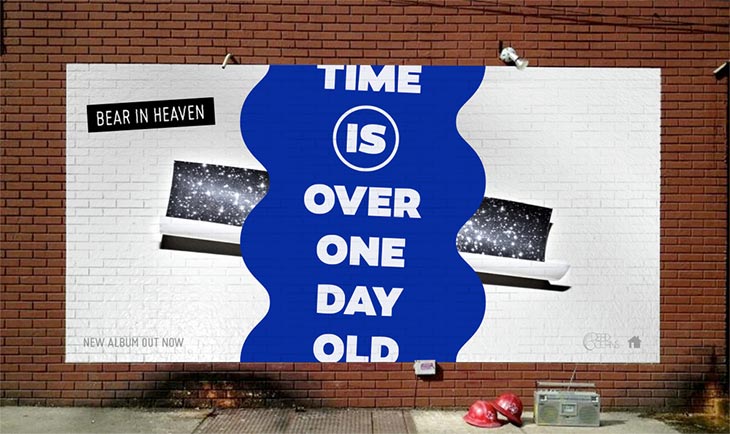 Fun Fact: "The title was an error message on Sadek (the designer's) TV. So far Sadek has named our last two records." – Jon Philpot, Bear In Heaven
Bear Hands – Distraction (Cantora Records)
Artwork by Rebecca Cairns
Design & Layout by Charles Pailler
Sounds by Bear Hands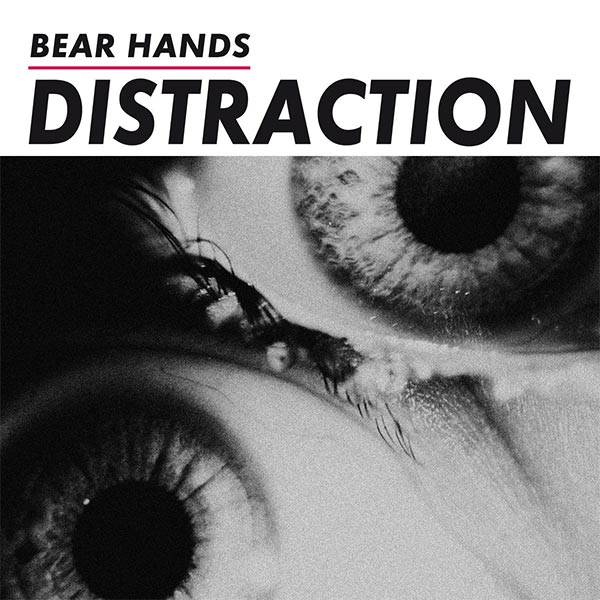 "Early on, we knew the album title that the image was to speak to, and we knew we wanted to use a photograph over any other medium. Beyond that, we were helpless… I was just perusing art blogs for inspiration, sending my band loads of links I found relevant. There were only a small number of images we could all get behind, including the winning photograph: Rebecca Cairns's alarming and perplexing black and white. I've never spoken to Rebecca, which is certainly odd, but I hope she knows how grateful we are."– Ted Feldman, Guitarist of Bear Hands
Ted Feldman (Bear Hands):
The photo is close up, intimate but jarring, claustrophobic, personal but universal. In my mind, the image fit in with some tones and lyrical themes on the album, and it worked in perfect contrast with some broad, saturated satellite photos we had picked out for single artwork.

We took forever to decide on the layout. So many emails! Nick Panama of Cantora, our label, brought in a designer named Charles Pailler who is based in France. Nick and I had discussed some ideas before we had even decided on the image, but once we got into design, the two of them mocked up some options, and we went from there.

It is very difficult to find consensus in my band about anything — even where to eat lunch every day on tour. So you might imagine how many weeks it took of back and forth to satisfy all 4 of us plus Nick and the designer. Came down to the wire. Luckily, Nick and I are able to laugh from time to time about how exhausting a process it was. In spite of all the stress, I think we agree it was worth it in the end.
BOYTOY – BOYTOY (PaperCup Music)
Photography by Jesse Untracht-Oakner
Design by Saara Untracht-Oakner
Sounds by BOYTOY

Saara Untracht-Oakner (BOYTOY):
The image is a photo my brother, Jesse Untracht-Oakner had taken. He has a few photos of "smooshed" things. We sent him an inspiration board of the vibe we were looking for and he sent back a few choices, the road kill rat being one of them.

Aesthetically, there are a few things going on that we all really liked. The pattern of the pavement looks like leopard print or some kind of animal print, and the rat is smooshed onto it so that some of the gravel pattern shows through on its coat. The rat is sort of camouflaged, and you have to stare at it at first to see what it really is.

Also, the rat seemed fitting for us. When I first moved back to NY from Boston, I moved in with Glenn in her Bushwick basement apartment where there were rats in the walls and ceilings that would keep me up at night and infiltrate my dreams. The first song we actually wrote together in that basement is called "Rat Blood." We never released it but have a demo of it. Rats are everywhere in NY. I don't go a day walking down the street without seeing one. Dead or alive. This is where we live.
Fun Fact: "My brother shot all the photos for the album, the cover, the back hand holding a blunt, and the insert of Glenn and I shotgunning smoke… Originally, the photo of Glenn and I wasn't for the record. My brother was shooting a series called Tree Times and wanted to shoot us shotgunning a blunt. We both showed up for the shoot in leopard print coincidentally. The blunt was huge and we ended up getting uncomfortably high. Some of the outtakes are really funny. When we saw the photos and I was putting together the packaging, it made sense to group the faux "leopard" pattern of the pavement and the shot of us exchanging smoke in our leopard jackets. We also convinced our label that the insert needed to be the 11×22 size because the photo looked so good spread out as a poster." – Saara Untracht-Oakner, BOYTOY
FKA Twigs – LP1 (Young Turks)
Artwork by Jesse Kanda
Design by Phil Lee

Film – Eclipse (Inner Ear Records)
Artwork & Design by dB aka Dimitris Borsis of Film
Sounds by Film

"Eclipse is an electronic synth album. While there are many '80s pop references, they are embedded inside a dark concept mainly influenced by sci-fi films' epic synth themed soundtracks like Blade Runner. It's enigmatic, fictional, dystopian and robotic. The idea was to extend the cinematic concept with the artwork, approaching it like a narrative hook much like an opening title sequence of a film to set the noir haunting mood visually. – Dimitris Borsis, Vocalist of Film
Dimitris Borsis (Film):
I used words from the lyrics as references and starting points to choose the images. But it was mostly aesthetically driven. For the cover, we needed something iconic and epic like a film's poster and that statues head with the strict and sad enigmatic face expression mirrored exactly those characteristics. For the inner art parts, I used an image of a deer and one of tree brunches to complete the "dystopian" environment. The key element was the distortion of the wet glass in front of the images that added motion and brought out an abstractive and dramatic style, a different and emotional interpretation of the album's title.

The album was mostly recorded and produced with analogue instruments and equipment, so I decided to follow a more analogue process with the artwork. I wanted a physical optical effect to achieve a more authentic retro look. Instead of using filters and plugins for processing, I shot all images from the computer screen behind two layers of glass that I was spraying with water, to create and work with those distortions. It was really like simulating Photoshop layers in the real world outside the screen where there is no "undo" option, which I had to remind myself several times after hitting cmd+Z by habit. 🙂
---
Foxes In Fiction – Ontario Gothic (Orchid Tapes)
Artwork by Unknown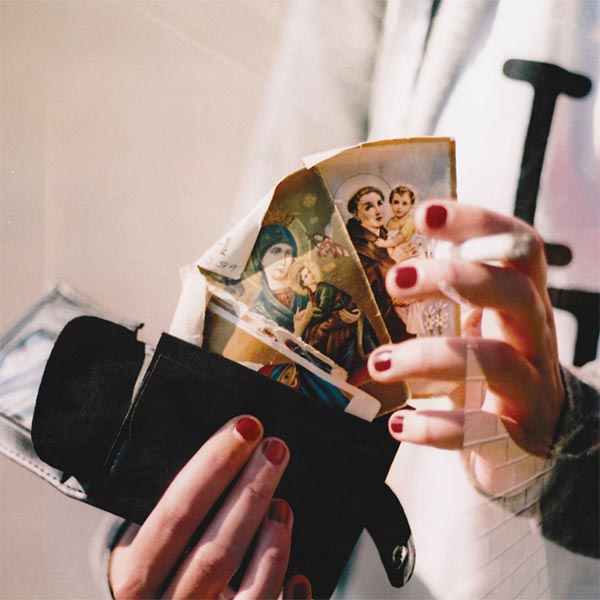 ---
French For Rabbits – Spirits (Lefse Records)
Photography & Modeling by Misma Andrews
Sounds by French For Rabbits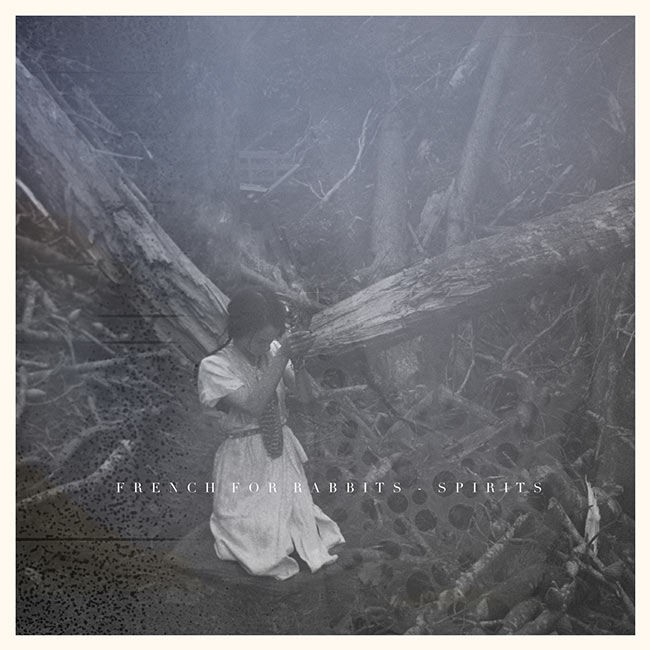 "For the album, I wanted something simple that made sense with the daydreamy nature of our music, and also something that reflected the title track, 'Spirits'… we ended up using a self-portrait Misma took, kneeling between fallen trees and branches. I think her photographs often seem to reflect exactly what we are often saying with our music… on the inside, we used another photograph from the same series, of burning sage on the forest floor. Sage is often used to purge spirits from ones house — and I think some of the songs on the album are about purging on memories, or bad luck, or lifting oneself out of a difficult place. – Brooke Singer, Vocalist & Pianist of French for Rabbits
Brooke Singer and John Fitzgerald (French For Rabbits):
We met Misma Andrews not long after we moved to Wellington and started making music as French for Rabbits. I'd been admiring her photographs from afar and decided we should be friends! I love the dreamy aesthetic of her work, and that she only takes photos on film and experiments with developing processes — like soaking the film in whisky or hand painting the negatives. She has an incredible eye for light and emotions. She has taken many of our photographs, and also directed our
music video for "Goat"
, which is the one we are most proud of… and it was only her first time directing for video!
Misma Andrews (Photographer):
The photographs were taken in an area of forest close to where I live that had been greatly damaged by a huge storm; whole trees had been uprooted and the place had overnight become unrecognisable. The feeling I had in the creation of the photos was of a kind of healing ritual, performing a small act of love for the forest. And then later, they were later chosen by my dear friend Brooke as the album artwork. I haven't asked Brooke specifically why she chose these pictures, but she has such a canny, clear vision for her music and its presentation that they must have struck the right balance between the two. I don't think she would choose one over the other. And I think they tie in beautifully with the feel of the album: melancholic whimsy, characters engaged with, or at the mercy of the elements.
Holy Strays – 'Pathless March' x 'Séance' (Atelier Ciseaux)
Photography by Anthony Forrester
Design & Sounds by Sebastien Forrester of Holy Strays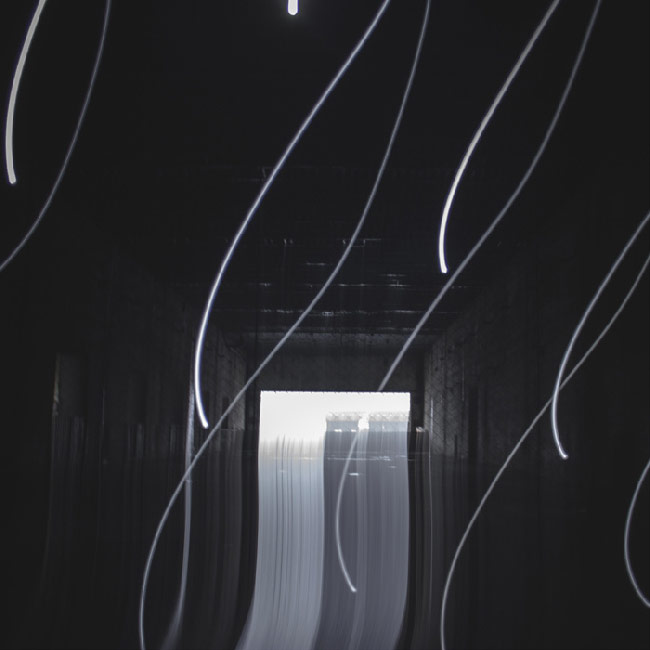 "The picture I used to make the artwork of 'Pathless March' x 'Séance' was taken by my brother Anthony. The story behind it is pretty cool, as it's closely linked to the way I finalized the two songs. Both of them didn't have any drums at some point, and sounded more like floating improvisations. I was experimenting with a more traditional instrumentation.
On a trip to the west coast of France last December, my brother and I found ourselves in an abandoned submarine base in St. Nazaire, trying to hide from a pretty violent storm. We fell in love with the place and ended spending a whole day there, exploring every corner of the building, trying to draw from its unique atmosphere and rewriting its history. I finally made lots of field recordings, recorded percussions, claps, snaps, noises and vocals in the main room of the base. My brother took lots of weird pictures of the place and me making sounds there; one of them naturally ended up on the cover because it was the perfect reflection of the way the music was born. The experience naturally fed the concept in this case. We even decided to make a digital zine and a website to accompany the release, using the pictures, drawings I had made there and found documents. – Sebastien Forrester of Holy Strays
How To Dress Well – What Is This Heart? (Weird World)
Artwork by Unknown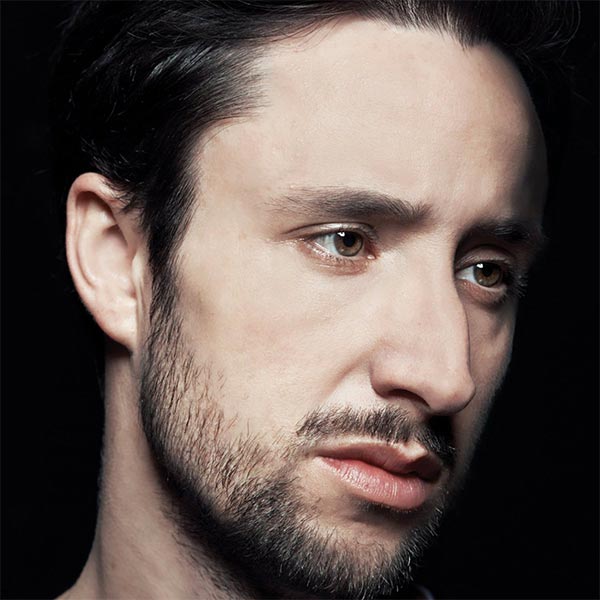 ---
Rome Fortune – Beautiful Pimp 2 (Self-Released)
Photography by Mike Kusumadjaja
Creative Direction & Sounds by Rome Fortune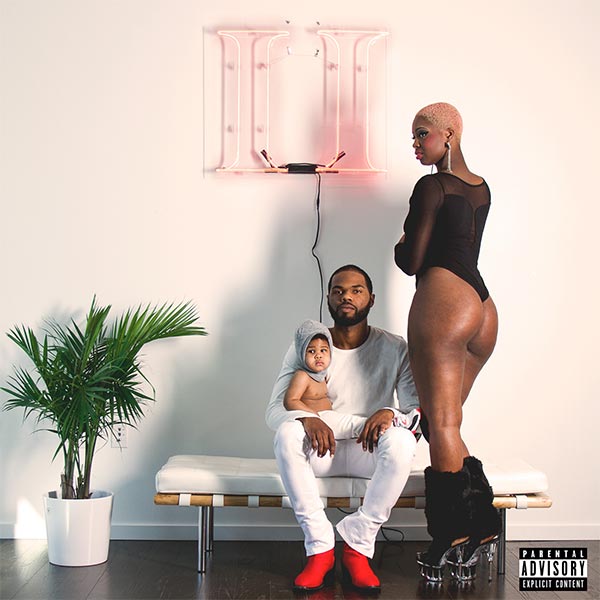 "The concept behind the project's art [is] the impurities you may face on the daily (represented by the stripper) to preserve the purity in your life (represented by my child). It was a more evolved version of the first one, but more polished. My son was so cool during the shoot. He seemed to have some type of comprehension of the situation in his own right, so it was really cool just trying different things until one really stood out." – Rome Fortune
---
Rome Fortune – Small VVorld (Self-Released)
Photography by Zoa
Creative Direction & Sounds by Rome Fortune

"The concept behind the art was simply that it's a small world and major demise or major prosperity is always in a close proximity to you. I feel as if you have concentrated effort to make it 'big' in life, you can be the man enjoying that tub with a beautiful woman or the man having it taken all away. Every cover I make is for people who have no idea to who I am. I want that artwork to always intrigue people to at least listen to what I'm about." – Rome Fortune
Rome Fortune:
Everything in the artwork is symbolic. The tub, myself, and the young lady symbolize being submerged in wealth, comfort, etc. That part of the cover is the fruits of your labor. Being too comfortable, you can overlook the evils that you initially fought through on your path to gain your position in life. The hand yielding the gun is the approach of that demise, capable of dethroning you. It's a small world, and people rise and fall every single day.

I already had the concept in mind but it needed to be captured in a specific way. That's when I reached out to Zoa, whom I frequently do visual work with. I knew after explaining the concept she would know how to amplify that depth I wanted to showcase… I truly believe she's one of the most naturally talented and resourceful people I've worked with.
Snowmine – Dialects (Mystery Buildings)
Artwork by Unknown

Spiritual Front – Open Wounds (Trisol)
Artwork by Unknown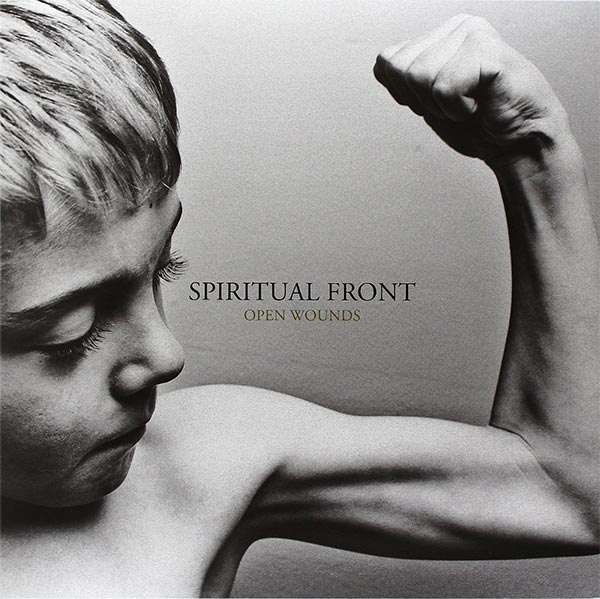 The album artwork is, according to John Cooper, faith and fear colliding.
Spoon – They Want My Soul (Loma Vista Recordings)
Art Direction & Design by Matthew Johnson, Todd Baxter, and Britt Daniel of Spoon
Photography by Todd Baxter
Styling by Sage Reed
Production by Aubrey Videtto
"The idea was for the images to feel like film stills from a '70s-era psychological/paranormal thriller movie (inspired by lots of films from that period). We planned the images to coincide with a possible music video that would be in the style of a trailer for a fake They Want My Soul movie. So that's why they might seem to suggest a bigger narrative." – Todd Baxter, Photographer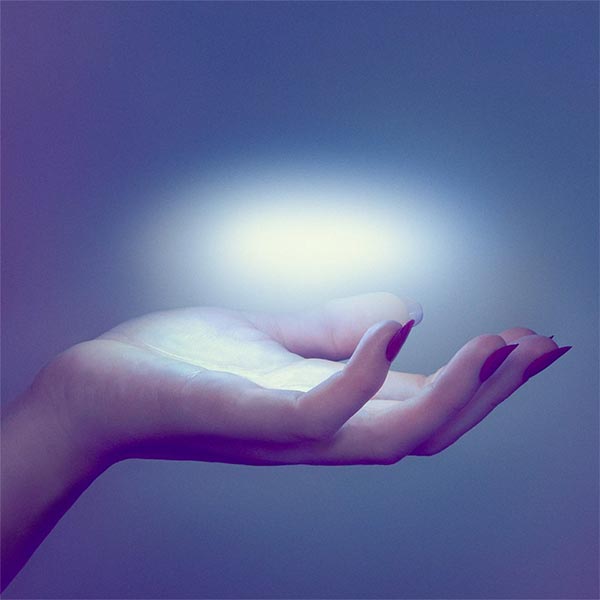 Todd Baxter (Photography):
Designer Matthew Jacobson and I teamed up to put together a whole package of images, merchandise, and possible music video concepts for Spoon's 2014 album They Want My Soul. Matthew and I have collaborated on other album covers over the years, and he reached out to me after he and Britt talked through options, and Britt mentioned really liking the idea of working with me to make some iconic images for the cover and album insert.

After about a million brainstorming sessions in collaboration with Britt, we all fell in love with the idea of using the visuals to tell the story of a young teenage girl waking up to a town taken over by some kind of a supernatural cult. We worked really closely with the band to polish the creative direction. And since I do my own post-production, we were in touch pretty steadily during that phase, since that's when everything really comes together.

Originally, we thought we'd make about 12 images that would show up on the cover and in an insert in the LP. And there were several possible merchandise ideas to go along with the concept, including some that did come to life (like the bloody beach ball) and some that didn't (like playing cards using the design that made its way onto the t-shirt).

We stuck with the idea of the story we'd envisioned when making the images, and that let us make a cohesive body of work for the band to choose from for the album art. Not all of the images ended up in the album, I don't think – but all of them were turned into a creepy, twisty music video (edited by Mau Morgó). Ultimately, it was up to Britt to decide what was the right image for the cover. All along he was wanting something iconic, and I think he made a good choice with the one he picked. It was a blast creating this whole world and story inspired by the music.
Total Control – Typical System (Iron Lung Records)
Art Direction & Design by Bart De Baets
Sounds by Total Control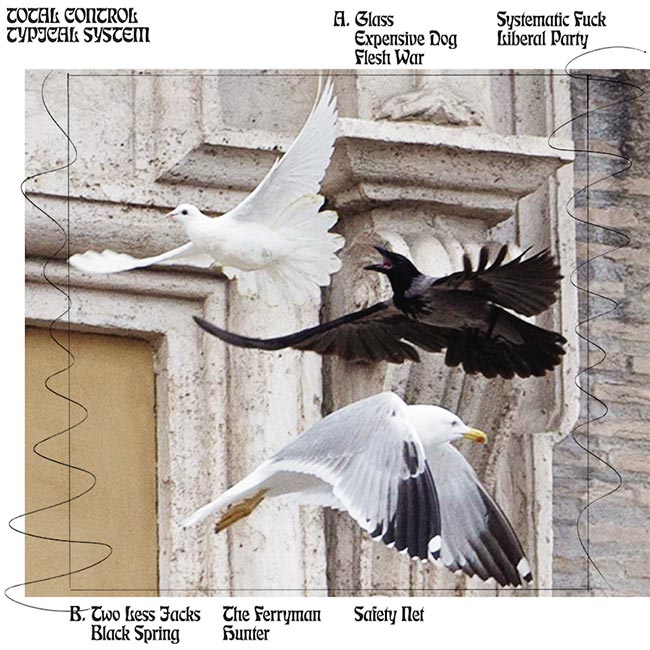 "I really wanted to get Bart de Baets to do the sleeve because he's always ahead of the curve when it comes to his use of typefaces. His style is generally quite classy while still retaining something not quite right. His initial proposal was rejected because it was decided by the gang it wasn't 'us'. I decided to imbue him with a sense of what 'we' are all about by sending him a litany of emails, often with conflicting ideas and information and which, looking back, were also kind of emotional. I think I was trying to provoke a reaction from him that would give him a sense of who we are, or at least who I am. But it kind of backfired – sorry Bart!
The idea of using that particular image on the cover was Bart's, and it was an inspired choice, definitely. Because he is an expert typographer I really wanted to harness that, so I/we asked a range of different people to write material, all of which is quite disparate…I wanted to create the same sense of confusion people have when they look at the sleeve of the first album, only this time using words. The project became a bit full-on, and I ended up making the poster insert. It's not very good. This is Bart's first album sleeve, and he has done a stellar job."
– James Vinciguerra, Total Control, via Broadsheet
St. Vincent – St. Vincent (Loma Vista Recordings / Republic)
Creative Direction by Willo Perron
Design by Brian Roettinger
Photography by Renata Raksha

---
Vessel – Punish, Honey (Tri Angle Records)
Artwork by Harry Wright
Photography by Stephanie Elizabeth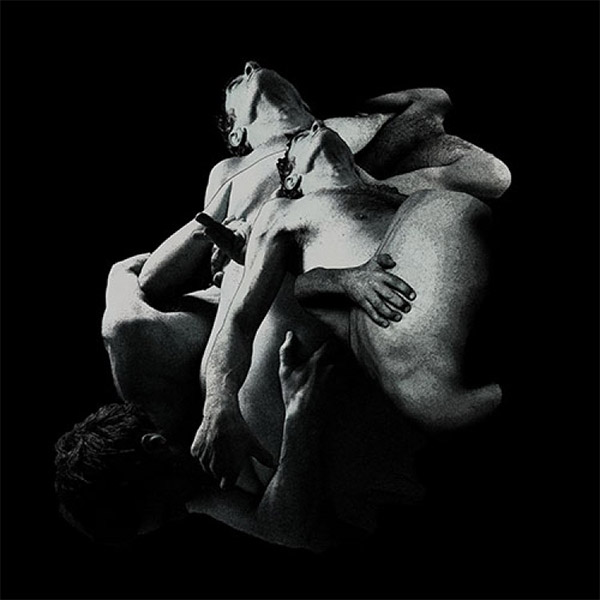 "Harry and I spent a long time discussing the visual themes for the record long before it was even finished, so many of the ideas we used had been in gestation for a year or so. We knew it had to communicate the same anxious, uncomfortable sexuality which the track revolves around. Alluding to parts of our sexual natures which perhaps aren't talked about that much, and the stuff we don't even like to admit thinking about. That was a big part of the concept. We wanted to place this within a nightmarish environment – more in the Lynchian sense than in the Grimm tales sense though. The kind of dream that is horrifying because it's mundane.
– Seb Gainsborough, Vessel, via DazedDigital
---